Translate this page into:

Letter to the Editor - Case Letter
doi: 10.4103/ijdvl.IJDVL_781_19
PMID: 32372762
A case of Bier spots with bilateral nevoid telangiectasia
Yuanbo Huang, Lichao Zhang, Zhongming Li, Mingye Bi
Department of Dermatology and Venereology, Nanjing Medical University Affiliated Wuxi People's Hospital, Wuxi, China

Correspondence Address:
Mingye Bi
Department of Dermatology and Venereology, Nanjing Medical University Affiliated Wuxi People's Hospital, 299 Qingyang Road, Wuxi 214000, Jiangsu
China

How to cite this article:
Huang Y, Zhang L, Li Z, Bi M. A case of Bier spots with bilateral nevoid telangiectasia. Indian J Dermatol Venereol Leprol 2020;86:400-403
Copyright: (C)2020 Indian Journal of Dermatology, Venereology, and Leprology
Sir,
A 65-year-old woman complained of multiple hypochromatic macules on the lower limbs for four years. She was asymptomatic and denied a history of rheumatic, cardiovascular, hematologic or hepatic diseases, or any previous surgery. She neither had any family history of similar lesions. Her physical examination revealed numerous suborbicular white macules against a mild erythematous background on the extensor surface of the lower limbs [Figure - 1]a. The macules were comparatively clear under Wood's light [Figure - 1]b and were prominent in the vertical position of the limbs, while disappeared in the horizontal position [Figure - 2]a. Punctate telangiectasias were seen at the center of white macules. These remained unchanged in the horizontal position [Figure - 2]a but faded significantly after the compression. The laboratory tests, including blood cell count, c-reactive protein, liver and renal function tests, antibodies to hepatitis B and C, testosterone, dehydroepiandrosterone, estradiol, luteinizing hormone, follicle-stimulating hormone, prolactin, sex hormone-binding globulin were normal. The ultrasonography of the arteries and veins of the lower limbs was also normal. Dermoscopy (Dermlite Foto II Pro 3Gen, contact, non-polarized, ×20) revealed significant decrease or disappearance of vessels in the white macules while the surrounding skin revealed numerous reticular vessels [Figure - 2]b. "Spider nevi"-like telangiectasias were also seen in the middle of white macules, which faded significantly after the compression [Figure - 2]b and [Figure - 2]c. Based on the typical clinical manifestations and dermoscopic features, a diagnosis of Bier spots with bilateral nevoid telangiectasia was established.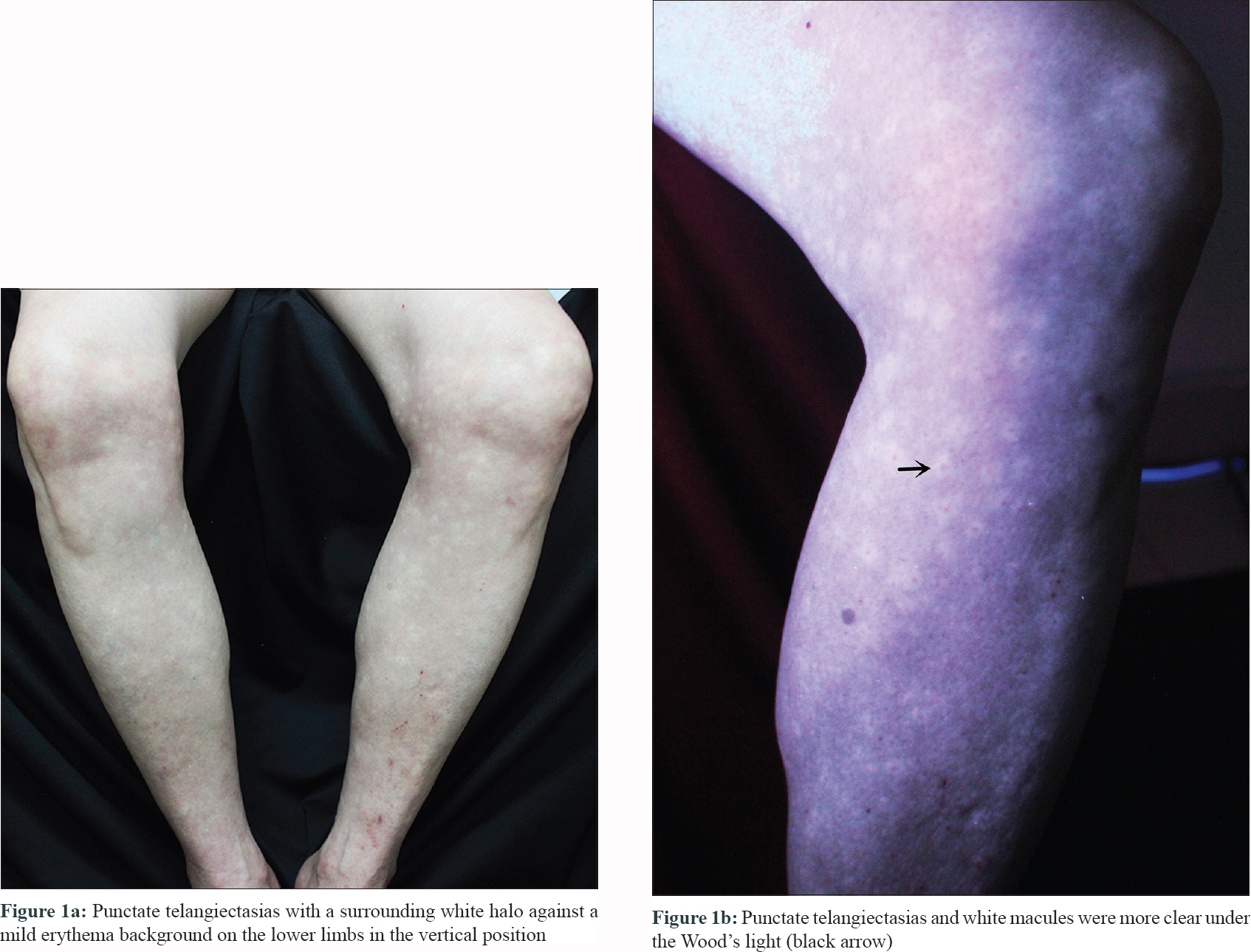 Figure 1: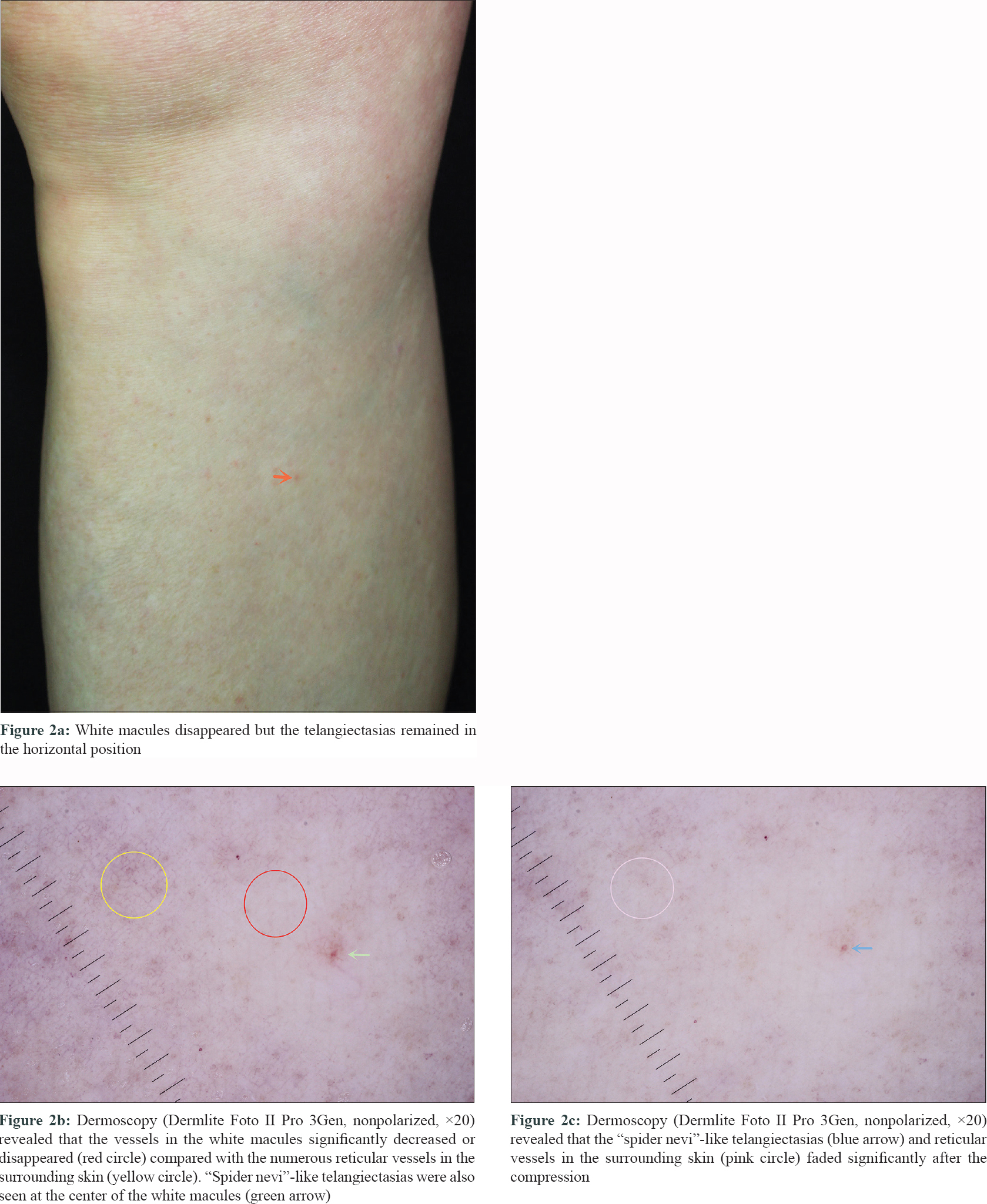 Figure 2:
Bier spots are benign, physiologic, vascular anomaly, with less than 100 cases reported in the English literature. It was first described by August Bier in 1898. Bier spots are usually found in people aged 20–40 years. The clinical manifestations include asymptomatic, multiple, small, irregular, anemic macules on the extensor surface of limbs, predominantly on the upper extremities and rarely on the lower limbs and trunk. The incidence is almost equal in men and women. These are similar to other white macules, such as vitiligo, pityriasis versicolor, nevus anemicus, achromic nevus and post-inflammatory hypopigmentation. The pathogenesis of this condition remains obscure. Bier spots have been reported in association with various conditions such as scleroderma renal crisis, pregnancy, cryoglobulinemia, coarctation of the aorta, hypoplasia of the aorta, palmar hyperhidrosis, tachycardia, varicosity, lichen planus, alopecia areata, Peutz-Jeghers syndrome and heredity. Some scholars considered that the disease was caused by abnormal vasoconstriction of the ascending arterioles, leading to venoconstriction in pale areas and venodilation in erythematous areas.
Nevoid telangiectasia is characterized by superficial dermal telangiectasias. It is usually confined to the unilateral face, neck and upper chest. Nevoid telangiectasia is also rare and about 100 cases have been reported till date. However, only 11 cases were bilateral, and all cases were acquired. Two types of nevoid telangiectasia have been described: punctate type and patchy type. Punctate type is the most common. The exact pathogenesis of nevoid telangiectasia is unknown. Some authors considered it to be connected with hyperestrogenic conditions, estrogen-sensitivity or increased estrogen/progesterone receptors. Bilateral nevoid telangiectasia is analogous to the unilateral form, but it is distributed on both sides of the body and follows the characteristic dermatomal distribution. In 2004, Tang et al. reported the first case of bilateral nevoid telangiectasia in a pregnant lady, who also had gastrointestinal involvement and which regressed completely after delivery.[1] Turan et al. also described the condition in a man, associated with gastrointestinal involvement but without any known etiology.[2] Jee et al. reported nine patients (none in puberty or pregnant), of which two had liver disease which may have altered the serum estrogen levels, and two were postmenopausal.[3] The patient in the present case reported onset of lesions more than 10 years after menopause. Hence, estrogen might not be a trigger for bilateral nevoid telangiectasia or bier spots. Consequently, the pathogenesis remains to be further studied.
Bier spots accompanied by nevoid telangiectasia are extremely rare. Only 3 cases have been reported to date. In 2011, Tan and Zhu reported the first case of unilateral nevoid telangiectasia superimposed on bier spots and considered that this dichotomy of vascular phenomena was a new type of vascular twin spotting.[4] Subsequently, Pinho et al. and Lang et al. reported similar cases separately.[5],[6] None of these patients had hepatitis, sex hormone abnormality or other diseases [Table - 1]. The cause of this condition was unknown. Bier spots with bilateral nevoid telangiectasia have not been reported yet. These two opposite kinds of vascular lesions occur in the same region simultaneously, as a special type of vascular twin spotting. This phenomenon occurs due to the local vasomotor dysfunction, but the intrinsic pathogenesis and triggering factors are still to be clarified.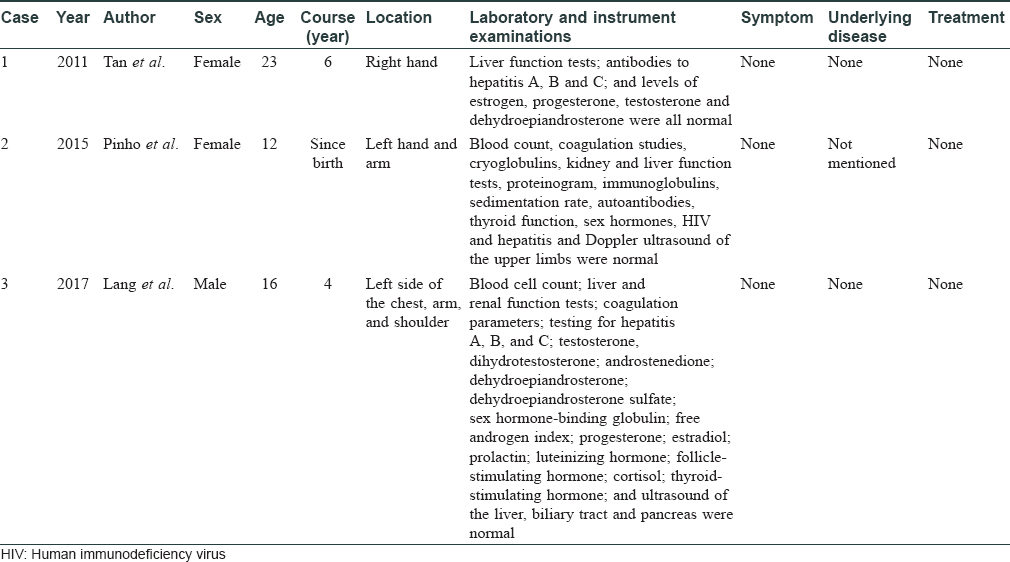 Table 1: Bier spots with nevoid telangiectasia reported in the literature
The patient in the present case had no underlying disease or symptoms of discomfort, and she refused any treatment.
Declaration of patient consent
The authors certify that they have obtained all appropriate patient consent forms. In the form, the patient has given her consent for her images and other clinical information to be reported in the journal. The patient understands that name and initials will not be published and due efforts will be made to conceal the identity, but anonymity cannot be guaranteed.
Financial support and sponsorship
Nil.
Conflicts of interest
There are no conflicts of interest.
References
1.

Tang SJ, Faughnan ME, Marcon NE. Bilateral nevoid telangiectasia syndrome. Gastrointest Endosc 2004;60:468-71.

[Google Scholar]
2.

Turan A, Saricaoglu H, Bulbul Baskan E, Keskin M, Balaban Adim S, Turan H, et al. Acquired bilateral nevoid telangiectasia syndrome with gastrointestinal involvement. Eur J Dermatol 2011;21:629-30.

[Google Scholar]
3.

Jee H, Kim TG, Kim DS, Kim DY, Lee MG. Acquired bilateral nevoid telangiectasia: Report of 9 cases. Eur J Dermatol 2013;23:736-7.

[Google Scholar]
4.

Tan C, Zhu WY. Unilateral nevoid telangiectasia superimposed on the Bier spots: Another demonstration of vascular twin spotting. J Dtsch Dermatol Ges 2011;9:389-90.

[Google Scholar]
5.

Pinho A, Gouveia M, Oliveira H, Vieira R. Bier spots and unilateral nevoid telangiectasia: More than just a coincidence. An Bras Dermatol 2015;90:769-70.

[Google Scholar]
6.

Lang N, Happle R, Enk AH, Haenssle HA. Unilateral nevoid telangiectasia in two adolescents. J Dtsch Dermatol Ges 2017;15:660-2.

[Google Scholar]
Show Sections