Translate this page into:

Letter to the Editor - Case Letter
doi: 10.4103/ijdvl.IJDVL_365_16
PMID: 28513483
A case of dermatomyositis with underlying unusual malignancy
Taru Garg1 , Sarita Sanke1 , Ram Chander1 , Mahima Agarwal1 , Kiran Agarwal2 , Ashok Kumar3
1 Department of Dermatology, Lady Hardinge Medical College and Associated Hospitals, New Delhi, India
2 Department of Pathology, Lady Hardinge Medical College and Associated Hospitals, New Delhi, India
3 Department of Surgery, Lady Hardinge Medical College and Associated Hospitals, New Delhi, India

Correspondence Address:
Sarita Sanke
Department of Dermatology and STD, Lady Hardinge Medical College, Shaheed Bhagat Singh Marg, New Delhi - 110 001
India

How to cite this article:
Garg T, Sanke S, Chander R, Agarwal M, Agarwal K, Kumar A. A case of dermatomyositis with underlying unusual malignancy. Indian J Dermatol Venereol Leprol 2017;83:473-476
Copyright: (C)2017 Indian Journal of Dermatology, Venereology, and Leprology
Sir,
Dermatomyositis is a rare autoimmune idiopathic inflammatory myositis with an incidence of about 1/100,000 population.[1] Peri-orbital edema is commonly seen in patients with dermatomyositis, while with severe inflammatory involvement, edema can also be seen at other sites such as limbs and trunk. Rarely, anasarca may be the presenting manifestation of dermatomyositis. Various theories proposed for the pathogenesis of subcutaneous edema include the immune complex-mediated vasculitis, complement activation and vascular endothelial damage, leading to increased vascular permeability and edema in the tissues and muscles.[2] Subcutaneous edema is also considered by some to be a marker of very active inflammation suggesting a poor prognosis. A search of the literature yielded about twenty cases reported previously where patients presenting with anasarca rapidly developed other features of dermatomyositis.[3] Out of these, only five cases had an underlying carcinoma (endometrial, prostate, colon, gastric and cervical).
We report the case of a 55-year-old woman, who presented to the casualty with generalized edema for 2 months. This was followed by marked peri-orbital edema and itchy red lesions on the face, neck, chest, shoulders, thighs and buttocks. Though initially there was no muscle weakness, within 2 weeks, she developed rapidly worsening proximal muscle weakness of both the upper and lower extremities. On physical examination, there was peri-orbital edema along with pedal edema [Figure - 1]. Cutaneous examination showed the presence of macular violaceous erythema over the peri-orbital area (heliotrope rash), forehead, nasolabial folds, pinnae, V area of the chest (shawl sign), left shoulder, buttocks, thighs (holster sign), elbows and knees (Gottron's sign) [Figure - 2]. There were no Gottron papules. Serum creatine phosphokinase (634 U/L [50–200]) and lactate dehydrogenase (1954 U/L [220–600]) were elevated. Muscle biopsy from the triceps showed chronic inflammatory infiltrate between the muscle fibers. Skin biopsy from erythematous plaque showed interface dermatitis with perivascular and peri-follicular inflammatory infiltrate and abundant mucin deposition in the dermis. Lesional direct immunofluorescence showed linear positivity of immunoglobulin G (2+) and C3 (1+) along the dermoepidermal junction. On indirect immunofluorescence, antinuclear antibody was positive in a diffuse pattern (3+), anti-double-stranded DNA antibody (dsDNA) was positive (2+, 100 IU/ml) and anti-Jo-1 antibodies were negative. Ultrasound abdomen revealed cholelithiasis with a polypoidal iso to hypo-echoic lesion adherent to the posterior wall of the gall bladder of suspected malignant etiology. Further evaluation by a contrast-enhanced computed tomography thorax, abdomen and pelvis showed cholelithiasis with enhancing soft tissue lesion (size 20x11mm) at fundo-posterior wall of gallbladder likely to be of malignant etiology. Hematological and biochemical investigations revealed raised erythrocyte sedimentation rate (70 mm in the 1st hour) and positive C-reactive protein with hypoalbuminemia (2.8 mg/dl, [normal 3.5–5 mg/dl]). Based on the above findings, a presumptive diagnosis of dermatomyositis with gallbladder malignancy was made.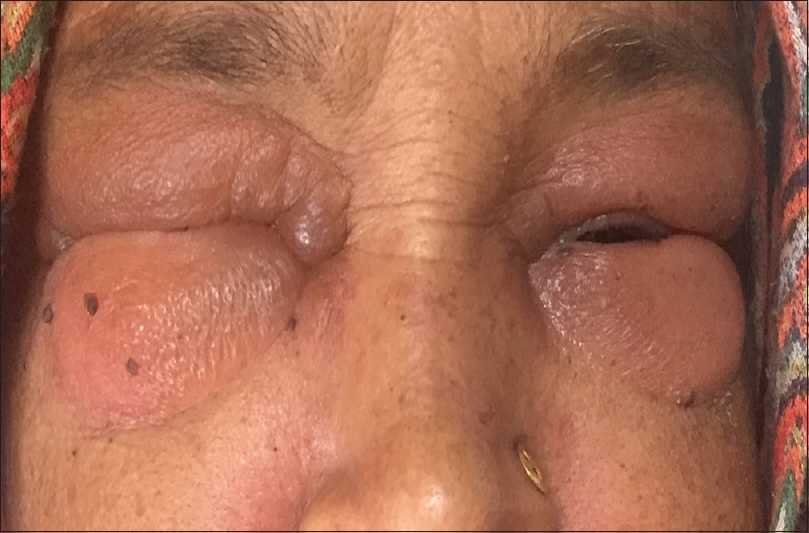 Figure 1: Severe periorbital edema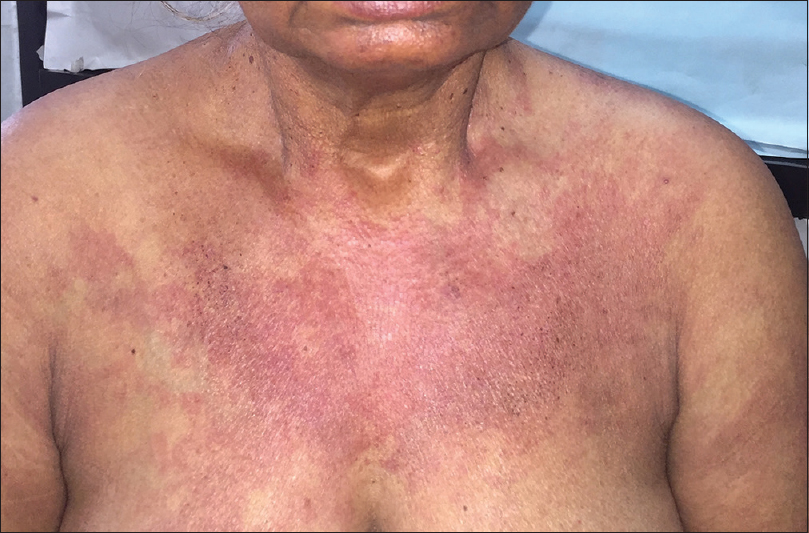 Figure 2: Violaceous erythema over front of chest (V sign)
Paraneoplastic dermatomyositis accounts for 15%–30% of all the cases of dermatomyositis, and it may precede (40%), develop concomitantly (26%) or follow (34%) the diagnosis of the malignancy.[4] Most commonly associated malignancies are ovarian, bronchogenic, colorectal, gastric, non-Hodgkins lymphoma, breast, cervical, pancreatic, esophageal, bladder and renal malignancies. It has been hypothesized that the malignant cells express certain cryptic antigens on their cell surface, generating autoantibodies which cross react with the muscle cells to cause myositis.[5] The risk factors for associated malignancy are old age, male sex, smoking, cutaneous leukocytoclastic vasculitis, cutaneous necrosis, lesions resistant to therapy, a rapid onset of myositis, dysphagia, raised erythrocyte sedimentation rate, C-reactive protein, raised creatine kinase, positive anti-transcription intermediary factor 1γ, positive human leukocyte antigen-A28 and negative anti-Jo-1. Gallbladder malignancy is extremely rare with dermatomyositis. To the best of our knowledge, only eight such cases have been reported till date which are illustrated in [Table - 1]. In all the previously reported cases, the malignancy was found after the diagnosis of dermatomyositis was made, as seen in our case.

Table 1: Previously reported cases of diabetes mellitus with gallbladder malignancy
Our patient was treated with oral prednisolone (40 mg daily), pulsed intravenous methylprednisolone, hydroxy-chloroquine (200 mg twice daily), antihistamines and topical mometasone furoate 0.1%. She underwent an extended cholecystectomy which on histopathological examination revealed a well-differentiated adenocarcinoma gallbladder stage T1b Nx [Figure - 3]. With this treatment, the patient's muscle weakness improved clinically and skin lesions started regressing. The patient was also started on oral methotrexate 7.5 mg weekly.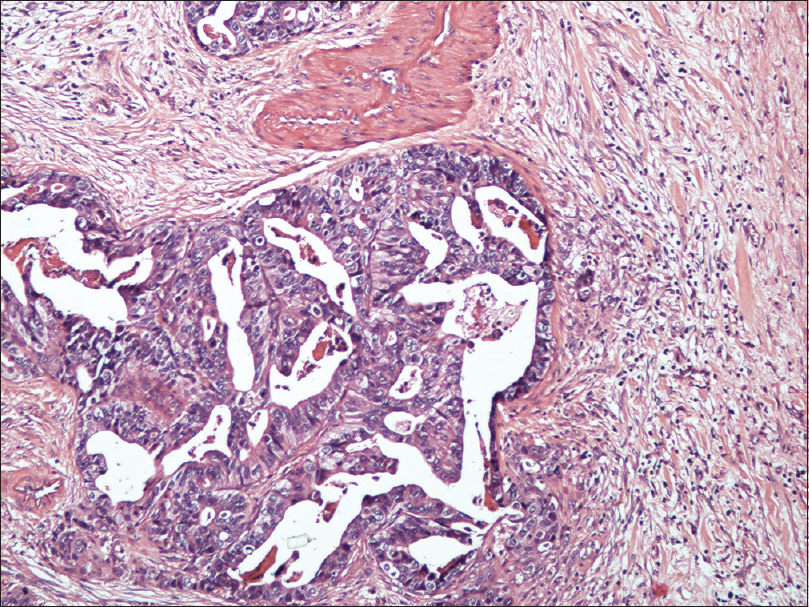 Figure 3: Microphotograph revealing well differentiated adenocarcinoma of gallbladder (H and E, ×400)
This case illustrates an unusual malignant association with dermatomyositis and highlights the importance of increased suspicion and heightened screening for malignant disease in elderly patients with dermatomyositis.
Declaration of patient consent
The authors certify that they have obtained all appropriate patient consent forms. In the form the patient has given her consent for her images and other clinical information to be reported in the journal. The patients understand that their names and initials will not be published and due efforts will be made to conceal their identity, but anonymity cannot be guaranteed.
Financial support and sponsorship
Nil.
Conflicts of interest
There are no conflicts of interest.[13]
References
1.

Haroon M, Eltahir A, Harney S. Generalized subcutaneous edema as a rare manifestation of dermatomyositis: Clinical lesson from a rare feature. J Clin Rheumatol 2011;17:135-7.

[Google Scholar]
2.

Dalakas MC, Hohlfeld R. Polymyositis and dermatomyositis. Lancet 2003;362:971-82.

[Google Scholar]
3.

Milisenda JC, Doti PI, Prieto-González S, Grau JM. Dermatomyositis presenting with severe subcutaneous edema: Five additional cases and review of the literature. Semin Arthritis Rheum 2014;44:228-33.

[Google Scholar]
4.

Callen JP. The value of malignancy evaluation in patients with dermatomyositis. J Am Acad Dermatol 1982;6:253-9.

[Google Scholar]
5.

Zhang W, Jiang SP, Huang L. Dermatomyositis and malignancy: A retrospective study of 115 cases. Eur Rev Med Pharmacol Sci 2009;13:77-80.

[Google Scholar]
6.

Yiannopoulos G, Ravazoula P, Meimaris N, Stavropoulos M, Andonopoulos AP. Dermatomyositis in a patient with adenocarcinoma of the gall bladder. Ann Rheum Dis 2002;61:663-4.

[Google Scholar]
7.

Kundu AK, Karmakar PS, Bera AB, Pal SK. Carcinoma of the gall bladder presenting as dermatomyositis. J Assoc Physicians India 2005;53:219-22.

[Google Scholar]
8.

Narasimhaiah DA, Premkumar JA, Moses V, Chacko G. Carcinoma of gall bladder presenting as dermatomyositis. Ann Indian Acad Neurol 2011;14:44-6.

[Google Scholar]
9.

Ni QF, Liu GQ, Pu LY, Kong LL, Kong LB. Dermatomyositis associated with gallbladder carcinoma: A case report. World J Hepatol 2013;5:230-3.

[Google Scholar]
10.

Sawada T, Nakai N, Masuda K, Katoh N. Paraneoplastic dermatomyositis associated with gallbladder carcinoma: A case report and mini-review of the published work. Indian J Dermatol 2014;59:615-6.

[Google Scholar]
11.

Park JS, Pyo JY, Park YB, Lee SK, Lee SW. Dermatomyositis associated with gallbladder cancer. J Rheum Dis 2014;21:261-5.

[Google Scholar]
12.

Premkumar M, Vyas T, Vashistha C, Kumar C, Rastogi A, Sharma P. Gall bladder adenocarcinoma masquerading as dermatomyositis. Oncol Gastroenterol Hepatol Rep 2014;3 Suppl S1:32-5.

[Google Scholar]
13.

Jurcic P. Dermatomyositis as the first manifestation of gallbladder adenocarcinoma: Case report and literature overview. World J Surg Oncol 2015;13:127.

[Google Scholar]
Show Sections