Quiz
doi: 10.4103/ijdvl.IJDVL_582_16
PMID: 28474642
A red, swollen and painful lesion on the right hand after local steroid injections
Kaisheng Liao1 , Chienliang Fang2 , Chienchin Chen3
1 Department of Pathology, Ditmanson Medical Foundation Chiayi Christian Hospital; Department of Nursing, Chung-Jen College of Nursing, Health Sciences and Management, Chiayi, Taiwan
2 Department of Surgery, Division of Plastic Surgery, Ditmanson Medical Foundation Chiayi Christian Hospital, Chiayi, Taiwan
3 Department of Pathology, Ditmanson Medical Foundation Chiayi Christian Hospital, Chiayi; Department of Cosmetic Science, Chia Nan University of Pharmacy and Science, Tainan, Taiwan

Correspondence Address:
Chienchin Chen
No. 539, Zhongxiao Road, East District, Chiayi 600
Taiwan

How to cite this article:
Liao K, Fang C, Chen C. A red, swollen and painful lesion on the right hand after local steroid injections. Indian J Dermatol Venereol Leprol 2018;84:54-56
Copyright: (C)2018 Indian Journal of Dermatology, Venereology, and Leprology
A 60-year-old woman with a history of trigger finger presented with a 2-week history of a swollen right middle finger. She had received local steroid injections twice for trigger finger 1 month before the visit. Unfortunately, the injection site became red, swollen and painful [Figure 1a]. No evidence of immunosuppression was proven by tests for human immunodeficiency virus, hepatitis B virus, hepatitis C virus and diabetes. She subsequently underwent local debridement. On incision, there was serosanguinous discharge and necrotic synovitis of the volar side of the right third metacarpal head region [Figure 1b]. Histopathological examination revealed numerous spore-like microorganisms in the necrotic debris [Figure - 2]. Numerous endospores with occasional floret-like arrangement were identified on periodic acid-Schiff and silver stains [Figure - 3]. Tissue cultures were set up on blood agar plate and Sabouraud dextrose agar. The wet mount revealed round-to-oval spores of varying sizes (about 10–20 μ) with varying number of endospores inside.
Figure 1a: The right hand showed local redness and inflammation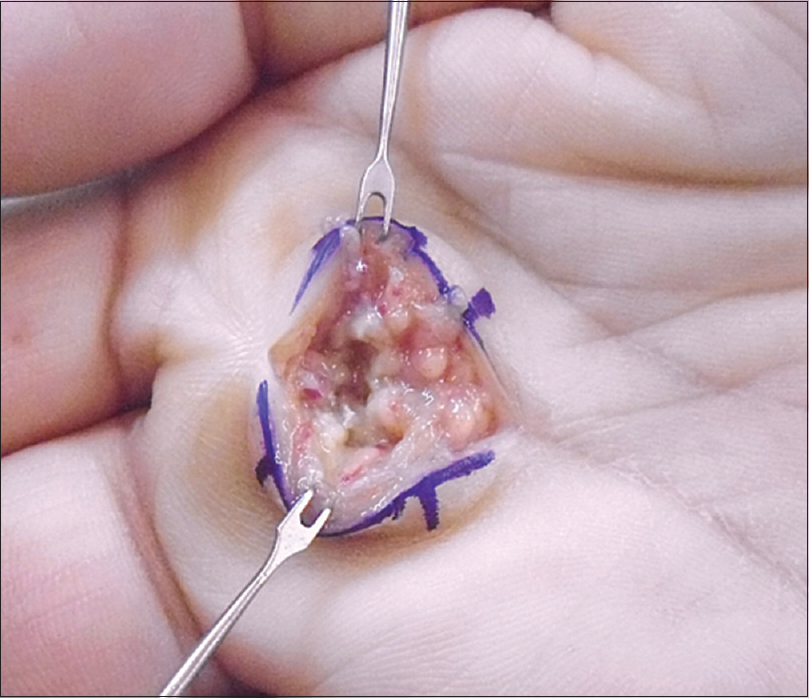 Figure 1b: On surgical exploration necrosis was observed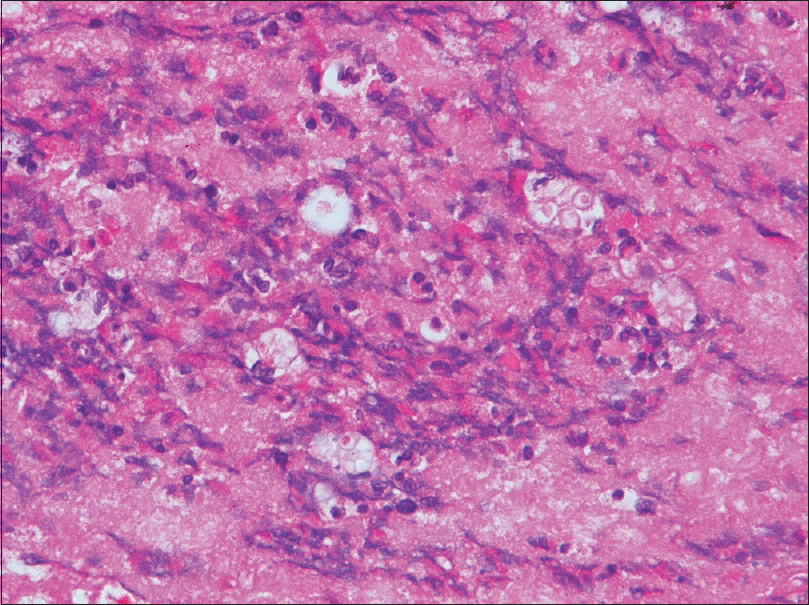 Figure 2: Spore-like microorganisms were found in necrotic debris (H and E, ×400)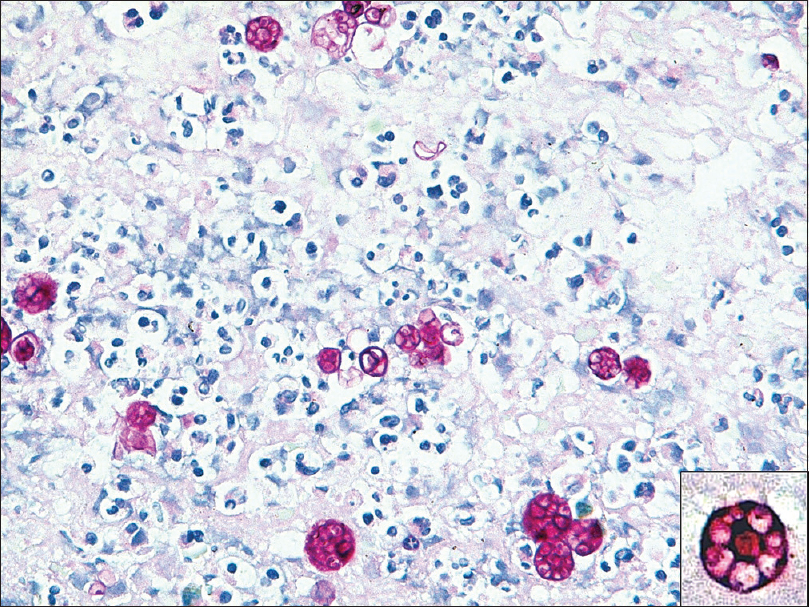 Figure 3: The Periodic acid-Schiff stain revealed numerous spore-like microorganisms (×400). The endospores with typical floret-like arrangement are identified (inset)
Question
What is the diagnosis?
References
1.

Todd JR, King JW, Oberle A, Matsumoto T, Odaka Y, Fowler M, et al. Protothecosis: Report of a case with 20-year follow-up, and review of previously published cases. Med Mycol 2012;50:673-89.

[Google Scholar]
2.

Nguyen QG, Rosen T. Cutaneous protothecosis in a patient with chronic lymphocytic leukemia: A case report and literature review. J Fungi 2015;1:4-12.

[Google Scholar]
3.

Hillesheim PB, Bahrami S. Cutaneous protothecosis. Arch Pathol Lab Med 2011;135:941-4.

[Google Scholar]
4.

Lass-Flörl C, Mayr A. Human protothecosis. Clin Microbiol Rev 2007;20:230-42.

[Google Scholar]
Show Sections