Translate this page into:

Letter to the Editor
doi: 10.4103/0378-6323.120740
PMID: 24177619
A simple and cost-effective device for mobile dermoscopy
Feroze Kaliyadan1 , KT Ashique2
1 Department of Dermatology, College of Medicine, King Faisal University, Saudi Arabia and Amrita Institute of Medical Sciences and Research Centre, Elamakkara, Kochi, Kerala, India,
2 Consultant Dermatologist, Alshifa Hospital, Perinthalmanna, Kerala, India,

Correspondence Address:
Feroze Kaliyadan
Department of Dermatology, College of Medicine, King Faisal University, Saudi Arabia


How to cite this article:
Kaliyadan F, Ashique K T. A simple and cost-effective device for mobile dermoscopy. Indian J Dermatol Venereol Leprol 2013;79:817-819
Copyright: (C)2013 Indian Journal of Dermatology, Venereology, and Leprology
Sir,
We had earlier presented an article mentioning the use of a simple jeweller′s loupe as a dermoscopy device. [1] Here, we present a modification by which any smart-phone camera can be converted into a dermoscopy device.
Some of the popular devices available in the market for the same purpose are Canfield dermscope® (Canfield scientific) and Handyscope® (FotoFinder systems Gmbh) both of which can be attached to smart-phones and serve the purpose of effective dermoscopy. These devices are especially useful in the context of e-dermoscopy or teledermoscopy, in which dermoscopic images can also be transmitted along with the clinical images for teleconsultations. [2] The main disadvantage of these devices, in the context of use in developing nations is the relatively high cost (starting from approximately 35,000INR/700USD). Moreover, most of these devices are compatible with only one particular make of smart-phones, limiting its utility.
Here, we present a simple device which can function effectively as a mobile dermoscope and can be a cheap and useful tool in mobile-phone enabled teledermoscopy.
Like in the original method, [1] we used a simple jeweler′s loupe with ×10 magnification and a built-in LED (Light-Emitting Diode) light. The loupe after extension was taped to the back of the smart-phone with the lens approximating the lens of the smart-phone camera [Figure - 1]. Alcohol gel was used as the dermoscopy fluid. It should be noted that the lesions were viewed through the fluid with a small gap between the loupe and the fluid. In other words, direct contact was minimal [Figure - 2].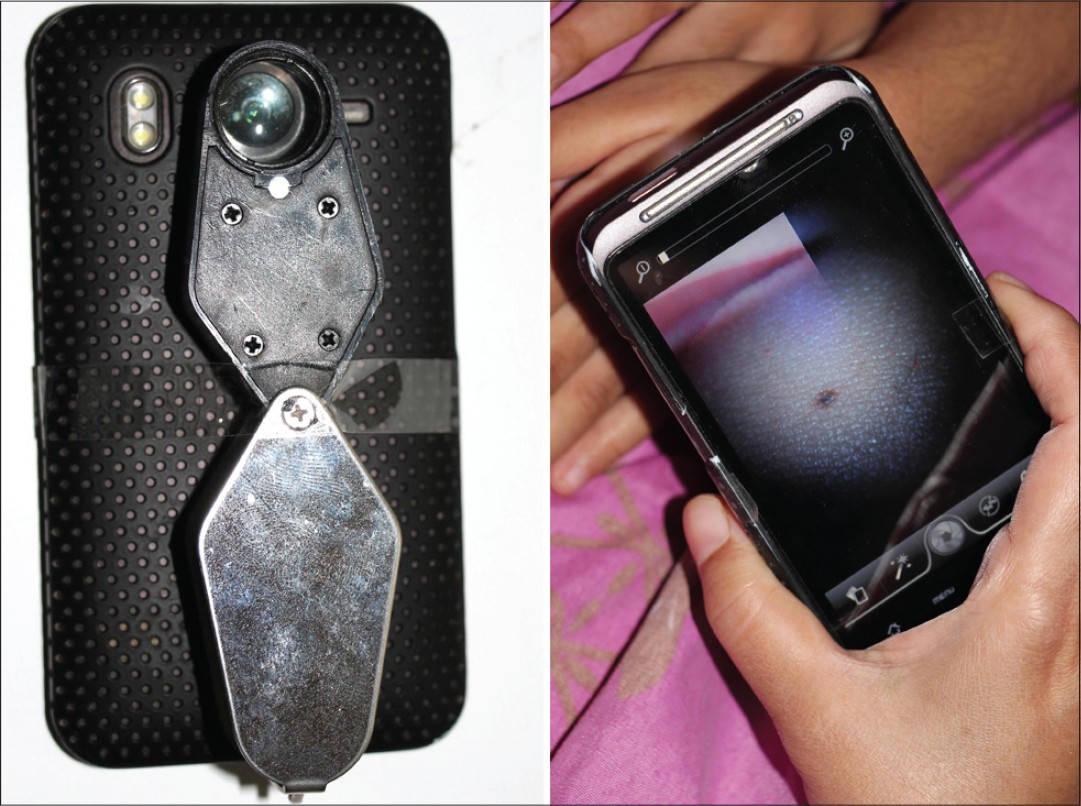 Figure 1: Jeweler's loupe attached to a HTC desire HD mobile phone with cello-tape and visualization of a melanocytic nevus with the loupe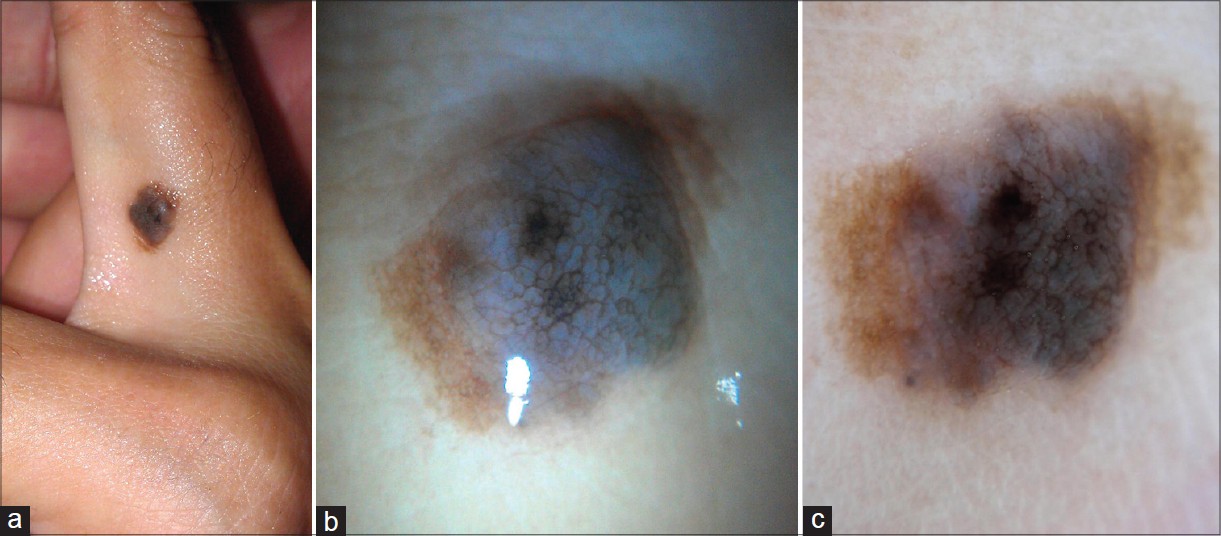 Figure 2: Melanocytic nevus over the finger (a) viewed with a jeweler's loupe attached to a smartphone (b) and with a standard dermoscope-DERMLITE pro HRII attached to a Sony DSC W-350 camera (c)
The main advantages of this simple device are the very low cost (less than 500 INR/10dollars for the loupe) and the fact that it can be attached to any smart-phone, making it more versatile. Since both the macro images and the dermoscopic images can be taken with the same smart-phone, it becomes very easy to submit the images for teledermatology consultations. The obvious limitations are the lower quality of the dermoscopic images and the absence of polarized dermoscopy options. Further studies would be needed to validate such a tool for use for the diagnosis or triage of cases like melanoma. However, we suggest this only as a basic tool which could be an aid to mobile teledermatology especially, in rural settings and also effective in teaching students and clinicians the basics of dermoscopy, especially in the Indian context, where dermoscopy for diagnosis and triage of melanoma is not a major need.
References
1.

Kaliyadan F. Using a simple jeweler's loupe as a dermoscopic instrument. Indian J Dermatol Venereol Leprol 2011;77:617-20.

[Google Scholar]
2.

Kroemer S, Frühauf J, Campbell TM, Massone C, Schwantzer G, Soyer HP, et al. Mobile teledermatology for skin tumour screening: Diagnostic accuracy of clinical and dermoscopic image tele-evaluation using cellular phones. Br J Dermatol 2011;164:973-9.

[Google Scholar]
Show Sections