Images in Clinical Practice
doi: 10.4103/0378-6323.125494
A t(r)icky mole behind the ear
KT Ashique
Consultant Dermatologist, Department of Dermatology, Alshifa Hospital, Perinthalmanna, Kerala, India

Correspondence Address:
K T Ashique
Karalikkattil House, Karakkaparamba, Vaniyambalam, Malappuram - 679 339, Kerala
India

How to cite this article:
Ashique K T. A t(r)icky mole behind the ear. Indian J Dermatol Venereol Leprol 2014;80:44-45
Copyright: (C)2014 Indian Journal of Dermatology, Venereology, and Leprology
A 11-year-old boy was brought to our outpatient department with history of sudden onset of a painful mole behind the left ear since 2 days. There was no history of any significant medical illness in the past. He gave a history of playing outdoors for a long time the previous evening prior to the appearance of the lesion.
On examination a tender mole-like lesion [Figure - 1] was seen behind the left ear. The tenderness made the child uncooperative for a thorough examination thereafter. There was however no regional lymphadenopathy or any other significant skin lesion in the adnexa or anywhere else on the body. On a closer examination, the ′movement′ of the mole was appreciated and it was evident that it was an insect (tick) holding on to the skin after a blood meal [Figure - 2]. The insect could be disengaged from the skin by instilling a drop of surgical spirit on it [Figure - 3]. The lesion healed with topical antibiotic (fusidic acid) cream alone without leaving any evidence of residual injury. The child was followed-up after 10 days with no evidence of any systemic illness suggestive of any vector borne illness.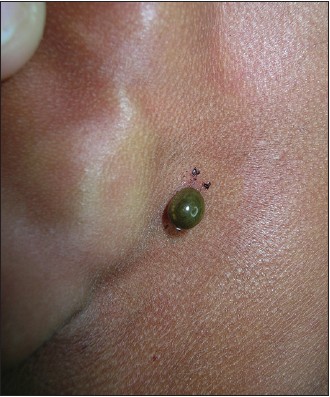 Figure 1: A hyperpigmented mole-like appearance of the tick attached to the host after a blood meal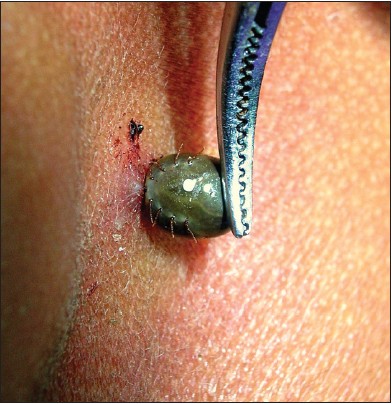 Figure 2: Closer view of the insect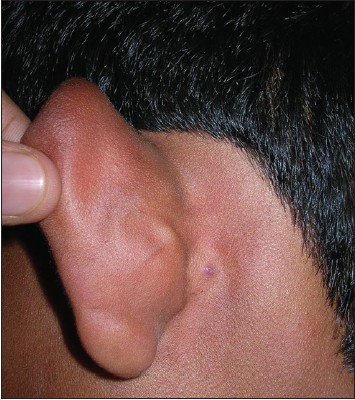 Figure 3: The papular bite mark on the skin seen after removal of the insect
Dicussion
Tick bites are some of the not so uncommon presentations of the whole group of dermatoses classified as insect bite reactions (IBR). Ticks are blood sucking ectoparasites of the vertebrates which transmit a variety of diseases like the tick borne relapsing fever apart from viral and rickettsial infections and Lyme′s disease. [1] The pain experienced by the patient as the insect holds on to the skin is a debilitating experience for the patient which often drives them to seek immediate medical attention. They may occupy any part of the host and has even been reported from inside the ear canal. [2]
Various methods have been suggested for tick removal like application of iodine, ether, chloroform, petrol, and kerosene. [1] Among various methods employed for tick removal, surgical removal with a fine curved forceps to avoid squeezing the body of the tick seems to be the most preferred method. [3] Recently, cryotherapy has also been reported to be effective in the process. [4]
In this patient, the insect could be removed by instilling a drop of surgical spirit which probably disturbed it and could be removed alive with a forceps without leaving any residual injury. The entomological analysis of the insect could not be done to comment on the exact nature of the parasite. The importance of early detection and removal of the parasite is stressed upon in view of the potential disease transmission by the bite.
Show Sections