Translate this page into:

Letter to the Editor
doi: 10.4103/0378-6323.113098
PMID: 23760328
A unique case of thrombosis in Behçet's disease with methylene tetrahydrofolate reductase homozygous polymorphism and raised homocysteine levels
Biju Vasudevan1 , Rajesh Verma1 , Vijendran Pragasam1 , Ajay Malik2 , Ruby Venugopal1 , Manoj Gopal2
1 Department of Dermatology, Command Hospital, Wanowrie, Pune, India
2 Department of Pathology, Command Hospital, Wanowrie, Pune, India

Correspondence Address:
Biju Vasudevan
Department of Dermatology, Command Hospital, Wanowrie, Pune-411 040
India

How to cite this article:
Vasudevan B, Verma R, Pragasam V, Malik A, Venugopal R, Gopal M. A unique case of thrombosis in Behçet's disease with methylene tetrahydrofolate reductase homozygous polymorphism and raised homocysteine levels. Indian J Dermatol Venereol Leprol 2013;79:531-533
Copyright: (C)2013 Indian Journal of Dermatology, Venereology, and Leprology
Sir,
Behçet′s disease is a chronic multisystem inflammatory disorder characterized clinically by recurrent oral and genital ulcers, skin lesions, posterior uveitis, and rarely systemic involvement in the form of arthritis, vascular thrombosis, gastrointestinal tract and central nervous system features. We report here a case of Behçet′s disease who presented with deep vein thrombosis (DVT) associated with homozygous methylene tetrahydrofolate reductase (MTHFR) mutation and raised homocysteine levels.
A 17-year-old male presented with multiple, recurrent, painful oral ulcers of 6 years duration with about 10 episodes per year. He also gave history of two episodes of painful genital ulcers in last 2 months. He gave history of an episode of acute-onset painful swelling of left lower limb a month ago. Prior to presenting to us for the orogenital ulcers, he was evaluated for the leg swelling by a hematologist wherein Color Doppler of the left lower limb had confirmed DVT along left common femoral vein and superficial femoral vein. He was managed with Inj. low molecular weight heparin (LMWH) followed by Tab. Warfarin 5 mg daily.
Dermatological examination at our center revealed an oval, punched-out, tender ulcer on the lower lip, measuring 1.5 × 1 cm [Figure - 1]a. A 2 × 2 cm sized tender, punched-out ulcer was present on the left hemiscrotum [Figure - 1]b. There was a solitary pustule on the dorsum of left foot [Figure - 1]c and multiple hyperpigmented polysized discrete to coalescent macules arranged in a linear fashion along the eft leg [Figure - 1]d. Acneiform lesions were also present on the trunk. Pathergy was positive. On ocular examination, there were no features of uveitis or retinitis.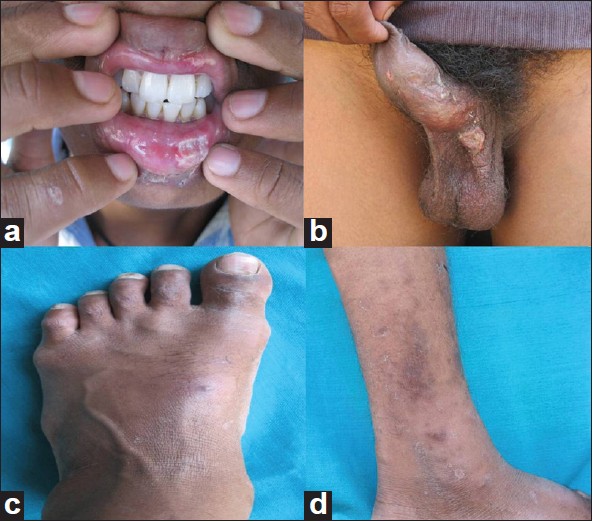 Figure 1: Clinical lesions: (a) Oral ulcer on lower lip; (b) scrotal ulcer; (c) solitary papulopustule on dorsum of foot; (d) lesions suggestive of superficial thrombophlebitis
Investigations revealed normal blood counts and biochemical parameters. Erythrocyte sedimentation rate (ESR) was elevated with 45 mm fall in first hour (Wintrobe′s method). Ultrasound (USG) abdomen, magnetic resonance imaging (MRI) abdomen and chest were normal. Skin biopsy from the genital ulcer as well as the pustular lesion on the foot showed perivascular and periadnexal mixed inflammatory cell infiltrate comprising neutrophils and lymphocytes, consistent with Behçet′s disease [Figure - 2]. Both human leukocyte antigen (HLA)-B51 and -B5 were negative. Prothrombotic investigations done in the form of protein C, protein S,prothrombin III gene mutation, antithrombin III, anticardiolipin antibodies ( ACLA)/lupus anticoagulant, and C3, C4 levels were within normal limits (WNL). However, serum homocysteine levels were raised (38 μmol/l with normal range = 2.2-13.2 μmol/l) and MTHFR gene polymorphism was found to be homozygous positive. The patient was initially started on Tab. Dapsone 100 mg once daily and Tab. Folic acid 5 mg/day. He showed significant improvement in the ulcers after 2 weeks of Dapsone. Tab. Warfarin was reduced to 2.5 mg alternate day and later tapered off. Dapsone was stopped after 4 weeks. Patient was started on Tab. Azathioprine 50 mg BD as a part of immunosuppressive therapy to prevent further thrombosis. He has been symptom free for the last 6 months of follow-up.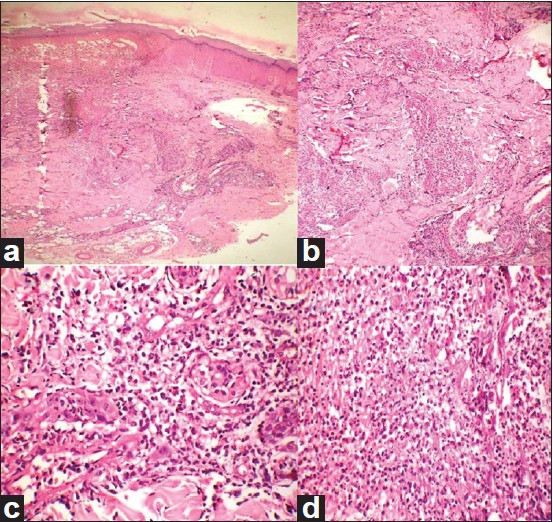 Figure 2: Histopathology of lesions: (a) Low-power view showing granulomatous infiltrate as also perivascular and periadnexal infiltrate (H and E stain, × 100); (b) intense dermal infiltrate (H and E stain, × 100); (c) periadnexal and perivascular neutrophilic infiltrate with no vasculitis (H and E stain, × 400); (d) intense neutrophil infiltrate under high power (H and E stain, × 400)
Vascular involvement occurs in 7%-29% of patients with Behçet′s disease. [1] The most frequent presentation is in young males as either superficial or deep venous thrombosis. Thrombosis most commonly affects the veins of the lower limbs.
Though few studies have shown that none of the thrombophilic factors have been associated with thrombosis in Behçet′s disease, there are many to the contrary. The commonest association has been reported with factor V Leiden mutation. [2] In a case control study, factor V Leiden mutation was found in 37.5% of Behçet′s disease patients with a history of DVT. Prothrombin gene mutations are the next commonest. These prothrombotic factors seem to augment thrombotic tendency in this disease.
Homocysteine is a sulfhydryl group containing amino acid which is formed during metabolism of methionine. Though the exact mechanism of increased homocysteine levels causing thrombosis is still to be elucidated, various mechanisms like increased expression of tissue factor, decreased anticoagulant processes, increased platelet reactivity with thrombin generation, decreased fibrinolytic potential, and endothelial dysfunction leading to vascular injury are all implicated in the process. Oxidative stress, hypomethylation of DNA, and other proinflammatory effects are also blamed for the pathogenesis. [3]
MTHFR mutation is the most common genetic cause of elevated homocysteine, which in turn increases the risk of arterial and venous thrombosis. Only two previous studies have reported association between MTHFR mutation and Behçet′s disease. Homozygosity of the T allele of MTHFR gene, associated with low thiolactonase activity and high homocysteine levels, leading to a prothrombotic situation was reported in one study. [4] Another study reported that a mutation in this gene was associated with an increased risk of ocular involvement. [5]
Our patient is a rare case of Behçet′s disease with venous thrombosis associated with MTHFR homozygous mutation and raised homocysteine levels. Also, being a native of a non-endemic country for the disease, it is even more significant. Genetic polymorphism refers to existence of many forms of DNA sequences (genotype) at a single locus within the same species. Individuals with two copies of the same genotype are said to be homozygous for that attribute.
European League Against Rheumatism (EULAR) recommends the use of systemic corticosteroids and immunosuppressants like Azathioprine and Cyclosporine in the management of venous thrombosis in Behçet′s disease. [6] The conflict of whether to use anticoagulants alone, anticoagulants along with immunosuppressants, or immunosuppressants alone is yet to be fully resolved.
References
1.

Kuzu MA, Ozaslan C, Köksoy C, Gürler A, Tüzüner A. Vascular involvement in Behcet's disease: 8-year audit. World J Surg 1994;18:948-53.

[Google Scholar]
2.

Mammo L, Al-Dalaan A, Bahabri SS, Saour JN. Association of factor V Leiden with Behçet's disease. J Rheumatol 1997;24:2196-8.

[Google Scholar]
3.

Undas A, Brozek J, Szczeklik A. Homocysteine and thrombosis: From basic science to clinical evidence. Thromb Haemost 2005;94:907-15.

[Google Scholar]
4.

Koubaa N, Hammami S, Nakbi A, Ben Hamda K, Mahjoub S,Kosaka T, et al. Relationship between thiolactonase activity and hyperhomocysteinaemia according to MTHFR gene polymorphism in Tunisian Behçet's disease patients. Clin Chem Lab Med 2008;46:187-92.

[Google Scholar]
5.

Ozkul Y, Evereklioglu C, Borlu M, Taheri S, Calis M, Dündar M, et al. 5,10-Methylenetetrahydrofolate reductase C677T gene polymorphism in Behcet's patients with or without ocular involvement. Br J Ophthalmol 2005;89:1634-7.

[Google Scholar]
6.

Hatemi G, Silman A, Bang D, Bodaghi B, Chamberlain AM, Gul A, et al. EULAR recommendations for the management of Behcet disease. Ann Rheum Dis 2008;67:1656-62.

[Google Scholar]
Show Sections