LETTER TO THE EDITOR
doi: 10.4103/0378-6323.129421
PMID: 24685873
Adult variant of self-healing papular mucinosis in a patient treated with interferon α2a
Daniel González Fernández1 , Blanca Vivanco Allende2 , Narciso Pérez Oliva3
1 Department of Dermatology, Central University Hospital of Asturias, Asturias, Spain
2 Department of Pathology, Central University Hospital of Asturias, Asturias, Spain
3 Department of Dermatology, School of Medicine, University of Oviedo, Asturias, Spain

Correspondence Address:
Daniel González Fernández
Servicio de Dermatología, Hospital Universitario Central de Asturias, Asturias, Spain. 4th Floor "A" building. C/Celestino Villamil S/N C.P. 33006 Oviedo, Asturias
Spain

How to cite this article:
Fernández DG, Allende BV, Oliva NP. Adult variant of self-healing papular mucinosis in a patient treated with interferon α2a. Indian J Dermatol Venereol Leprol 2014;80:184-186
Copyright: (C)2014 Indian Journal of Dermatology, Venereology, and Leprology
Sir
Papular mucinosis (PM), also known as lichen myxedematosus (LM) is characterized by papules, plaques or subcutaneous nodules due to an idiopathic deposition of mucin in the dermis; a variable degree of fibrosis may appear and thyroid function is normal. The current classification was developed by Rongioletti and Rebora in 2001 [1] dividing papular mucinosis into:scleromyxedema, a generalized scleroderma like form, accompanied by paraproteinemia and systemic involvement; localized papular forms, distributed into five subtypes: Discrete papular mucinosis, acral persistent papular mucinosis, self-healing papular mucinosis (SHPM), juvenile papular mucinosis and nodular papular mucinosis; and atypical forms: Scleromyxedema cases without monoclonal gammopathy, localized forms with monoclonal gammopathy and/or systemic symptoms, localized forms with mixed features of the five subtypes, and indeterminate cases.
We report a new case of adult variant of self healing popular mucinosis. In our patient, the onset and remission of symptoms coincided with the administration of interferon (IFN) α2a for the treatment of hepatitis C.
Case Report
A 50-year-old man had a history of infection with hepatitis C virus (HCV) genotype 1a, which was found unexpectedly in a blood test in March 2011. In June of that year he started receiving treatment with IFN α2a and ribavirin. The treatment was satisfactory with complete clearance of the virus from the outset. In May 2012, the patient presented to our departmentwith a 6 month history of hemispherical papules, which were initially located in the left scapular area and later extended to shoulders, upper back and extremities. The papules were asymptomatic and showed no change with the passage of time. Physical examination revealed multiple non-coalescing, hemispheric, skin-coloured and smooth surfaced papules, with firm consistency and variable size between 5 and 10 mm that were distributed symmetrically on the shoulders, upper back and extremities [Figure - 1]. Supplementary tests included a complete blood count, coagulation studies and blood chemistry (including protein electrophoresis, immunoglobulin levels and TSH), which were all normal. The antinuclear antibody test was negative. Hepatitis serology showed Hepatitis B surface antigen and immunoglobulin G HCV positivity with human immunodeficiency virus negativity and undetectable HCV ribonucleic acid. A skin biopsy of one of the papules revealed epidermis without alterations and an extensive deposit in the dermis and hypodermis of a mucinous material. This material separated the collagen bundles, which showed an atrophic appearance. Isolated capillaries and fibroblasts were observed within the mucinous material. There was no accompanying inflammatory infiltrate. The mucinous material showed a strong positive staining for colloidal iron and mucicarmine [Figure - 2]. In June 2012, the patient stopped treatment with IFN α2a and when he reported to us 2 months later. the lesions had completely resolved without any sequelae even though no treatment had been taken for the skin eruption. When evaluated in February 2013, the patient continued to remain free of lesions.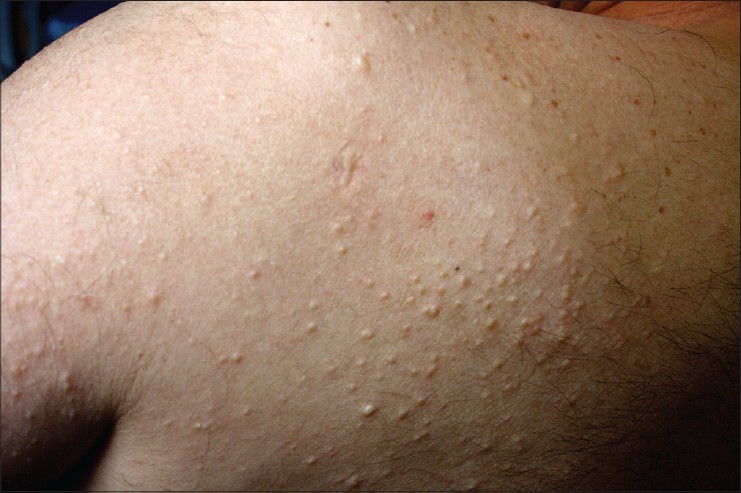 Figure 1: Involvement of the left shoulder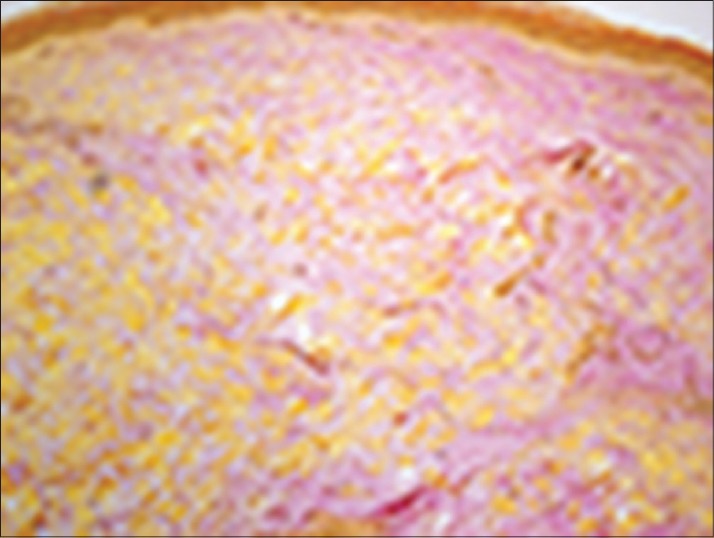 Figure 2: Mucinous material in the dermis (Mucicarmine, ×10)
The clinical and laboratory data confirmed the diagnosis of adult variant of self-healing papular mucinosis.
Discussion
The self-healing form is a rare variant of localized papular mucinosis without paraproteinemia or thyroid dysfunction. To date a total of 24 cases have been reported in the literature, 16 of them in children and 8 in adults.
The adult variant of self-healing papular mucinosis was described for the first time in 1983 by Suhonen and Niemi; [2] since then a total of eight cases have been collected. [3],[4] The demographic and clinical characteristics of the patients are listed in [Table - 1]. Clinically, the eruption is characterized by the appearance of multiple hemispherical, firm, smooth papules with a coloration that can be red, yellow or skin-colored. They are generally distributed symmetrically on the scalp, face, neck, trunk and limbs. Histologically, the disease is characterized by the presence of mucin deposits accumulated in the middle and upper dermis and there may be an increase of fibroblasts and a mild perivascular inflammatory infiltrate. [1] The etiology is still unknown. In our case, the papules appeared during treatment with IFN α2a and ribavirin, and subsided after they were discontinued, raising the possibility that one or both agents acted as a trigger. In this regard, there have been reports of worsening of symptoms of lichen myxedematosus with INF α2a administration. [5]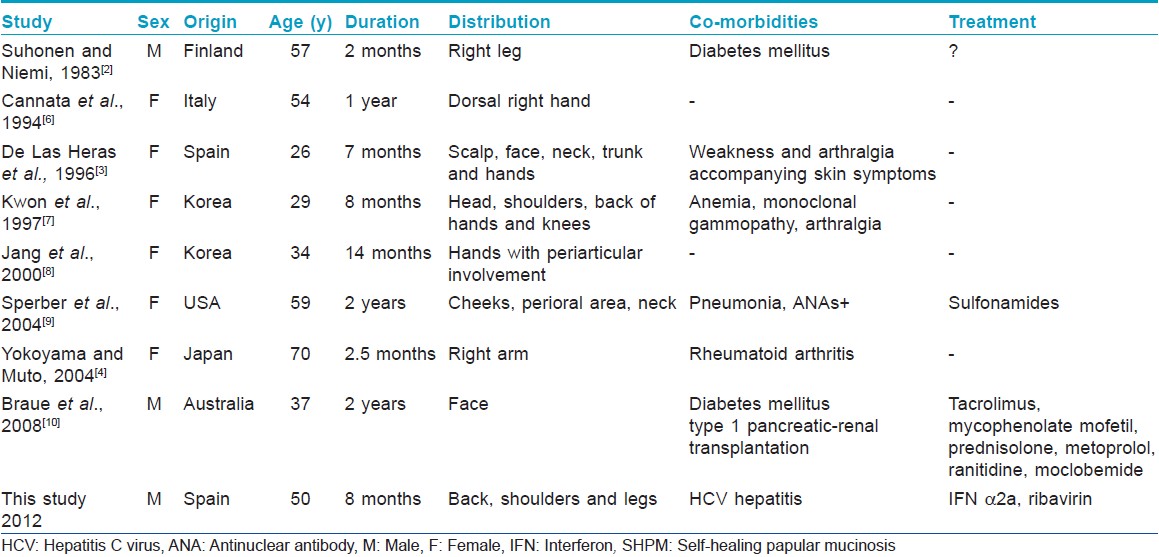 Table 1: Clinical and demographic characteristics of the patients described to date with adult variant SHPM
[10]
References
1.

Rongioletti F, Rebora A. Updated classification of papular mucinosis, lichen myxedematosus, and scleromyxedema. J Am Acad Dermatol 2001;44:273-81.

[Google Scholar]
2.

Suhonen R, Niemi KM. Cutaneous focal mucinosis with spontaneous healing. J Cutan Pathol 1983;10:334-9.

[Google Scholar]
3.

de las Heras ME, Pérez B, Arrazola JM, Rocamora A, Ledo A. Self-healing cutaneous mucinosis. Dermatology 1996;192:268-70.

[Google Scholar]
4.

Yokoyama E, Muto M. Adult variant of self-healing papular mucinosis in a patient with rheumatoid arthritis: Predominant proliferation of dermal dendritic cells expressing CD34 or factor XIIIa in association with dermal deposition of mucin. J Dermatol 2006;33:30-5.

[Google Scholar]
5.

Rongioletti F, Rebora A. Worsening of lichen myxedematosus during interferon alfa-2a therapy for chronic active hepatitis C. J Am Acad Dermatol 1998;38:760-1.

[Google Scholar]
6.

Cannata G, Gambini C, Ciaccio M. Self-healing localized cutaneous mucinosis. Dermatology 1994;189:93-4.

[Google Scholar]
7.

Kwon OS, Moon SE, Kim JA, Cho KH. Lichen myxoedematosus with rapid spontaneous regression. Br J Dermatol 1997;136:295-6.

[Google Scholar]
8.

Jang KA, Han MH, Choi JH, Sung KJ, Moon KC, Koh JK. Recurrent self-healing cutaneous mucinosis in an adult. Br J Dermatol 2000;143:650-1.

[Google Scholar]
9.

Sperber BR, Allee J, James WD. Self-healing papular mucinosis in an adult. J Am Acad Dermatol 2004;50:121-3.

[Google Scholar]
10.

Braue A, Dolianitis C, Varigos G. Spontaneous resolution of facial papular mucinosis in a transplant patient. . Australas J Dermatol 2008;49:164-6.

[Google Scholar]
Show Sections