Translate this page into:

doi:
10.25259/IJDVL_687_19
Atenolol use for infantile hemangiomas
Department of Dermatology

,

National Children Health Institute, Breña, Lima

,

Peru
1
Department of Dermatology

,

Dos de Mayo National Hospital, Lima

,

Peru
2
Department of Dermatology

,

Carlos Alberto Seguin Escobedo National Hospital, Arequipa

,

Peru
Corresponding author: Dr. Consuelo Apagüeño, Department of Dermatology, National Children Health Institute, Av.Brasil 600, Breña 15083, Lima, Peru. consuelodejesus111@hotmail.com
Received: , Accepted: ,
© 2021 Indian Journal of Dermatology, Venereology and Leprology - Published by Scientific Scholar
Licence
This is an open-access article distributed under the terms of the Creative Commons Attribution-Non Commercial-Share Alike 4.0 License, which allows others to remix, tweak, and build upon the work non-commercially, as long as the author is credited and the new creations are licensed under the identical terms.
How to cite this article: Ballona R, Velásquez F, Kikushima I, Zevallos JP, Nuñez J, Apagüeño C. Atenolol use for infantile hemangiomas. Indian J Dermatol Venereol Leprol. Indian J Dermatol Venereol Leprol 2021;87:321-321.
Sir,
Infantile hemangiomas are the most common, benign, vascular tumor of childhood. Although most infantile hemangiomas resolve spontaneously, approximately 10% of lesions may present with complications such as functional impairment of a vital organ or disfigurement.1 Propranolol is the first-line treatment for infantile hemangiomas requiring systemic intervention; however, 2.1% of treated patients reported side effects such as sleep disturbances, bronchial hyperreactivity and agitation.2,3 Previous reports suggest that atenolol, a hydrophilic beta-1 selective blocker, is an effective alternative for patients with contraindications to propranolol or who develop certain side effects associated with β2-adrenergic receptor blockades like hypoglycemia or bronchial hyperreactivity. Atenolol has been shown to have the same effectiveness as propranolol for infantile hemangioma with fewer side effects.4-6
Herein, we report an observational, prospective, uncontrolled, cross-sectional study performed at the Department of Dermatology of the National Children Health Institute, Breña, Lima to evaluate the clinical improvement of infantile hemangiomas that were treated with atenolol. Inclusion criteria were proliferative hemangiomas and infantile hemangiomas with a high risk of functional impairment, disfigurement or ulceration. Infants with neurological, respiratory or renal involvement were excluded. Informed consent was obtained from parents for the use of atenolol. A complete medical and family history was obtained. Complete physical examination and baseline electrocardiogram were performed.
Patients were prescribed atenolol 5 mg/mL syrup starting at 1 mg/kg/day to be taken once a day in the morning and within 20 min of finishing breastfeeding; after 7 days the dose was increased to 2 mg/kg/day and only patient 4 required a dose escalation to 3 mg/kg/day. The atenolol dose was adjusted based on the patients' weight monthly. At each visit, blood pressure and heart rate were monitored and parents were asked to look for sleep disturbances, agitation, lethargy, bronchospasm, constipation, diarrhea, vomiting, poor appetite, cool or sweaty extremities in the infants.
Changes in texture, color and size of the lesions were clinically evaluated, photographed and digitally recorded. The hemangioma activity score was used and the percentage of improvement was calculated at 4 and 9 months of age; however, for patient 1 this evaluation was completed after 6 and 9 months of age. The clinical improvement observed was considered very good if hemangioma regression was 90% and good if over 70%.
Four infant patients with infantile hemangiomas were treated with atenolol with the average age at the start of treatment being 2.5 months [Table 1]. Patient 1 had a large hemangioma on the upper eyelid [Figure 1a] that restricted the eye-opening and caused amblyopia; a magnetic resonance image showing presence of only soft tissues; patient 2 presented with a preauricular hemangioma that covered the external auditory canal and had parotid involvement. Patient 3 had an extensive infantile hemangioma located on the midfrontal aspect of the scalp (thus ruling out cranial dysraphism). Patient 4 had a very large hemangioma that involved the lower lip, chin and right jawline area [Figure 2a]. Scalp, brain and cervical magnetic resonance imaging scans and an echocardiogram were performed that ruled out subglottic hemangioma as well as posterior fossa anomalies, hemangioma, as well as arterial, cardiac and eye anomalies that may occur in various associated syndromes.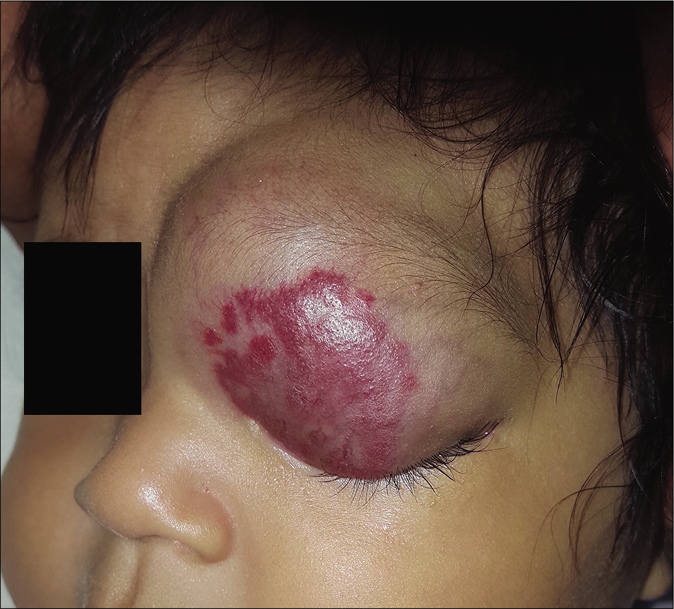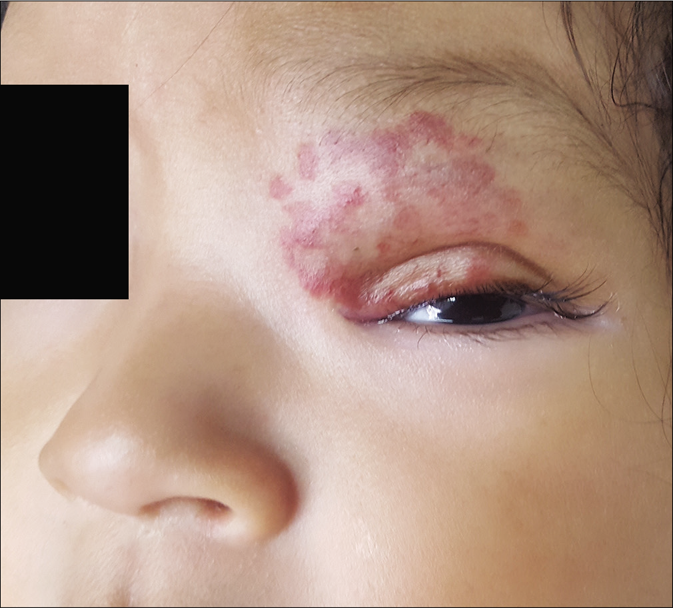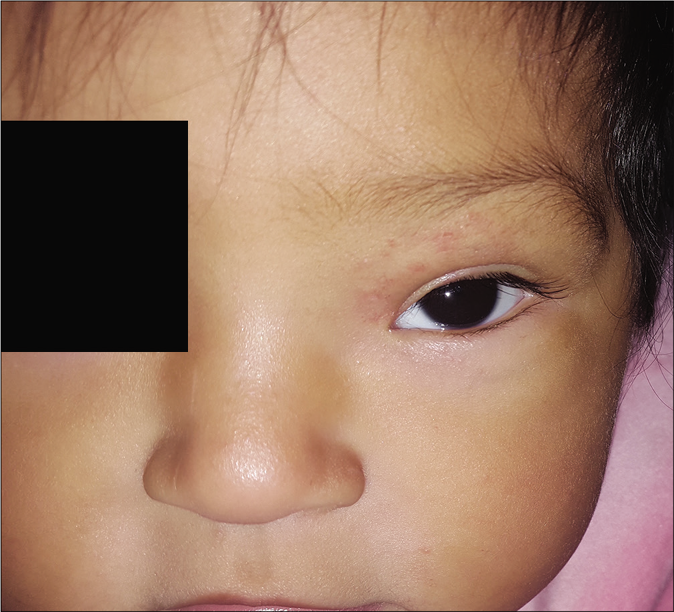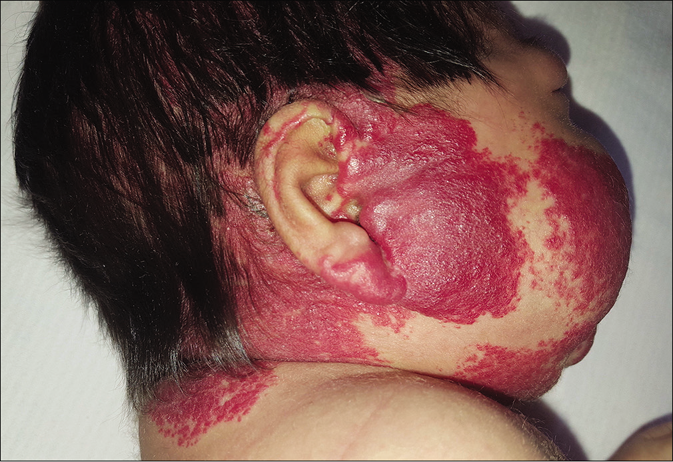 The clinical response in the above cases treated with atenolol were observed and documented [Figures 1b, c and 2b, c]. Atenolol was administered at 2–3 mg/kg/day based on the severity of the lesions as reported in few previous studies.1,5 Clinical improvement was observed right from the first month of starting the treatment with changes in the color, softening and decrease in size. The average duration by which atenolol could be discontinued was 7 months when the hemangioma activity score showed a regression of over 70%. Atenolol was administered till the infants reached 9 months of age to reduce the risk of rebound growth which can occur if therapy is discontinued before this age. Blood pressure, heart rate and vitals were not affected and no systemic side effects were reported. All children were followed up to 12 months of age and no child had rebound growth of the hemangiomas [Table 1].
All our cases administered with atenolol had results similar to the other published studies without any significant side effects.4-6 Previous publications on the use of atenolol for infantile hemangiomas report this medication as a good alternative to propranolol, only requiring an evaluation from a cardiologist and a baseline electrocardiogram and no other laboratory tests. Like with propranolol, the dosage will depend on the response to treatment which is usually determined by the complexity of the hemangioma and the age of the patient. Our literature review also revealed that atenolol has fewer side effects like bronchial hyperreactivity and sleep disturbance when compared to propranolol; hence, the safety profile is advantageous.4-6 The once-daily dose is also another advantage since it leads to better treatment adherence.2 More importantly, atenolol has also been reported to have adequate efficacy in the treatment of complicated infantile hemangiomas.6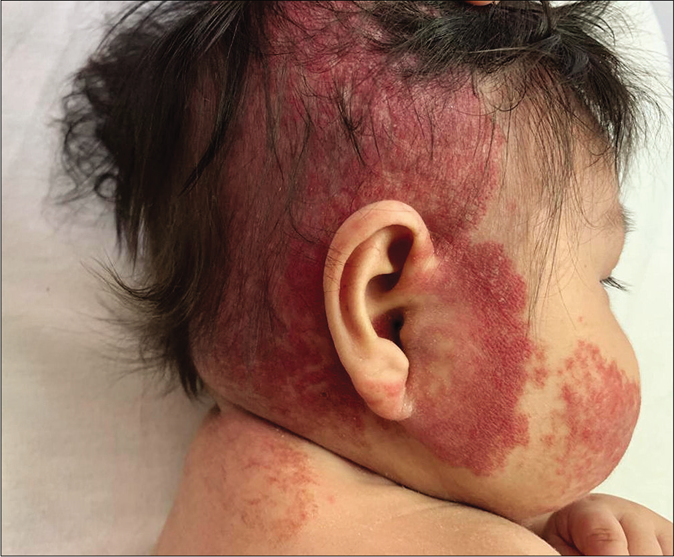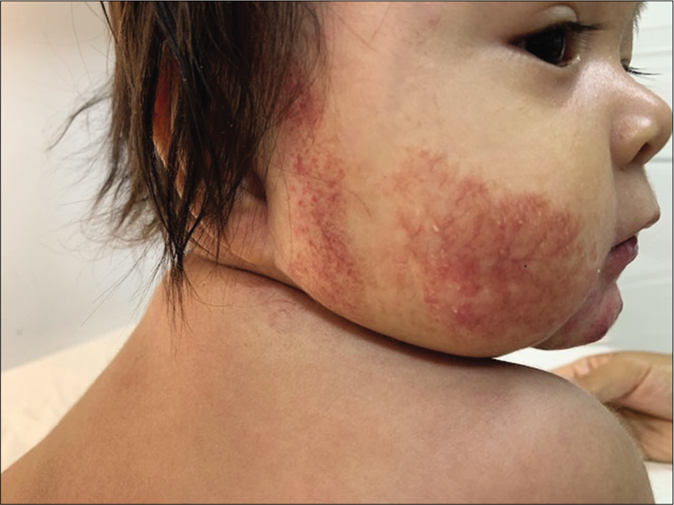 | Patient | Sex | Location | Type of hemangioma | Size (mm) | Indication | Dose (mg/kg/day) | Age of onset treatment (months) | Improvement percentage at 4th month of age (%) | Improvement percentage at 9th month of age (%) | Treatment time (months) | Residual lesion | Adverse events |
| --- | --- | --- | --- | --- | --- | --- | --- | --- | --- | --- | --- | --- |
| 1 | Girl child | Eyelid | Mixed | 75×40 | Functional | 2 | 4 | 60* | 90 | 7 | Fibrofatty tissue | None |
| 2 | Girl child | Preauricular | Mixed | 40×25 | Functional | 2 | 2 | 67 | 100 | 7 | None | None |
| 3 | Girl child | Scalp | Mixed | 50×45 | Disfigurement | 2 | 2 | 77 | 82 | 7 | None | None |
| 4 | Girl child | Face | Superficial | 250×100 | Functional/ulceration | 3 | 2 | 54 | 70 | 8 | Telangiectasias | None |
We report our experience in the management of four cases of infantile hemangiomas in whom early treatment with atenolol at a dose of 2–3 mg/kg/day during the proliferative phase was initiated. It is also proved to be a safe intervention as none of the patients presented with any side effects, and also had better adherence. Prospective studies with a higher number of patients are needed to further investigate the efficacy and safety of this intervention.
Declaration of patient consent
The authors certify that they have obtained all appropriate patient consent.
Financial support and sponsorship
Nil.
Conflicts of interest
There are no conflicts of interest.
Show Sections