Letter to Editor
doi: 10.4103/ijdvl.IJDVL_779_18
PMID: 30289122
Authors' reply
Sanjay Singh1 , Prakriti Shukla2
1 Department of Dermatology and Venereology, Institute of Medical Sciences, Banaras Hindu University, Varanasi, Uttar Pradesh, India
2 Department of Dermatology, Venereology and Leprosy, King George's Medical University, Lucknow, Uttar Pradesh, India

Correspondence Address:
Sanjay Singh
Department of Dermatology and Venereology, Institute of Medical Sciences, Banaras Hindu University, Varanasi - 221 005, Uttar Pradesh
India

How to cite this article:
Singh S, Shukla P. Authors' reply. Indian J Dermatol Venereol Leprol 2018;84:707-708
Copyright: (C)2018 Indian Journal of Dermatology, Venereology, and Leprology
Sir,
We welcome the comments on our article[1] and thank you for the opportunity to make our humble submission in reply [Table - 1]. In this pragmatic study,[1] the focus was on real-life situation in view of perceived recent loss of effectiveness of terbinafine in dermatophytic infections in India. Our objective was to find the evidence for or against the above perception. The study provides evidence that yes, there is a problem, and this is how grave it is [6].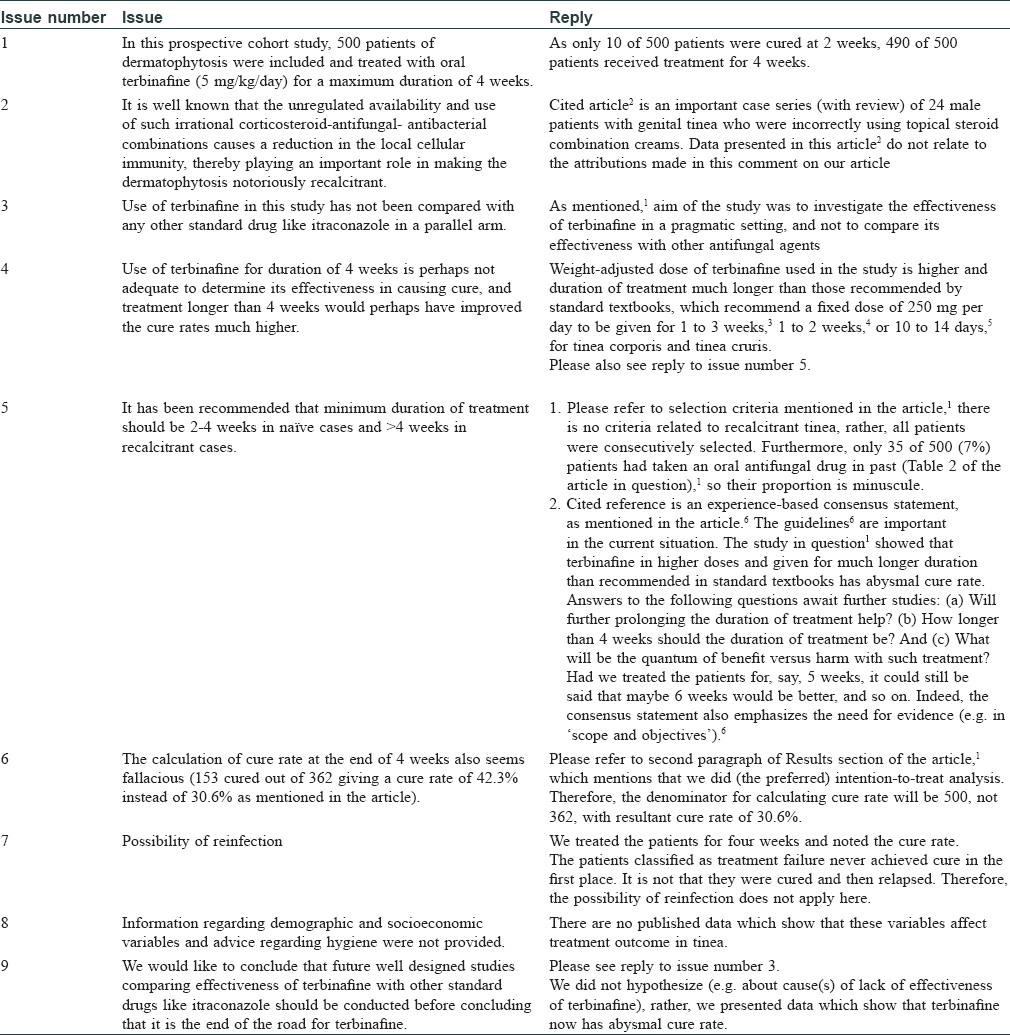 Table 1: Issues raised and the replies
Financial support and sponsorship
Nil.
Conflicts of interest
There are no conflicts of interest.
References
1.

Singh S, Shukla P. End of the road for terbinafine? Results of a pragmatic prospective cohort study of 500 patients. Indian J Dermatol Venereol Leprol 2018;84:554-7.

[Google Scholar]
2.

Verma SB, Vasani R. Male genital dermatophytosis—clinical features and the effects of the misuse of topical steroids and steroid combinations—an alarming problem in India. Mycoses 2016;59:606-14.

[Google Scholar]
3.

Hay RJ, Ashbee HR. Fungal infections. In: Griffiths CEM, Barker J, BleikerT, Chalmers R, Creamer D, editors. Rook's Textbook of Dermatology. 9th ed. West Sussex: John Wiley and Sons; 2016. p. 32.1-32.96.

[Google Scholar]
4.

Jacob R, Konnikov N. Oral antifungal agents. In: Goldsmith LA, Katz SI, Gilchrest BA, Paller AS, Leffell DJ, Wolff K, editors. Fitzpatrick's Dermatology in General Medicine. 8th ed. New York: McGraw-Hill; 2012. p. 2796-2806.

[Google Scholar]
5.

Shenoy MM, Shenoy SM. Superficial fungal infections. In: Sacchidanand S, Oberai C, Inamadar AC, editors. IADVL Textbook of Dermatology. 4th ed. Mumbai: Bhalani; 2015. p. 459-516.

[Google Scholar]
6.

Rajagopalan M, Inamadar A, Mittal A, Miskeen AK, Srinivas CR, Sardana K, Godse K, Patel K, Rengasamy M, Rudramurthy S, Dogra S. Expert consensus on the management of dermatophytosis in India (ECTODERM India). BMC Dermatol 2018;18:6.

[Google Scholar]
Show Sections