Translate this page into:

Letter to the Editor - Observation Letter
doi: 10.4103/0378-6323.192954
PMID: 27779144
B-cell chronic lymphocytic leukemia followed by mycosis fungoides in a psoriatic patient on long-term methotrexate therapy
Mariem Mohamed1 , Mouna Korbi1 , Monia Youssef1 , Adnène Moussa2 , Adnène Laatiri3 , Hichem Belhadjali1 , Jameleddine Zili1
1 Department of Dermatology, Fattouma Bourguiba University Hospital, Monastir, Tunisia
2 Department of Pathology, Fattouma Bourguiba University Hospital, Monastir, Tunisia
3 Department of Hematology, Fattouma Bourguiba University Hospital, Monastir, Tunisia

Correspondence Address:
Mariem Mohamed
Department of Dermatology, Fattouma Bourguiba University Hospital, Avicenne Street, Monastir 5000
Tunisia

How to cite this article:
Mohamed M, Korbi M, Youssef M, Moussa A, Laatiri A, Belhadjali H, Zili J. B-cell chronic lymphocytic leukemia followed by mycosis fungoides in a psoriatic patient on long-term methotrexate therapy. Indian J Dermatol Venereol Leprol 2017;83:104-108
Copyright: (C)2017 Indian Journal of Dermatology, Venereology, and Leprology
Sir,
A 69-year-old man with a medical history of diabetes mellitus and hypertension had plaque-type psoriasis since he was 48 years old. He had previously been treated with topical corticosteroids, salicylic acid, calcipotriol and acitretin. He had been on methotrexate 15 mg weekly since 2008 with good results with monitoring for side effects by routine blood tests (serum chemistry, hematology and urinalysis) every 3–6 months. On routine investigations in December 2011, he was found to have a high total leukocyte count (50.4 × 10[3]/µl) with lymphocytosis (45.6 × 10[3]/µl). A hematologic referral was sought and in the presence of >5000 B-lymphocytes/ml in the peripheral blood for a duration of more than 3 months and identification of a clonal B-cell population on flow cytometry, a diagnosis of B-cell chronic lymphocytic leukemia was made. At that time, the patient was diagnosed with asymptomatic early-stage disease (Binet Stage A with hemoglobin ≥10 g/dl, platelets ≥100 10[9]/L) with only the cervical lymph nodes being involved. Methotrexate therapy 15 mg/week was continued till late 2013 with good control of psoriasis when it was stopped by the patient himself with a rapid flare of psoriasis. The patient presented to us in October 2014 with erythematosquamous plaques over the trunk and limbs. On examination, there were multiple infiltrated erythematous scaly plaques over the trunk and extremities [Figure - 1],[Figure - 2],[Figure - 3] with a single brightly erythematous nodule of size 10 mm × 6 mm, over his right cheek [Figure - 4], Skin biopsy from the nodule of the right cheek and the right arm showed a conspicuous lymphocytic infiltrate in the superficial and deep dermis characterized by small-sized T-lymphocytes with some epidermotropism [Figure - 5]a and [Figure - 5]b. Immunohistochemical staining showed that the malignant cells expressed a mature peripheral T-cell phenotype (CD3+, CD4+, CD8+, CD20− and CD30−) [Figure - 6]a,[Figure - 6]b,[Figure - 6]c,[Figure - 6]d. A diagnosis of mycosis fungoides was made. Another skin biopsy from a lesion on the back revealed typical histological features of psoriasis [Figure - 7].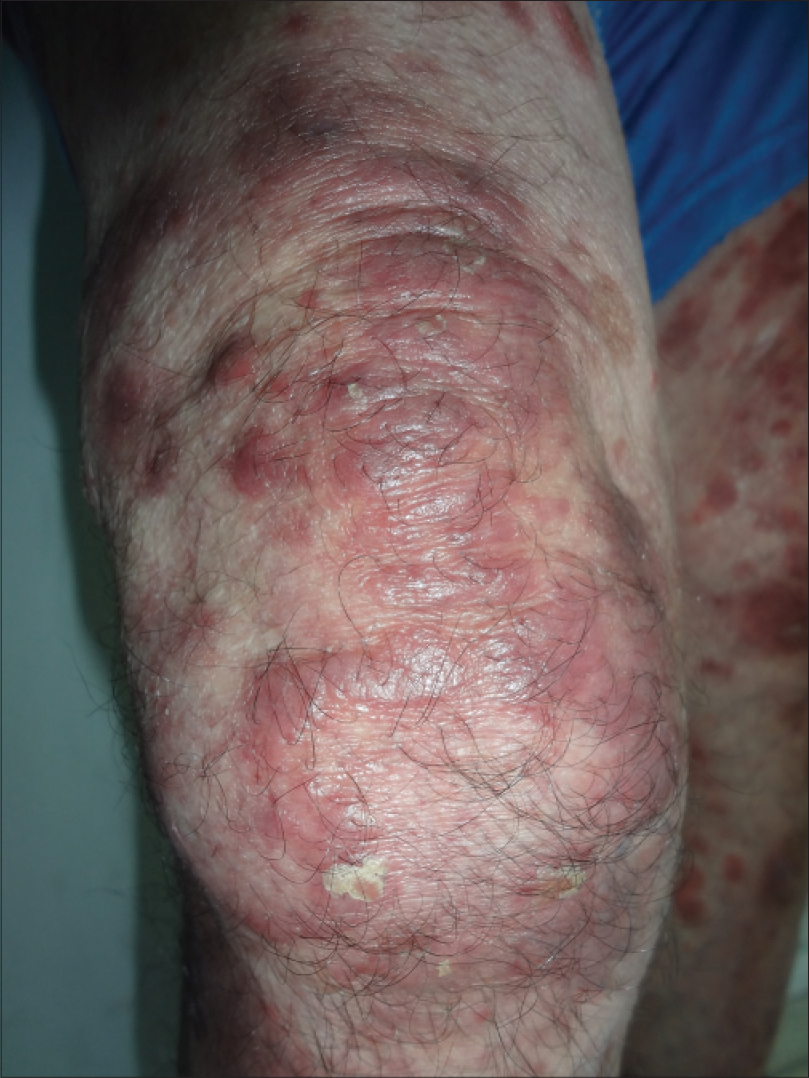 Figure 1: Infiltrated erythematous scaly plaques on the thigh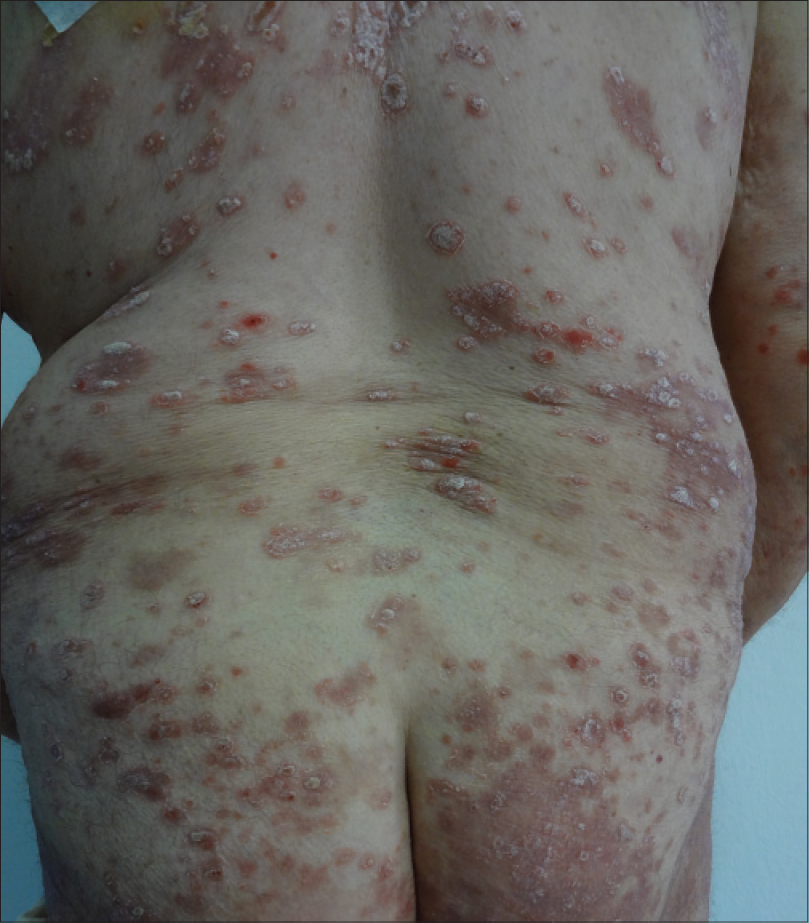 Figure 2: Psoriatic plaques on the trunk and buttocks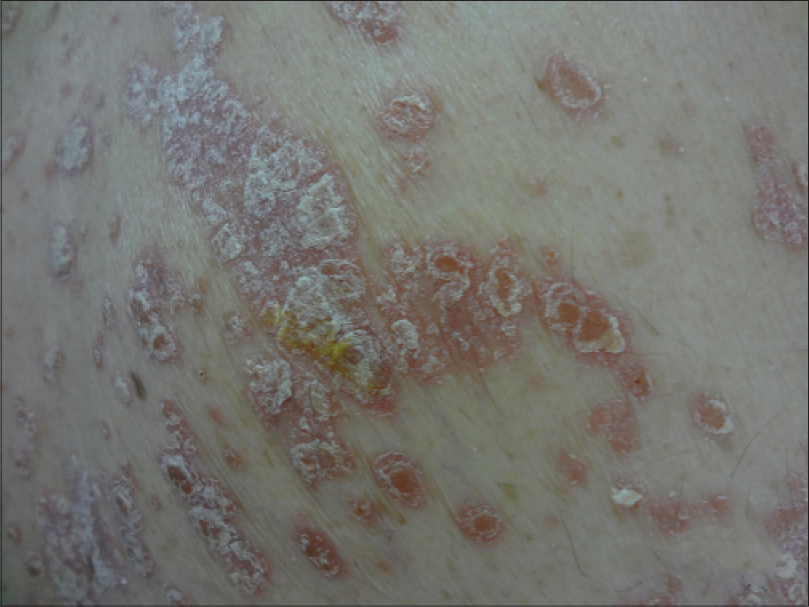 Figure 3: Sharply delineated erythematous scaly plaques on the trunk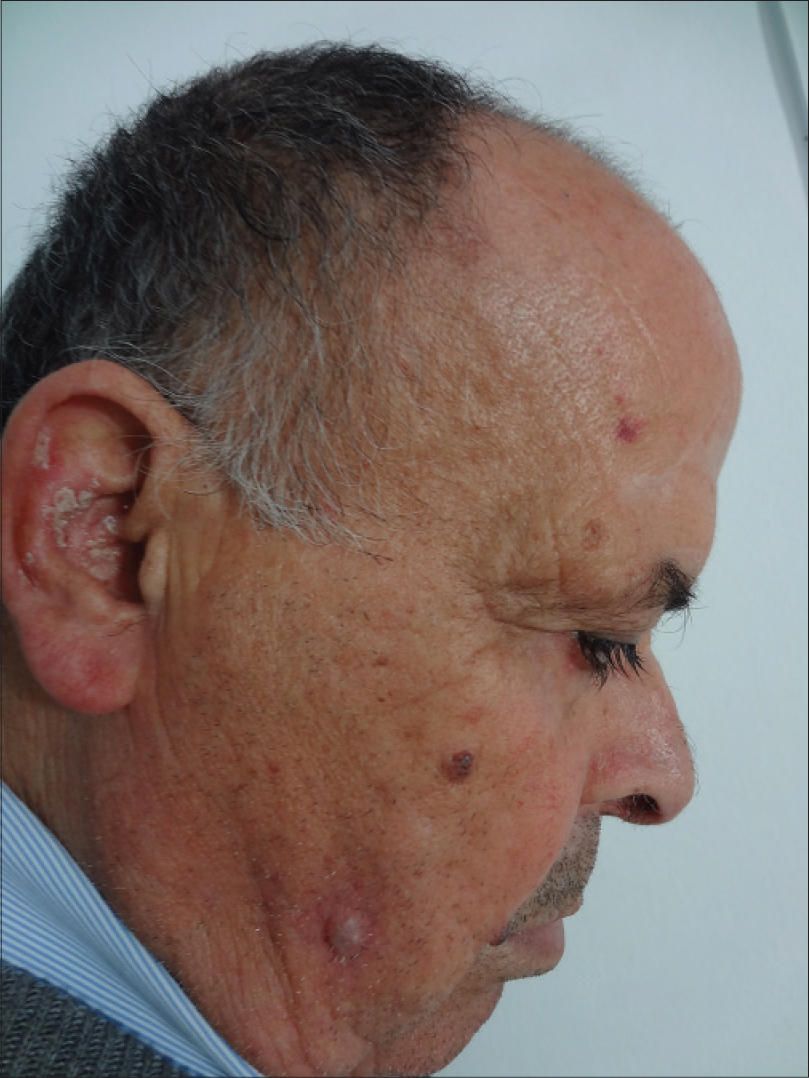 Figure 4: Bright red nodule on the right cheek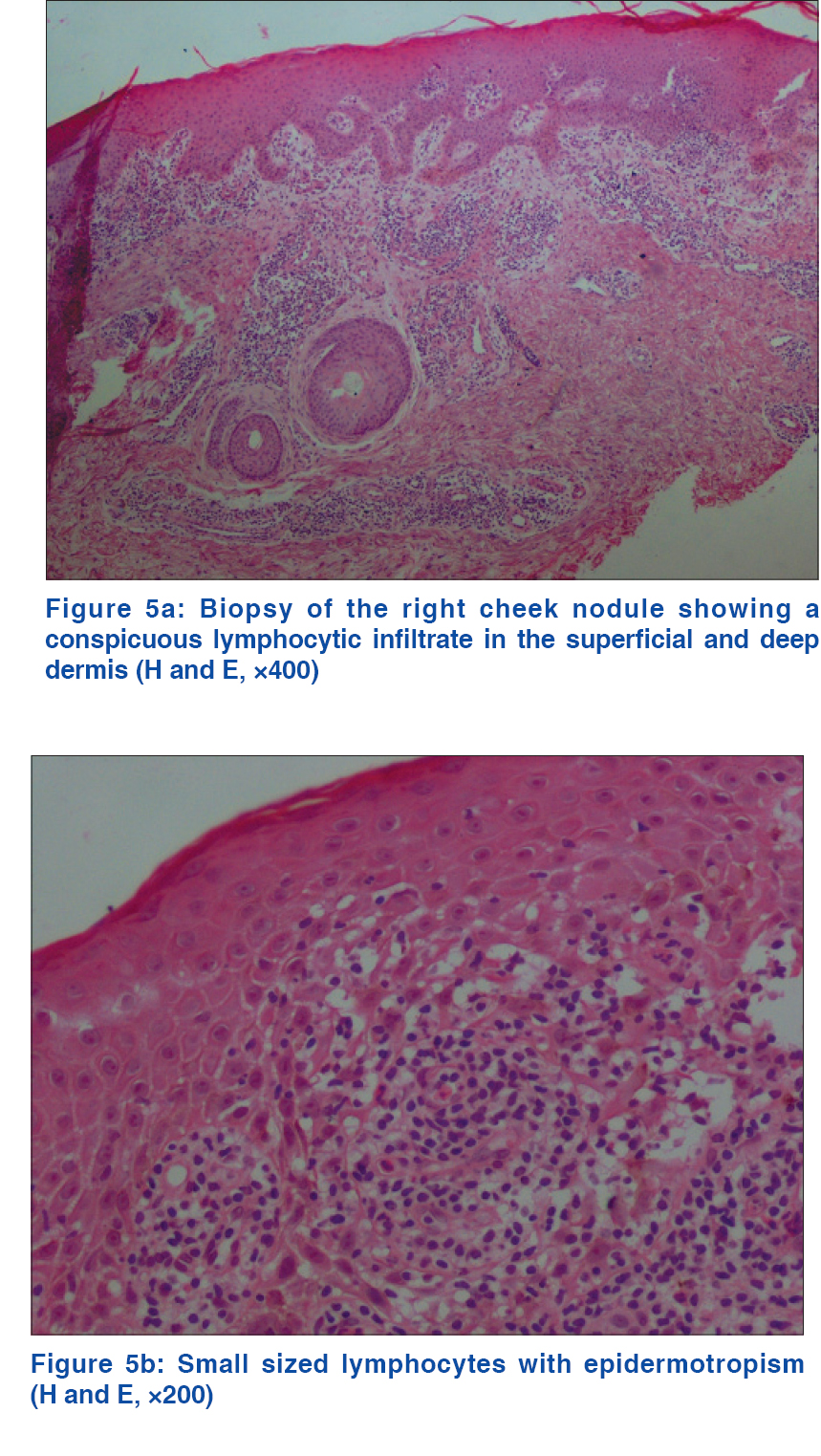 Figure 5: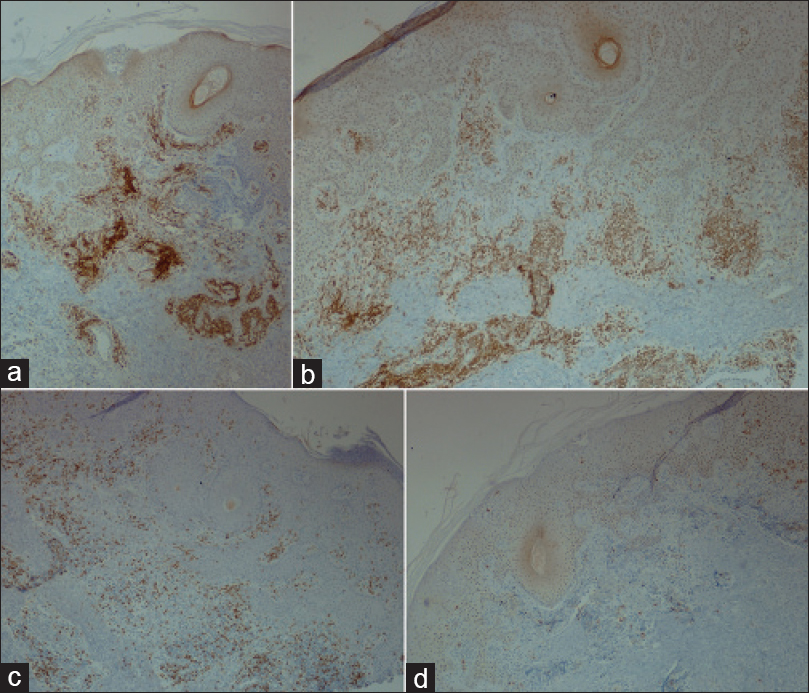 Figure 6: (a) Strong immunoreaction for CD3, (b) Strong immunoreaction for CD4, (c) Weak immunoreaction for CD8, (d) Negative immunoreaction for CD20 (IHC, ×400)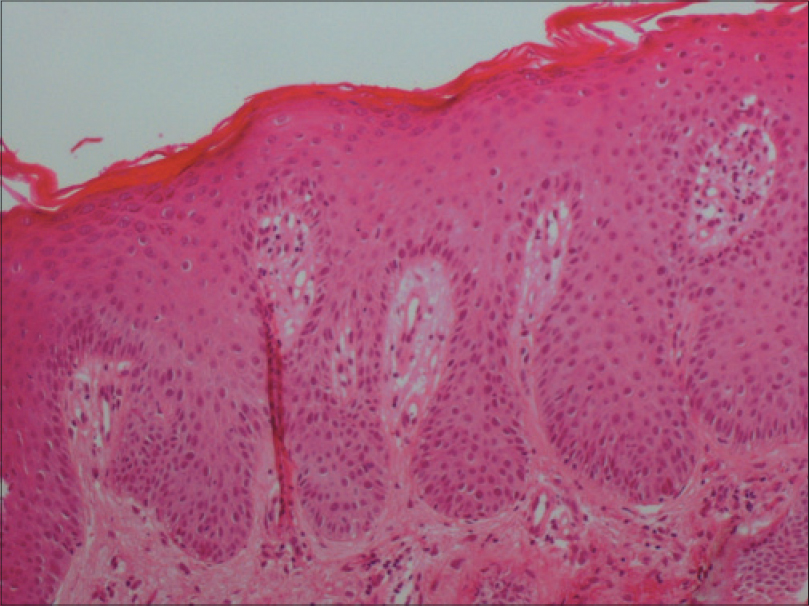 Figure 7: Skin biopsy of the back showed a psoriasis pattern: Hyperkeratosis, acanthosis with elongated dermal papillae and moderate inflammatory infiltrate in the dermis (H and E, ×400)
Total body computed tomography scanning was obtained which documented enlarged deep cervical, submandibular, submental, axillary, subclavian, mediastinal, peritoneal, retroperitoneal and inguinal lymph nodes with splenomegaly. Laboratory tests revealed a total leukocyte count of 104.6 × 10[3]/µl with 91.1% lymphocytes, hemoglobin of 11.15 g/dl, platelet count of 165 × 10[3]/µl, beta 2 microglobulin of 4.029 µg/ml, dehydrogenase lactate of 153 UI/L and uric acid of 485 µmol/L. There were no Sezary cells in the peripheral smear and renal and liver function tests were unremarkable.
With a diagnosis of psoriasis with mycosis fungoides, we started the patient on psoralen plus ultraviolet A therapy while for B-chronic lymphocytic leukemia, he was given mono-chemotherapy with cyclophosphamide.
Psoriasis is estimated to affect 2–3% of the population worldwide.[1] Mycosis fungoides is the most common variant of primary cutaneous T-cell lymphoma accounting for almost 50% of all primary cutaneous lymphomas.[2] It most commonly affects middle-aged and elderly adults of all races.[2] Typically, neoplastic T-cells localize in the skin and patients present with patches, plaques, tumors or erythroderma. Mycosis fungoides is generally an indolent malignancy with slow progression over years or even decades.[2] Tumors develop only in about 10% of cases. Lymphadenopathy is usually a late occurrence and visceral dissemination (lungs, spleen, liver, gastrointestinal tract) only rarely develops. Extracutaneous dissemination is directly correlated to the extent of cutaneous disease.[2]
Chronic lymphocytic leukemia is a member of the non-Hodgkin lymphoma family and represents a large proportion of all leukemias; it is classified as a low-grade lymphoproliferative malignancy characterized by a clonal expansion of B-cells.[3]
The question of whether psoriasis is associated with an increased risk of lymphoma is still a matter of controversy. A recent large population-based cohort study demonstrated that psoriasis is associated with an increased risk of lymphoma and the association is strongest for Hodgkin lymphoma and cutaneous T-cell lymphoma. Increasing severity of disease predicted increased risk.[1] The involvement of various inflammatory cell subsets in the pathogenesis of psoriasis and the lack of immune surveillance potentially induced by classical immunosuppressive antipsoriatic treatments such as methotrexate and cyclosporine are the main factors which might explain the development of cutaneous lymphomas in psoriatic patients on immunosuppressive agents.[4],[5],
Drug-related lymphomas are mainly B-lineage neoplasms associated with the presence of Epstein–Barr virus in the neoplastic lymphoid cells.[6] A study investigating the frequency of malignant neoplasms in 248 psoriatic patients treated with long-term methotrexate and followed up for a mean period of 7 years concluded that methotrexate does not seem to contribute to the development of malignant neoplasms in this group.[7] However, in a more recent large study, exposure to high doses of methotrexate, as was the case in our patient, was the only therapeutic exposure associated with a higher risk of lymphoma among patients with psoriasis initially treated with psoralen plus ultraviolet A.[8]
The occurrence of cutaneous T-cell lymphoma in patients with chronic lymphocytic leukemia, is very unusual and there are only a few previous case reports and small series. The distinction between a true neoplastic disorder (mycosis fungoides) and a reactive process remains difficult especially because of the similarities in histopathology in these two entities. The distinction thus relies on a constellation of clinical findings (patch/plaques for true mycosis fungoides, papules for pseudo-mycosis fungoides), course of evolution and T cell clonal rearrangement studies all of which may also be unable to differentiate them in some cases.[9]
Several hypotheses have been put forth to explain the co-occurrence of cutaneous T cell lyphoma in patients with chronic lymphocytic leukemia. One hypothesis supposes that cutaneous lymphomas could derive from precursor stem cells residing in extracutaneous compartments such as bone marrow. Secondly, the neoplastic B-cells and/or their environment may promote the development of a T-cell lymphoproliferation. In addition, certain patients may be predisposed because of an underlying genetic disposition or because of their medical history, including malignancies, exposure to viruses or treatment of the preexisting lymphoproliferative disease.[10] Given the rarity of concomitant cutaneous T-cell lymphoma and chronic lymphocytic leukemia, it is difficult to know if the association between these two forms of lymphoma might influence their development and progression.[10]
Declaration of patient consent
The authors certify that they have obtained all appropriate patient consent forms. In the form the patient has given his consent for his images and other clinical information to be reported in the journal. The patient understands that his name and initials will not be published and due efforts will be made to conceal his identity, but anonymity cannot be guaranteed.
Financial support and sponsorship
Nil.
Conflicts of interest
There are no conflicts of interest.
References
1.

Kimball AB, Gladman D, Gelfand JM, Gordon K, Horn EJ, Korman NJ, et al. National psoriasis foundation clinical consensus on psoriasis comorbidities and recommendations for screening. J Am Acad Dermatol 2008;58:1031-42.

[Google Scholar]
2.

Scarisbrick JJ. Staging and management of cutaneous T-cell lymphoma. Clin Exp Dermatol 2006;31:181-6.

[Google Scholar]
3.

Adami J, Frisch M, Yuen J, Glimelius B, Melbye M. Evidence of an association between non-Hodgkin's lymphoma and skin cancer. BMJ 1995;310:1491-5.

[Google Scholar]
4.

Gelfand JM, Shin DB, Neimann AL, Wang X, Margolis DJ, Troxel AB. The risk of lymphoma in patients with psoriasis. J Invest Dermatol 2006;126:2194-201.

[Google Scholar]
5.

Mahé E, Descamps V, Grossin M, Fraitag S, Crickx B. CD30+ T-cell lymphoma in a patient with psoriasis treated with ciclosporin and infliximab. Br J Dermatol 2003;149:170-3.

[Google Scholar]
6.

Paul C, Le Tourneau A, Cayuela JM, Devidas A, Robert C, Molinié V, et al. Epstein-Barr virus-associated lymphoproliferative disease during methotrexate therapy for psoriasis. Arch Dermatol 1997;133:867-71.

[Google Scholar]
7.

Nyfors A, Jensen H. Frequency of malignant neoplasms in 248 long-term methotrexate-treated psoriatics. A preliminary study. Dermatologica 1983;167:260-1.

[Google Scholar]
8.

Stern RS. Lymphoma risk in psoriasis: Results of the PUVA follow-up study. Arch Dermatol 2006;142:1132-5.

[Google Scholar]
9.

Ingen-Housz-Oro S, Franck N, Beneton N, Fauconneau A, Do-Pham G, Carlotti A, et al. Folliculotropic T-cell infiltrates associated with B-cell chronic lymphocytic leukaemia or MALT lymphoma may reveal either true mycosis fungoides or pseudolymphomatous reaction: Seven cases and review of the literature. J Eur Acad Dermatol Venereol 2015;29:77-85.

[Google Scholar]
10.

Chang MB, Weaver AL, Brewer JD. Cutaneous T-cell lymphoma in patients with chronic lymphocytic leukemia: Clinical characteristics, temporal relationships, and survival data in a series of 14 patients at Mayo Clinic. Int J Dermatol 2014;53:966-70.

[Google Scholar]
Show Sections