Letter to the Editor
doi: 10.4103/0378-6323.110791
PMID: 23619455
Benign giant cutaneous horn formed by giant porokeratosis of Mibelli with dysplasia
Mohanan Saritha1 , Rashmi Kumari1 , Devinder M Thappa1 , Nachiappa G Rajesh2 , Surendra Kumar Verma2
1 Department of Skin and STD, Jawaharlal Institute of Post Graduate Medical Education and Research, Puducherry, India
2 Department of Pathology, Jawaharlal Institute of Post Graduate Medical Education and Research, Puducherry, India

Correspondence Address:
Rashmi Kumari
Department of Skin and STD, Jawaharlal Institute of Post Graduate Medical Education and Research, Puducherry
India

How to cite this article:
Saritha M, Kumari R, Thappa DM, Rajesh NG, Verma SK. Benign giant cutaneous horn formed by giant porokeratosis of Mibelli with dysplasia. Indian J Dermatol Venereol Leprol 2013;79:433-435
Copyright: (C)2013 Indian Journal of Dermatology, Venereology, and Leprology
Sir,
Porokeratosis is a clonal disorder of keratinization with rare reports of malignant transformation in 6.9-11.6% cases. [1] Here we report a rare case of giant porokeratosis of Mibelli (PM) with dysplasia forming a rather large, curved cutaneous horn.
A 45-year-old man came with history of an asymptomatic plaque on right forearm of 4 years. He had developed an asymptomatic ulcerated growth in the center of the plaque over the last 2 years and a horny projection at one end for the past 6 months. On physical examination, there was a large well-defined plaque of size 14 cm × 10 cm on the right forearm extending from the metacarpophalangeal joint to mid forearm. The border was sharply demarcated and keratotic; the plaque was dry and hyperpigmented on the forearm and appeared erythematous and crusted on the dorsum of hand. In the center of the plaque, there was an ulcero-proliferative growth of size 4 cm × 3 cm × 3 cm [Figure - 1]. A large curved horny outgrowth made of yellowish hard substance of size 9 cm × 1.5 cm was present on the distal edge of the plaque [Figure - 1]. Skin biopsy done from the edge of the plaque showed cornoid lamella with a column of parakeratosis overlying a focal invagination of epidermis, consistent with porokeratosis of Mibelli [Figure - 2]. Shave excision of the cutaneous horn was done; base of the horn showed hyperkeratosis and acanthosis with no evidence of malignancy [Figure - 3]a. Histopathology of the growth revealed acanthosis and papillomatosis with dysplastic changes [Figure - 3]b. The patient was referred to plastic surgery for excision and grafting.
Porokeratosis is a disorder of keratinization characterized by atrophic plaques with well-defined keratotic edges. The characteristic histopathology shows a tightly packed stack of parakeratotic cells overlying a cornoid lamella. [2],[3] There are 6 known clinical variants namely disseminated superficial actinic porokeratosis (DSAP), plaque type or porokeratosis of Mibelli, porokeratosis plantaris palmaris, et disseminata, linear porokeratosis, punctate porokeratosis, and the less common porokeratosis ptychotropica. [2] Among these, DSAP is inherited as an autosomal dominant trait with a penetrance of 22%, and four loci have been described. [3],[4] Gene expression profiles reveal an upregulation of mRNAs of hyperproliferative keratins, calcium binding proteins, connexin 26 and 30 and involucrin in the cornoid lamellae, in a manner similar to that occurring in psoriasis. [4] An overexpression of p53 protein was found in keratinocytes near the cornoid lamella in all types of porokeratosis and throughout epidermis in Bowenoid lesions. [2]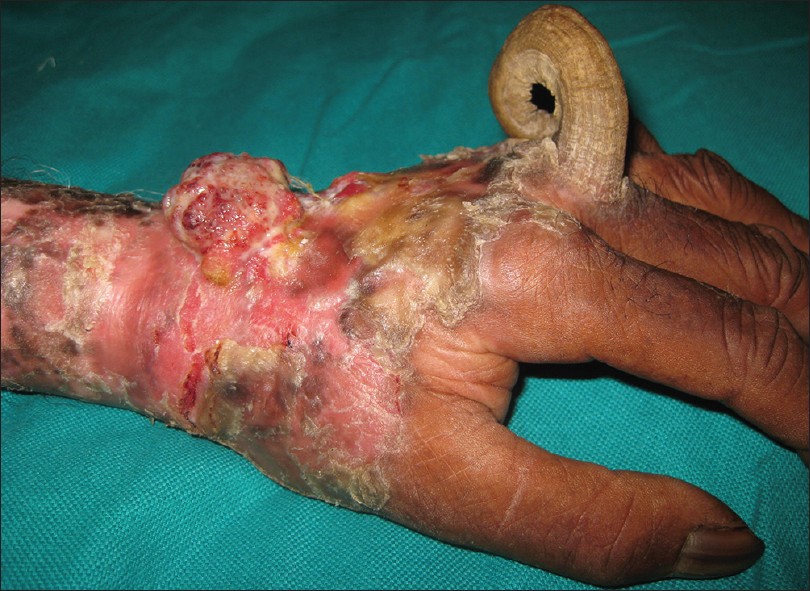 Figure 1: Large curved cutaneous horn with proliferative growth present on the distal end of a well-defined scaly plaque on forearm
Figure 2: Histopathology showing cornoid lamella i.e., column of parakeratosis overlying an epidermal invagination with absent granular layer (H and E, × 200)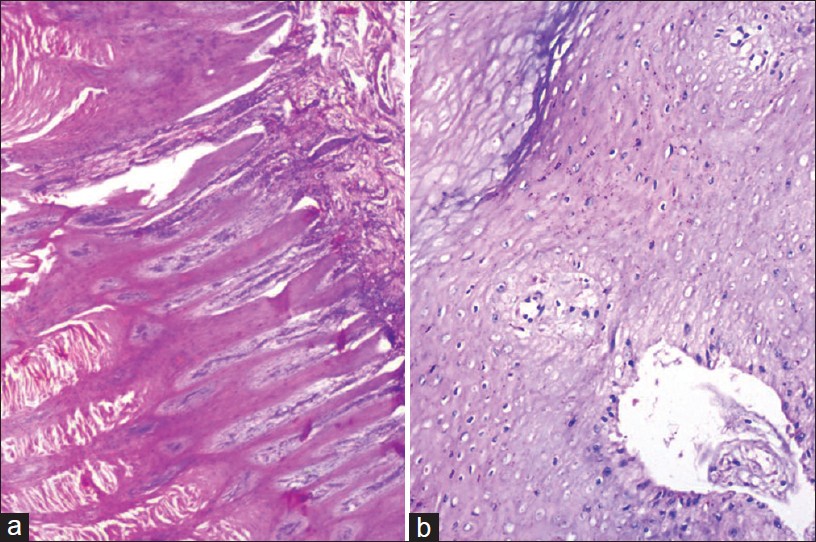 Figure 3: (a) Histopathology of base of cutaneous horn showing keratin with hyperkeratosis and papillomatosis (H and E, × 400) (b) Histopathology of nodular growth showing hyperkeratosis and acanthosis with few dysplastic changes (H and E, × 400)
Giant porokeratosis of Mibelli is a rare entity. [5],[6],[7] It can be considered as a variant of porokeratosis of Mibelli, although it has been described as a separate variant. [5] The surrounding wall can be raised to a height of 1 cm and it may be associated with bony anomalies or mutilation. [5] These complications were absent in our patient.
Among the clinical variants, linear porokeratosis and porokeratosis of Mibelli have the highest incidence of malignant transformation into Bowen′s disease, squamous cell carcinoma, or basal-cell carcinoma. [3] Malignant transformation in giant porokeratosis has been reported but is rare. [6],[7] Dysplastic changes in the nodular growth revealed by histopathology in our patient would be premalignant. Hence wide excision was planned for treatment. Other treatment options for porokeratosis are cryotherapy, CO 2 laser, radiofrequency ablation and topical 5-fluorouracil.
There are no reports of giant horns in association with the rare giant porokeratosis of Mibelli, although multiple small horns occurring along with squamous cell carcinoma have been reported in few previous reports of porokeratosis. [8],[9] Cutaneous horns can be associated with benign, premalignant and malignant dermatoses [Table - 1]. [10] The base of giant horns have a 30% risk of malignancy; [11] however, surprisingly, in our patient this was not the case. The rare combination of giant porokeratosis of Mibelli with a giant cutaneous horn, both with their unique and characteristic morphology and the ominous threat posed by dysplasia underlying the porokeratosis, but not the giant horn makes this case highly interesting.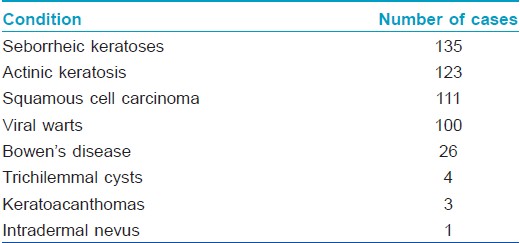 Table 1: Underlying pathology of cutaneous horn observed by Yu et al.[10]
References
1.

Maubec E, Duvilard P, Margulis A. Common skin cancers in porokeratosis. Br J Dermatol 2005;152:1389-91.

[Google Scholar]
2.

Sertznig P, von Felbert V, Megahed M. Porokeratosis: Present concepts. J Eur Acad Dermatol Venereol 2012;26:404-12.

[Google Scholar]
3.

McGuigan K, Shurman D, Campanelli C, Lee JB. Porokeratosis ptychotropica: A clinically distinct variant of porokeratosis. J Am Acad Dermatol 2009;60:501-3.

[Google Scholar]
4.

Murase J, Gilliam AC. Disseminated superficial actinic porokeratosis co-existing with linear and verrucous porokeratosis in an elderly woman: Update on the genetics and clinical expression of porokeratosis. J Am Acad Dermatol 2010;63:886-91.

[Google Scholar]
5.

Bozdað KE, Biçakçi H, Ermete M. Giant porokeratosis. Int J Dermatol 2004;43:518-20.

[Google Scholar]
6.

Li JH, Yang ZH, Li B, Chen HD. Squamous cell carcinoma arising from giant porokeratosis. Dermatol Surg 2011;37:855-7.

[Google Scholar]
7.

Sengupta S, Das JK, Gangopadhyay A. Multicentric squamous cell carcinoma over lesions of porokeratosis palmaris et plantaris disseminata and giant porokeratosis. Indian J Dermatol Venereol Leprol 2005;71:414-6.

[Google Scholar]
8.

Sarma N, Boler AK, Bhattacharya SR. Familial disseminated plaque type porokeratosis with multiple horns and squamous cell carcinoma involving anal skin. Indian J Dermatol Venereol Leprol 2009;75:551.

[Google Scholar]
9.

Yesudian DP, Krishnan S, Jayaraman M. Occurrence of squamous cell carcinoma and multiple cutaneous horns in porokeratosis. Indian J Dermatol Venereol Leprol 1995;61:326-7.

[Google Scholar]
10.

Yu RC, Pryce DW, Macfarlane AW, Stewart TW. A histopathological study of 643 cutaneous horns. Br J Dermatol 1991;124:449-52.

[Google Scholar]
11.

Nthumba PM. Giant cutaneous horn in an African woman: A case report. J Med Case Reports 2007;1:170.

[Google Scholar]
Show Sections