Translate this page into:

Letter to the Editor
doi: 10.4103/0378-6323.136937
PMID: 25035375
Bullous pemphigoid in a female with hypogonadotrophic hypogonadism
Varadraj V Pai, Pankaj Shukla, Rakhi Godge
Department of Dermatology, Goa Medical College, Goa, India

Correspondence Address:
Varadraj V Pai
Department of Dermatology, Goa Medical College, Goa
India

How to cite this article:
Pai VV, Shukla P, Godge R. Bullous pemphigoid in a female with hypogonadotrophic hypogonadism . Indian J Dermatol Venereol Leprol 2014;80:364-367
Copyright: (C)2014 Indian Journal of Dermatology, Venereology, and Leprology
Sir,
A 55-year-old unmarried woman presented with a history of clear fluid-filled lesions all over the body for one month. Cutaneous examination revealed bullae, urticated plaques and erosions involving the extremities, trunk and back with a negative Nikolsky′s sign [Figure - 1] and [Figure - 2]. On investigation, no acantholytic cells were seen on a Tzanck smear. Complete hemogram and biochemical parameters were within normal limits. Biopsy revealed a subepidermal split with inflammatory cells. Direct immunofluorescence showed linear staining of the basement membrane zone (BMZ) with IgG and C3. Salt-split staining revealed a linear BMZ band on the epidermal side (′roof′) of the split [Figure - 3] and [Figure - 4]. Therefore, a diagnosis of bullous pemphigoid was confirmed.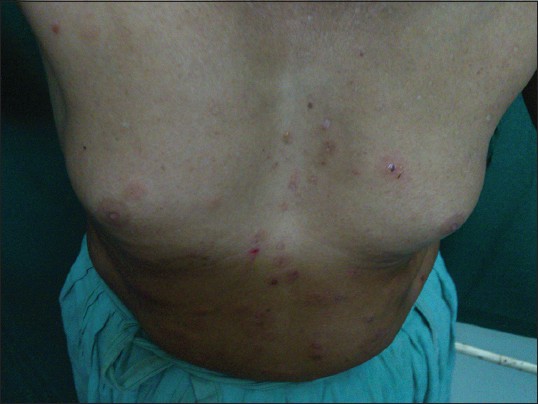 Figure 1: Tense bullae over the chest and abdomen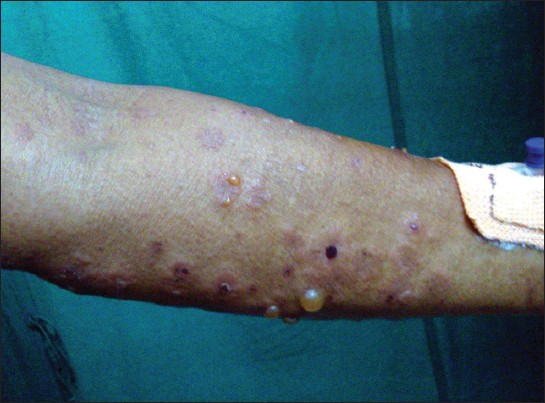 Figure 2: Urticated plaques with bullae over the forearm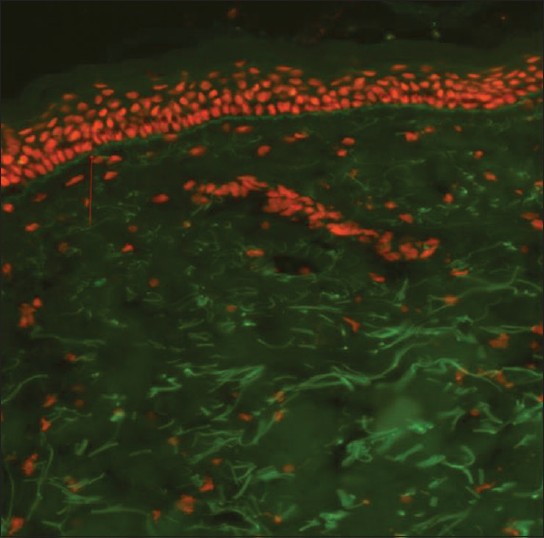 Figure 3: Linear staining of basement membrane zone with IgG and C3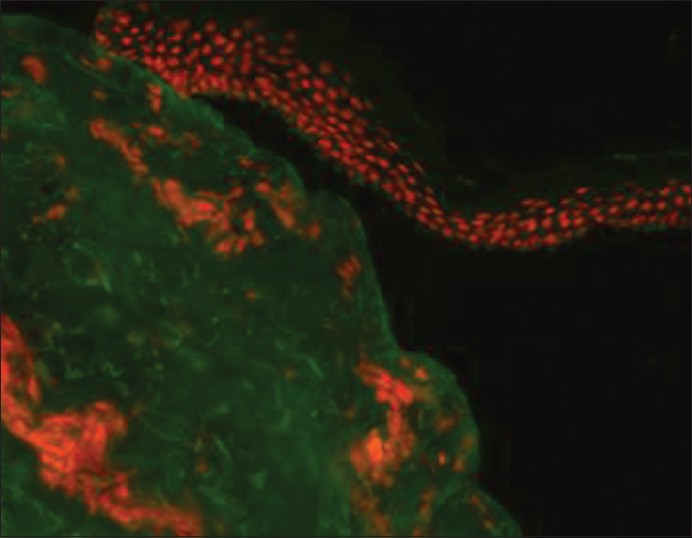 Figure 4: Linear basement membrane zone band is seen on the epidermal side ('roof') of the split
The patient also complained of primary amenorrhea. Genital examination showed sparse pubic hair with underdeveloped labia majora/minora and a small vaginal introitus. No gonads were palpable in the inguinal area. Vitiliginous patches were seen over the labia majora [Figure - 5] and dorsum of the hand. Examination for other secondary sexual characters revealed the absence of axillary hair and presence of breast buds with slightly elevated papillae [Figure - 6].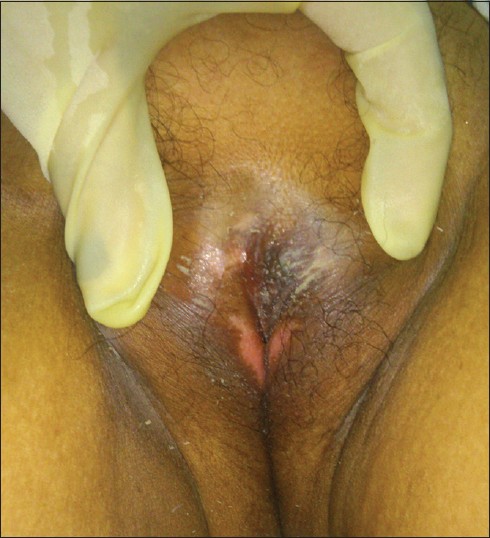 Figure 5: Sparse distribution of pubic hair with vitiliginous patches over the labia majora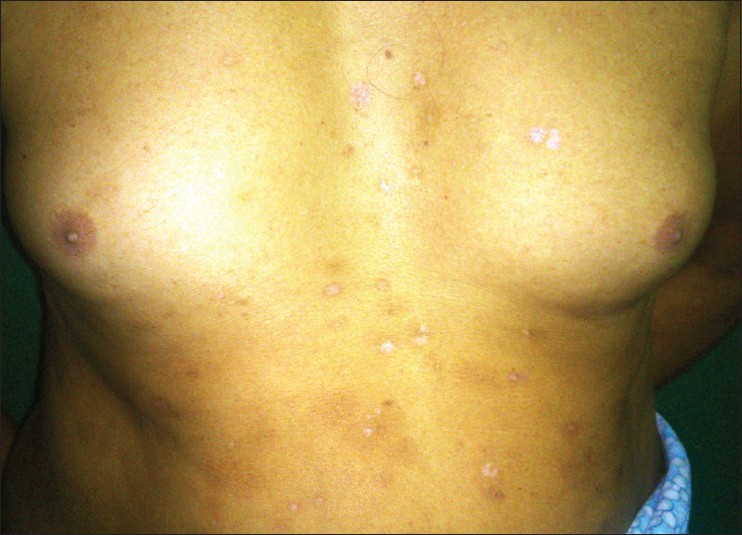 Figure 6: Poorly developed breasts with healing lesions
Endocrine evaluation showed low levels of serum follicle stimulating hormone (FSH): 0.48 (normal 26.72-133) and serum leutinizing hormone (LH): <0.07 (normal 15.9-54), serum estradiol: 0.1 (post-menopausal normal <35 pg/ml), serum prolactin: 8.03 (normal 5-26), serum T3: 0.62 (normal 0.58-1.59), serum T4: 7.42 (normal 4.8-11.72), and serum TSH: 2.73 (normal 0.35-4.95). Barr body was present in the buccal mucosa. Anthropometry revealed a height of 144 cm, arm span of 155 cm, upper segment of 69 cm, and lower segment of 75 cm. Secondary sexual development of the breast and pubic hair indicated Tanner stage II. Ultrasound abdomen revealed a senile and hypoplastic uterus and the ovaries were not visualized. Auditory evaluation revealed a moderate mixed hearing loss. Olfactory test demonstrated a normal ability to identify smell. A final diagnosis of bullous pemphigoid with vitiligo and isolated normosmic hypogonadotropic hypogonadism was made. The patient was treated with injection dexamethasone 8 mg along with systemic and topical antibiotics. Good improvement was noticed with two weeks of therapy.
Bullous pemphigoid is an autoimmune bullous disorder mostly encountered in the elderly with onset after 60 years and a peak incidence at 80 years and older. [1] It may be associated with other dermatoses such as lichen planus, vitiligo and psoriasis and other autoimmune conditions such as primary biliary cirrhosis, rheumatoid arthritis, pernicious anemia and thyroid disease. [1]
Hypogonadotropic hypogonadism is defined as a clinical syndrome that results from gonadal failure due to inadequate levels or absence of pituitary gonadotropin levels. [2] Both congenital and acquired causes have been associated with this condition. Congenital isolated hypogonadotropic hypogonadism is characterized by partial or complete absence of pubertal development secondary to deficient gonadotropin-releasing hormone (GnRH)-induced gonadotropin secretion, without structural abnormalities in the hypothalamic and pituitary regions, and normal levels of other pituitary hormones. This genetic condition is classically divided into two groups based on the presence of anosmia/hyposmia (Kallmann Syndrome) or the absence of olfactory disturbances (normosmic isolated hypogonadotropic hypogonadism). [2]
Typically, diagnosis of the congenital syndrome is made during the second or third decade of life when patients present with a delayed pubertal onset, absent or poorly developed secondary sexual characteristics, primary amenorrhea, eunuchoid proportions or infertility. Adult females have little or no breast development along witth primary amenorrhea. Although skeletal maturation is delayed, the rate of linear growth is usually normal except for the absence of a distinct pubertal growth spurt. In isolated hypogonadotropic hypogonadism, women typically have Tanner stage I breasts and Tanner stage II-III pubic hair (since pubic hair is controlled in part by adrenal androgens). [3] Hypogonadism was diagnosed as an associated condition in our patient who presented to us for blistering disease.
The evidence of low/normal gonadotropin levels in the setting of low concentrations of testosterone in men and estradiol in women indicates the diagnosis of hypogonadotropic hypogonadism. The goals of therapy for hypogonadal adolescents/young adults are the induction and maintenance of normal puberty and induction of fertility. Testosterone is the primary treatment modality used to induce and maintain secondary sexual characteristics and sexual function in men, but it does not restore fertility. In women, estrogen-progesterone replacement, calcium and vitamin D supplementation, and nutritional counselling should be provided. When fertility is desired, additional gonadotropin therapy is necessary. [2],[3]
X-linked ichthyosis and hereditary hemorrhagic telangiectasia are among the very few dermatoses reported in association with hypogonadotropic hypogonadism. [4],[5] The association of bullous pemphigoid with hypogonadism in our patient is likely to be merely coinicdental though a pathogenetic link between the two diseases cannot be completely excluded.
References
1.

Stanley JR. Bullous pemphigoid. In: Wolff K, Goldsmith LA, Katz SI, Gilchrest BA, Paller AS, Leffell DJ, editors. Fitzpatrick's Dermatology in General Medicine. 7 th ed. New York: McGraw-Hill Publications; 2008. p. 475-80.

th ed. New York: McGraw-Hill Publications; 2008. p. 475-80.'>[Google Scholar]
2.

Silveira LF, Latronico AC. Approach to the patient with hypogonadotropic hypogonadism. J Clin Endocrinol Metab 2013;98:1781-8.

[Google Scholar]
3.

Ska³ba P, Guz M. Hypogonadotropic hypogonadism in women. Endokrynol Pol 2011;62:560-7.

[Google Scholar]
4.

Krishnamurthy S, Kapoor S, Yadav S. Nephrotic syndrome with X-linked ichthyosis, Kallmann Syndrome and unilateral renal agenesis. Indian Pediatr 2007;44:301-3.

[Google Scholar]
5.

Scarano V, De Santis D, Suppressa P, Lastella P, Lenato GM, Triggiani V, et al. Hypogonadotropic hypogonadism associated with hereditary hemorrhagic telengiectasia. Case Rep Endocrinol 2013;2013:465376.

[Google Scholar]
Show Sections