LETTER TO THE EDITOR
doi: 10.4103/0378-6323.129416
PMID: 24685869
Central retinal artery occlusion and cerebral inrfaction following forehead injection with a corticosteroid suspension for vitiligo
Ou-gen Liu1 , Li Chunming1 , Wang Juanjuan2 , Xiong Xiaoyan2
1 Department of Dermatology, The Second Affiliated Hospital of Nanchang University, Nanchang, China
2 Department of Ophthalmology, The Second Affiliated Hospital of Nanchang University, Nanchang, China

Correspondence Address:
Ou-gen Liu
1 Minde Road, Nanchang, Jiangxi Province
China

How to cite this article:
Liu Og, Chunming L, Juanjuan W, Xiaoyan X. Central retinal artery occlusion and cerebral inrfaction following forehead injection with a corticosteroid suspension for vitiligo. Indian J Dermatol Venereol Leprol 2014;80:177-179
Copyright: (C)2014 Indian Journal of Dermatology, Venereology, and Leprology
Sir,
A 15-year-old boy with a patch of vitiligo 2 cm above his left eyebrow received a subcutaneous injection of undiluted triamcinolone acetonide suspension (1 ml; 40 mg/ml) into the lesion. Several seconds after injection, he suddenly felt dizzy and complained of blurred vision in both his eyes. Five minutes later, he had no light perception in both eyes.
On examination at 7 hours, his muscle strength was normal and lower limb tendon reflexes were active. Pupillary light reflex was absent in both eyes and the intraocular pressures were normal. Retinal and macular edema associated with cherry red spot and scattered blot hemorrhages were present in the bilateral central retina [Figure - 1]a and b. The visual evoked potential showed bilateral visual pathway impairment. MRI showed acute infarction in the corpus callosum [Figure - 2]. Ultra-sonography of ophthalmic and cerebral arteries was normal. A diagnosis of bilateral central retinal artery occlusion and cerebral infarction was made. Therapy was directed towards anti-platelet aggregation, neurological nutrition, and dansen, a traditional Chinese medication for improving microcirculation was administered. After ten days of treatment, the patient had no vertigo but light perception did not recover in either eye.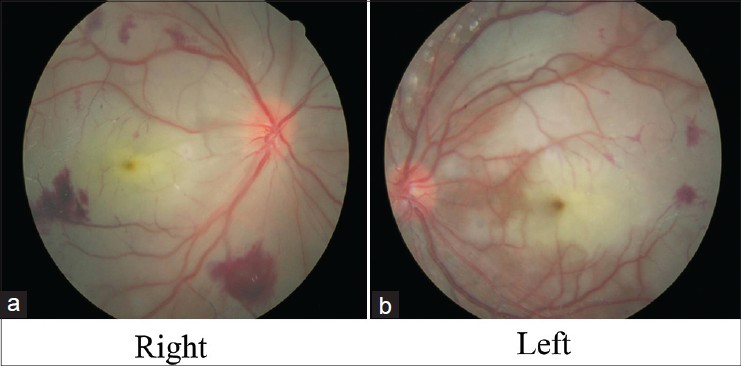 Figure 1: (a) Retinal and macular edema associated with cherry red spot (b) Scattered blot hemorrhage in the central retina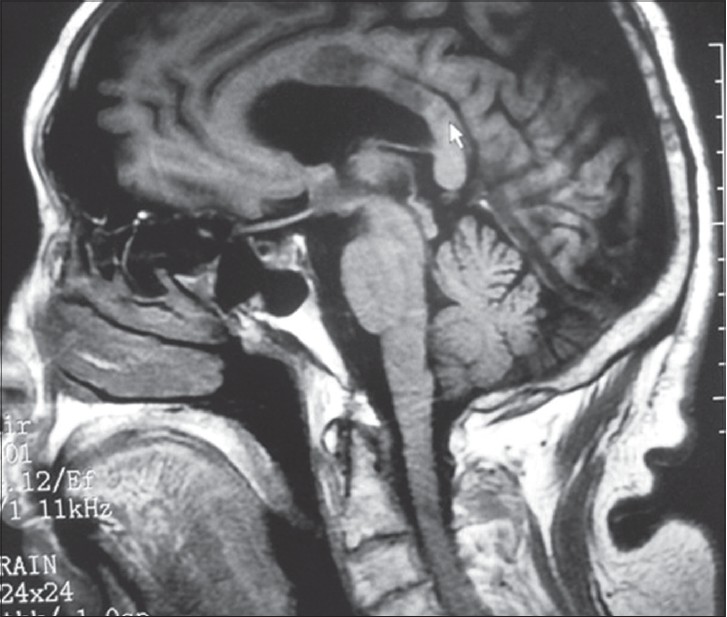 Figure 2: MRI showing acute infarction in the corpus callosum
Unilateral central retinal artery occlusion following periocular injections of corticosteroid suspensions has been reported earlier. [1],[2] Our case is unusual in that there was bilateral central retinal artery occlusion with cerebral infarction; however, a similar case has recently been reported after cosmetic hyaluronic acid injection. [3] Owing to multiple anastomoses between the vascular supply of the face, orbit and ethmoids, there is potential for retrograde embolization of substances. It is likely that direct injection of the triamcinolone acetonide suspension (particle sizes range from 1 to 1000um [4] ) into a branch of the supraorbital artery was responsible for the bilateral central retinal artery occlusion. When the force of the injection is sufficient, the emboli can be propelled into the ophthalmic artery and via the internal carotid artery retrogradely into the anterior cerebral artery (a branch of the internal carotid artery which supplies the corpus callosum), causing cerebral infarction.
Caution is necessary while administering periocular intradermal injections of suspensions and other insoluble materials. Injections should be performed slowly and at as low a pressure as possible. Because the peripheral arteries of the face are small and collapsible, blood may not appear during aspiration in the syringe despite entry of the needle into an arterial lumen. [5] It is necessary to be aware of the potential risks and benefits before such injections are given. If central retinal artery occlusion is suspected, early treatment with sublingual nitroglycerine may improve chances for visual recovery. [6]
References
1.

Gupta V, Sharma SC, Gupta A, Dogra MR. Retinal and choroidal microvasular embolization with methylprednisolone. Retina 2002;22:382-6.

[Google Scholar]
2.

Edwards AO. Central retinal artery occlusion following forehead injection with a corticosteroid suspension. Pediatr Dermatol 2008;25:460-1.

[Google Scholar]
3.

He MS, Sheu MM, Huang ZL, Tsai CH, Tsai RK. Sudden bilateral vision loss and brain infarction following cosmetic hyaluronic acid injection. JAMA Ophthalmol. 2013;131:1234-5.

[Google Scholar]
4.

Benzon HT, Chew TL, McCarthy RJ, Benzon HA, Walega DR. Comparison of the particle sizes of different steroids and the effect of dilution: A review of the relative neurotoxicities of the steroids. Anesthesiology 2007;106:331-8.

[Google Scholar]
5.

Danesh-Meyer HV, Savino PJ, Sergott RC. Case reports and small case series: Ocular and cerebral ischemia following facial injection of autologous fat. Arch Opthalmol 2001;119:777-8.

[Google Scholar]
6.

Kuritzky S. Nitroglycerine to treat acute loss of vision. N Engl J Med 1990;323:1428.

[Google Scholar]
Show Sections