Translate this page into:

Letter to the Editor
doi: 10.4103/0378-6323.152303
PMID: 25751349
Churg-Strauss syndrome with asymptomatic pulmonary emboli
Chau Yee Ng1 , Rosaline Chung-Yee Hui1 , Tseng-tong Kuo2 , Chun-Yu Cheng1 , Jennifer Wu1
1 Department of Dermatology, Chang Gung Memorial Hospital, Taipei, Taiwan
2 Department of Pathology, Chang Gung Memorial Hospital, Taipei, Taiwan

Correspondence Address:
Rosaline Chung-Yee Hui
Department of Dermatology, Chang Gung Memorial Hospital, Taipei, 199, Dunhua North Road, Taipei 105
Taiwan

How to cite this article:
Ng CY, Hui RC, Kuo Tt, Cheng CY, Wu J. Churg-Strauss syndrome with asymptomatic pulmonary emboli. Indian J Dermatol Venereol Leprol 2015;81:201-203
Copyright: (C)2015 Indian Journal of Dermatology, Venereology, and Leprology
Sir,
A 73-year-old man presented with recurrent painful purpura and hemorrhagic bullae on both legs for a month [Figure - 1]. In addition, he had a six month history of bilateral pedal edema, anorexia and weight loss of approximately 6 kgs. He appeared cachectic [body mass index (BMI) 14.4] with prominent muscle wasting and numbness of all four extremities. He had also been asthmatic for the last 5 years.Laboratory tests showed leukocytosis (12,000/μl) with 46% segments; a platelet count of 285,000/μl and a markedly elevated C-reactive protein (CRP) of 100 mg/l. There was a striking increase in eosinophils (42% on differential leucocyte count) with an absolute eosinophil count of 3159/μl. IgE was elevated at 834 IU/ml. Other biochemical tests were within normal limits. He denied using any medications. No parasitic infestations were found on stool examination. Tests for human immunodeficiency virus 1 and 2 antibodies and rapid plasma reagin were negative. C3 and C4 were normal and antinuclear antibody was negative. Rheumatoid factor was slightly elevated (53.8 IU/ml). Perinuclear and cytoplasmic anti-neutrophil cytoplasmic antibodies (P-ANCA and C-ANCA) were both positive. A whole body computer tomography (CT) for malignancy screening revealed paranasal sinusitis, right upper lung granuloma, and the unexpected finding of a filling defect in the left pulmonary artery, suggestive of pulmonary emboli [Figure - 2]. The patient was clinically asymptomatic with no signs of dyspnea. Echocardiogram was normal and venous ultrasonography of the lower extremities did not show any thrombosis. Coagulopathy work-up including antiphospholipid antibody, anti-cardiolipin antibody, protein C, protein S, anti-thrombin III, and Factor V were all within normal limits. The cryoglobulin test was positive and serum protein electrophoresis showed polyclonal elevation, suggesting a reactive process.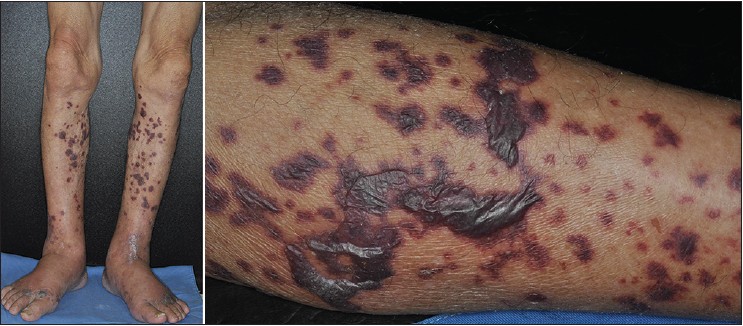 Figure 1: The patient presented with multiple painful, and non-blanchable purpura with hemorrhagic bullae on both legs
Figure 2: Thoracic CT showing emboli in the left pulmonary vessel (arrow)
A biopsy of the skin lesion showed necrotizing vasculitis with prominent eosinophilic infiltrates [Figure - 3]. Direct immunofluorescence detected vascular deposits of granular C3 and C1q alone. Nerve conduction studies revealed severe axonal motor-sensory polyneuropathy with symmetrical acral distribution. The diagnosis of Churg-Strausss syndrome (CSS) was established based on the 1990 criteria of the American College of Rheumatology. [1] We treated the patient with methylprednisolone, initially intravenously, 1.5 mg/kg/day for a week, and subsequently, slowly tapered it to a maintenance dose of 0.5 mg/kg/day orally. With this treatment, skin lesions improved remarkably. Enoxaparin 1 mg/kg/q12 h was administered for the incidentally found pulmonary embolism; later on, it was replaced by oral warfarin 5 mg/day with a target prothrombin time-international normalized ratio (PT/INR) of 2-3. The patient was followed up regularly and no relapse occurred during 1 year of follow-up.

Figure 3: (a) Detached necrotic epidermis with hemorrhagic exudate and neutrophils H and E, ×40. (b) Fibrinoid necrosis of thrombosed medium-sized vessels with heavy infiltrates of eosinophils and neutrophils, nuclear dust, and hemorrhage H and E, ×200
Churg-Strauss syndrome, also known as eosinophilic granulomatosis with polyangiitis, is a rare disease characterized by systemic inflammation, asthma, vasculitis, and eosinophilia. [1] This syndrome is well known for its association with ANCA, predominantly P-ANCA directed against myeloperoxidase (MPO). [2] The complexity and multi-organ involvement of the disorder point towards a multifactorial etiology which incriminates genetic factors, allergic reactions, and external triggers. [3] The most widely accepted diagnostic criteria for Churg-Strauss syndrome were laid down in 1990 by the American College of Rheumatology. [1] They include asthma, eosinophilia >10%, mono- or poly- neuropathy, non-fixed pulmonary infiltrates, paranasal sinus abnormality and extravascular eosinophils. The presence of four out of six criteria confirms the diagnosis of Churg-Strauss syndrome with a sensitivity and specificity of 85% and 99.7%, respectively. [1] Our patient′s clinical presentation with late-onset asthma, eosinophilia, and palpable purpura bilaterally on the lower legs led us to suspect the possibility of Churg-Strauss syndrome.
Although not included in the diagnostic criteria, cutaneous manifestations are frequently observed in Churg-Strauss syndrome, with a frequency ranging from 40 to 81%. [4] As the skin is the most easily accessible site for histological samples, greater awareness of the cutaneous features would help in earlier diagnosis. The most common skin lesions are papules and nodules (58.8%), followed by purpura (36.7%) and vesiculobullous lesions (10.2%). [4] The main histopathological features of Churg-Straus syndrome have been reported to be vasculitis (67%), eosinophil infiltration (58%), and extravascular granuloma (16%). [4] The differential diagnosis of cutaneous small vessel vasculitis with eosinophil-predominant infiltrates includes primary eosinophilic vasculitis, parasitic infestation, hypereosinophilic syndrome, Churg-Strauss syndrome, and connective tissue diseases including Sjogren′s syndrome and rheumatoid arthritis.
Thromboembolism is a rare complication of Churg-Strauss syndrome and may occur in larger vessels unaffected by vasculitis. However, asymptomatic pulmonary embolism in Churg-Strauss syndrome is exceedingly rare; we were able to find only one previously reported case in the English literature. [5] Although asymptomatic in our patient, pulmonary embolism is a potentially life-threatening event and its symptoms can mimic other respiratory problems that occur more commonly in Churg-Strauss syndrome. This raises the question of routine screening for venous thromboembolism in these patients. Studies have suggested that hypereosinophilia is the culprit that predisposes to the pro-thrombotic state. Eosinophilic cationic proteins, hypothiocyanous acid, and Charcot-Leyden crystals, components produced by eosinophils, are thought to induce the thrombotic diathesis in these patients. There is currently no recommendation regarding prophylactic or therapeutic anticoagulant treatment in these patients. Physicians should be aware of this rare but life-threatening complication.
References
1.

Masi AT, Hunder GG, Lie JT, Michel BA, Bloch DA, Arend WP, et al. The American College of Rheumatology 1990 criteria for the classification of Churg-Strausss syndrome. Arthritis Rheum 1990;33:1094-100.

[Google Scholar]
2.

Abril A. Churg-Strauss syndrome: An update. Curr Rheumatol Rep 2011;13:489-95.

[Google Scholar]
3.

Wardle EN. Churg-Strauss syndrome. Lancet 2003;361:1746.

[Google Scholar]
4.

Davis MD, Daoud MS, McEvoy MT, Su WP. Cutaneous manifestations of Churg-Strausss syndrome: A clinicopathologic correlation. J Am Acad Dermatol 1997;37:199-203.

[Google Scholar]
5.

Maria A, Guilpain P, Forestier A, Delhom E, Schiffman A, Rivière S, et al. Asymptomatic bilateral pulmonary embolism in Churg-Strauss syndrome. Eur Respir Rev 2012;21:75-7.

[Google Scholar]
Show Sections