Translate this page into:

Letter to the Editor
doi: 10.4103/0378-6323.140328
PMID: 25201859
Craniotomy incision site tumor implantation in a patient with metastatic breast carcinoma
Kanwaljeet Garg1 , Ribhav Pasricha1 , Hitesh Kumar Gurjar1 , Aanchal Kakkar2 , Bhawani Shankar Sharma1
1 Department of Neurosurgery, All India Institute of Medical Sciences, New Delhi, India
2 Department of Pathology, All India Institute of Medical Sciences, New Delhi, India

Correspondence Address:
Hitesh Kumar Gurjar
R. No. 720, 7th Floor, All India Institute of Medical Sciences, New Delhi - 110 029
India

How to cite this article:
Garg K, Pasricha R, Gurjar HK, Kakkar A, Sharma BS. Craniotomy incision site tumor implantation in a patient with metastatic breast carcinoma . Indian J Dermatol Venereol Leprol 2014;80:471-473
Copyright: (C)2014 Indian Journal of Dermatology, Venereology, and Leprology
Sir,
Seeding of tumors along the surgical pathway is a known complication and generally portends a poor prognosis. Most reports of cutaneous implantation along the incision site have noted it with gastrointestinal cancers. We report a rare case of craniotomy incision site implantation following excision of metastatic breast carcinoma.
A 30-year-old female patient presented to us with headache of 5 months duration. She was treated for breast carcinoma 3 years back. Magnetic resonance imaging (MRI) of the brain revealed a cystic lesion in the left temporo-occipital region with an enhancing mural nodule [Figure - 1]a. She underwent excision of the lesion and the histopathological examination was suggestive of metastatic breast carcinoma [Figure - 1]b-e. She made an uneventful post-operative recovery. Imaging at 3 months follow-up revealed no residual tumor.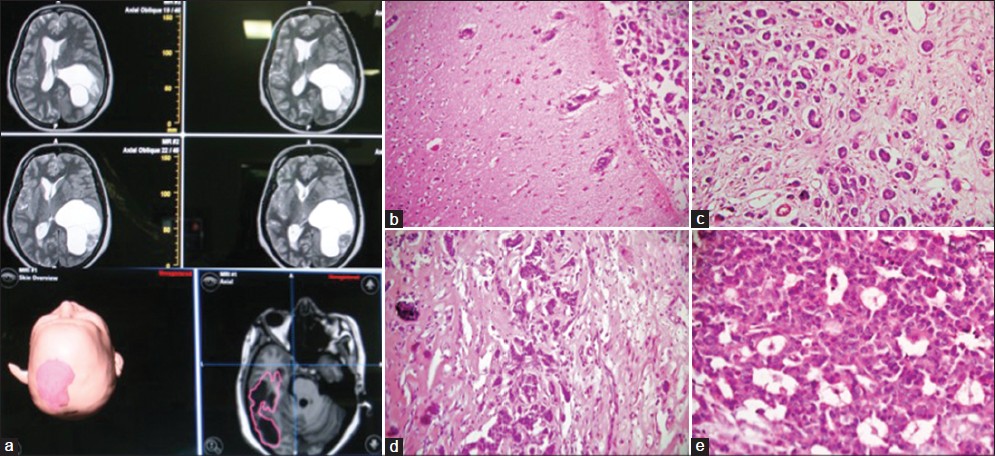 Figure 1: (a) Magnetic resonance imaging T2 WI axial sections showing left parieto-occipital solid cystic lesion with predominant cystic part and small subcortical solid part. (b) Photomicrographs showing a metastatic carcinoma infiltrating into the meninges and cortex of the brain parenchyma (H and E, ×200). (c) The tumor is composed of nests and tubules surrounded by fibrosis (H and E, ×200), (d) With foci of hyalinization and calcification (H and E, ×200). (e) Higher magnification shows cribriform arrangement of tumor cells with moderate amount of eosinophilic cytoplasm, vesicular nuclei and frequent mitoses (H and E, ×400)
The patient presented with multiple skin nodules at the craniotomy scar 6 months after surgery [Figure - 2]. The nodules were reddish, firm and non-tender. A fine-needle aspiration cytology (FNAC) from the nodules revealed highly cellular smears that showed a monotonous population of epithelial cells in cohesive clusters as well as lying singly [Figure - 3]. Microacinar formation were identified at places. Individual tumor cells showed moderate amounts of intact cytoplasm, large vesicular nuclei with irregular contours, coarse clumped chromatin and prominent nucleoli. Brain MRI at this time did not reveal any abnormality. Based on these features, she was diagnosed as incision site implantation of the metastatic carcinoma. The patient received radiotherapy and was doing well until 1 month later, following which she was lost to follow-up.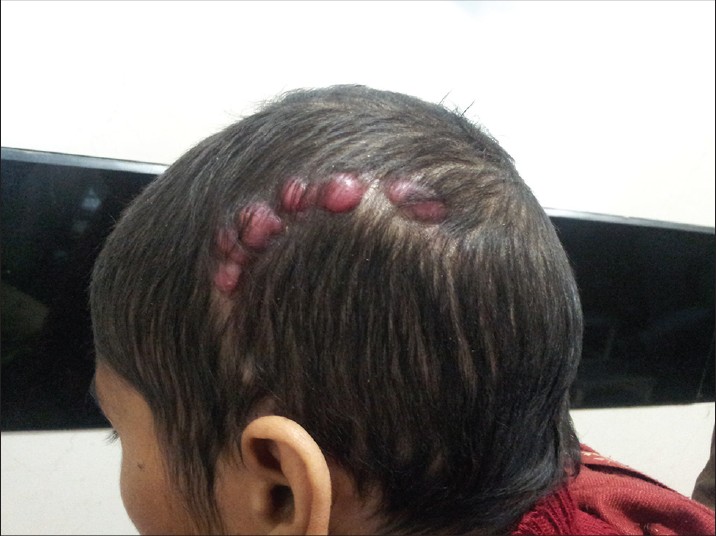 Figure 2: Craniotomy incision site showing multiple reddish nodules over the incision line
Figure 3: Singly lying as well as loosely cohesive clusters of malignant epithelial cells (a, Papanicolau stain; c, Giemsa stain, ×200); tumor cells have moderate amount of intact cytoplasm, large vesicular nuclei with irregular contours, coarse clumped chromatin and prominent nucleoli (b, Papanicolaou stain; d, Giemsa stain, ×400)
Surgical incision site metastasis/implantation is uncommon and the overall incidence rate has been reported to be 5% or less. [1] It can potentially occur following any oncologic surgery. However, when it does occur, it is considered a cutaneous metastasis and generally indicates a poor prognosis. [2] Most cases of incision site tumor implantation have been reported following open surgical excision of intra-abdominal and pelvic malignancies. The cause or the route of spread of these cutaneous lesions is debatable. It has been suggested that contamination of the surgical field by dislodged tumor cells leads to implantation of these viable cells at the incision site which later leads to incision site tumor implantation. [1] This explanation is supported by the numerous reports of tumor recurrence at trocar sites following laparoscopic or thoracoscopic oncologic surgeries. Had this been the only mechanism responsible for incision site tumor implantation, the rate of incisional metastases would have been very high following intracranial tumor surgeries as these tumors are mostly removed piecemeal, but this is not the case. The tough duramater and bone may have a role in preventing the occurrence of incisional tumor implantation. It is also likely that a lack of awareness may have led to this phenomenon being neither suspected nor investigated for and consequently being.under-reported. Retrograde spread of tumor secondary to lymphatic obstruction has been proposed to be a cause of incisional metastases following abdominal oncologic surgeries. [3] Altered tissue resistance at previous surgical sites has also been proposed to be a predisposing factor especially in needle tract sites from needle biopsies of various tumors. [4],[5]
FNAC is the preferred investigative modality for the identification of cutaneous metastases as it provides a rapid and accurate diagnosis and has been shown to have a sensitivity and specificity approaching 100%. The most common manifestation of cutaneous metastases is the formation of nodules and these are readily amenable to needle aspiration. Management of incisional recurrence following gastrointestinal oncologic surgeries includes salvage surgery with or without irradiation. If only the skin incision involved without the involvement of underlying tissues, radiation therapy can be utilized to avoid additional tissue damage to the prior treatment area. Our patient had multiple skin nodules with no underlying involvement and hence she was offered radiotherapy.
Incision site tumor implantation following intracranial tumor surgeries is rare. Of the various intracranial malignancies, glioblastomas and metastatic intracranial tumors have been reported to develop incision site implantation. When present, these lesions portend a poor prognosis.
References
1.

Kotwall CA, Kirkbride P, Zerafa AE, Murray D. Endometrial cancer and abdominal wound recurrence. Gynecol Oncol 1994;53:357-60.

[Google Scholar]
2.

Rosen T. Cutaneous metastases. Med Clin North Am 1980;64:885-900.

[Google Scholar]
3.

Malfetano JH. Skin metastases from cervical cancer: A fatal event. Gynecol Oncol 1986;24:177-82.

[Google Scholar]
4.

Denton KJ, Cotton DW, Nakielny RA, Goepel JR. Secondary tumour deposits in needle biopsy tracks: An underestimated risk? J Clin Pathol 1990;43:83.

[Google Scholar]
5.

Sarma DP, Wang JF, McAllister MV, Wang B, Shehan JM. Possible implantation carcinoma of the scalp following craniotomy for metastatic renal cell carcinoma. Dermatol Online J 2008;14:20.

[Google Scholar]
Show Sections