Translate this page into:

Letter to the Editor
doi: 10.4103/0378-6323.100575
Cutaneous lymphadenoma
Yiqun Jiang, Hao Chen, Jianfang Sun
Institute of Dermatology, Chinese Academy of Medical Sciences and Peking Union Medical College, Nanjing, China

Correspondence Address:
Yiqun Jiang
Institute of Dermatology, Chinese Academy of Medical Sciences and Peking Union Medical College, 12# Jiangwangmiao Road, Nanjing
China

How to cite this article:
Jiang Y, Chen H, Sun J. Cutaneous lymphadenoma. Indian J Dermatol Venereol Leprol 2012;78:652-654
Copyright: (C)2012 Indian Journal of Dermatology, Venereology, and Leprology
Sir,
Cutaneous lymphadenoma is an uncommon benign epithelial neoplasm with a prominent lymphoid infiltrate in the tumor nests. It was first described by Santa Cruz in 1987 under the name of lymphoepithelial tumor of the skin. To date, about 40 cases of cutaneous lymphadenoma have been reported, with very rare occurrence in the Asian population. The case described here represented a Chinese example of this peculiar neoplasm.
A 20-year-old Chinese man presented with an asymptomatic solid nodule on his left cheek. The nodule was reported to be slowly increasing in size for the past 7 years [Figure - 1]. On examination, the pink nodule was of 8 mm in diameter with a smooth surface. He was otherwise in good health. The clinical impression was dermatofibroma and an excisional biopsy was performed.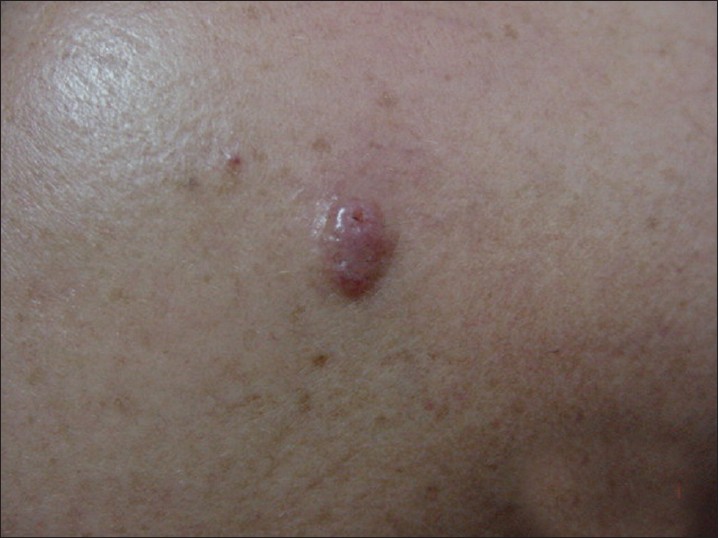 Figure 1: Pink nodule on the left cheek of the patient
Histopathologically, the biopsy revealed a well-circumscribed unencapsulated intradermal lesion with multiple irregularly shaped epithelial lobules embedded in a dense fibrous stroma [Figure - 2]. The lobules had a peripheral rim of basaloid cells with pale center sprinkled with lymphocytes. No connection with the overlying epidermis on consecutive sections was found.

Figure 2: (a) Low power image of the intradermal neoplasm (H and E, ×40). (b) Lobules were composed of palisading array of basaloid cells and central large cells with lymphocyte infiltrate (H and E, ×200)
Immunohistochemistry study showed that the cells in the lobules were positive for Pan-CK and EMA but negative for CEA. S-100 and CD1a stain revealed positive cells scattered within the epithelial lobules, whereas Ck20 and CD30 stains were negative. The lymphoid cells were positive for CD3 and negative for CD20. The diagnosis of cutaneous lymphadenoma was made according to the histopathological features and immunohistochemical findings.
Cutaneous lymphadenoma is an uncommon adnexal tumor with distinctive histologic features which consist of multiple lobules with peripheral palisading basaloid cells, prominent stroma and lymphocytic infiltrate within the lobules. So far, more than 40 cases of cutaneous lymphoadenoma have been reported, with considerable debate regarding the pathogenesis of this rare neoplasm. Santa Cruz et al., originally suggested this lesion with immature pilosebaceous differentiation, while others considered that it represented an unusual variant of basal cell carcinoma or trichoepithelioma. [1] More recently, lymphadenoma is thought to be a variant of trichoblastoma and the latest WHO classification of tumors considers it to be an adamantinoid trichoblastoma. [2] Our case confirmed its benign process, since the patient developed the lesion at age 13 and the nodule has persisted with symmetrical outlines. The pathologic findings of lobules of epithelial basaloid cells with a peculiar palisading formation in a dense fibrous matrix with consistent immunohistochemical stains support this uncommon tumor, a unique subtype of trichoblastoma.
Cutaneous lymphadenoma is extremely rare in the Chinese population. We reviewed the Chinese literature and found that only two cases had been reported, and both lesions occurred on the face of young patients. [3] One patient, the youngest reported, was 9 at the onset of lesion growth. In 42 previous reported cases in English literature, there were only 2 Asian cases. [4],[5] We suppose this could be due to differences in ethnic background.
Cutaneous lymphadenoma usually presents as a skin-colored nodule on the head and neck region of young and middle-aged adult. Close review of the literature revealed that the lesion in 39/44 cases, occurred on the face, and 12/44 patients developed the lesion before age 30. The incidence was approximately equal in both sexes (24M/20F). Since the clinical appearance is not characteristic, the lesion could be misdiagnosed as basal cell carcinoma (BCC), solitary trichoepithelioma, dermatofibroma, cyst or other adnexal neoplasm. The definite diagnosis can be achieved based upon the unique histopathological features. The main histopathological differential diagnosis includes lymphoepithelioma-like carcinoma of the skin, clear cell variants of syringoma and BCC, while its difference from dermatofibroma or cyst is obvious. Lymphoepithelioma-like carcinoma of the skin lies in the middle and deep reticular dermis and even hypodermis. It is characterized by nests and cords of atypical epithelial cells and mitotic figures are often present. The clear cell variants of syringoma and BCC lack a prominent lymphocytic infiltrate. Furthermore, clear cell syringoma is a multinodular tumor characterized by glandular structures, while clear cell basal cell carcinoma tends to present with clefts between the tumor nests and the surrounding myxoid stroma, and consecutive sections betray its connection with the overlying epidermis or follicular infundibulum.
Although cutaneous lymphadenoma appears to be benign, complete excision is recommended. For lesions which developed after age 30, basal cell carcinoma was the most common differential diagnosis.
References
1.

Santa Cruz DJ, Barr RJ, Headington JT. Cutaneous lymphadenoma. Am J Surg Pathol 1991;15:101-10.

[Google Scholar]
2.

Diaz-Cascajo C, Borghi S, Rey-Lopez A, Carretero-Hernandez G. Cutaneous lymphadenoma. A peculiar variant of nodular trichoblastoma. Am J Dermatopathol 1996;18:186-91.

[Google Scholar]
3.

Chen LQ, Chen HY, Ma L, Dong BL, Jiang YH, Zhang L, et al. Two cases of cutaneous lymphadenoma: A histological and immunohistological study. Chin J Dermatol 2009;42:445-7.

[Google Scholar]
4.

Alsadhan A, Taher M, Shokravi M. Cutaneous lymphadenoma. J Am Acad Dermatol 2003;49:1115-6.

[Google Scholar]
5.

Son SW, Kim YC, Kim IH. Cutaneous lymphadenoma. Clin Exp Dermatol 2005;30:87-97.

[Google Scholar]
Show Sections