Case Report
doi: 10.4103/0378-6323.136903
PMID: 25035359
Cutaneous Paecilomyces lilacinus infections in immunocompromised and immunocompetent patients
Shahindokht Bassiri-Jahromi
Department of Medical Mycology, Pasteur Institute of Iran, Tehran, Iran

Correspondence Address:
Shahindokht Bassiri-Jahromi
Department of Medical Mycology, Pasteur Institute of Iran, Pasteur Street, No. 69, Tehran
Iran

How to cite this article:
Bassiri-Jahromi S. Cutaneous Paecilomyces lilacinus infections in immunocompromised and immunocompetent patients. Indian J Dermatol Venereol Leprol 2014;80:331-334
Copyright: (C)2014 Indian Journal of Dermatology, Venereology, and Leprology
Abstract
Paecilomyces is a genus of saprophytic fungus that has been associated, in rare instances, with human disease. We report two cases in which
Paecilomyces
lilacinus was isolated from cutaneous and subcutaneous lesions in an immunocompromised and an immunocompetent host. The first case was a subcutaneous infection due to
P. lilacinus
in a patient with a renal transplant and diabetes mellitus. The second case was an immunocompetent young woman who developed a cutaneous infection, with no identified predisposing factors. A biopsy from each patient provided an initial diagnosis of fungal elements in the tissues under examination and multiple positive fungal cultures were obtained from the tissue biopsy samples. Both microscopic and macroscopic examinations of the biopsy revealed the presence of
P. lilacinus.
Each of the two cases was successfully treated with oral ketoconazole (200 mg/day) and itraconazole. We also review previously reported cases in which the clinical history and response to therapy were noted.
Keywords: Cutaneous infection, fungal infection, ketoconazole, Paecilomyces infection, treatment
This article has been Retracted
A reader pointed out that the two cases reported in the article had been previously published in two separate articles and there was near-complete overlap of patient data and images. When contacted, the author accepted that this was correct and was unable to provide a satisfactory explanation.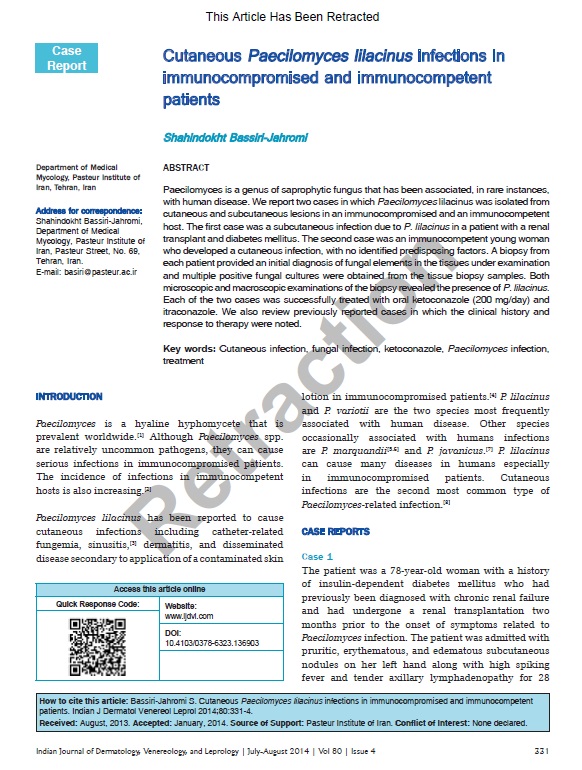 Show Sections