Translate this page into:

doi:
10.25259/IJDVL_727_20
Cutaneous signs in infectious diseases
Department of Dermatology, NC Medical College and Hospital

,

Panipat, Haryana

,

India
1
Department of Dermatology, RG Kar Medical College and Hospital

,

West Bengal

,

India
2
Department of Dermatology, KPC Medical College and Hospital

,

Kolkata, West Bengal

,

India
Corresponding author: Dr. Ashish Amrani, Department of Dermatology, NC Medical College and Hospital, Panipat, Haryana, India. ashishamrani@gmail.com
Received: , Accepted: ,
© 2022 Indian Journal of Dermatology, Venereology and Leprology - Published by Scientific Scholar
Licence
This is an open-access article distributed under the terms of the Creative Commons Attribution-Non Commercial-Share Alike 4.0 License, which allows others to remix, transform, and build upon the work non-commercially, as long as the author is credited and the new creations are licensed under the identical terms.
How to cite this article: Amrani A, Sil A, Das A. Cutaneous signs in infectious diseases. Indian J Dermatol Venereol Leprol 2022;88:569-75.
A "sign" refers to the objective finding, which a clinician observes during the clinical examination of the patient. Signs implicate significant changes or abnormal findings which can assist the clinician in making the final diagnosis of any disorder. Cutaneous signs indicate various dermatological and systemic disorders and sometimes help the dermatologist in making a spot diagnosis. Various cutaneous signs have been described in many infectious disorders. Here, an attempt is made to compile various such cutaneous signs seen in infectious diseases.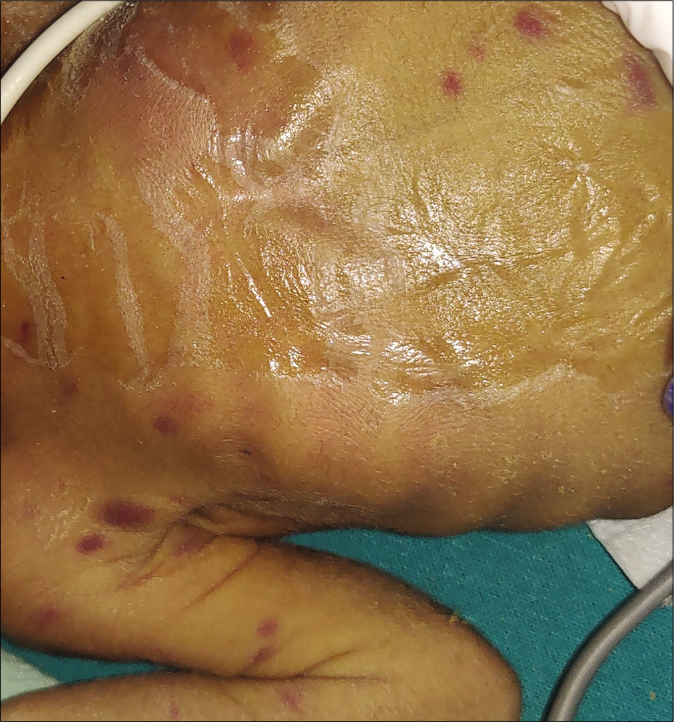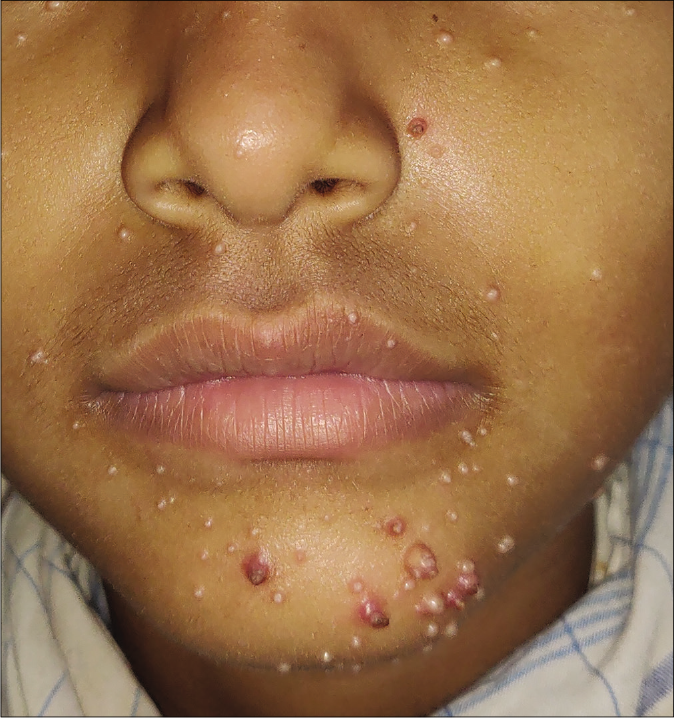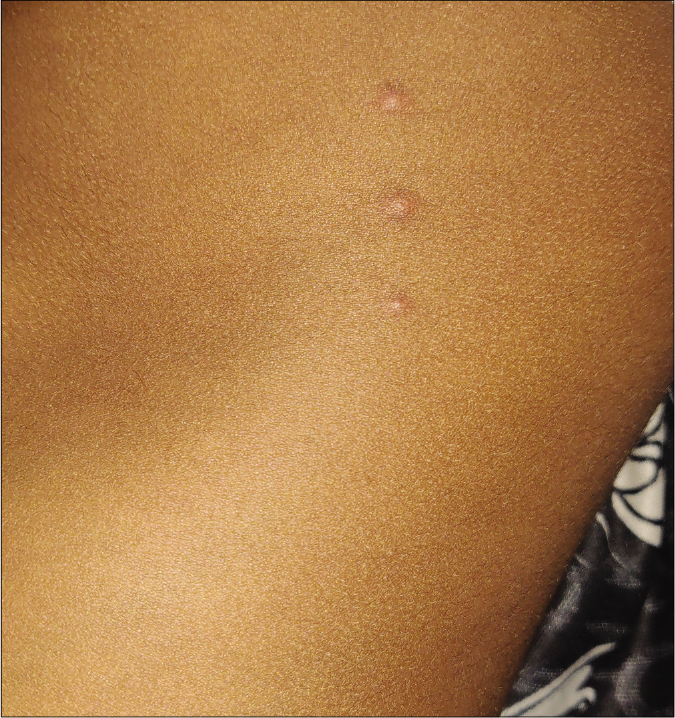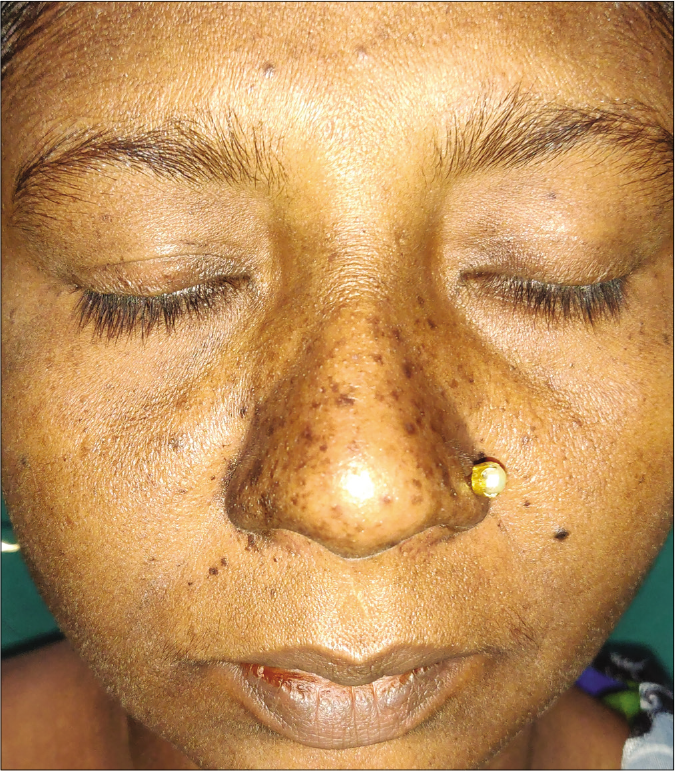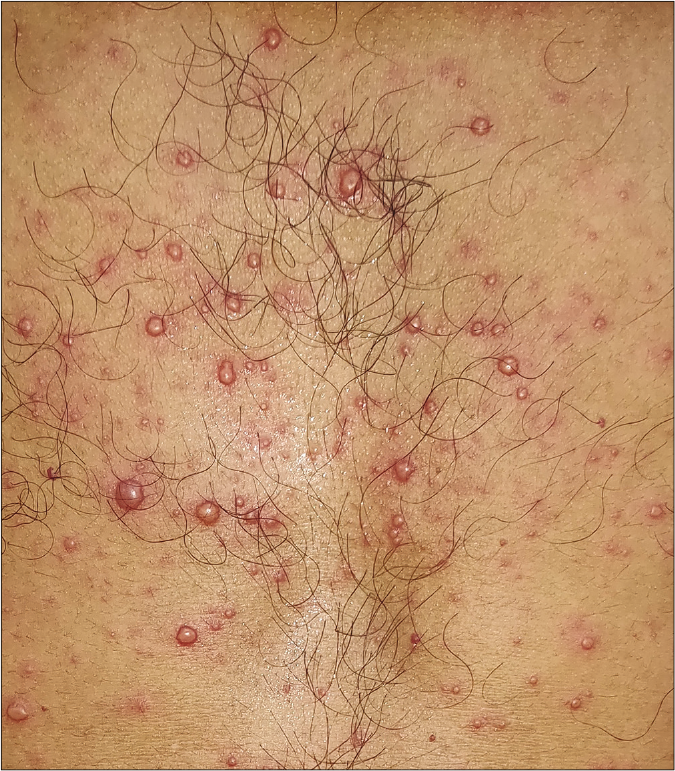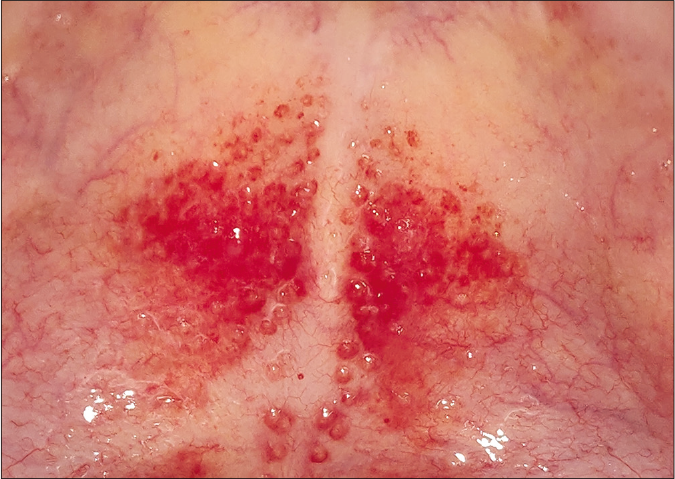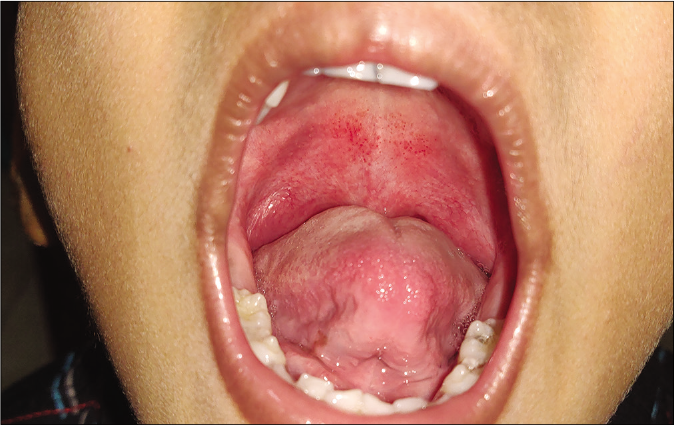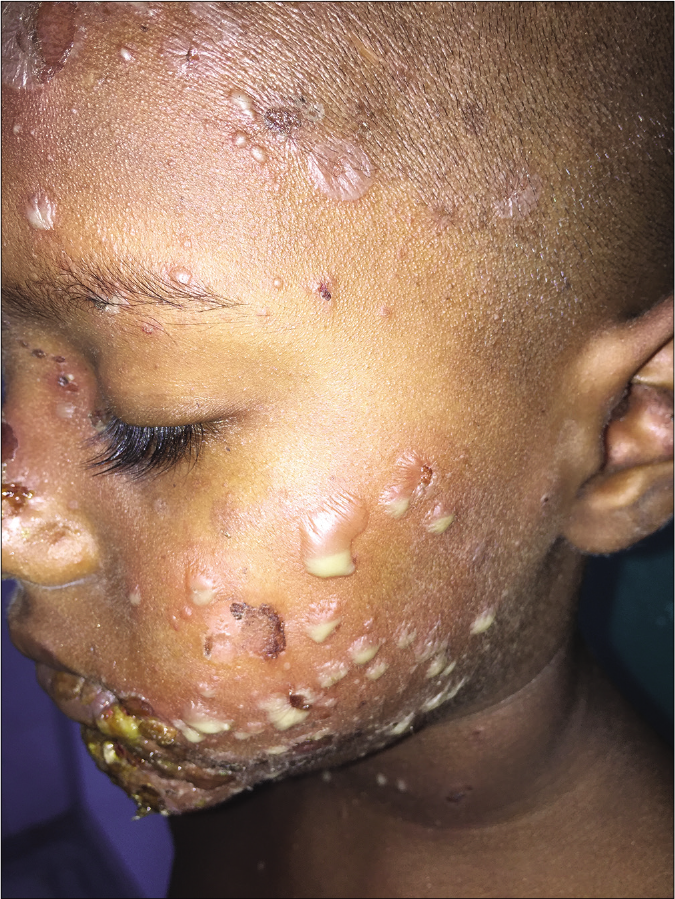 Various signs seen in syphilis and Hansen's disease are summarized in Tables 1 and 2.
Sign
Description
Buschke-Ollendorff sign
First described by Abraham Buschke and Helene Ollendorff Curth, this sign was named after their observation of slight tenderness on applying pressure with a dull probe on papular lesions of palms in secondary syphilis and is due to cutaneous vasculitis [Figure 11]
Barber-pole sign
In congenital syphilis, necrotizing funisitis leads to typical appearance of interspersion of blue and pink areas along with the chalky white appearance in spiral course on umbilical cord, which resembles the barber-pole.
Biederman's sign
A dark red color (instead of the normal pink) of the anterior pillars of the throat, seen in some patients with syphilis
Bulldog jaw sign
In congenital syphilis, normal mandible appears relatively longer and bigger due to maxillary hypoplasia
Café-au-lait tint sign
Typical brownish-yellow appearance of skin in congenital syphilis due to combined effect of hyperpigmentation, jaundice and anemia
Crown of venus sign
These are scaly papules seen along hairline of scalp in secondary syphilis
Dory flop sign
When chancre of primary syphilis develops on undersurface of prepuce, then affected part of prepuce does not roll smoothly and rolls out all at once which resembles the movement of dory, a type of fishing boat and is known as dory flop sign
Du Bois sign
Shortened little finger, a stigmata of congenital syphilis
Elliot sign
Induration of the edge of a syphilitic skin lesion
Higoumenaki's sign
Enlargement of sternal end of (right) clavicle of frequently observed in patients with late congenital syphilis due to periostitis
Hutchinson teeth sign:
(Screwdriver teeth)
Abnormal permanent upper central incisors that are peg shaped and notched, usually with obvious thinning and discoloration of enamel in the area of notching; they are widely spaced and shorter than lateral incisors; width of the biting surface is less than that of the gingival margin.It is one of the commonly observed congenital syphilis stigmata
Krisowski's sign
Presence of cicatricial lines radiating from the mouth in congenital syphilis
Mulberry molars (moon/Fournier molars)
The biting surface of the first molars becomes dome shaped and has multiple underdeveloped and poorly enameled cusps that occur as a part of congenital syphilis stigmata
Natiform skull sign (hot cross bun skull)
Frontoparietal bossing along with prominent suture lines of skull; stigmata due to healed gummatous osteoperiostitis in congenital syphilis
Olympian brow sign
Bony prominence of forehead seen in congenital syphilis. Also known as "beetled brow"
Omnibus sign
Eyebrow alopecia in secondary syphilis is termed the omnibus sign as it could be seen by a glance at a patient in an omnibus, from the sidewalk
Opera-glass nose sign
In congenital syphilis, due to nasal chondritis, the appearance of nose resembles opera glass as the lower part of nose appears to be pushed towards intact upper part
Parrot's nodes
Localized osteoperiostitis of skull vault leads to the formation of round bony swellings in frontoparietal region followed by permanent thickening of bones in late congenital syphilis
Sabre shins (Fournier's sign)
Typical appearance of shins, resembling the sabre sword, in late congenital syphilis and is due to thickening of shaft of the middle third of tibia.
Seeping sign
Bleeding from the mucous surfaces and navel, shortly after birth; a sign of syphilis hemorrhagic neonatorum
Silex's sign
A pathognomonic sign of congenital syphilis and is characterized by radial furrows around mouth
Split papules
Mucous patches at angle of mouth or corner of nose in early congenital syphilis
Virchow's sign
Tongue with a smooth base seen in patients with congenital syphilis.
Sign
Description
Benediction sign
Outstretched index and middle fingers with flexion of ring and little fingers due to median nerve involvement in leprosy
Elbow sign
Thickened ulnar nerve at the elbow in leprosy
Fibula sign
Thickened common peroneal nerve in leprosy
Fountain of youth sign
In diffuse lepromatous leprosy, there is smoothening out of patient's facial wrinkles which restores the youthful appearance
Froment sign
Flexion of the distal interphalangeal joint of the thumb when the patient tries to grasp a piece of paper between thumb and index finger; when this is associated with hyperextension of metacarpophalangeal joint of the thumb, it is kown as Jeanne's sign; indicates weakness of first palmar interossei and adductor pollicis (involvement of deep branch of ulnar nerve)
Hertoghe sign
(Queen Anne's sign)
In lepromatous leprosy, loss of hairs bilaterally in the lateral third of the eyebrows is known as Hertoghe sign or Queen Anne's sign. This may also be seen in myxedema, follicular mucinosis, atopic dermatitis, trichotillomania, ectodermal dysplasia, discoid lupus erythematosus, alopecia areata, syphilis, ulerythema ophryogenes, systemic sclerosis, HIV and hypothyroidism
Wartenberg's sign
It is one of the earliest signs of ulnar nerve involvement in leprosy and is characterized by constant abduction of small finger; occurs due to paralysis of adductor digiti minimi, which is supplied by the ulnar nerve
Declaration of patient consent
Patient's consent not required as there are no patients in this study.
Financial support and sponsorship
Nil.
Conflicts of interest
There are no conflicts of interest.
Show Sections