Letter To Editor
doi: 10.4103/0378-6323.37072
PMID: 18032873
Diphenylcyclopropenone immunotherapy in ophiasis
Gurcharan Singh1 , Rajendra Okade1 , Chandra Naik1 , CD Dayanand2
1 Department of Dermatology, Sri Devaraj Urs Medical College, Kolar, Karnataka, India
2 Department of Biochemistry, Sri Devaraj Urs Medical College, Kolar, Karnataka, India

Correspondence Address:
Gurcharan Singh
108, A, Jal Vayu Vihar, Kammanahalli Main, Bangalore 560 043, Karnataka
India

How to cite this article:
Singh G, Okade R, Naik C, Dayanand C D. Diphenylcyclopropenone immunotherapy in ophiasis. Indian J Dermatol Venereol Leprol 2007;73:432-433
Copyright: (C)2007 Indian Journal of Dermatology, Venereology, and Leprology

Table 1: The clinical profi le of the patients

Table 1: The clinical profi le of the patients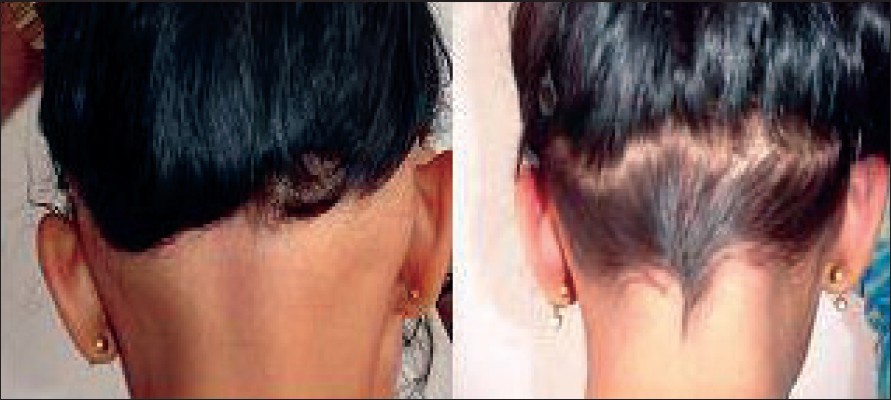 Figure 1: Regrowth of hair after 6 months of diphenylcyclopropenone therapy in ophiasis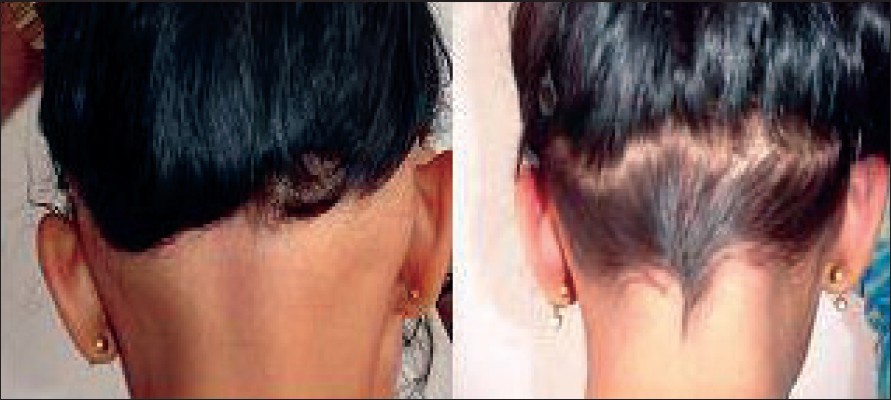 Figure 1: Regrowth of hair after 6 months of diphenylcyclopropenone therapy in ophiasis
Sir,
Ophiasis is a type of alopecia areata identified as a turban or snake-like pattern of hair loss, affecting a band-like area at the occipital and temporal scalp regions, [1] It is often refractory to conventional treatments and has a less favorable prognosis. [2],[3]
We assessed the efficacy of topical immunotherapy with diphenylcyclopropenone (DPCP) in four patients of ophiasis of 1-6 years′ duration [Table - 1], who had been unresponsive to previous treatment. None of the patients had any personal or family history of atopy, autoimmune diseases and no nail changes were detected.
After sensitization with 2% DPCP in acetone, progressively higher concentrations beginning at 0.001% were applied weekly for six months and regrowth of hair was recorded as per the following grades: Grade 1: Vellus hairs; Grade 2: Sparse, pigmented, terminal hairs; Grade 3: Terminal hair regrowth with patches of alopecia; Grade 4: Terminal hairs all over the scalp.
Three out of the four patients treated had grade 3 to grade 4 regrowth of hairs after 6 months [Figure - 1]. No significant side effects were observed.
Contact immunotherapy is the best, documented treatment for chronic severe alopecia areata affecting more than 50% of the scalp. Diphenylcyclopropenone (DPCP) is used widely. Unlike dinitrochlorobenzene, DPCP has been shown to be nonmutagenic in its purified form. It is also more stable in solution than squaric acid dibutylester. DPCP is degraded by light, hence the solution should be stored in the dark and patients should wear a hat or a wig for 24 h following application. [4]
The success rate with DPCP has varied widely from 9-85% with cosmetically acceptable hair regrowth in 50-60% of patients. [5],[6],[7] DPCP has also been used for pediatric treatment and is reported to be beneficial in children with severe alopecia areata totalis and alopecia areata localis showing no spontaneous remission. [8]
The early development of dermatitis after initial sensitization may be a predictor of a positive outcome. A more favorable clinical outcome may occur in patients in whom sensitization induces contact dermatitis within ten weeks of application. [9]
In a study of 139 patients, Van der Steen et al , [10] determined that type and/or extent of alopecia, duration of disease before treatment and the presence of nail changes were three significant prognostic factors that influenced outcome adversely. Adverse effects reported with DPCP use include urticaria, dermatitis with or without blistering, pruritus, edema of scalp and face, lymphadenopathy and the development of vitiligo. [4]
In view of the encouraging response to DPCP immunotherapy in our patients, DPCP is worthy of trial in ophiasis. Further controlled prospective trials are needed to ascertain the utility of DPCP contact sensitization in ophiatic alopecia areata.
References
1.

Harrison S, Sinclair R. Optimal management of hair loss (alopecia) in children. Am J Clin Dermatol 2003;4:756-70.

[Google Scholar]
2.

Hull SP, Wood ML, Hutchinson PE, Sladden M, Messenger AG. Guidelines for the management of alopecia areata. Br J Dermatol 2003;149:692-9.

[Google Scholar]
3.

Dewaard Van der Spek FB, Orange AP, De Raeymaecker DM, Peereboom-Wynia JD. Juvenile versus maturity ons et al opecia areata: A comparative retrospective study. Clin Exp Dermatol 1989;14:429-33.

[Google Scholar]
4.

Rokhsar CK, Shupack JL, Vafai JJ, Washenik K. Efficacy of topical sensitizers in the treatment of alopecia areata. J Am Acad Dermatol 1998;39:751-61.

[Google Scholar]
5.

Cotellessa C, Peris K, Caracciolo E, Mordenti C, Chimenti S. The use of topical DPCP for the treatment of extensive alopecia areata. J Am Acad Dermatol 2001;44:73-6.

[Google Scholar]
6.

Aghaei S. Topical immunotherapy of severe alopecia areata with diphenylcyclopropenone (DPCP): Experience in a Iranian population. BMC Dermatol 2005;26:6.

[Google Scholar]
7.

Galadari I, Rubaie S, Alkaabi J, Galadari H. Diphenylcyclopropenone (diphencyprone, DPCP) in the treatment of chronic severe alopecia areata (AA). Allerg Immunol (Paris) 2003;35:397-401.

[Google Scholar]
8.

Schuttelaar ML, Hamstra JJ, Plinck EP, Peereboom-Wynia JD, Vuzevski VD, Mulder PG, et al . Alopecia areata in children: Treatment with diphencyprone. Br J Dermatol 1996;135:581-5.

[Google Scholar]
9.

Papadopoulos AJ, Schwartz RA, Janniger CK. Alopecia areata. Pathogenesis, diagnosis and therapy. Am J Clin Dermatol 2000;1:101-5.

[Google Scholar]
10.

van der Steen PH, van Baar HM, Happle R, Boezeman JB, Perret CM. Prognostics factors in the treatment of alopecia areata with diphenylcyclopropenone. J Am Acad Dermatol 1991;24:227-30.

[Google Scholar]
Show Sections