Net Letter
doi: 10.4103/0378-6323.129436
PMID: 24685879
Effects of low-level light therapy on facial corticosteroid addiction dermatitis: A retrospective analysis of 170 Asian patients
Qi Luan1 , Ling Liu1 , Qiangmei Wei2 , Bin Liu1
1 Department of Dermatology, Xijing Hospital, Fourth Military Medical University, Xi'an, Shaanxi Province, China
2 Department of Cosmetic Dermatology, Nanjing Friendship Plastic Surgery Hospital, Nanjing, Jiangsu Province, China

Correspondence Address:
Bin Liu
Department of Dermatology, Xijing Hospital, Fourth Military Medical University, Xi'an, Shaanxi Province-710 032
China

How to cite this article:
Luan Q, Liu L, Wei Q, Liu B. Effects of low-level light therapy on facial corticosteroid addiction dermatitis: A retrospective analysis of 170 Asian patients. Indian J Dermatol Venereol Leprol 2014;80:194
Copyright: (C)2014 Indian Journal of Dermatology, Venereology, and Leprology
Sir,
Facial corticosteroid addiction dermatitis is a relatively recalcitrant dermatologic condition result in from long-term abuse of topical steroids. The condition can present with papules, pustules, and sometimes nodules with telangiectatic vessels on a diffuse erythematous and edematous background and affects both facial appearance and quality of life in patients. [1] The common treatments for facial corticosteroid addiction dermatitis include the avoidance of the application of topical steroids, use of a topical calcineurin antagonist and antihistamines. These treatments may be useful to a certain extent but topical irritation and fluctuating therapeutic effect limit their application. Due to improper steroid use, the incidence of facial corticosteroid addiction dermatitis appears to be constantly increasing in China and India. [1],[2],[3] Therefore, it is necessary to find more effective and comfortable treatment strategies for the condition. Low-level light therapy has been used for its light-regulated effect in various clinical settings such as acne, sensitive skin, and diabetic ulcers. [4],[5],[6] It seems that the biological effects of low-level light therapy could inhibit local inflammation of facial corticosteroid addiction dermatitis, thereby relieving facial symptoms and gradually restoring barrier function in the affected facial skin. The purpose of our study was to investigate the therapeutic efficacy and safety of low-level light therapy on facial corticosteroid addiction dermatitis.
We reviewed the clinical data of 170 patients with a dermatologist-confirmed diagnosis of facial corticosteroid addiction dermatitis treated with low-level light therapy at our clinic from September 2009 to August 2011. Approval of a local ethics committee was obtained for the study. Each subject provided informed consent prior to participating in any treatment-related activities. Patients who had taken any external medication and any laser and intense pulsed light therapy within 2 weeks and during the treatments of low-level light were excluded from analysis. We used the Omnilux Revive light therapy system (PhotoTherapeutics Ltd, Manchester, United Kingdom), which is a high power light-emitting diode-based light delivering noncoherent red light centered at a wavelength of 633 nm with a bandwidth of 20 nm. All patients were told to discontinue using topical steroids and received low-level light therapy for a duration of 20 min once every other day. Patients were instructed to apply only liquid emollient once a day instead of topical steroids. The subjective satisfaction was assessed 2 weeks after the last treatment session. Additionally, biopsies of two volunteers were taken before and after low-level light therapy.
There were 22 males (12.9%) and 148 females (87.1%), aged 17 to 58 years. Of the total, 85.9% felt clinical relief to different extents, including a decrease in lesional area and improvement of symptoms [Figure - 1]. No adverse events were observed. The results of histopathologic examination showed healing of the epidermis and obvious relief in inflammation of dermis after low-level light therapy [Figure - 2]. The clinical efficacy was similar at different locations [Table - 1]. Therapeutic efficacy was best for acute lesions, followed by subacute lesions, whereas chronic lesions had the least benefit [Table - 2]. Effects were best when the number of treatment sessions was six or more, followed by three to five sessions, with the lowest efficacy for one to two sessions [Table - 3]. Among 137 patients for whom follow-up information was available, 107 patients did not have to use topical steroids or take other medication for 3 to 6 months after the last treatment.

Table 1: Comparison of efficacy among 170 patients with different lesion locations

Table 2: Comparison of efficacy among 170 patients with different stages

Table 3: Comparison of efficacy among 170 patients with different number of treatment sessions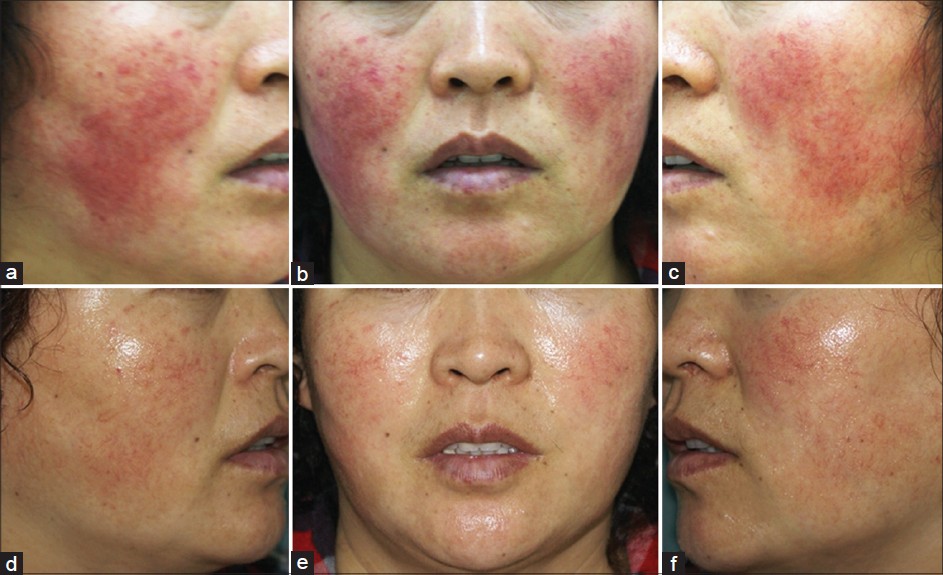 Figure 1: Before and 6 sessions after low level light therapy (LLLT). (a-c) Before treatment; there was diffuse and persistent erythema with superimposed erythematous papules and telangiectasia affecting the cheeks of this thirty-eight-year-old woman, as well as intolerance to external cosmetics and medication. (d-f) After treatment for 6 sessions, the skin lesions showed more than 80% improvement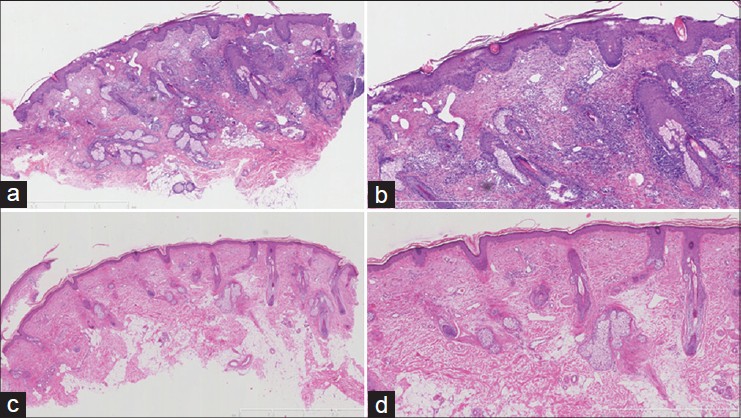 Figure 2: Histopathologic appearance before and after treatment. (a and b) Before treatment, the epidermis showed eczematous changes consisting of follicular plugs, parakeratosis, edema, acanthosis. The dermis showed marked telangiectasia and vascular dilatation of the small vessels with perivascular infiltration of histiocytes, lymphocytes, and plasma cells. (H and E, ×40, 100). (c and d) After LLLT, healing of epidermis and reduction in dermal infillrates. (H and E, ×40, 100)
Our study showed that there were no statistically significant differences between response rates of lesions on different parts of the face. We also had treated different stages of facial corticosteroid addiction dermatitis and found that low-level light therapy produced particularly significant efficacy for skin lesions with acute phase inflammatory as compared to subacute and chronic corticosteroid dependence dermatitis. Furthermore, clinical efficacy was positively corrlated with the number of irradiation sessions, with better efficacy for those lesions receiving six sessions or more as compared with those receiving one to two sessions or three to five sessions.
A limitation of our study is that it is a retrospective analysis without controls; a design in which it is difficult to control for bias and confounders. Nevertheless, low-level light therapy may be a useful treatment option for patients with facial corticosteroid addiction dermatitis. Further controlled studies with a larger number of patients and longer follow-up period are warranted to elucidate the molecular mechanisms and fully evaluate this treatment approach.
References
1.

Saraswat A, Lahiri K, Chatterjee M, Barua S, Coondoo A, Mittal A, et al. Topical corticosteroid abuse on the face: A prospective, multicenter study of dermatology outpatients. Indian J Dermatol Venereol Leprol 2011;77:160-6.

[Google Scholar]
2.

Lu H, Xiao T, Lu B, Dong D, Yu D, Wei H, et al. Facial corticosteroid addictive dermatitis in Guiyang City, China. Clin Exp Dermatol 2010;35:618-21.

[Google Scholar]
3.

Prithvijit M. Beware of skin ointments with steroids. The Times of India, Kolkata; 2011.

[Google Scholar]
4.

Aziz-Jalali MH, Tabaie SM, Djavid GE. Comparison of red and infrared low-level laser therapy in the treatment of acne vulgaris. Indian J Dermatol 2012;57:128-30.

[Google Scholar]
5.

Choi M, Kim JE, Cho KH, Lee JH. In vivo and in vitro analysis of low level light therapy: A useful therapeutic approach for sensitive skin. Lasers Med Sci 2013;28:1573-9.

[Google Scholar]
6.

Camões Barbosa A, Simões H, Lorga S, Mendes M. Low-level laser therapy in the treatment of diabetic ulcers: An evidence problem. Acta Med Port 2011;24:875-80.

[Google Scholar]
Show Sections