Letter to the Editor - Therapy Letter
doi: 10.4103/0378-6323.190854
PMID: 27643549
Efficacy of acitretin and topical clobetasol in trachyonychia involving all twenty nails
Marianne Kolbach-Rengifo, Lucas Navajas-Galimany, Diego Araneda-Castiglioni, Carlos Reyes-Vivanco
Department of Dermatology, Faculty of Medicine, Pontificia Universidad Católica de , Santiago, Chile

Correspondence Address:
Marianne Kolbach-Rengifo
Marcoleta 350, Santiago
Chile

How to cite this article:
Kolbach-Rengifo M, Navajas-Galimany L, Araneda-Castiglioni D, Reyes-Vivanco C. Efficacy of acitretin and topical clobetasol in trachyonychia involving all twenty nails. Indian J Dermatol Venereol Leprol 2016;82:732-734
Copyright: (C)2016 Indian Journal of Dermatology, Venereology, and Leprology
Sir,
Trachyonychia is primarily an inflammatory disease of the nail matrix that manifests as brittle, thin nails with excessive longitudinal ridging. It may present either as an idiopathic disorder or may be associated with other dermatological conditions such as alopecia areata, psoriasis, lichen planus, atopic dermatitis and vitiligo.[1] Besides being a cosmetic concern, it may also impair daily activities. Here, we describe a case of trachyonychia that was successfully treated with a combination of oral acitretin and topical clobetasol.
A 45-year-old woman with hypothyroidism presented with changes affecting all finger and toe nails for 2 years. During the past year, she was treated with a course of oral terbinafine for suspected onychomycosis but with no response. On physical examination, all twenty nail plates showed dystrophic changes with hyperkeratosis, longitudinal ridges, onychorrhexis, distal onycholysis and thinning [Figure - 1]. There was no evidence of any skin or mucosal involvement. Complete blood count, liver function tests, thyroid hormones and hepatitis B and C virus serology were unremarkable. Mycological cultures were negative. A biopsy was not performed considering the risk of iatrogenic damage to the nail matrix. Therefore, a clinical diagnosis of idiopathic trachyonychia was made. After baseline investigations, the patient was initiated on treatment with oral acitretin (Neotigason) at a daily dose of 0.4 mg/kg (25 mg). After 2 months of treatment, the nail dystrophy improved significantly and the dose of acitretin was tapered to 25 mg every 2 days (0.2 mg/kg daily). Topical clobetasol 8% nail lacquer was initiated once a day. Nail dystrophy continued to improve [Figure - 2] and the patient did not develop any retinoid-induced complications other than a mild hypercholesterolemia (total cholesterol level rose to 245 mg/dl from a baseline of 170 mg/dl) that required initiation of statins. Treatment was continued for 10 months with slow tapering, achieving excellent results finally.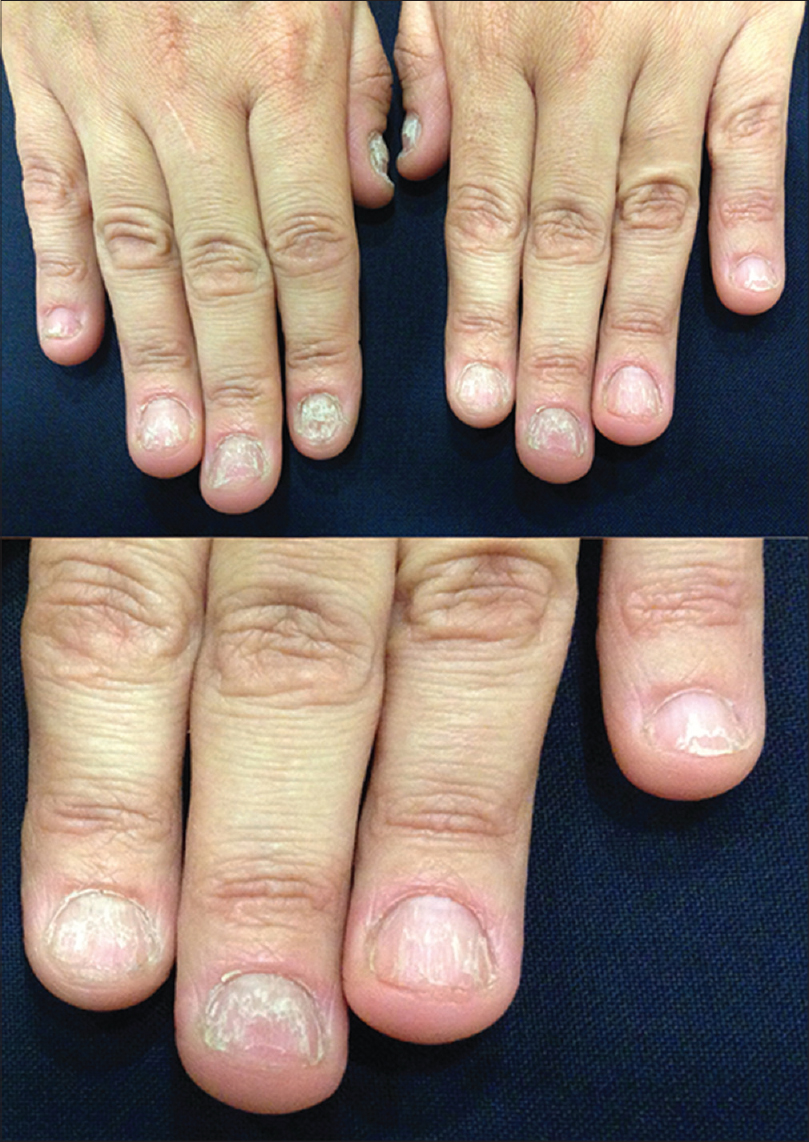 Figure 1: Nail dystrophy in hands with striae and longitudinal ridges, prior to treatment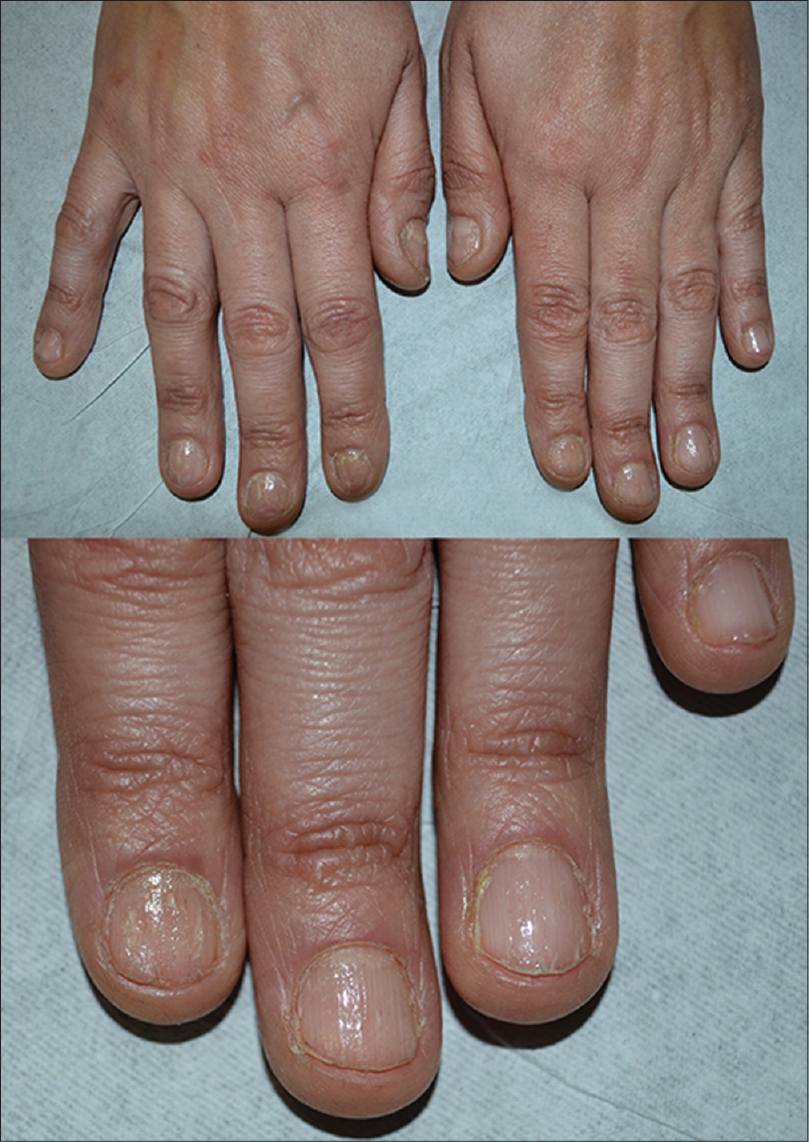 Figure 2: Clinical improvement in fingernails after 6 months of treatment
Though trachyonychia is not an uncommon condition, a comprehensive review of the literature reveals that there is no clear evidence-based treatment for trachyonychia.[2],[3],[4] We found less than 20 published articles describing the different therapeutic approaches for trachyonychia. Case reports and series have mentioned the use of oral and intramatricial injections of corticosteroids, topical and systemic retinoids, antimalarials, psoralen plus ultraviolet A and cyclosporine, albeit with heterogeneous results.[1] Topically applied psoralen plus ultraviolet A exposure, intralesional triamcinolone acetonide injection and oral cyclosporine have demonstrated some clinical improvement.
Acitretin has been commonly used in the treatment of keratinization disorders due to its anti-inflammatory and anti-proliferative properties. It has been proven to be beneficial in patients with trachyonychia secondary to psoriasis and nail lichen planus at doses of 0.3 and 0.5 mg/kg daily. The use of clobetasol 8% nail lacquer has been reported in nail psoriasis with enough evidence to support its use and safety.[5] This case provides evidence that supports the use of acitretin in combination with a high potency topical corticosteroid in the treatment of trachyonychia.
Financial support and sponsorship
Nil.
Conflicts of interest
There are no conflicts of interest.
References
1.

Gordon KA, Vega JM, Tosti A. Trachyonychia: A comprehensive review. Indian J Dermatol Venereol Leprol 2011;77:640-5.

[Google Scholar]
2.

Tosti A, Bellavista S, Iorizzo M, Vincenzi C. Occupational trachyonychia due to psoriasis: Report of a case successfully treated with oral acitretin. Contact Dermatitis 2006;54:123-4.

[Google Scholar]
3.

Alsenaid A, Eder I, Ruzicka T, Braun-Falco M, Wolf R. Successful treatment of nail lichen planus with alitretinoin: Report of 2 cases and review of the literature. Dermatology 2014;229:293-6.

[Google Scholar]
4.

Lee YB, Cheon MS, Park HJ, Cho BK. Clinical study of twenty-nail dystrophy in Korea. Int J Dermatol 2012;51:677-81.

[Google Scholar]
5.

Nakamura RC, Abreu LD, Duque-Estrada B, Tamler C, Leverone AP. Comparison of nail lacquer clobetasol efficacy at 0.05%, 1% and 8% in nail psoriasis treatment: Prospective, controlled and randomized pilot study. An Bras Dermatol 2012;87:203-11.

[Google Scholar]
Show Sections