Translate this page into:

doi:
10.25259/IJDVL_288_20
Erlotinib-induced reactive perforating collagenosis in a case of lung adenocarcinoma
Dermatology and Plastic Surgery Center

,

The Third Affiliated Hospital of Chongqing Medical University (General Hospital), Chongqing

,

China
Corresponding author: Dr. Fei Hao, No. 1, Shuanghu Branch Road, Yubei District, Chongqing 401120, China. haofei@hospital.cqmu.edu.cn
Received: , Accepted: ,
© 2021 Indian Journal of Dermatology, Venereology and Leprology - Published by Scientific Scholar
Licence
This is an open-access article distributed under the terms of the Creative Commons Attribution-Non Commercial-Share Alike 4.0 License, which allows others to remix, tweak, and build upon the work non-commercially, as long as the author is credited and the new creations are licensed under the identical terms.
How to cite this article: Jiang X, Song TT, Hao F. Erlotinib-induced reactive perforating collagenosis in a case of lung adenocarcinoma. Indian J Dermatol Venereol Leprol 2021;87:548-51.
Sir,
Acquired reactive perforating collagenosis, an uncommon dermatosis characterized by transepidermal elimination of degenerated collagen, generally affects patients with diabetes mellitus, chronic renal insufficiency, Hodgkin's lymphoma, acute leukemia, infestations like scabies, etc. Herein, we report a rare case induced by oral erlotinib in a woman with lung adenocarcinoma.
A 53-year-old female, previously diagnosed with lung adenocarcinoma (Stage III b) which was surgically resected two years back and later initiated on treatment with oral erlotinib 150 mg daily, presented to the dermatology clinic with skin eruptions. She had developed pruritic reddish papules over her face, neck and trunk one week after starting erlotinib and the lesions gradually progressed. Pruritic lesions were noted on the buttocks, perineum, trunk and extremities too, in the past two months. Physical examination revealed scattered or densely distributed reddish follicular papules and papulopustules involving the face, neck and upper trunk [Figure 1a]. Multiple red-colored, umbilicated, dome-shaped papules of size five to ten millimeters were noted on the trunk and extremities, a few of them partly coalescing to form plaques [Figures 1b and c]. Some lesions also exhibited a linear configuration, indicating a Koebner phenomenon. Histopathology from the umbilicated papule showed a cup-shaped depression of the epidermis with a keratin plug showing parakeratosis, inflammatory debris and degenerated collagen fibers and perivascular infiltrate of inflammatory cells below the depression [Figure 2a]. The elimination of degenerated collagens fibers through the epidermis could be seen [Figures 2b and c].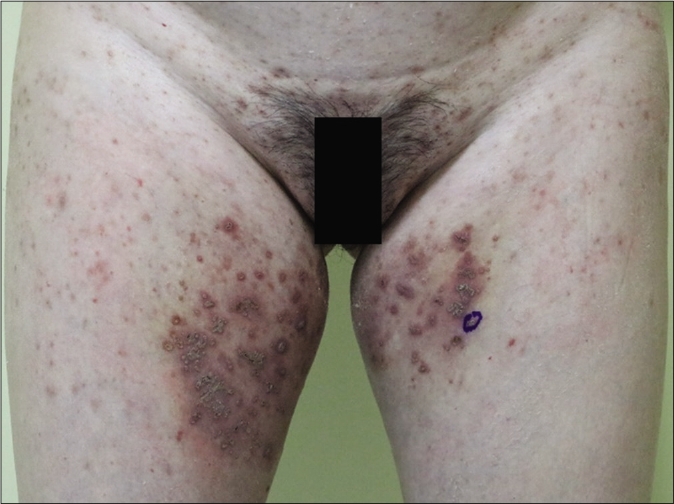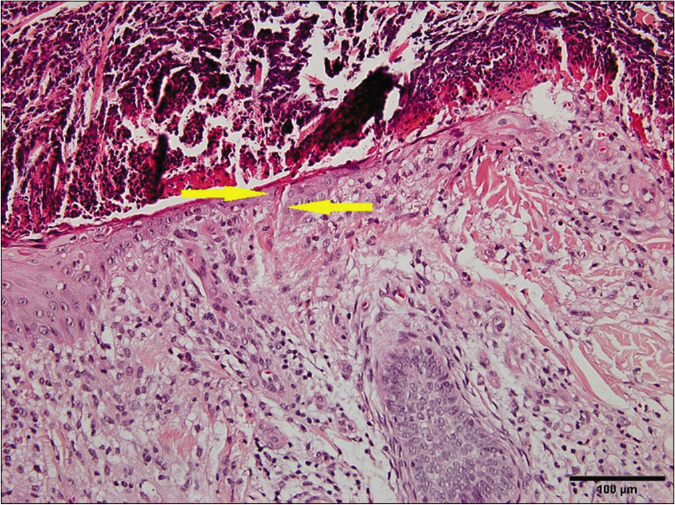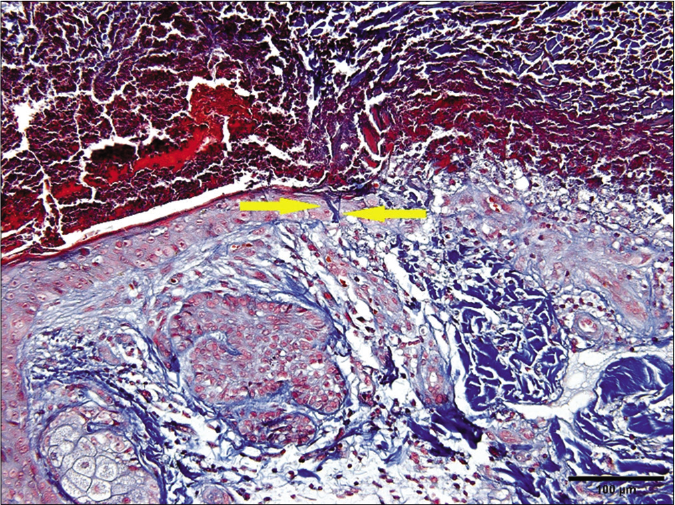 A diagnosis of acquired reactive perforating collagenosis with acneiform eruptions was made. She was treated with oral isotretinoin 10 mg twice daily, topical mometasone furoate cream 0.1% and tretinoin cream 0.1% once daily on her trunk and extremities. Most of the lesions regressed completely within two months [Figure 3]. One month later, erlotinib was discontinued following recovery from lung cancer. Isotretinoin and topical drugs were also stopped following that. No relapse was recorded during the 10-month follow-up period after treatment and a long-time follow-up is still being maintained.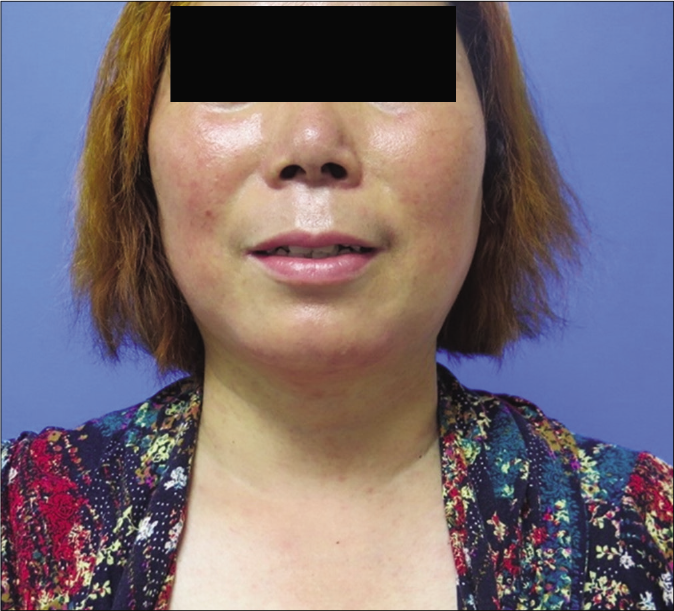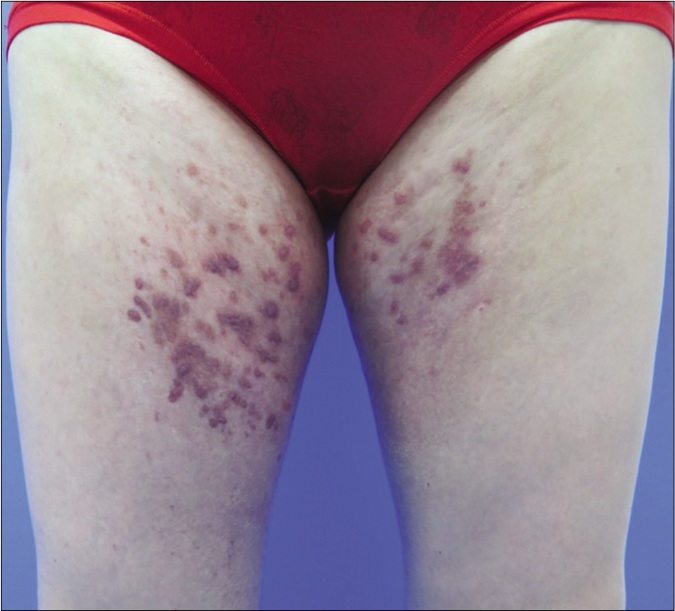 Acquired reactive perforating collagenosis was originally described in 1967 by Delacrétaz et al., and mild superficial trauma and microangiopathy were thought to correlate with its development in genetically susceptible individuals.1 Drug-induced acquired reactive perforating collagenosis was occasionally reported with ranibizumab and sirolimus, but reasonable explanations were lacking.2,3 Erlotinib, the epidermal growth factor-receptor tyrosine kinase inhibitor, acts in the treatment of non-small-cell lung cancer by inhibiting the proliferation, adhesion, migration and apoptosis of epidermal growth factor-receptor-expressed tumor cells. Epidermal growth factor-receptor is also wildly expressed in the basal layer of the epidermis, outer root sheath of the hair follicles, sebaceous and sweat gland apparatus. m-TOR, the downstream effector of epidermal growth factor-receptor signaling, plays a pivotal role in acne onset which might explain why acneiform eruptions occur the earliest and is common in the settings of erlotinib administration.3-5 Given the actions of erlotinib, the inhibition of epidermal growth factor-receptor signaling might disturb the differentiation of keratinocytes, thus causing disruption of epidermis and follicular epithelium, contributing to the longer perforating process related to acquired reactive perforating collagenosis. Therefore, acneiform eruptions and acquired reactive perforating collagenosis may be taken together as two different stages of pathological changes in the skin induced by erlotinib, and a good response to systemic retinoids also corroborates the diagnosis, as in the present case. Acquired reactive perforating collagenosis following the occurrence of acneiform eruptions during erlotinib administration in lung adenocarcinoma is unusual and important for the dermatologists to recognize, in patients with epidermal growth factor-receptor inhibitor treatment.
Acknowledgment
We are deeply grateful to Mr. Chen Bang-tao for his help on writing.
Declaration of patient consent
The authors certify that they have obtained all appropriate patient consent.
Financial support and sponsorship
Nil.
Conflicts of interest
There are no conflicts of interest.
Show Sections