Translate this page into:

Letter to the Editor - Observation Letter
doi: 10.4103/ijdvl.IJDVL_525_17
PMID: 29536968
Extramammary Paget disease with histologic presence of epidermolytic hyperkeratosis: An unusual presentation
Anil Kumar Bhatta, Yeqiang Liu, Uma Keyal
Department of Dermatopathology, Skin Disease Hospital, Shanghai, Tongji University School of Medicine, Shanghai, China

Correspondence Address:
Yeqiang Liu
Department of Dermatopathology, Shanghai Skin Disease Hospital, No. 1278, Baode Road, Jingan District, Shanghai - 200 443
China

How to cite this article:
Bhatta AK, Liu Y, Keyal U. Extramammary Paget disease with histologic presence of epidermolytic hyperkeratosis: An unusual presentation. Indian J Dermatol Venereol Leprol 2018;84:341-344
Copyright: (C)2018 Indian Journal of Dermatology, Venereology, and Leprology
Sir,
Extramammary Paget disease is an intraepithelial neoplasm that presents typically in apocrine-rich skin as an irregular, pruritic plaque. Epidermolytic hyperkeratosis is a histological reaction pattern seen in a variety of conditions, both acquired and congenital including benign, premalignant as well as malignant disease processes. Sometimes, epidermolytic hyperkeratosis can be seen as an incidental finding.
Extramammary Paget disease, first described by Crocker in 1889, is an intraepithelial neoplasm that typically presents as an irregular pruritic plaque at an apocrine gland-bearing skin site such as vulva, axillae, groin, scrotum and perianal region.[1] The term epidermolytic hyperkeratosis refers to a distinctive set of histopathologic features of hyperkeratosis, perinuclear vacuolization of keratinocytes in the upper layers of epidermis and coarse keratohyaline granules.[2] The presence of these findings is also noted in various other entities such as epidermolytic ichthyosis, Vorner's epidermolytic palmoplantar keratoderma, epidermal nevus (especially systematized variant) and solitary epidermolytic acanthomas.[3] However, we were unable to find any previous paper reporting its presence in extramammary Paget disease. Here, we report a case of extramammary Paget disease, which on histopathology examination showed the findings of both extramammary Paget disease and epidermolytic hyperkeratosis.
A 75-year-old otherwise healthy man presented at our hospital with an itchy lesion on the left groin for 1 year. The lesion had gradually increased in size to approximately 4 × 2 cm in diameter. On physical examination, a well-demarcated erythematous plaque with lichenification and peripheral hypopigmentation was noted [Figure - 1]. Systemic examination revealed no abnormalities and no regional lymphadenopathy was detected. A biopsy was performed with a clinical suspicion of Bowen's disease or extramammary Paget disease. Histopathological examination revealed hyperkeratosis, parakeratosis, acanthosis and vacuolated Paget cells in suprabasilar epithelium. Immunohistochemistry showed Paget cells positive for cytokeratin7, carcinoembryonic antigen (CEA), epithelial membrane antigen, gross cystic disease fluid protein-15 and periodic acid-Schiff (PAS), but negative for cytokeratin20. Ultrasonography of the abdomen was done to look for the primary site but no abnormalities were detected. Prostate-specific antigen was within normal limit. Based on these findings, a diagnosis of primary extramammary Paget disease was made. In addition, hyperkeratosis, papillomatosis, clumped keratohyalin granules and superficial epidermal vacuolization was also seen, which are specific for epidermolytic hyperkeratosis [Figure - 2].
Figure 1: A well-demarcated erythematous plaque with lichenification and hypopigmented surrounding skin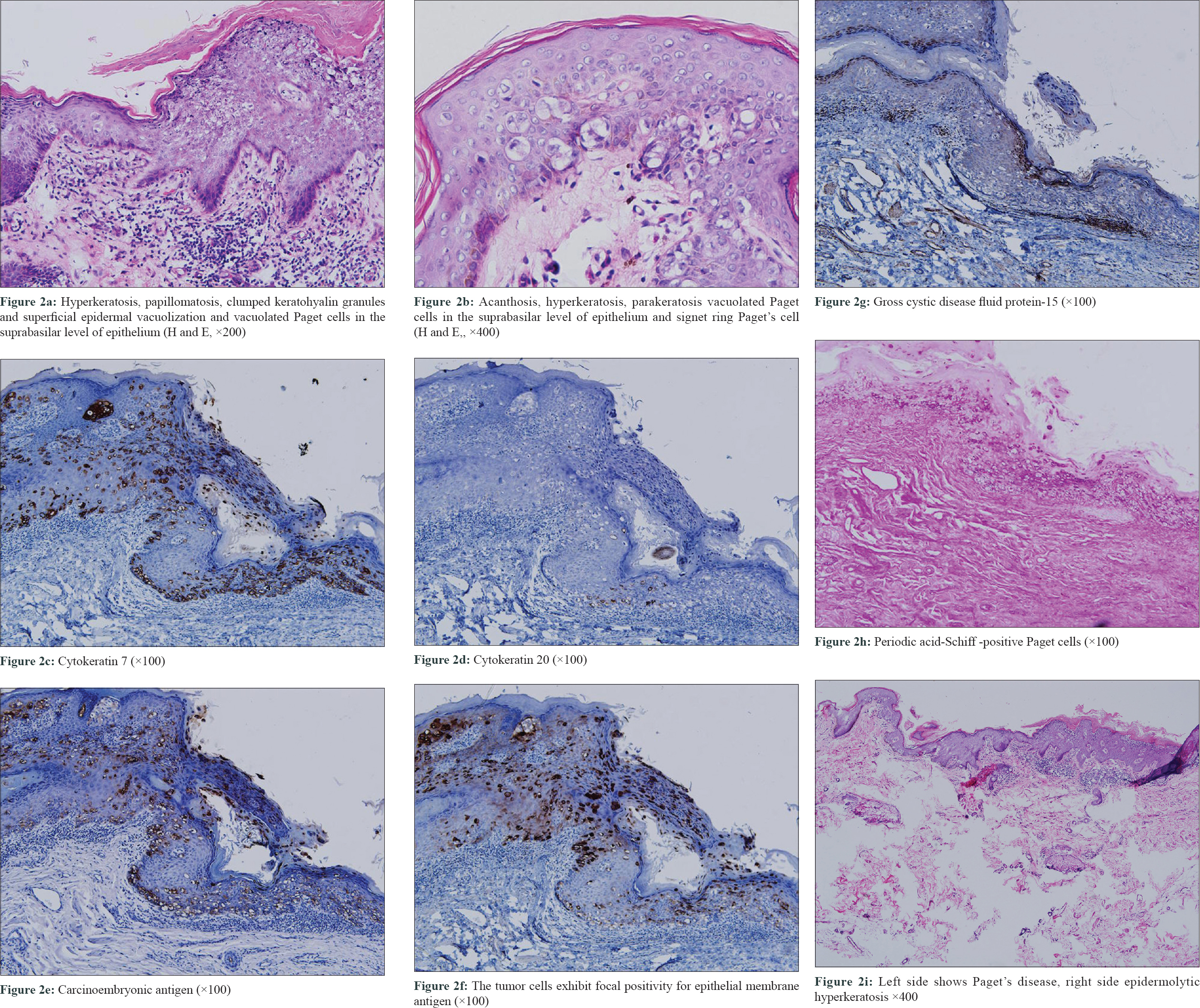 Figure 2
Histopathologically, epidermolytic hyperkeratosis has been noted in a variety of acquired and congenital conditions. Various benign diseases (acanthoma, epidermoid cyst, infundibular cyst, epidermal nevus, hidradenoma, nevus comedonicus, seborrheic keratosis, trichilemmal cyst), premalignant lesions (actinic keratosis, leukoplakia, atypical/dysplastic nevus), as well as malignant lesions (basal cell carcinoma, melanoma, squamous cell carcinoma) have shown concurrent findings of epidermolytic hyperkeratosis on histopathology examination. The exact clinical significance of epidermolytic hyperkeratosis findings in these conditions is still unknown.[4]
Although the presence of specific histologic features of epidermolytic hyperkeratosis in other disease conditions is well reported in literature, its clinical significance is still unknown.[1],[2] In our patient, a pruritic lesion leading to chronic itch and scratch might have given rise to these findings. Whether this is just an incidental finding with no diagnostic value or it holds a clinical significance is yet to be established.
Treatment of choice in extramammary Paget's disease remains surgical excision. Wide local excision and Moh's micrographic surgical excision have been tried with variable recurrence rates.[5] For patients who decline or are unfit for surgery, alternative treatment options include topical chemotherapy and immunomodulators such as 5-fluorouracil, bleomycin and imiquimod as adjunctive or primary modalities of treatment.[6] In our patient, complete excision under local anesthesia was done. The healing and recovery post procedure was uneventful. At 1-year follow-up no recurrence was noted.
Acknowledgment
This study was funded by grants from National Natural Science Foundation of China (NSFC 81360236), Shanghai Hospital Development Center project (SHDC12014217) and Shanghai Committee of Science and Technology, China (16411961500).
Declaration of patient consent
The authors certify that they have obtained all appropriate patient consent forms. In the form, the patient has given his consent for his images and other clinical information to be reported in the journal. The patient understand that name and initials will not be published and due efforts will be made to conceal identity, but anonymity cannot be guaranteed.
Financial support and sponsorship
Nil.
Conflicts of interest
There are no conflicts of interest.
References
1.

Funaro D, Krasny M, Lam C, Desy D, Sauthier P, Bouffard D, et al. Extramammary Paget disease: Epidemiology and association to cancer in a Quebec-based population. J Low Genit Tract Dis 2013;17:167-74.

[Google Scholar]
2.

Kumar P, Kumar R, Mandal RK, Hassan S. Systematized linear epidermolytic hyperkeratosis. Dermatol Online J 2014;20:21248.

[Google Scholar]
3.

Fletcher JW, Ramamurthi A, Parekh P. Presentation of epidermolytic acanthomas as multiple tan papules on the vulva. Proc (Bayl Univ Med Cent) 2016;29:198-9.

[Google Scholar]
4.

Vincent J, Taube JM. Pigmented extramammary Paget disease of the abdomen: A potential mimicker of melanoma. Dermatol Online J 2011;17:13.

[Google Scholar]
5.

Moretto P, Nair VJ, Hallani SE, Malone S, Belanger E, Morash C, et al. Management of penoscrotal extramammary Paget disease: Case series and review of the literature. Curr Oncol 2013;20:e311-20.

[Google Scholar]
6.

MartIn-Fuentes A, Sánchez-Herreros C, Cuevas-Santos J, De Eusebio-Murillo E. Extramammary Paget disease secondary to a transitional cell carcinoma of the bladder. Indian J Dermatol Venereol Leprol 2015;81:318-20.

[Google Scholar]
Show Sections