Translate this page into:

Letter to the Editor - Case Letter
doi: 10.4103/ijdvl.IJDVL_752_18
PMID: 31322136
Frontal fibrosing alopecia developing on vitiligo
Chen-Yu Wu1 , Chih-Yi Liu2 , You-Chen Serena Liu1
1 Department of Dermatology, Cathay General Hospital, Taipei, Taiwan
2 Department of Pathology, Sijhih Cathay General Hospital, Taipei, Taiwan

Correspondence Address:
You-Chen Serena Liu
No. 280, Sec. 4, Renai Road, Taipei 106
Taiwan

How to cite this article:
Wu CY, Liu CY, Liu YC. Frontal fibrosing alopecia developing on vitiligo. Indian J Dermatol Venereol Leprol 2019;85:514-518
Copyright: (C)2019 Indian Journal of Dermatology, Venereology, and Leprology
Sir,
The coexistence of vitiligo and frontal fibrosing alopecia, a distinct variant of lichen planus affecting hair follicles predominantly on the frontotemporal hairline, has been described in the literature with only some case reports. Here we present a patient from our own experience and briefly summarize the reported cases.
A 73-year-old Taiwanese woman presented with asymptomatic progressive frontal and temporal hairline recession for 1 year. She had been diagnosed with nonsegmental vitiligo since adolescent age with a stable disease status for several years. Physical examination revealed receding frontotemporal hairline with residual single hairs as well as perifollicular erythema and scales. Multiple depigmented patches were also noted on the forehead, temporal and occipital area near hairline, neck and extremities [Figure - 1]a, [Figure - 1]b, [Figure - 1]c, [Figure - 1]d, [Figure - 1]e, [Figure - 1]f.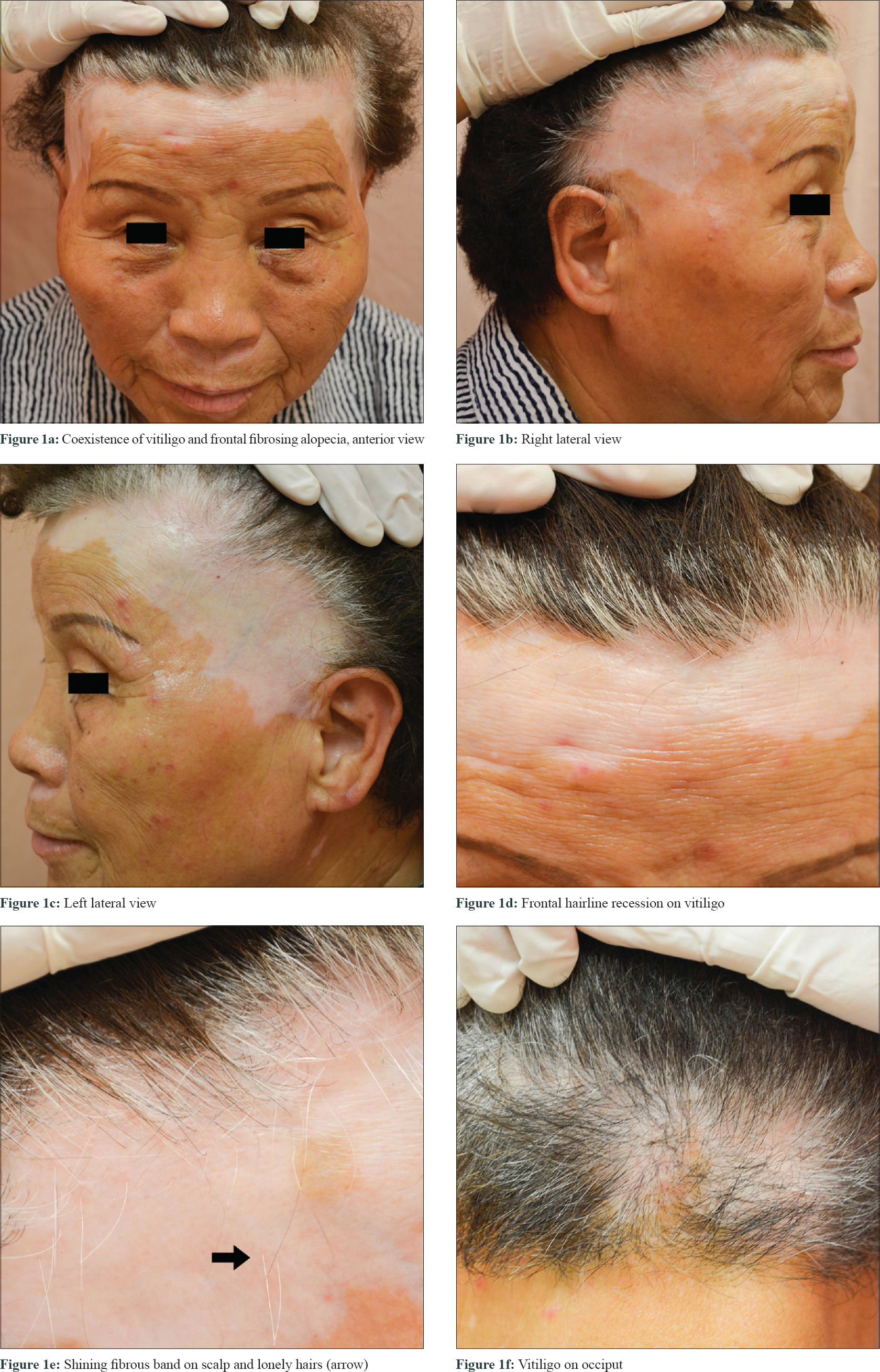 Figure 1
Two 4-mm punch biopsies were taken from the right side of frontal scalp. Horizontal sections showed a reduced number of follicular units, dense perifollicular lichenoid infiltration involving upper follicles, absence of sebaceous glands and concentric perifollicular stella. Vertical section revealed lichenoid interface change around infundibulum and isthmus [Figure - 2]a, [Figure - 2]b, [Figure - 2]c. Immunostain for microphthalmia transcription factor showed the absence of basal melanocytes in the epidermis. Fontana-Masson stain also revealed the absence of melanin in the basal layer [Figure - 3]a, [Figure - 3]b. On the basis of clinical and pathological findings, a coexistence of frontal fibrosing alopecia and vitiligo was diagnosed. The patient then received intralesional triamcinolone (5 mg/dl) injection once per month for five times, and no further progression of frontotemporal hair loss was noted during treatment sessions. The vitiligo lesions remained stable without improvement.
Figure 2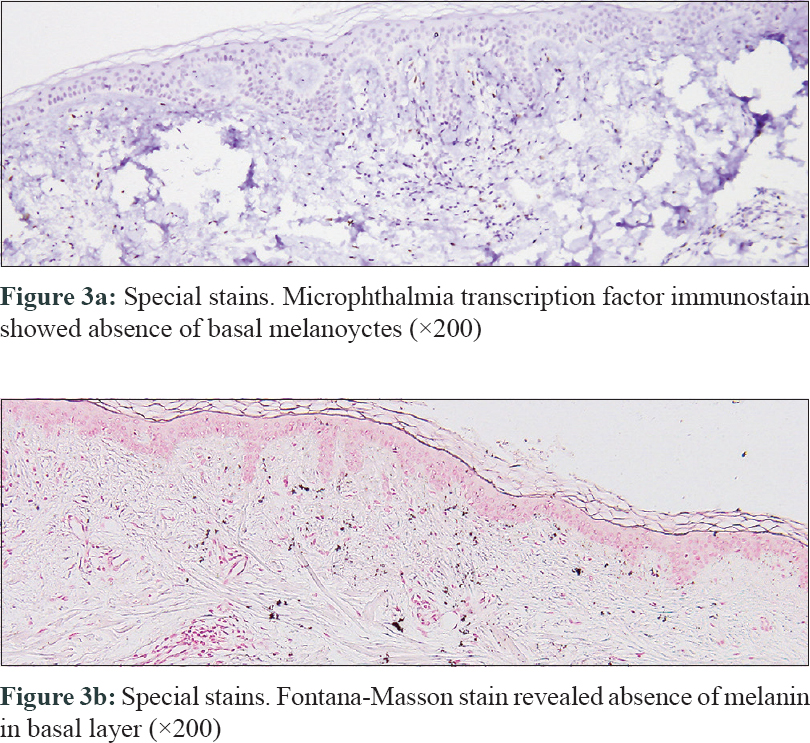 Figure 3
The presence of frontal fibrosing alopecia and vitiligo at the same lesional sites is a rare condition. In this case, the clinical observation showing frontotemporal hairline recession with lonely hairs on the vitiliginous skin indicated the diagnosis. The coexistence of these two diseases is confirmed by the typical pathological findings, including scarring alopecia with perifollicular lichenoid infiltration as well as the loss of basal melanocytes in the same specimen.
We found only nine cases reported in the literature, including six with a detailed description [Table - 1].[1],[2],[3],[4] Among these patients and our case, the demographic features showed a mean age of 60.6 years and a majority of females (6/7, 86.7%). The affected race is mainly Caucasian (5/7, 71.4%), and we presented the first Asian case. These findings are consistent with the general group of frontal fibrosing alopecia, which predominantly affects postmenopausal Caucasian women.[3] There were three patients with underlying thyroid diseases, two being identical twins, and one with family history of vitiligo. Of note, all these cases were with a long-lasting vitiligo history and then developed frontal fibrosing alopecia on the lesional areas.
Table 1: Summary of reported cases and present case
Despite the rarity of such coexistence, the shared features in pathogenesis between these two diseases might suggest a true correlation rather than a simple coincidence.
First, given the observation that all the previous cases and the present case of frontal fibrosing alopecia developed within the preexisting vitiligo lesions on frontotemporal hairline, it is plausible that vitiliginous skin might set a specific microenvironment in susceptible patient for the occurrence of frontal fibrosing alopecia. In the same vein, there are reports describing lichen planus lesions developing on sun-exposed vitiliginous area.[5] The chronic actinic damage in the vitiligo-affected skin may cause release of inflammatory mediators, thus promoting the accumulation of effector T cells seen in lichen planus.[5] Based on the evident manifestation of Koebner phenomenon in lichen planus, the cellular injury augmented by solar damage in vitiligo-affected skin may trigger the mechanisms responsible for the Koebner phenomenon and result in lichen planus on sun-exposed area.[5]
Second, the autoimmunity-induced disruption of the functional unit composed of keratinocytes and melanocytes could be the reason of simultaneous development of frontal fibrosing alopecia and vitiligo. In both lichen planus and vitiligo, cytotoxic CD8+ T lymphocytes have been suggested as key players in the autoimmune mechanism. In lichen planus, activated T lymphocytes are recruited to the dermal-epidermal junction and induce apoptosis in basal keratinocytes.[2] It is known that melanocytes and keratinocytes form functional units; therefore, apoptosis of keratinocytes can result in decreased melanocytic survival and apoptosis, as occurs in vitiligo.[2] Furthermore, a recent report suggested that the melanocytes of the hair follicle, especially in infundibulum, might just be the antigenic target of frontal fibrosing alopecia, implying that vitiligo and frontal fibrosing alopecia may share the same pathogenic origin.[6]
Third, vitiligo could alter the exposure of dermal-epidermal junction antigens identified by effector T cells of frontal fibrosing alopecia and trigger the recruitment of these cells.[2] Alternatively, the antigens of frontal fibrosing alopecia might be targeted by the process of "epitope spreading" resulting from interface damage in vitiligo, as a prior report describes the coexistence of vitiligo and lichen sclerosus, another lichenoid inflammatory dermatosis.[7]
Finally, the underlying genetic background should be considered in such group of patients. Both vitiligo and frontal fibrosing alopecia, like many other autoimmune diseases, may follow polygenic inheritance with a positive family history and are often associated with comorbidities, especially autoimmune thyroiditis, as observed in this series. Overall, the predisposed susceptible status of cell-mediated autoimmunity in these patients could be linked to some unknown genetic locus and requires further investigation.
There is currently no established therapy for frontal fibrosing alopecia, but several treatments including intralesional corticosteroids and hydroxychloroquine have been reported.[3] Therapeutic interventions have not been described in previous reports of concomitant frontal fibrosing alopecia and vitiligo. In our case, intralesional corticosteroids demonstrated fair efficacy and tolerability to halt further progression of scarring alopecia.
In summary, we presented the first Asian case with coexistence of vitiligo and frontal fibrosing alopecia, which is exceedingly rare considering the affected race. The demographic features of reported cases showed no significant difference compared with other frontal fibrosing alopecia patients. Somehow in the context with preexisting vitiligo, several mechanisms including chronic actinic damage, disruption of functional unit, melanocyte targeting, antigen exposure, epitope spreading and genetic background might play a role in the development of frontal fibrosing alopecia in this specific subgroup. Further investigation is required to reveal the exact underlying pathogenesis.
Declaration of patient consent
The authors certify that they have obtained all appropriate patient consent forms. In the form, the patient has given her consent for her images and other clinical information to be reported in the journal. The patient understands that name and initials will not be published and due efforts will be made to conceal identity, but anonymity cannot be guaranteed.
Financial support and sponsorship
Nil.
Conflicts of interest
There are no conflicts of interest.
References
1.

Miteva M, Aber C, Torres F, Tosti A. Frontal fibrosing alopecia occurring on scalp vitiligo: Report of four cases. Br J Dermatol 2011;165:445-7.

[Google Scholar]
2.

Katoulis AC, Diamanti K, Sgouros D, Liakou AI, Alevizou A, Bozi E, et al. Frontal fibrosing alopecia and vitiligo: Coexistence or true association? Skin Appendage Disord 2017;2:152-5.

[Google Scholar]
3.

Vañó-Galván S, Molina-Ruiz AM, Serrano-Falcón C, Arias-Santiago S, Rodrigues-Barata AR, Garnacho-Saucedo G, et al. Frontal fibrosing alopecia: A multicenter review of 355 patients. J Am Acad Dermatol 2014;70:670-8.

[Google Scholar]
4.

Banka N, Mubki T, Bunagan MJ, McElwee K, Shapiro J. Frontal fibrosing alopecia: A retrospective clinical review of 62 patients with treatment outcome and long-term follow-up. Int J Dermatol 2014;53:1324-30.

[Google Scholar]
5.

Veitch D, Kravvas G, Hughes S, Bunker C. A rare colocalization of lichen planus and vitiligo. Case Rep Dermatol Med 2015;2015:840193.

[Google Scholar]
6.

Katoulis AC, Diamanti K, Sgouros D, Liakou AI, Bozi E, Tzima K, et al. Frontal fibrosing alopecia: Is the melanocyte of the upper hair follicle the antigenic target? Int J Dermatol 2018;57:e37-8.

[Google Scholar]
7.

Attili VR, Attili SK. Acral vitiligo and lichen sclerosus-association or a distinct pattern? A clinical and histopathological review of 15 cases. Indian J Dermatol 2015;60:519.

[Google Scholar]
Show Sections