Letter to the Editor
doi: 10.4103/0378-6323.140321
PMID: 25201856
Granuloma annulare-like palisading as a histological reaction to a tattoo
Subhash Kashyap1 , Vinay Shanker1 , Uday Khopkar2
1 Department of Dermatology Venereology and Leprosy, Indira Gandhi Medical College, Shimla, Himachal Pradesh, India
2 Department of Dermatology, Seth Gordhandas Sunderdas Medical College and King Edward Memorial Hospital, Mumbai, Maharashtra, India

Correspondence Address:
Subhash Kashyap
Department of Dermatology, Indira Gandhi Medical College, Shimla, Himachal Pradesh - 171 001
India

How to cite this article:
Kashyap S, Shanker V, Khopkar U. Granuloma annulare-like palisading as a histological reaction to a tattoo . Indian J Dermatol Venereol Leprol 2014;80:465-467
Copyright: (C)2014 Indian Journal of Dermatology, Venereology, and Leprology
Sir,
A tattoo is a form of body modification undertaken by inserting indelible ink into the dermis to change the color of the skin. Tattooing is prevalent since ages and continues to be popular in modern times. Unregulated practices and variability in ink composition has lead to increased adverse reactions presenting in varied histological patterns. The most common histological pattern secondary to tattoos is lichenoid followed by eczematous, granulomatous, and pseudolymphomatous. [1] Rarely, sclerodermatous, and photoallergic reactions are reported. Granuloma annulare (GA)-like palisading granulomatous reaction to tattoo is rare and we were able to find only four cases reported in the English-language literature. [1],[2],[3],[4]
A 21-year-old man presented with itching, swelling and disfigurement of a tattoo over his right forearm for one month. The tattoo was created four months previously by an amateur tattooist using red ink. There was history of some local application which resulted in surface changes. On examination, there was a trident-shaped erythematous plaque over the right mid-arm with slight crusting. It was well-defined but the shape was blurred due to an uneven surface. The central part was atrophic with beady margins. On palpation, it was indurated, non-tender, and did not exude any fluid [Figure - 1].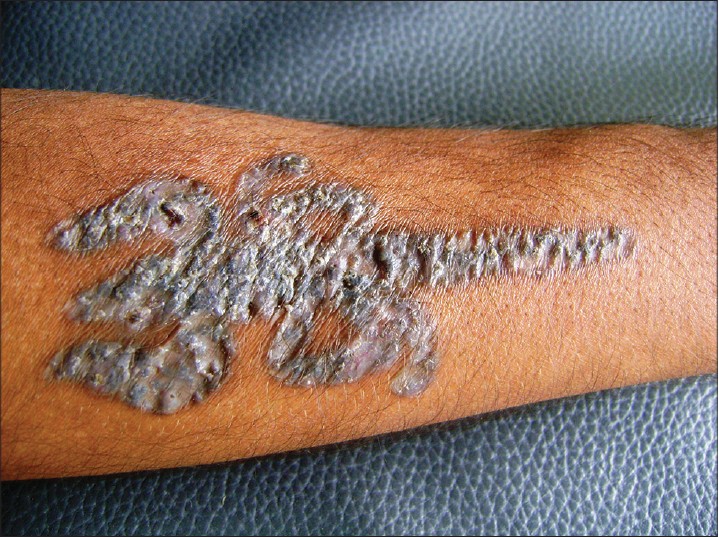 Figure 1: A trident-shaped tattoo over the right forearm showing areas of central atrophy and peripheral beading
Histopathological examination revealed a palisading granuloma in the mid-dermis around a focus of mucin and fibrin deposition and incomplete collagen degeneration. There was more fibrin than mucin in the centre of the granuloma. The palisading granuloma was composed of histiocytes, lymphocytes, and foreign body giant cells. Black colored pigment was seen scattered throughout the section predominantly around the deeper vessels. The rest of the dermis showed a superficial and deep sparse perivascular lymphocytic infiltrate. The findings were interpreted as a palisading granuloma suggestive of granuloma annulare [Figure - 2] and [Figure - 3]. No acid fast bacilli or fungal elements were seen on Periodic Acid Schiff (PAS) and acid fast staining. Culture and polymerase chain reaction (PCR) were negative. His chest radiograph, Mantoux test, and other routine examinations were within normal limits.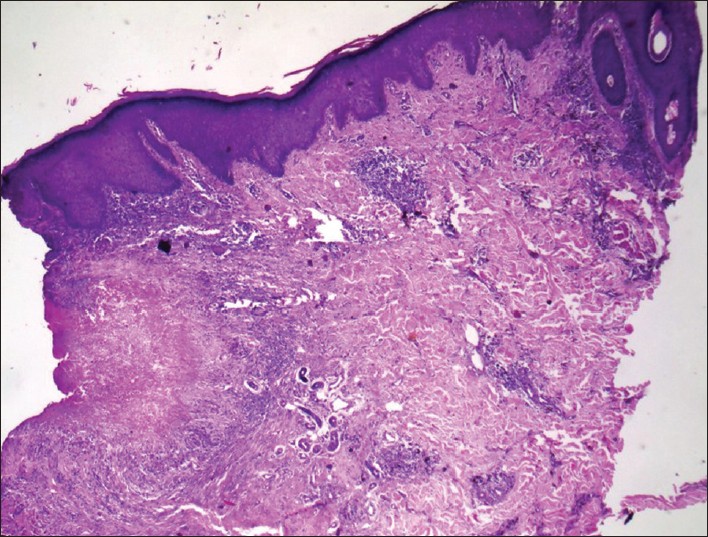 Figure 2: There are granulomas in mid-dermis composed of lymphocytes, histiocytes, and occasional foreign body giant cells arranged in a semicircular palisade. (H and E, ×40)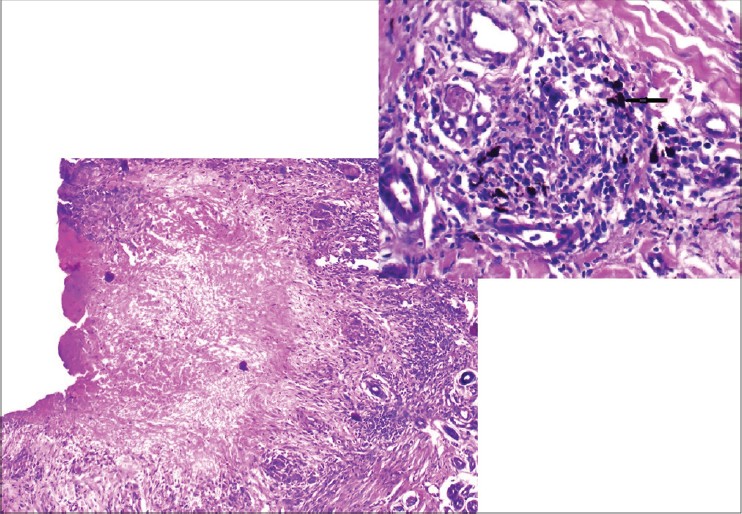 Figure 3: Palisading granuloma made up of histiocytes, lymphocytes, and foreign body giant cells. Black colored pigment is seen scattered throughout the section predominantly around the deeper vessels. (H and E, ×40, inset ×400)
Tattooing is followed by an initial inflammatory reaction that subsides within one to two weeks but persistence of inflammation beyond this period should be investigated. Histology is usually required to assess the pattern of tissue reaction to the pigment. Pigment particles may be seen in histological sections in a limited number of cases; in others, complex immunohistochemical procedures may have to be performed to find out the antigen; in yet others, the antigen may not be detected at all. [5]
Adverse reactions to tattoos occur to the exogenous pigment or its carrier solution. [1] The most common inciting agent in adverse reactions to tattoo is red pigment containing mercury though reactions can also occur to other metal salts and vegetable dyes. [6]
Immunohistochemical and flow-cytometric analysis of surface markers and cytokine production of isolated lesional lymphocytes can be used to elucidate the exact pathology in varied histological reactions to tattoos. Gas-liquid chromatography (GLC) and mass spectrometry (MS) can be used to identify the causative pigment. [7]
Granuloma annulare-like histology is a reaction pattern that is generally idiopathic, but has been attributed to a variety of inciting factors. The exact mechanism for this pattern is unknown but existing theories include type IV delayed hypersensitivity, Th1 inflammatory reaction with IFN-γ-provoking lymphocytes, lymphocyte-mediated activation of monocytes, and elastic tissue injury as the primary alteration. [7]
Palisading granulomas are seen in granuloma annulare, necrobiosis lipoidica diabeticorum, rheumatoid nodule, sarcoidosis, and fungal and mycobacterial infections. Radiography, Mantoux test, culture and PCR, and staining of histological sections should be performed to differentiate these conditions. [8]
References
1.

Kluger N, Godenèche J, Vermeulen C. Granuloma annulare within the red dye of a tattoo. J Dermatol 2012;39:191-3.

[Google Scholar]
2.

Bagwan IN, Walker M, Theaker JM. Granuloma annulare-like tattoo reaction. J Cutan Pathol 2007;34:804-5.

[Google Scholar]
3.

Sweeney SA, Hicks LD, Ranallo N, Snyder N 4 th , Soldano AC. Perforating granulomatous dermatitis reaction to exogenous tattoo pigment: A case report and review of the literature. Am J Dermatopathol 2013;35:754-6.

[Google Scholar]
4.

Wood A, Hamilton SA, Wallace WA, Biswas A. Necrobiotic granulomatous tattoo reaction: Report of an unusual case showing features of both necrobiosis lipoidica and granuloma annulare patterns. Am J Dermatopathol 2013.

[Google Scholar]
5.

Shinohara MM, Nguyen J, Gardner J, Rosenbach M, Elenitsas R. The histopathologic spectrum of decorative tattoo complications. J Cutan Pathol 2012;39:1110-8.

[Google Scholar]
6.

Sanghavi SA, Dongre AM, Khopkar US. Tattoo reactions--an epidemic on the surge: A report of 3 cases. Indian J Dermatol Venereol Leprol 2013;79:231-4.

[Google Scholar]
7.

Stewart LR, George S, Hamacher KL, Hsu S. Granuloma annulare of the palms. Dermatol Online J 2011;17:7.

[Google Scholar]
8.

Gutte R, Kothari D, Khopkar U. Granuloma annulare on the palms: A clinicopathological study of seven cases. Indian J Dermatol Venereol Leprol 2012;78:468-74.

[Google Scholar]
Show Sections