Case Report
doi: 10.4103/0378-6323.120733
PMID: 24177613
Granulomatous cheilitis with granulomatous vulvitis: A rare association
Srinath M Kambil, Ramesh M Bhat, Sukumar Dandakeri, Nelee Bisen
Department of Dermatology, Father Muller Medical College, Kankanady, Mangalore, Karnataka, India

Correspondence Address:
Ramesh M Bhat
Department of Dermatology, Father Muller Medical College, Kankanady, Mangalore, Karnataka
India

How to cite this article:
Kambil SM, Bhat RM, Dandakeri S, Bisen N. Granulomatous cheilitis with granulomatous vulvitis: A rare association. Indian J Dermatol Venereol Leprol 2013;79:799-801
Copyright: (C)2013 Indian Journal of Dermatology, Venereology, and Leprology
Abstract
Granulomatous cheilitis and granulomatous vulvitis are rare disorders characterized by painless swelling of lips and vulva, respectively. Histopathology of both conditions show non-caseating epithelioid cell granulomas in the dermis. Both disorders have been associated with Crohn's disease rarely. Occurrence of the two conditions in the same patient is extremely infrequent. We hereby report, the association of granulomatous cheilitis with granulomatous vulvitis in a 30-year-old female.
Keywords: Cheilitis, Crohn′s disease, granulomatous, vulvitis
Introduction
Granulomatous cheilitis is a chronic granulomatous inflammation of the lips of unknown etiology characterized clinically by diffuse, non-tender and soft to firm swelling of one or both lips. The genital counterpart of granulomatous cheilitis is called granulomatous vulvitis, which presents as painless swelling of the vulva. Granulomatous disorders such as metastatic Crohn′s disease, sarcoidosis and mycobacterial infections have to be ruled out when a patient presents with granulomatous cheilitis and/or vulvitis. [1]
Case Report
A 30-year-old woman presented with 10 years history of painless swelling of upper lip, which was intermittent initially, but since last 2 years became progressive and persistent. She also gave 6 months history of painless swelling of lower lip and vulva. Patient was otherwise well and reported no history of facial palsy, gastrointestinal or respiratory symptoms except for recurrent vaginal discharge since the last 10 years. Dermatological examination showed erythematous firm swelling of both lips with the upper lip more affected [Figure - 1]a. Genital examination revealed indurated swelling of labia majora with the left side more affected than the right. Few indurated papules and a solitary infiltrated plaque were seen in the groin [Figure - 1]b. White watery vaginal discharge was present, which on culture showed peptostreptococci and bacteroides species sensitive to metronidazole. The findings of routine blood work-up including angiotensin converting enzyme level were normal except for hemoglobin level of 9.4 mg/dl and raised erythrocyte sedimentation rate of 126 mm/1 st h. Chest X-ray was normal and Mantoux test was negative. Stool examination was normal. Colonoscopy with multiple colorectal biopsies did not show any evidence of Crohn′s disease. Histopathological examination of biopsies taken from upper lip and vulva showed non-caseating epithelioid cell granulomas and mononuclear cell infiltrate in the dermis [Figure - 2]a and b. These features were suggestive of granulomatous cheilitis and granulomatous vulvitis. Based on clinical and histopathological features, a final diagnosis of granulomatous cheilitis and granulomatous vulvitis was made. Patient was started on intralesional triamcinolone acetonide at every 2 weeks interval and oral metronidazole 400 mg twice daily. At 1 month follow up, there was considerable improvement in lip and genital swelling [Figure - 3]a and b.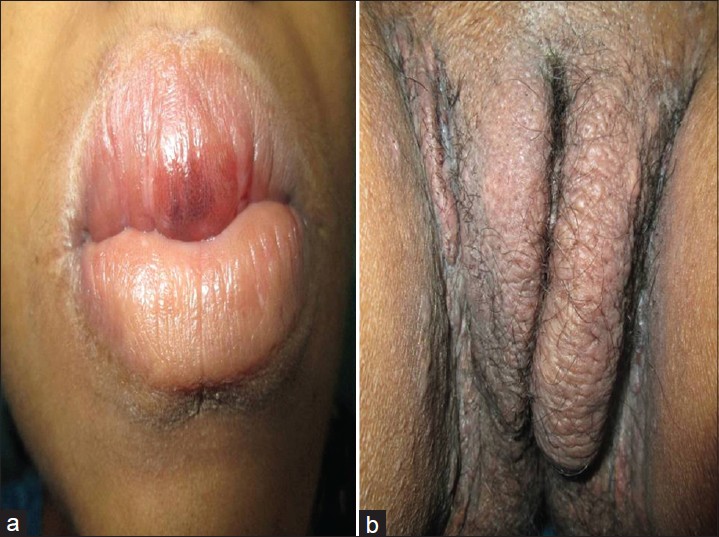 Figure 1: (a) Granulomatous cheilitis presenting as erythematous firm swelling of lips. (b) Granulomatous vulvitis presenting as indurated swelling of both labia majora and infi ltrated plaque in the right groin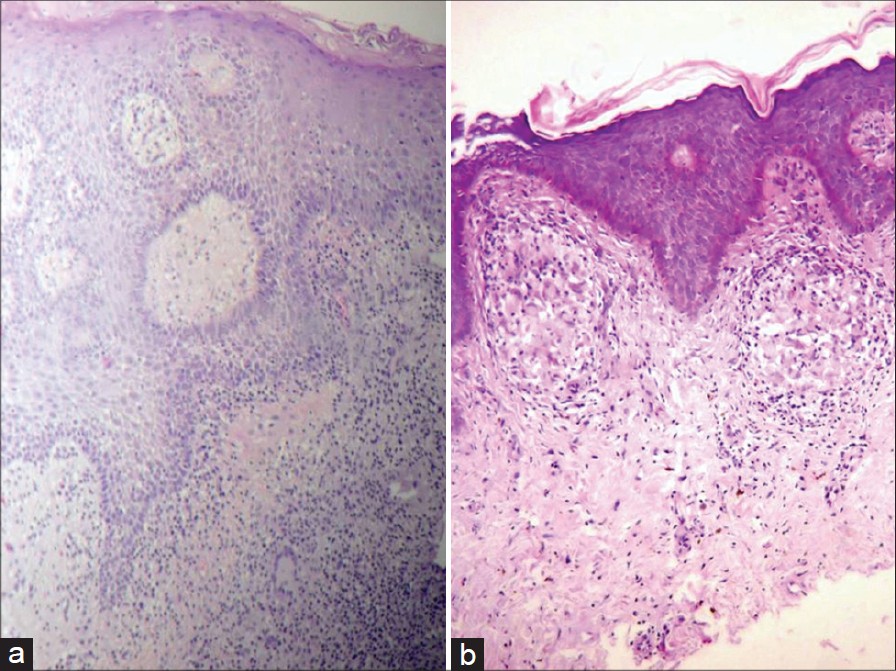 Figure 2: (a and b) Histopathology of lip and genitalia showing non-caseating epithelioid granulomas (H and E, ×400)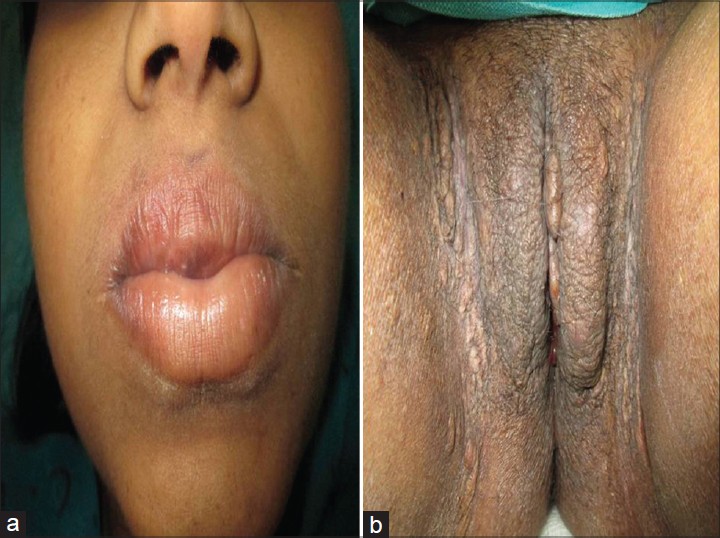 Figure 3: (a) Lip swelling at 1 month follow-up. (b) Genital swelling at 1 month follow-up
Discussion
Granulomatous cheilitis is an uncommon disorder, which presents initially with intermittent swelling and later with persistent swelling of one or both lips and belongs to a larger group of orofacial granulomatosis. It may occur as a part of Melkersson-Rosenthal syndrome, which is a triad of granulomatous cheilitis, facial nerve paralysis and fissured tongue. [1],[2] The cause is not known in majority of cases though in few cases, Crohn′s disease, sarcoidosis, genetic factors, allergy to food additives, vasomotor disturbances and infective factors such as mycobacterium tuberculosis, herpes simplex and apical periodontitis have been suggested. [2],[3],[4],[5] Typical histopathological features consist of epithelioid cell granulomas with langhans giant cell and mononuclear cells though a more banal infiltrate may be seen in early stage. [6] Various treatment options include systemic and intralesional corticosteroids, clofazimine, hydroxychloroquine, antibiotics such as metronidazole, minocycline and roxithromycin, infliximab, thalidomide, methotrexate, fumaric acid esters and tranilast. Cheiloplasty and helium neon laser radiation treatment has been tried in resistant cases. [2],[7] Granulomatous vulvitis is a rare disorder, which is considered as the genital counterpart of granulomatous cheilitis. Both disorders are characterized by persistent labial swelling and non caseating granulomas extending into deep dermis, composed of histiocytes and giant cells, associated with lymphomonocytic infiltrate. [8],[9] Few cases of granulomatous vulvitis have been found to be associated with Crohn′s disease, but in majority of cases the cause is not known. [10] Treatment options include topical, intralesional and oral corticosteroids, antibiotics such as metronidazole and ciprofloxacin, immunosuppressants such as azathioprine and cyclosporine. Salazosulfapyridine, mesalazine and anti-tumor necrosis factor monoclonal antibodies such as infliximab and adalimumab have been used with good results in granulomatous vulvitis associated with Crohn′s disease. [1],[9],[10],[11]
Granulomatous cheilitis and granulomatous vulvitis can occur together in the same patient as in our case, but it is extremely rare. [1],[8] Though in our patient, all relevant investigations performed to rule out Crohn′s disease, sarcoidosis and tuberculosis didn′t show any positive finding, it is essential to rule out these granulomatous disorders when a patient presents with persistent lip and/or genital swelling
References
1.

Sbano P, Rubegni P, Risulo M, De Nisi MC, Fimiani M. A case of idiopathic granulomatous cheilitis and vulvitis. Int J Dermatol 2007;46:720-1.

[Google Scholar]
2.

Banks T, Gada S. A comprehensive review of current treatments for granulomatous cheilitis. Br J Dermatol 2012;166:934-7.

[Google Scholar]
3.

Kawakami T, Fukai K, Sowa J, Ishii M, Teramae H, Kanazawa K. Case of cheilitis granulomatosa associated with apical periodontitis. J Dermatol 2008;35:115-9.

[Google Scholar]
4.

Bhattacharya M, Rajeshwari K, Sardana K, Gupta P. Granulomatous cheilitis secondary to tuberculosis in a child. J Postgrad Med 2009;55:190-2.

[Google Scholar]
5.

Rana AP. Orofacial granulomatosis: A case report with review of literature. J Indian Soc Periodontol 2012;16:469-74.

[Google Scholar]
6.

Handa S, Saraswat A, Radotra BD, Kumar B. Chronic macrocheilia: A clinico-pathological study of 28 patients. Clin Exp Dermatol 2003;28:245-50.

[Google Scholar]
7.

van der Waal RI, Schulten EA, van der Meij EH, van de Scheur MR, Starink TM, van der Waal I. Cheilitis granulomatosa: Overview of 13 patients with long-term follow-up - Results of management. Int J Dermatol 2002;41:225-9.

[Google Scholar]
8.

Nabatian AS, Shah KN, Iofel E, Rosenberg S, Javidian P, Pappert A, et al. Asymptomatic granulomatous vulvitis and granulomatous cheilitis in childhood: The need for Crohn disease workup. J Pediatr Gastroenterol Nutr 2011;53:100-1.

[Google Scholar]
9.

van de Scheur MR, van der Waal RI, van der Waal I, Stoof TJ, van Deventer SJ. Ano-genital granulomatosis: The counterpart of oro-facial granulomatosis. J Eur Acad Dermatol Venereol 2003;17:184-9.

[Google Scholar]
10.

Wickramasinghe N, Gunasekara CN, Fernando WS, Hewavisenthi J, de Silva HJ. Vulvitis granulomatosa, Melkersson-Rosenthal syndrome, and Crohn's disease: Dramatic response to infliximab therapy. Int J Dermatol 2012;51:966-8.

[Google Scholar]
11.

Villar M, Petiti G, Guerra A, Vanaclocha F. Anogenital granulomatosis. Actas Dermosifiliogr 2012;103:76-9.

[Google Scholar]
Show Sections