Translate this page into:

Letter to the Editor
doi: 10.4103/0378-6323.148600
PMID: 25566918
Hailey-Hailey disease with skin lesions at unusual sites and a good response to acitretin
Biju Vasudevan1 , Rajesh Verma2 , Sonia Badwal3 , Shekar Neema2 , Debdeep Mitra2 , T Sethumadhavan3
1 Department of Dermatology, INHS Asvini, India
2 Department of Dermatology, Command Hospital, Pune, India
3 Department of Pathology AFMC, Pune, India

Correspondence Address:
Biju Vasudevan
Department of Dermatology, INHS Asvini, Near RC Church, Colaba, Mumbai - 400 005, Maharashtra
India

How to cite this article:
Vasudevan B, Verma R, Badwal S, Neema S, Mitra D, Sethumadhavan T. Hailey-Hailey disease with skin lesions at unusual sites and a good response to acitretin. Indian J Dermatol Venereol Leprol 2015;81:88-91
Copyright: (C)2015 Indian Journal of Dermatology, Venereology, and Leprology
Sir,
Hailey-Hailey disease is a bullous disorder characterized by the development of flexural erosions, blisters and warty papules. It has a relapsing and remitting course. Skin lesions can be induced or exacerbated by friction, sweating, burns, contact dermatitis and local infections.
A 45-year-old woman from Himachal Pradesh presented with itchy lesions below the left breast for two weeks and a solitary fluid-filled lesion on the left forearm for three days. She developed intense itching below her left breast following which she scratched the site and developed erosions. The solitary bulla on the left forearm had spontaneously ruptured to form an erosion. She used to get similar lesions below both breasts and in the groin for the past 10 years. She consulted a physician and was treated with multiple courses of antifungals, antibiotics, corticosteroids and dapsone, with only partial relief. These lesions used to increase every summer and get aggravated on sweating. The associated itching was severe enough to disturb sleep. There was no family history suggestive of any bullous disorder.
Dermatological examination showed crusted erosions with excoriations below the left breast. Post inflammatory hyperpigmentation was present below the right breast symmetrical with the active lesion on the left side. A solitary erosion was present on the left forearm with surrounding erythema. Further cutaneous examination revealed a few papules and crusted lesions on the sides of her neck, axillae, and bilateral inguinal regions. There was no nail, mucosal or scalp involvement. With a clinical suspicion of Hailey-Hailey disease, a biopsy was done from the inframammary lesion on the left side and erosion on the forearm. She was given oral amoxicillin and clavulanate potassium combination 1 gm twice daily and was asked to report back after a week along with the biopsy report. By the next visit, her skin lesions had worsened. Dermatological examination revealed extensive crusted lesions below the breast, in the axillae, and in the inguinal regions bilaterally [Figure - 1]. She also had a crusted plaque with erythematous margins on the left thigh. Investigations revealed normal hemogram, liver, renal functions, and serum lipid profile. Skin biopsy from the inframammary region and the left forearm showed similar features: there was loss of epidermis in a few areas, suprabasal clefting with acantholytic cells, chronic inflammatory cells, and serous fluid and a dilapidated brick wall appearance was evident [Figure - 2]. Dermal edema was present, along with perivascular mixed inflammatory cells and extravasated red blood cells. Direct immunofluorescence examination was negative for immunoreactants. A diagnosis of Hailey-Hailey disease was confirmed on the basis of histopathology and clinical examination and the patient was started on oral acitretin, 25 mg once daily. The lesions started responding in 4 weeks and there was complete regression after 3 months [Figure - 3]. Acitretin was continued uninterrupted for a total of 5 months. She was monitored once monthly with clinical examination and lab investigations including complete hemogram, liver and renal function tests, and serum lipid profile. She had attained menopause and had undergone  tubectomy, so pregnancy tests were not required. She tolerated the medication well without any side effects and has been followed up for 2 years with no relapse.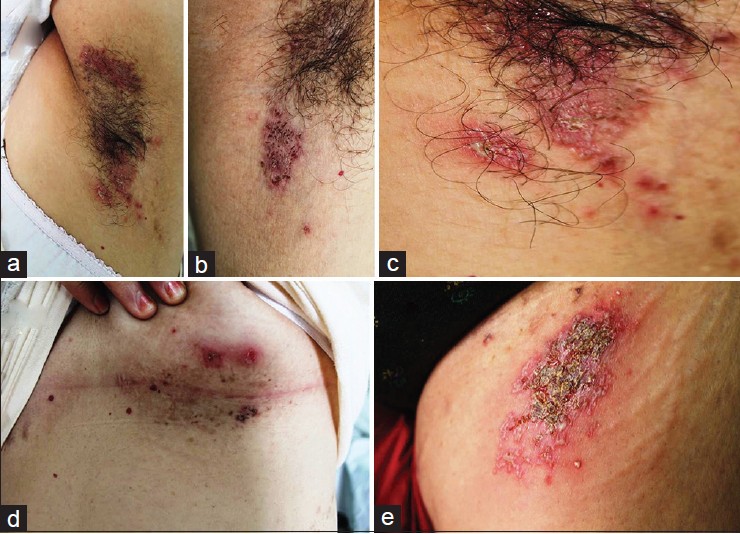 Figure 1: Skin lesions at the time of exacerbation: Vesicles, pustules, and crusted plaques on (a) left axilla, (b) right axilla, (c) groin, (d) inframammary region, and (e) left upper thigh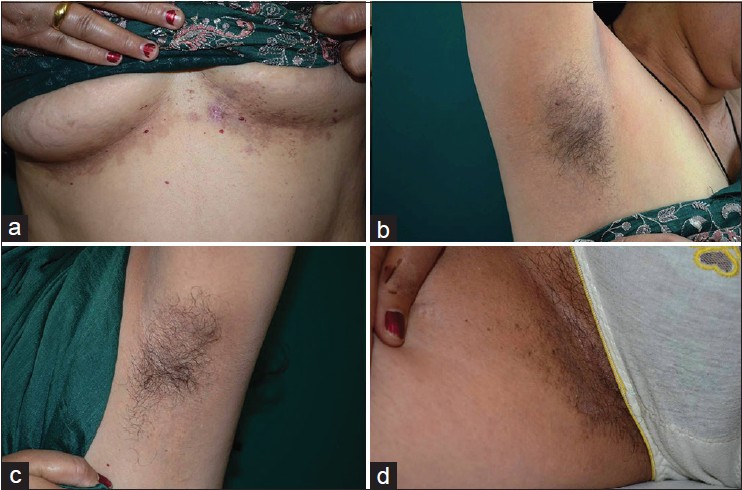 Figure 2: Regression of skin lesions post treatment with acitretin at (a) inframammary region, (b) right axilla, (c) left axilla, and (d) groin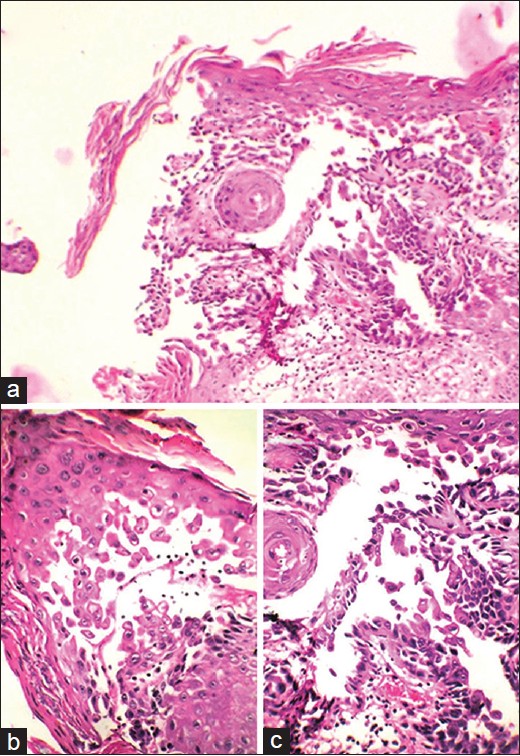 Figure 3: Histopathology showing (a) dilapidated brick wall appearance with suprabasal clefts and acantholytic cells (H and E, 10×); (b and c) high-power view of the same (H and E, 40×)
Hailey-Hailey disease is an autosomal dominant disorder with a prevalence of 1:50,000. It usually begins in the third or fourth decade of life. The disease is caused by mutation in the calcium-dependent adenosine triphosphatase ATP2C1 gene which encodes an adenosine triphosphate-powered Ca 2+ pump in the Golgi apparatus. [1],[2] The primary skin lesions in Hailey-Hailey disease are flaccid vesicles or bullae on otherwise normal-appearing skin that rupture easily leaving macerated or crusted erosions. The lesions may progress to become thickly crusted and may be misdiagnosed as impetigo or eczema. Sometimes, the erosions spread peripherally with an active inflammatory border producing circinate or configurate patterns, as in our case. [3] The lesions appear in crops and usually regress in a few weeks, although some lesions follow a chronic course. Moist, malodorous lesions with painful fissures are also common. The lesions remain localized to the neck, axillae, and groins in most patients. Other sites which are less commonly involved are the scalp, antecubital or popliteal fossa, and trunk. The lesions tend to recur at original sites. Rare presentations include segmental, extensive, mucosal, perianal, perineal, and photoexposed area involvement. [4],[5],[6] An unusual presentation with lesions over the upper chest and upper arms with no intertriginous involvement has also been reported. [7] Our patient had a solitary bulla forming an erosion over the the forearm and a crusted plaque on the upper thigh, unusual sites of involvement.
The clinical differential diagnosis of Hailey-Hailey disease includes intertrigo, erythrasma, pemphigus vulgaris, pemphigus foliaceus, dermatophytosis, and Darier′s disease. Histopathology is characterized by suprabasal acantholysis leading to bulla formation. Dyskeratosis may be present. Widespread partial loss of the intercellular bridges between keratinocytes gives a dilapidated brick wall appearance to the epidermis. Bullous Darier′s disease can mimic Hailey-Hailey disease very closely, both clinically and histopathologically. The later onset of lesions and rapid appearance and disappearance of lesions with recurrence differentiates Hailey-Hailey disease from bullous Darier′s disease clinically. Histologically, acantholysis is more incomplete and there are fewer dyskeratotic cells in Hailey-Hailey disease as compared to bullous Darier′s disease.
Management of this condition is difficult and existing treatments do not provide a long lasting positive therapeutic benefit. Superinfection with bacteria, fungi, and viruses plays an important role in exacerbations and persistence of lesions. The various therapeutic options are given in [Table - 1]. Etretinate has been reported to be beneficial in some cases [8] and oral alitretinoin is a newer retinoid that has been used for treatment. [9] We were able to find two previous reports of acitretin for the treatment of Hailey-Hailey disease in the literature. [10],[11] Our case indicates that some patients may develop a long-term remission following acitretin therapy for Hailey-Hailey disease.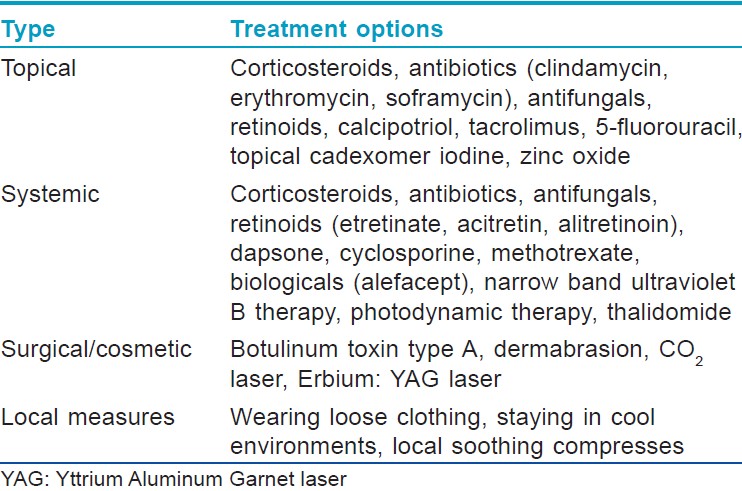 Table 1: Treatment options in Hailey-Hailey disease
References
1.

Hu Z, Bonifas JM, Beech J, Bench G, Shigihara T, Ogawa H, et al. Mutations in ATP2C1 encoding a calcium pump, cause Hailey-Hailey disease. Nat Genet 2000;24:61-5.

[Google Scholar]
2.

Sudbrak R, Brown J, Dobson-Stone C, Carter S, Ramser J, White J, Healy E, et al. Hailey-Hailey disease is caused by mutations in ATP2C1 encoding a novel Ca 2+ pump. Hum Mol Genet 2000;9:1131-40.

[Google Scholar]
3.

Odom RB, James WD, Berger TG. Andrew's Diseases of the Skin: Clinical Dermatology. Philadelphia, PA: WB Saunders Co; 2000. p. 27.

[Google Scholar]
4.

Ewald K, Gross G. Perianal Hailey-Hailey disease: An unusual differential diagnosis of condylomata acuminata. Int J STD AIDS 2008;19:791-2.

[Google Scholar]
5.

Burge SM. Hailey-Hailey disease: The clinical features, response to treatment and prognosis. Br J Dermatol 1992;126:275-82.

[Google Scholar]
6.

Rao AG. Hailey-Hailey disease on sun-exposed areas. Indian J Dermatol 2013;58:412.

[Google Scholar]
7.

Hunt R, O'Reilly K, Ralston J, Kamino H, Shupack JL. Familial benign chronic pemphigus (Hailey-Hailey disease). Dermatol Online J 2010;16:14.

[Google Scholar]
8.

Hunt MJ, Salisbury EL, Painter DM, Lee S. Vesiculobullous Hailey-Hailey disease: Successful treatment with oral retinoids. Australas J Dermatol 1996;37:196-8.

[Google Scholar]
9.

Sárdy M, Ruzicka T. Successful therapy of refractory Hailey-Hailey disease with oral alitretinoin. Br J Dermatol 2014;170:209-11.

[Google Scholar]
10.

Berger EM, Galadari HI, Gottlieb AB. Successful treatment of Hailey-Hailey disease with acitretin. J Drugs Dermatol 2007;6:734-6.

[Google Scholar]
11.

Moreno-Suárez F, Bastante ES, Burgos FJ, Martínez PB. Response to acitretin in a patient with verrucoid forms of Hailey-Hailey disease and presence of human papillomavirus type 6 DNA. J Am Acad Dermatol 2014;70:AB87.

[Google Scholar]
Show Sections