Translate this page into:

doi:
10.25259/IJDVL_657_2021
Skin Crest Clinic

,

Shivkripa Building, Matunga East, Mumbai, Maharashtra

,

India
Corresponding author: Dr. Pravin Degambar Banodkar, Department of Dermatology, Skin Crest Clinic, Avanti Apartment Flat 55 5th floor Senapati Bapat Marg, Dadar West, Mumbai, 400028, Maharashtra, India. pravin_banodkar@hotmail.com
Received: , Accepted: ,
© 2022 Indian Journal of Dermatology, Venereology and Leprology - Published by Scientific Scholar
Licence
This is an open-access article distributed under the terms of the Creative Commons Attribution-Non Commercial-Share Alike 4.0 License, which allows others to remix, transform, and build upon the work non-commercially, as long as the author is credited and the new creations are licensed under the identical terms.
How to cite this article: Banodkar PD, Banodkar KP. History of hydroquinone. Indian J Dermatol Venereol Leprol 2022;88:696-9.
Introduction
Human beings have been enthralled and prepossessed by skin colour over the centuries. It has steered political movements and has had long-lasting implications on the history, economics, and demographics of countries. Research into the origin of skin colour began in the 16th century after the invention of microscope. Investigations into the origin of pigmentation in hyper pigmentary disorders led to the histopathologic study of melanocytes. Trials for treatments of hyperpigmentation can be traced to the works of Dr.Jacobi. He had experimented on hyperpigmentary disorders by applying borax, sulphur, tincture of iodine, potassium and sodium hydroxide.1 Complications like blisters caused by irritant contact dermatitis were a common occurrence. Other chemicals commonly used were ammoniated mercury 3% in cream formulations. The efforts and clinical trials substantiate the idea that disorders of skin colour such as hyperpigmentation were a notable problem.
Conclusion
Hydroquinone is one of the best agents we dermatologists have to counter hyperpigmentary disorders. With judicious use, hydroquinone can give particularly good results. The use should be restricted to dermatologists only. Over-the-counter use of hydroquinone may increase the risks of side effects. From early 19th century till the 21st century, as shown in Figure 1 which shows the timeline of the history of hydroquinone, this molecule was a promising agent in the fight against hyperpigmentation and is currently under the scanner of regulatory authorities.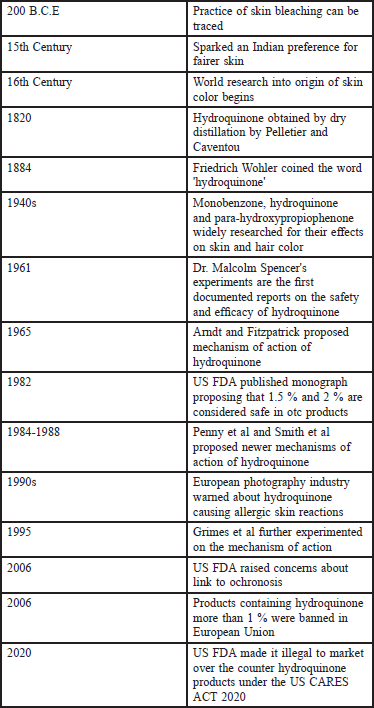 The mutagenic and carcinogenic effects of hydroquinone remain unproven till now. The worst side-effect ever published with topical hydroquinone is ochronosis, which is rare in North America but becoming quite common in Asia and Africa, where it is marketed in high concentrations and can be used without supervision for many years.
There are several newer skin lightening products being introduced such as licorice, arbutin, kojic acid and many more as alternatives to hydroquinone.
With a review of the publications on hydroquinone safety and toxicity, we can assume that hydroquinone is safe if used in the proper concentration, with medical prescription and supervision.
Financial support and sponsorship
Nil.
Conflicts of interest
There are no conflicts of interest.
References
Pigmentary Disorders

. 2015;2:

11

.

Hyperpigmentation: Its historical treatment and the development of hydroquinone.

Dermatology

. 2020;237:

1

-

3

.

Overview of skin bleaching history and origins.

Polychrome Soest

1997:

254

-

257

.

International Symposium on Silver Halide Imaging.

J Invest Dermatol

. 1952;18:

119

-

35

.

Inhibition of melanin formation by chemical agents.

Pigmentary System.

USA:

Oxford, Blackwell Publishing

; 2006.

A History of the Science of Skin Pigmentation. In:
Topical use of hydroquinone for depigmentation.

Accessed October 29, 2020

2019 Coloring in the Gaps of Title VI: Clarifying the Protections Against the Skin-Color Caste System Georgetown University Law Center, Barnard College, Columbia University, B.A

Annu Rev Sociol. 2017;43:405-24.

Skin color and colorism: Global research, concepts, and measurement.

Br J Dermatol. 1975;93:613-22.

Exogenous ochronosis and pigmented colloid milium from hydroquinone bleaching creams.

J Eur Acad Dermatol Venereol. 2006;20:781-7.

The safety of hydroquinone.
Show Sections