Translate this page into:

doi:
10.25259/IJDVL_688_2021
Iatrogenic Kaposi's sarcoma induced by rituximab and corticosteroid treatment for pemphigus vegetans in an HIV-negative patient
1
Department of Dermatology, Mohammed VI University Hospital

,

Oujda

,

Morocco
2
Laboratory of Epidemiology, Clinical Research and Public Health, Medical School of Oujda, Mohammed First University

,

Oujda

,

Morocco
Corresponding author: Dr. Hanane Daflaoui, Department of Dermatology, Mohammed VI University Hospital, Mohammed First University, Oujda, Morocco. hanane.daflaoui@gmail.com
Received: , Accepted: ,
© 2022 Indian Journal of Dermatology, Venereology and Leprology - Published by Scientific Scholar
Licence
This is an open-access article distributed under the terms of the Creative Commons Attribution-Non Commercial-Share Alike 4.0 License, which allows others to remix, transform, and build upon the work non-commercially, as long as the author is credited and the new creations are licensed under the identical terms.
How to cite this article: Daflaoui H, Saddouk H, Ouadi I, Zizi N, Dikhaye S. Iatrogenic Kaposi's sarcoma induced by rituximab and corticosteroid treatment for pemphigus vegetans in an HIV-negative patient. Indian J Dermatol Venereol Leprol 2022;88:409-12.
Sir
Kaposi's sarcoma is a rare multifocal angioproliferative tumour caused by human herpesvirus-8 infection. Four clinical variants have been distinguished: classic Kaposi's sarcoma, endemic Kaposi's sarcoma, AIDS-related Kaposi's sarcoma and iatrogenic Kaposi's sarcoma (an entity that usually affects patients who undergo long-term immunosuppressant therapy for immune-mediated or proliferative disorders or solid-organ transplantations).1
An eighty two-year-old Moroccan man with a history of diabetes mellitus, hypertension and treated pulmonary tuberculosis attended the dermatology department of Mohammed VI University Hospital of Oujda with multiple purpuric lesions over the legs since three months. He was on oral prednisone 55 mg/day for histopathologically proven pemphigus vegetans. He was also receiving gliclazide 30 mg/day and amlodipine 5 mg/day for diabetes mellitus and hypertension, respectively. Due to inadequate response of pemphigus vegetans to treatment with systemic corticosteroids, he was administered two doses of 1g rituximab 15 days apart, which allowed slow tapering of oral prednisone. Six months after the initiation of corticosteroids and nearly three months after the first dose of rituximab, the patient noticed the appearance of multiple brightly erythematous papules as well as purpuric lesions on the lower limbs.
Clinical examination revealed multiple purple and dusky erythematous papules, plaques and nodules on the anterior aspect of the right leg [Figure 1a] and around the left ankle. Most of the lesions were scaly while some lesions on the left ankle were ulcerated [Figure 1b]. Similar purple papules were also seen on the right thigh [Figure 1c] hips and trunk along with purpuric lesions on the thighs. His pemphigus was in remission. Dermoscopy of the papules and plaques showed purple-pink peripheral scales, small brown globules and a rainbow pattern [Figures 2a-2c].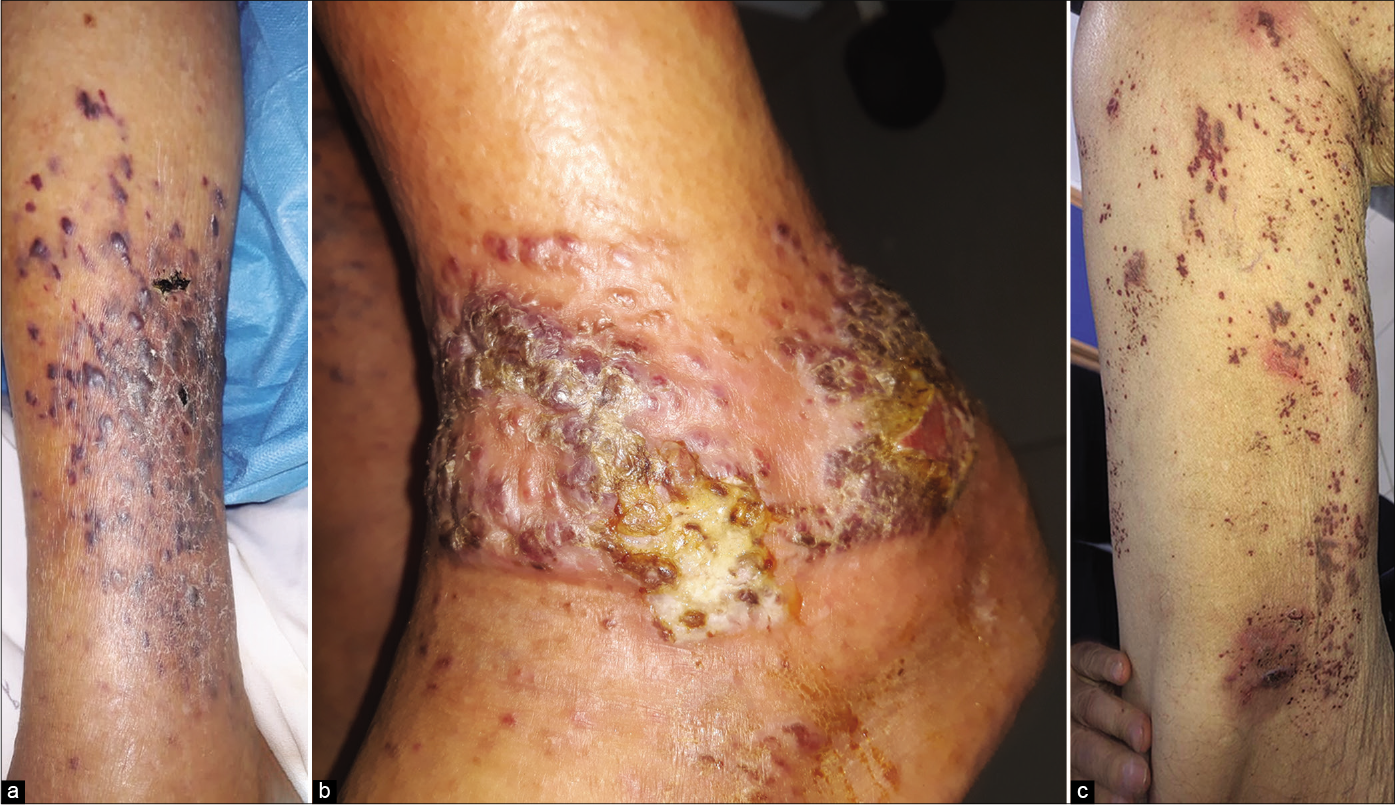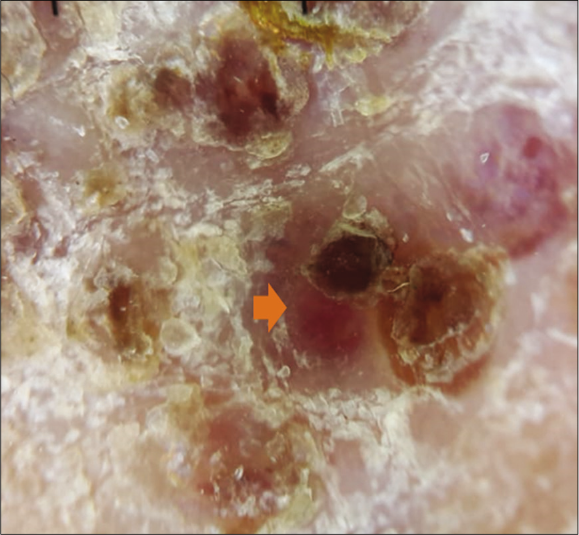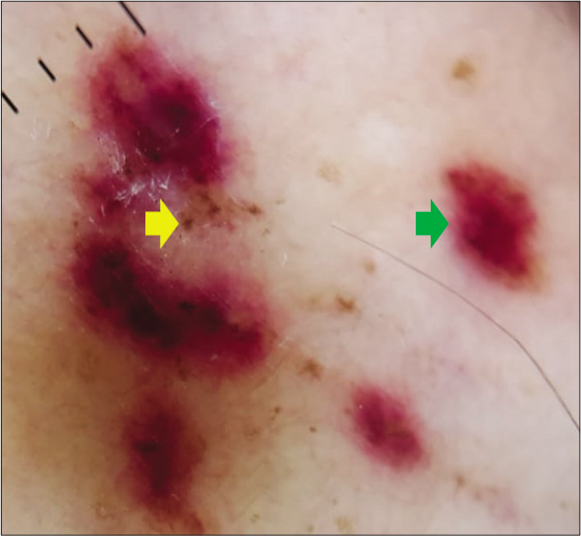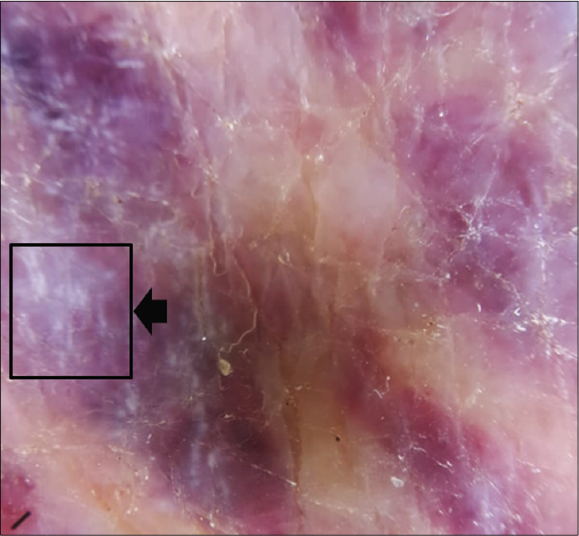 Skin biopsy from a purple nodule on the right leg showed circumscribed proliferation of spindle cells arranged in fascicles, slit-like vascular channels [Figure 3a], extravasation of erythrocytes [Figure 3b] and lymphocytic inflammatory infiltrate. The nuclei of the tumour cells demonstrated immunoreactivity for CD31 [Figure 4a] and latent nuclear antigen-1 of human herpesvirus-8 [Figure 4b]. Indirect immunofluorescence detected antibodies to human herpesvirus-8 lytic antigens. Serology for HIV was negative.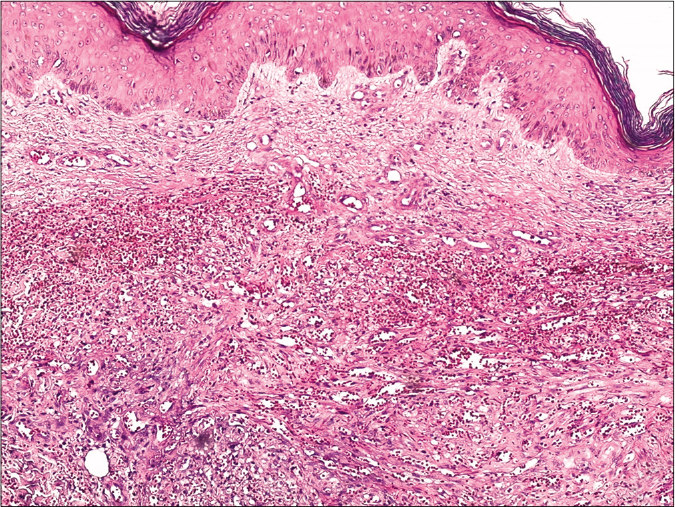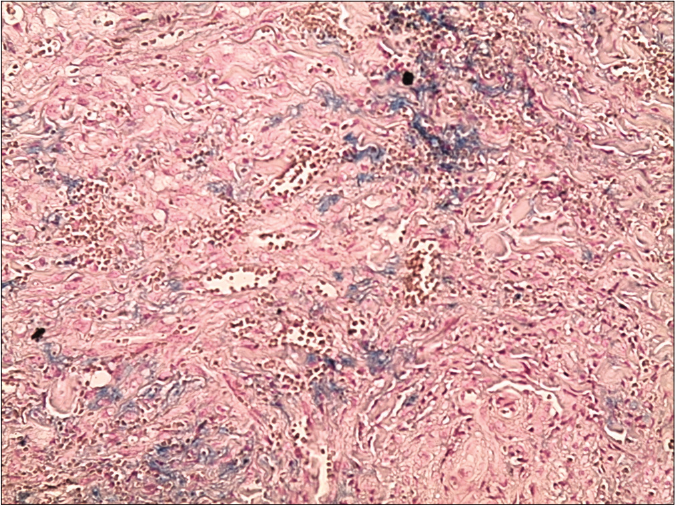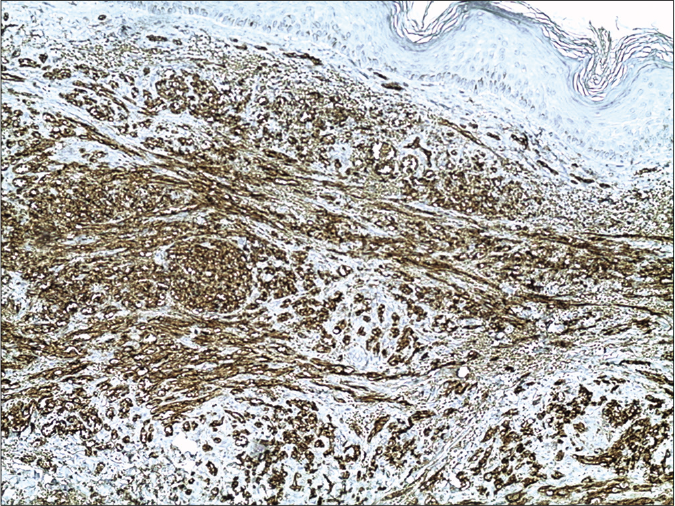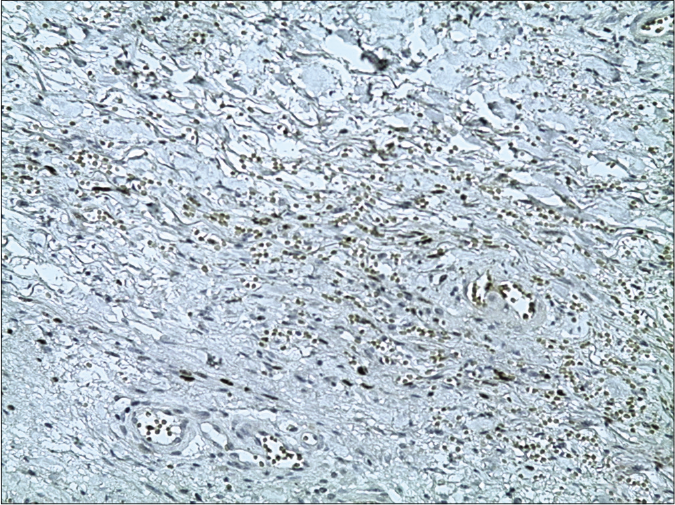 A whole body computed tomography scan and upper gastrointestinal endoscopy and colonoscopy showed no evidence of metastasis. A final diagnosis of nodular iatrogenic Kaposi's sarcoma was made and the patient was treated with topical 5-fluorouracil. Systemic corticosteroids were continued to be tapered as per the clinical response. Marked resolution of skin lesions was noted after three months of once-daily application of 5-fluorouracil [Figure 5a-c].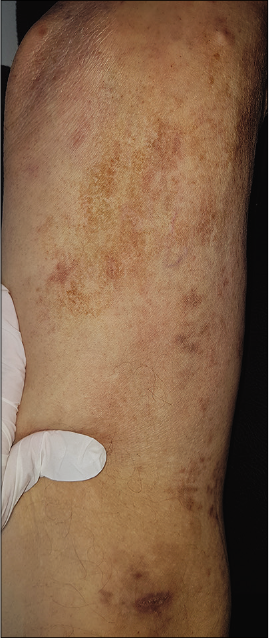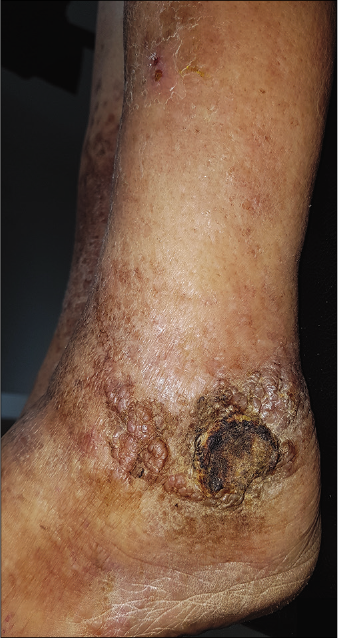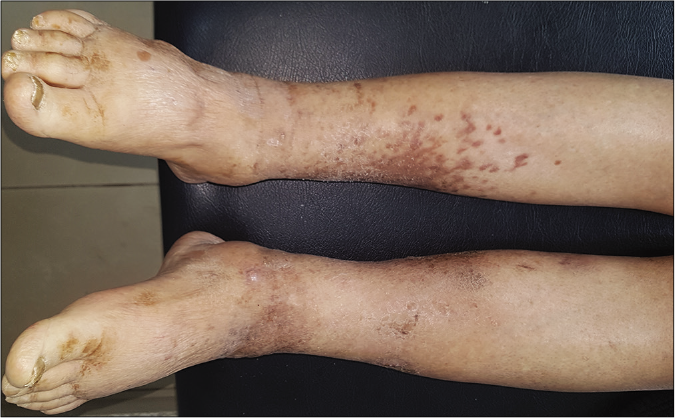 Kaposi's sarcoma typically presents as purple patches and plaques with a possible involvement of extracutaneous sites, especially the oral mucosa, gastrointestinal tract and lymph nodes. Since its first description, four clinical variants of Kaposi's sarcoma have been described: classic, endemic, iatrogenic and AIDS related.1,2 The iatrogenic variant of Kaposi's sarcoma is rarely reported and accounts for 5% to 20% of cases in the previous reported series.3-6 It is most often seen in patients having undergone solid organ transplantation and those undergoing prolonged immunosuppressive therapy with agents such as cyclosporine, azathioprine, corticosteroids and rituximab.3
Our patient was dually immunosuppressed with corticosteroids and rituximab therapy. Rituximab is a chimeric monoclonal antibody which targets CD20 antigen expressed in more than 95% of normal and malignant B cells, inducing complement-mediated and antibody-dependent cellular cytotoxicity.
Several case reports and series have implicated rituximab in the development of Kaposi's sarcoma in HIV-positive as well as HIV-negative patients. According to the recent studies, rituximab can decrease T-cell immunity;7,9 however, the link between rituximab-mediated CD20+ B-cell depletion and human herpesvirus-8 activation and the development of Kaposi's sarcoma remain unclear. In all the previous reported cases, rituximab was administered along with other immunosuppressive agents which makes it difficult to delineate its exact role in the development of Kaposi's sarcoma.7,8 Corticosteroids have also been implicated in the development and the dissemination of Kaposi's sarcoma.10 Consequently, the role of corticosteroids in the causation of Kaposi's sarcoma in our case cannot be excluded. Their mechanism of action is the inhibition of growth factor-beta, a protein that inhibits the growth of endothelial cells.10
There are no guidelines for the management of iatrogenic Kaposi's sarcoma. Regardless, the reduction or the interruption of immunosuppressant agents is the most widely accepted therapeutic option often combined with local or systemic therapies depending on the disease stage and severity.11 In our case, given the stability of his pemphigus and the absence of new bullous lesions, it was decided to decrease the corticosteroid dose and not readminister rituximab. We opted for treatment with topical 5-fluorouracil for its proven anti-Kaposi's sarcoma-associated herpes virus activity.12,13
This case report aims to increase awareness regarding the rare complication of Kaposi's sarcoma following immunosuppressive treatment.
Declaration of patient consent
The authors certify that they have obtained all appropriate patient consent.
Financial support and sponsorship
Nil.
Conflicts of interest
There are no conflicts of interest.
Show Sections