Translate this page into:

Studies
PMID: 20944251
IgG subclasses in pemphigus vulgaris
Amrinder J Kanwar, Gurvinder P Thami, Gursharan K Bedi
Department of Dermatology and Venereology, Government Medical College, Chandigarh-160047, India

Correspondence Address:
Amrinder J Kanwar
Department of Dermatology and Venereology, Government Medical College, Chandigarh-160047
India

How to cite this article:
Kanwar AJ, Thami GP, Bedi GK. IgG subclasses in pemphigus vulgaris. Indian J Dermatol Venereol Leprol 1997;63:20-21
Copyright: (C)1997 Indian Journal of Dermatology, Venereology, and Leprology
Abstract
Direct immunofluorescence in perilesional skin of 13 pemphigus patients is studied for IgG subclasses. IgG
1
and lgG
4
were predominant subclasses deposited. No correlation of subclasses of IgG with clinical parameters were found.
Keywords: Pemphigus, IgG1, lgG4, Immunofluorescence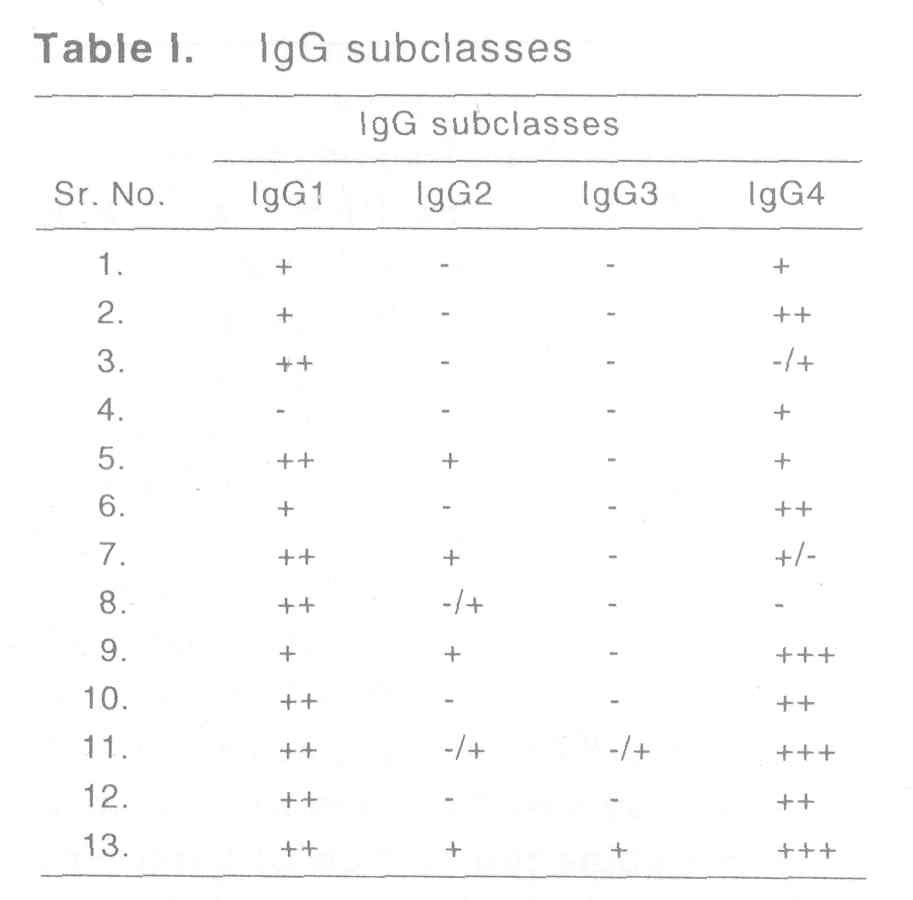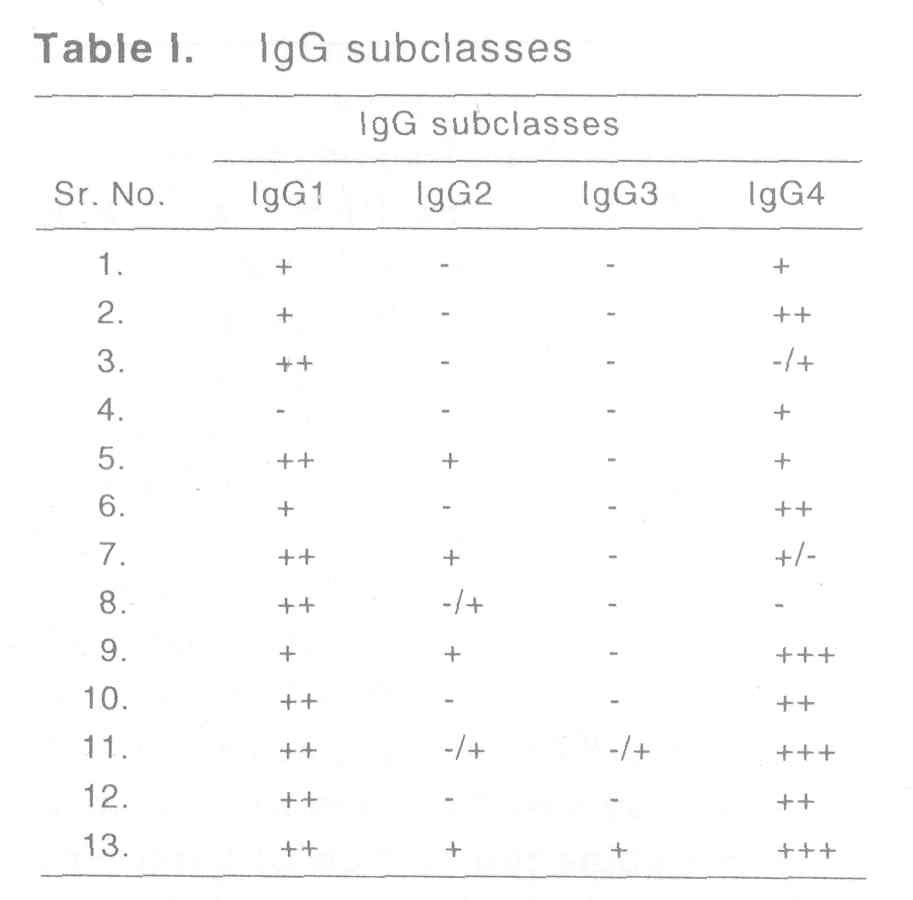 Introduction
In pemphigus autoantibodies directed against the cell surface of keratinocytes can be demonstrated in serum by indirect immunofluorescence and in epithelium by direct immunofluorescence (DIF).[1][2] DIF is most reliable diagnostic test in pemphigus and remains positive for many years after clinical remission.[3] The circulating antibodies, are always of IgG type, however in bound antibodies, IgG is almost invariably present and in about half of the patients there are deposits also of IgA, IgM or C3.[4] Further analysis of IgG subclasses responsible for pathogenesis of pemphigus have shown IgG1 and IgG4 as predominant subclasses deposited in intercellular spaces.[5][6][7] The aim of the present study was to characterize IgG subclasses in DIF in Indian patients of pemphigus vulgaris and their correlation, if any, to the activity or severity of the disease.
Materials and Methods
Irrespective of age, sex, extent and duration of disease, 13 Indian patients of pemphigus vulgaris diagnosed clinically and histopathologically were taken for study of IgG subclasses.
The disease was active in all patients and they were at variable stage of therapy with dexamethasone-cyclophosphamide pulse. DIF was positive and showed deposition of IgG in intercellular spaces. IgG subclasses were looked for in immunofluorescence specimens using standard immunofluorescence techniques.
Results
In all there were 10 males and 3 females with age range of 12-56 years. Prescence of IgG subclasses was graded as absent(-), weakly positive(+/-), positive(+), strongly positive(++), very strongly positive(+++). Details are shown in [Table - 1].
IgG1 and IgG4 were the most frequently deposited subgroups with very strongly positive reaction seen only with IgG4 deposition. Eleven patients (84.6%) had both IgG1 and IgG4 deposits. One patient each was negative for IgG1 and IgG4. IgG2 was detected in 6 patients (46.1%) and IgG3 was found in 2 patients (15.3%) only. No correlation between age, sex, severity or extent and activity of the disease with type of IgG subclasses was found.
Discussion
Pemphigus in Indians is peculiar in that onset of the disease occurs at a younger age and pemphigus vulgaris is the most common variant while pemphigus foliacious is uncommon.[7] Despite these clinical differences, it is immunopathologically same as in other countries. Wilson et al (1992) have confirmed these findings while comparing immunofluorescence studies of Indian and UK population.[7] Previous studies have demonstrated that it is IgG1 and IgG4 fractions which are predominantly deposited in DIF of pemphigus.[5-7] These studies have failed to find a correlation with clinical parameters like type, severity or activety of the disease as in the present study. Subclasses IgG3 and IgG2 has not so far been found to the extent as in the present study. Wilson et al reported IgG2 in (11.1%) and IgG3 in none of the 19 Indian patients studied.[7] The present study emphasises the previous findings that IgG subclasses are not related to type, extent or severity disease in pemphigus vulgaris and that pemphigus vulgaris in Indians is at least not different immunologically.
Acknowledgement
We are thankful to Dr Vijay Kumar of School of Medicine and Biomedical Sciences, University at Buffalo, State University of New York for help in carrying out immunofluorescence studies.
References
1.

Beutner EH, Chorzelski TP, Jablonska S. Immunofluorescence tests. Clinical significance of sera and skin in bullous diseases. Int J Dermatol 1985;24:405-21.

[Google Scholar]
2.

Sethi JK, Kanwar AJ, Kaur S, Sehgal S. Direct immunofluores,cence as a diagnostic and prognostic marker in pemphigus. Ind J Dermatol Venereol Leprol 1992;58:379-83.

[Google Scholar]
3.

David M, Weismann-Katzenelson V, Hazaz B, et al. The usefulness of immunofluorescence tests in pemphigus patients in clinical remission. Br J Dermatol 1989;120:391-5.

[Google Scholar]
4.

Sam WH, Sehur PH. Studies of antibodies in pemphigoid and pemphigus. J Lab Clin Med 1973;82:249-54.

[Google Scholar]
5.

Jones C C, Hamilton RG, Jordan RE. Subclass distribution of human IgG autoantibodies in pemphigus. J Clin Immunol 1988;8:43-9.

[Google Scholar]
6.

David M, Katzenelson V, Hazaz B, et al, Determination of IgG subclasses in patients with pemphigus with active disease and in remission. Arch Dermatol 1989;125:787-90.

[Google Scholar]
7.

Wilson CL, Wojnarowska F, Dean D, Pasricha JS. IgG subclasses in pemphigus in Indian and UK populations. Clin Exp Dermatol 1993;18:226-30.

[Google Scholar]
Show Sections