Translate this page into:

Letter to the Editor - Case Letter
doi: 10.4103/0378-6323.168347
PMID: 26515854
Infantile dermatofibrosarcoma protuberans: An underrecognized diagnosis?
Giulio Gualdi1 , Laura Pavoni1 , Paola Monari1 , Lucia Corasaniti2 , Pierluigi Pedersini2 , Maria Pia Bondioni3 , Paolo Incardona4 , Daniele Alberti2 , PierGiacomo Calzavara-Pinton1 , Ausilia Maria Manganoni1
1 Department of Dermatology, A.O. Spedali Civili, Brescia, Italy
2 Department of Pediatric Surgery, Presidio Ospedale dei Bambini- A.O. Spedali Civili, Brescia, Italy
3 Department of Medical and Surgical Specialties, Radiological Sciences and Public Health, University of Brescia, Brescia, Italy
4 Department of Pathology, Spedali Civili, Brescia, Italy

Correspondence Address:
Giulio Gualdi
Department of Dermatology, University Hospital Spedali Civili, P.le Spedali Civili 1, 25123 Brescia
Italy

How to cite this article:
Gualdi G, Pavoni L, Monari P, Corasaniti L, Pedersini P, Bondioni MP, Incardona P, Alberti D, Calzavara-Pinton P, Manganoni AM. Infantile dermatofibrosarcoma protuberans: An underrecognized diagnosis?. Indian J Dermatol Venereol Leprol 2015;81:635-637
Copyright: (C)2015 Indian Journal of Dermatology, Venereology, and Leprology
Sir,
Dermatofibrosarcoma protuberans (DFSP) is a rare intermediate-grade malignancy considered uncommon in infancy, childhood and adolescence whereas it is usually described in middle-aged men.[1] We report a pediatric case of dermatofibrosarcoma protuberans in a 5-year-old girl from Bangladesh who was admitted to the University Hospital Spedali Civili of Brescia, Italy for a small asymptomatic subcutaneous mass on the anterior side of the left leg [Figure - 1]. The lesion was evident since she was 5 months old and an ultrasound scan had been routinely performed since she was 2 years old showing an oval subcutaneous mass of 1-cm with a moderately irregular appearance without evident vascular flows on Doppler examination suggesting the diagnosis of lipoma. The size had remained almost unchanged until the past year when it began to increase. The ultrasound scan performed before the admission of the patient in our unit confirmed the presence of an oval subcutaneous lesion of 1.7 × 0.8 cm that showed an irregular appearance characterized by a high vascular flow on Doppler examination [Figure - 2]. Considering the clinical and the imaging findings, a surgical excision was suggested. The patient underwent surgery under general anesthesia. During the surgical procedure, we found an oval, nodular, subcutaneous yellowish color mass of 3 × 2 cm with a solid and fatty appearance extending until the muscular fascia without macroscopic infiltration of the muscle tissues. The lesion was easily excised from the surrounding fat and did not appear to be encapsulated.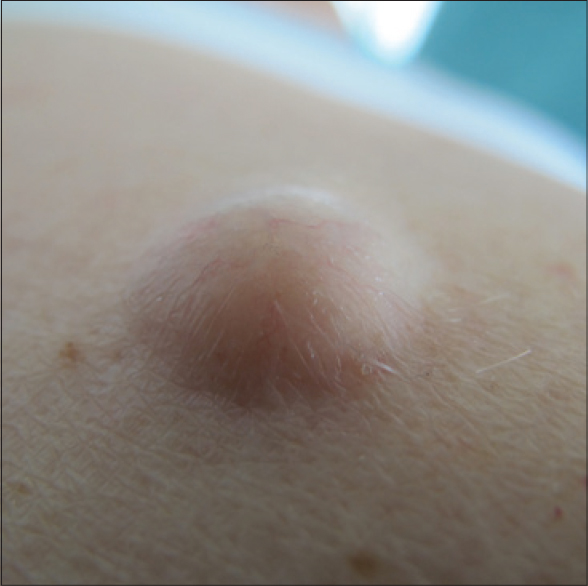 Figure 1: Subcutaneous mass on the anterior side of the left leg increasing in diameter for one year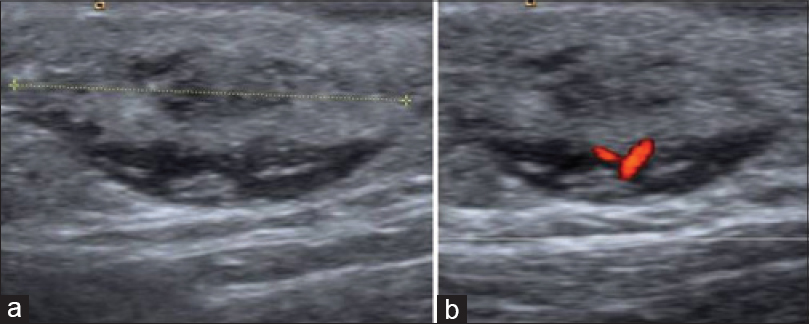 Figure 2: Ultrasound scan: (a) Oval-shaped lesion with heterogeneous echogenicity (clippers) characterized by mixed hypo-and hyperechoic components is localized to the subcutaneous tissue near the underlying muscle fascia. The margins are blurred focally. (b) On color Doppler evaluation, intralesional vascular structures can be detected
Histology showed a lesion suggestive for a dermatofibrosarcoma protuberans infiltrating the surrounding fat tissue [Figure - 3].

Figure 3: (a) Panoramic vision of dermatofibrosarcoma protuberans infi ltrating the surrounding fat tissue (H and E, ×20);(b) Typical spindle cell proliferation (these spindle cell were positive when labeled with anti-CD34 antibodies [not shown]) (H and E, ×400)
In view of this diagnosis, at re-excision we kept a 3-cm resection margin around the previous scar, including cutaneous, subcutaneous and muscular tissues. Primary closure of the wound was not done which was covered with a sterile dressing at the end of the procedure. Since histology did not reveal residual tumor tissue, the girl underwent surgery for closing the wound through local rotation flap after 3 days. On the 7th postoperative day, the patient was discharged. Currently, the patient is being regularly monitored with clinical evaluation of the skin and scans of soft tissues and lymph nodes. There were no signs of recurrence at follow up 2 years after surgery.
Recently, we conducted a review of the literature on dermatofibrosarcoma protuberans in infancy and adolescence emphasizing that this tumor is not so rare.[2] Dermatofibrosarcoma protuberans does not have a distinctively recognisable manifestation in adulthood, and even less so in childhood. Thus, the apparently benign appearance, variable location, slow growth and the lack of subjective symptoms can lead to a delay or misdiagnosis of the disease.[3],[4] The tumour may consist of an asymptomatic, atrophic or exophytic, indurated plaque/nodule or compressible plaques similar to atrophoderma lesions.[2],[3],[4] Moreover, as in our case, it can simulate a lipoma and also other tumors such as sarcoma, neuroblastoma and other mesenchymal tumors.[5]
Histologically, dermatofibrosarcoma protuberans is characterized by a CD34+ spindle-cell proliferation arranged in a cartwheel or storiform pattern infiltrating deep into the dermis and adipose layers in a fascicular growth pattern. The histopathological differential diagnoses may include dermatofibroma, thymoma, or malignant fibrous histiocytoma-pleomorphic or atypical fibroxanthoma which also show a storiform pattern but are usually CD34 negative. Cytogenetic abnormalities that characterize dermatofibrosarcoma protuberans can be shown through fluorescence in situ hybridization and multiplex reverse transcription polymerase chain reaction for the detection of the distinctive gene rearrangements of chromosomes 17 and 22. The standard treatment for dermatofibrosarcoma protuberans is wide local excision with resection of at least 3 cm of normal looking surrouding skin and block removal of the underlying fascia. Revision surgery may be performed to ensure complete excision and reduce the risk of local recurrence. Alternatively, surgical excision with Mohs technique could be employed. Due to re-growth of residual tumor following incomplete removal of microscopic projections of the neoplastic cells, the local recurrence, rate of dermatofibrosarcoma protuberans is high (32–76%).[2] For this reason, follow-up visits are required in order to recognize any unusual changes in the scar of the previous excision. In case of recurrence a further wide excision is recommended. Radiation therapy shows good control in recurrent disease. Moreover, chemotherapy (e.g., vinorelbine and methotrexate) and more recently imatinib mesylate have been reported to be effective. However, the metastatic rate of dermatofibrosarcoma protuberans is low (4%), occurring principally as lung and lymph node metastases. Careful regional lymph node examination is necessary.
In conclusion, slow growth and difficulties in recognising the standard clinical appearance may delay diagnosis of the disease. In our case, a lesion was present at the age of 5 months but interpreted at ultrasound examination as a lipoma. However, we can assume that the initial lesion was a dermatofibrosarcoma protuberans because its evolution from another tumor has not been reported.
References
1.

Cai H, Wang Y, Wu J, Shi Y. Dermatofibrosarcoma protuberans: Clinical diagnoses and treatment results of 260 cases in China. J Surg Oncol 2012;105:142-8.

[Google Scholar]
2.

Manganoni AM, Pavoni L, Gualdi G, Marocolo D, Chiudinelli M, Sereni E, et al. Dermatofibrosarcoma protuberans in an adolescent: A case report and review of the literature. J Pediatr Hematol Oncol 2013;35:383-7.

[Google Scholar]
3.

Iqbal CW, St Peter S, Ishitani MB. Pediatric dermatofibrosarcoma protuberans: Multi-institutional outcomes. J Surg Res 2011;170:69-72.

[Google Scholar]
4.

Posso-De Los Rios CJ, Lara-Corrales I, Ho N. Dermatofibrosarcoma protuberans in pediatric patients: A report of 17 cases. J Cutan Med Surg 2014;18:1-6.

[Google Scholar]
5.

Manganoni AM, Farisoglio C, Lonati A, Zorzi F, Tucci G, Pinton PG. Cutaneous epithelioid malignant schwannoma: Review of the literature and case report. J Plast Reconstr Aesthet Surg 2009;62:e318-21.

[Google Scholar]
Show Sections