Net Quiz
doi: 10.4103/0378-6323.31913
Inflammatory pruritic nodules and plaques on the face
Raghavendra Rao, Smitha Prabhu, Mamatha George, Shrutakirthi D Shenoi
Department of Skin and STD, KMC, Manipal, India

Correspondence Address:
Smitha Prabhu
Department of Skin and STD, Kasturba Medical College, Manipal, Karnataka-576 104
India

How to cite this article:
Rao R, Prabhu S, George M, Shenoi SD. Inflammatory pruritic nodules and plaques on the face. Indian J Dermatol Venereol Leprol 2007;73:142
Copyright: (C)2007 Indian Journal of Dermatology, Venereology, and Leprology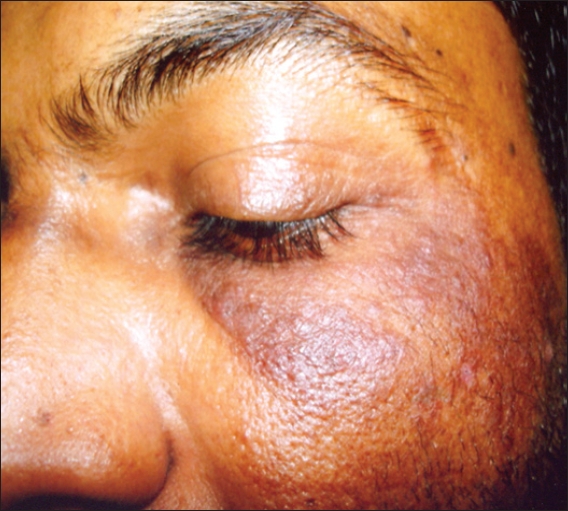 Marked resolution of malar lesions after treatment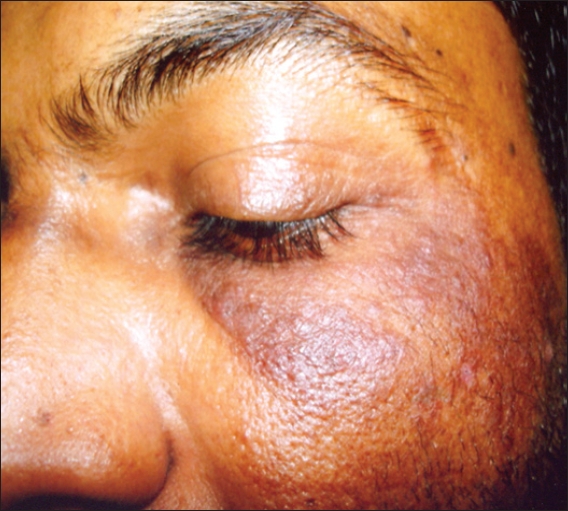 Marked resolution of malar lesions after treatment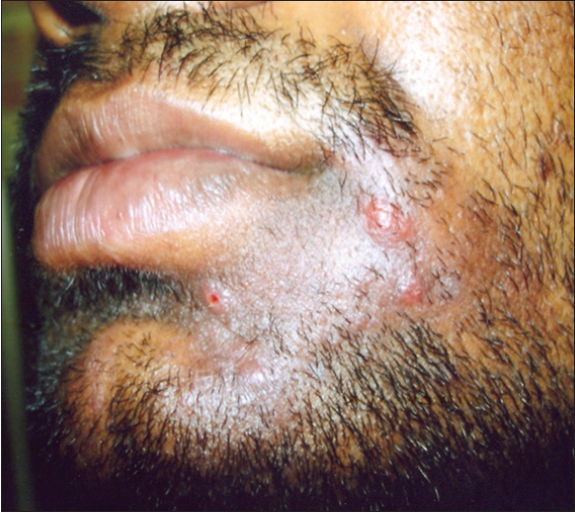 Reduction in size of papules and nodules in beard area after 2 weeks of itraconazole therapy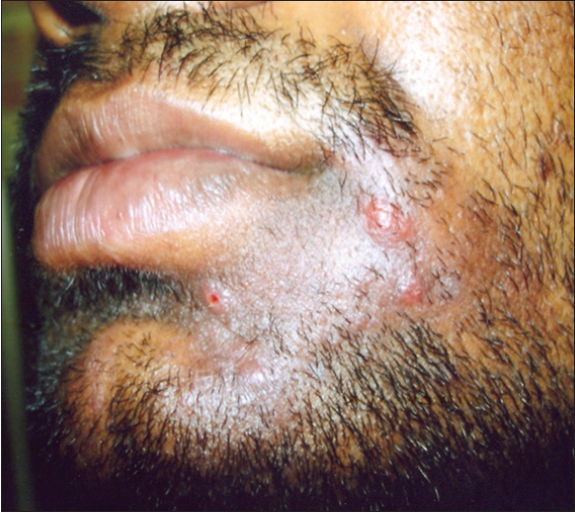 Reduction in size of papules and nodules in beard area after 2 weeks of itraconazole therapy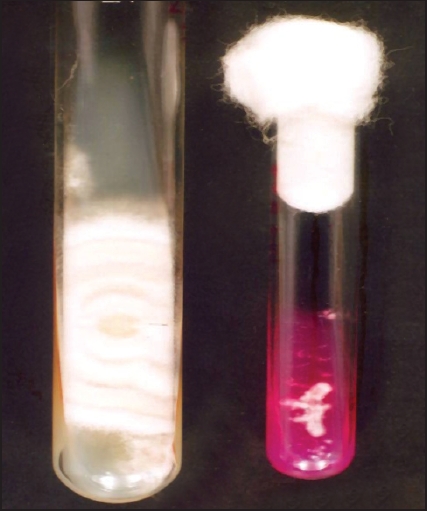 Fluffy white growth of Trichophyton mentagrophytes in SDA. (Left) Positive urease test (Right)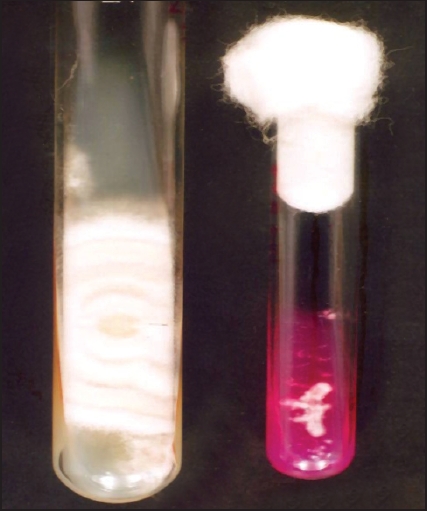 Fluffy white growth of Trichophyton mentagrophytes in SDA. (Left) Positive urease test (Right)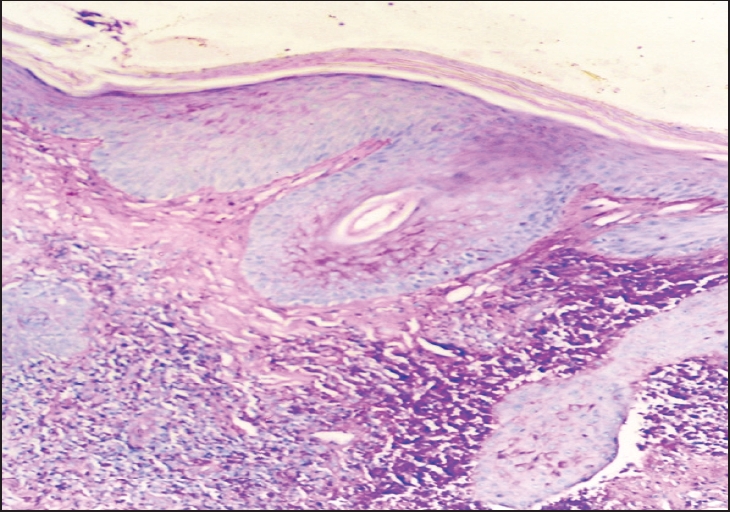 Skin biopsy with special staining (x 400)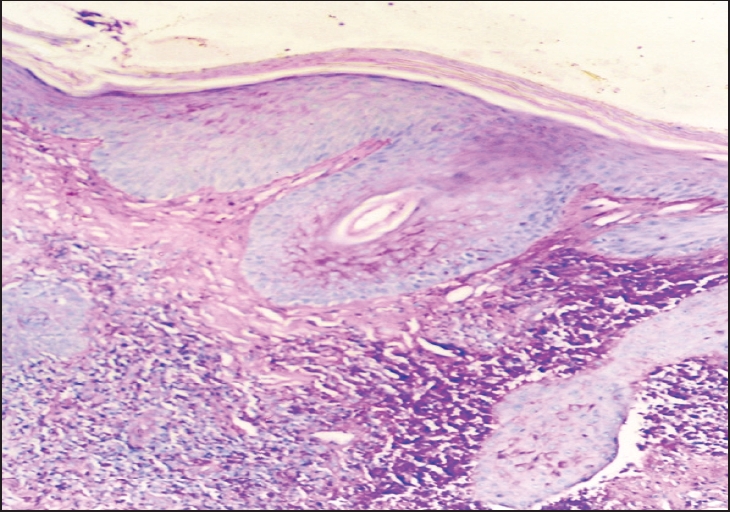 Skin biopsy with special staining (x 400)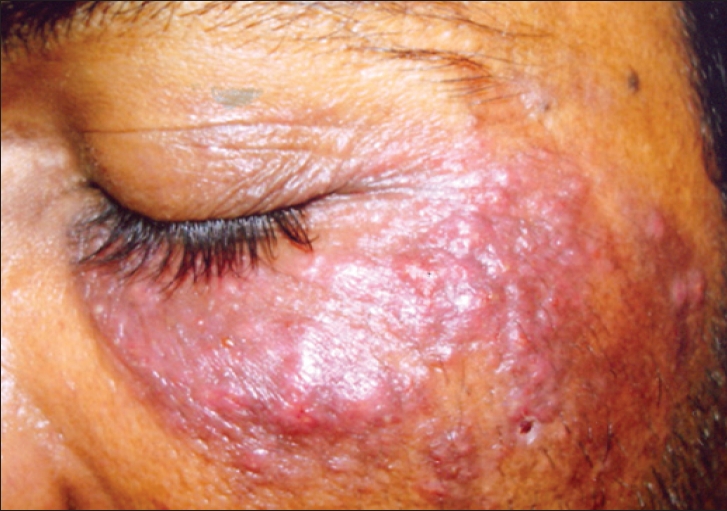 Erythematous nodules and plaques over left malar area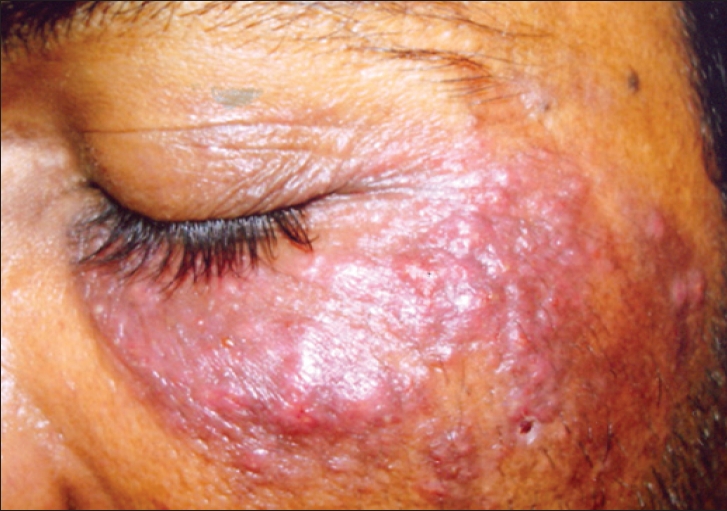 Erythematous nodules and plaques over left malar area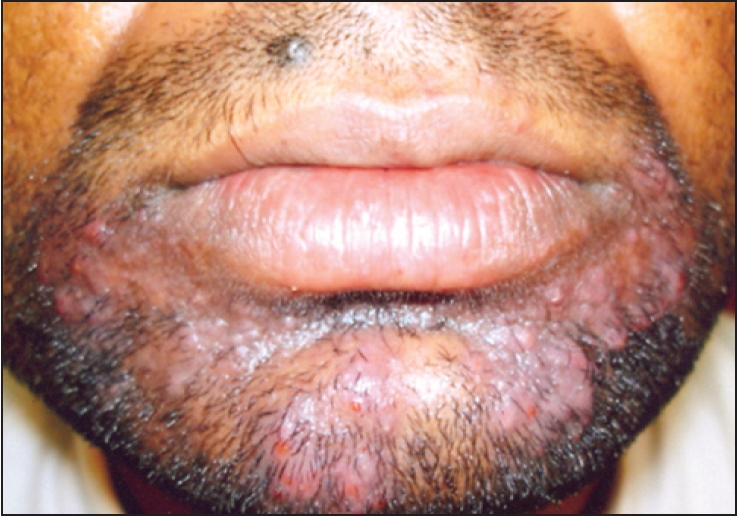 Infl ammatory nodules and plaques with superfi cial crusting and oozing on beard region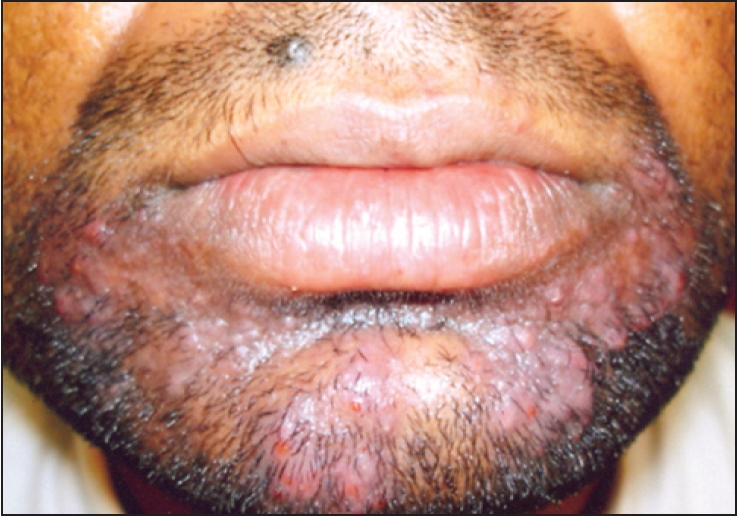 Infl ammatory nodules and plaques with superfi cial crusting and oozing on beard region
A 31-year-old male schoolteacher presented with mildly pruritic erythematous crusted plaques and nodules studded with pustules on chin and left malar region of 20 days duration [Figure - 1],[Figure - 2]. He complained of increased itching and burning sensation after application of soap, aftershave lotion and perfume. He was not using any other cosmetic. He had no previous history of atopy, drug allergy, photosensitivity or any systemic complaints. He occasionally visited the barber′s shop for shaving his beard. There were no pets at home.
Investigations done included skin biopsy for histopathological examination, including special stain [Figure - 3]. Patch testing including that with plant allergens gave a negative result. Gram staining of the discharge from pustules did not reveal any bacteria and swab for bacterial culture and sensitivity taken from the pustules did not reveal any growth.
What is your diagnosis?
References
1.

Kanwar AJ, Mamta, Chander J. Superficial fungal infections. In: Valia RG, Valia AR, editors. IADVL Textbook and Atlas of Dermatology. 2nd ed. Bhalani Publishing House: Mumbai; 2001. p. 224.

[Google Scholar]
2.

Lin RL, Szepietowski JC, Schwartz RA. Tinea faciei, an often deceptive facial eruption. Int J Dermatol 2004;43:437-40.

[Google Scholar]
3.

Tinea barbae. Szepietovsky JC, Schwartz AR. [Last updated on 2005 May 26]. Available from: http://www.emedicine.com/derm/topic419.htm. [Last accessed on 2006 Oct 11].

[Google Scholar]
4.

Lesher JL Jr. Oral therapy of common superficial fungal infection of the skin. J Am Acad Dermatol 1999;40:S31-4.

[Google Scholar]
Show Sections