Translate this page into:

Letter to the Editor
doi: 10.4103/0378-6323.120742
PMID: 24177621
LEOPARD syndrome with Wolff-Parkinson-White syndrome on electrocardiography
Sangita Ghosh1 , Soumik Chaudhuri2 , Vijay Kumar Jain1
1 Department of Skin and Veneral Diseases, Post Graduate Institute of Medical Sciences, Rohtak, Haryana, India
2 Department of Medicine, Post Graduate Institute of Medical Sciences, Rohtak, Haryana, India

Correspondence Address:
Sangita Ghosh
42/136, New Ballygunge Road, Kolkata - 700 039, West Bengal
India

How to cite this article:
Ghosh S, Chaudhuri S, Jain VK. LEOPARD syndrome with Wolff-Parkinson-White syndrome on electrocardiography. Indian J Dermatol Venereol Leprol 2013;79:821-824
Copyright: (C)2013 Indian Journal of Dermatology, Venereology, and Leprology
Sir,
LEOPARD syndrome (LS) is a rare complex of multisystemic congenital abnormalities characterized by lentigenes, electrocardiographic (ECG) abnormalities, ocular hypertelorism, pulmonary valvular stenosis, abnormalities of genitalia, retardation of growth, and deafness (sensorineural). This neuro-cardio-facial-cutaneous genetic syndrome is mostly an autosomal-dominant disorder, caused by germ line missense mutation in PTPN11, a gene encoding the protein tyrosine phosphatase SHP-2, located on chromosome 12q22. [1]
A 16-year-old girl, the third child of nonconsanguineous parents, presented to us with numerous tiny hyperpigmented spots scattered over face, trunk, and limbs, admixed with multiple, bigger, hyperpigmented flat discrete lesions. They started appearing at the age of 6 and have been progressively increasing in number since then but have always remained asymptomatic and nonremitting. She also gave history of chest deformity since birth, but denied history of any syncopal attacks, dyspnea, and cyanosis. There was no history of deafness, abnormalities of genitalia, or secondary sexual characteristics. Her deceased father had similar cutaneous lesions all over his trunk and had died a sudden death at the age of 42, due to an unknown cause. No one else in the family, including her two siblings, is similarly affected.
On general examination, she was stunted for age, with a height of 100 cm (below 95 th percentile for her age) and had significant scoliotic deformity of thoracic spines with winging of scapula and mild pectus excavatum. She also had ocular telorism with a broad nasal root [Figure - 1]. Clinically, cardiac examination was unremarkable, but electrocardiogram showed left axis deviation, shortened PR interval (106 ms), widened QRS interval (130 ms), with a slurred upstroke (delta wave) suggestive of Wolff-Parkinson-White (WPW) syndrome, which is an anomalous accessory connection between atria and ventricles which results in acceleration of passage of impulse from atria to ventricle [2] [Figure - 2]. Echocardiography showed no structural or functional abnormalities. Visual and auditory brainstem response testing was normal. Her routine biochemical parameters, coagulation profile, and hormonal profile were all within the usual limits. Ultrasound study showed normal genitourinary system.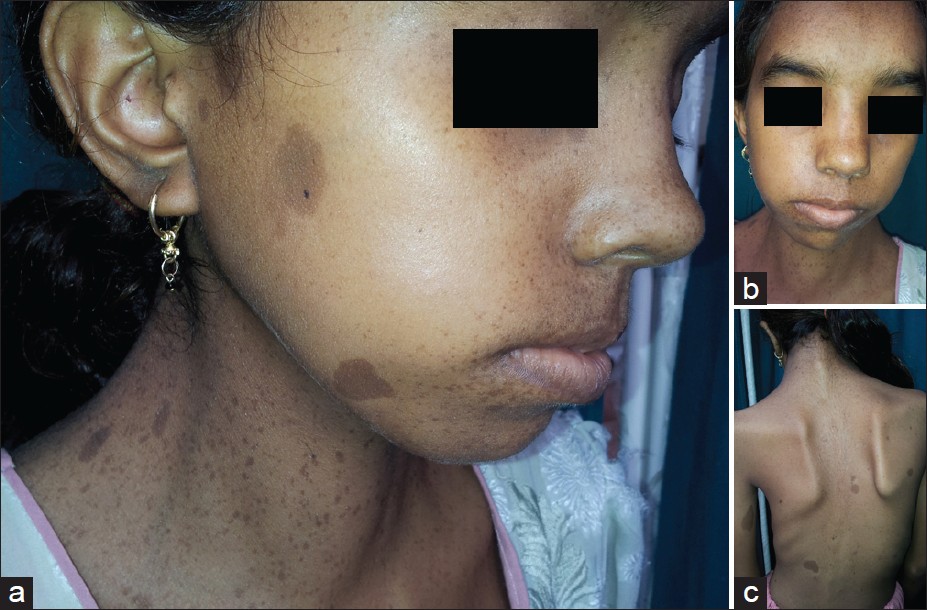 Figure 1: (a) A 16-year-old girl with lentiginosis on face and neck with multiple café-au-lait macules. (b) Same girl with a broad nasal root and hypertelorism. (c) Shows scoliosis of thoracic and lumbar spines in the same patient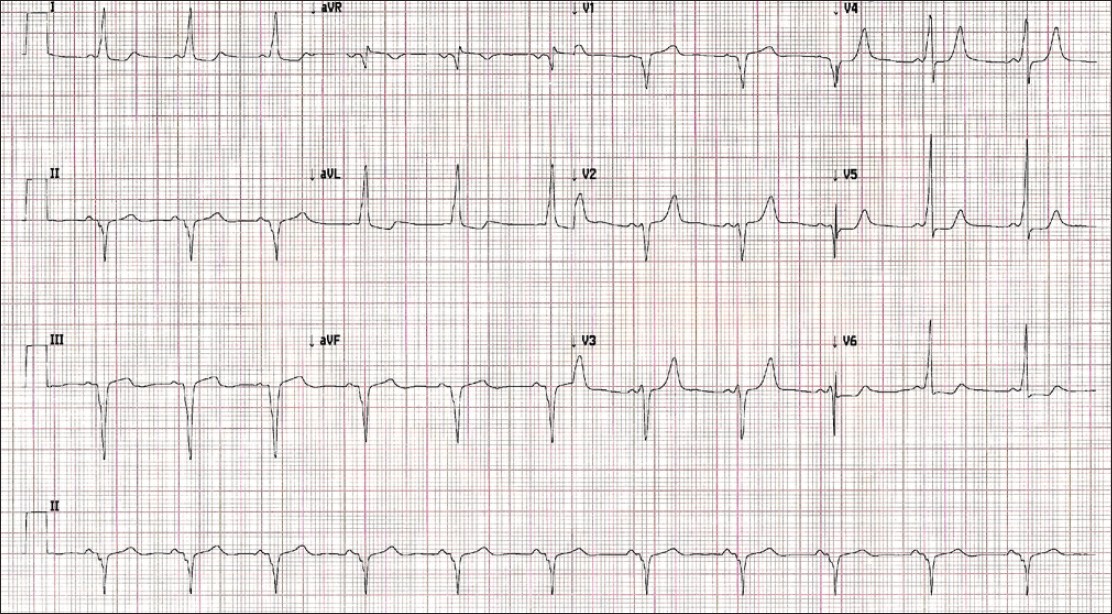 Figure 2: Electrocardiogram showing left axis deviation, shortened PR interval (106 ms), widened QRS interval (130 ms) with a slurred upstroke (delta wave) suggestive of Wolff-Parkinson-White Syndrome, with nonspecific ST-T changes in the anteroseptal and inferior leads
On cutaneous examination, the girl had numerous lentigines with scattered distribution over face, chest, back, axillae, abdomen and thighs, admixed with multiple discrete hyperpigmented cafι-au-lait macules. Histopathological examination of the suspected lentigines showed an increased number of melanocytes with regular distribution of melanin in the basal layer with elongation of rete ridges into the dermis, confirming the diagnosis of lentigen simplex.
According to criteria proposed by Voron et al., to diagnose LS, the patient must have lentiginosis along with at least two of the minor criteria, which are cardiac structural or ECG abnormalities, genitourinary abnormalities, endocrinal abnormalities, neurologic defects, cephalofacial dysmorphism, shortness of stature, skeletal abnormalities, and other cutaneous abnormalities. If lentigines are absent, three other clinical features must be present. [3] LS is characterized by highly variable phenotypic expressivity [Table - 1]. Other syndromes with lentigines that need to be differentiated from LS are Cronkhite-Canada syndrome, Carney complex and Bandler syndrome. Noonan syndrome is another syndrome that shares many features with LS and careful differentiation between the two syndromes is important, because distinct mutations in the same PTPN11 gene has also been attributed for Noonan syndrome which usually present with typical facial dysmorphism and clinical features like short-webbed neck, cryptorchidism in male child, increased bleeding and bruising history, lymphatic dysplasia, motor delay, and so on would help diagnosing Noonan over LEOPARD in a similar clinical presentation. [7]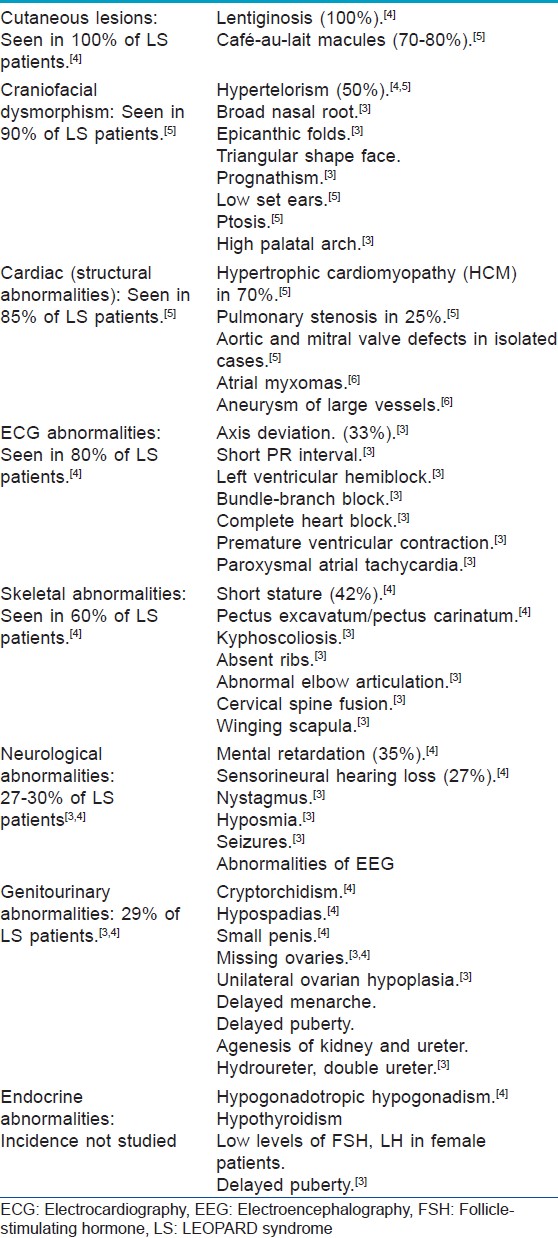 Table 1: Clinical manifestations of LEOPARD syndrome
Our patient had lentiginosis, ocular hypertelorism, short stature, scoliosis with ECG changes suggestive of WPW syndrome. The incidence of WPW syndrome in general population is estimated to be 0.15-0.25%. Whether this ECG abnormality is coincidental or part of a syndromic manifestation of single gene insult, that question remains to be answered and demands a mutation analysis. HCM, which is the most common structural cardiac anomaly seen in association with LS, can be a potential cause of sudden death in a few and could be suspected as the cause of her father′s sudden death. Left axis deviation, which is the most common ECG abnormalities seen in this syndrome, has been reported in one-third of patients; the rest have been described as premature ventricular contractions, paroxysmal atrial tachycardia, shortened PR interval among others. [3]
In general, the long-term prognosis of the LS patient is favorable, but patients with cardiac abnormalities need periodic assessment because, despite cardiac involvement, most patients of LS remain asymptomatic. According to some authors, LS patients have increased melanocytic activity, secondary to an abnormal development of neural crest cells and increased β-adrenergic effector activity in the myocardium. [8]
References
1.

Kontaridis MI, Swanson KD, David FS, Barford D, Neel BG. PTPN11 (Shp2) mutations in LEOPARD syndrome have dominant negative, not activating, effects. J Biol Chem 2006;281:6785-92.

[Google Scholar]
2.

Sethi KK, Dhall A, Chadha DS, Garg S, Malani SK, Mathew OP. WPW and preexcitation syndromes. J Assoc Physicians India 2007;55:10-5.

[Google Scholar]
3.

Voron DA, Hatfield HH, Kalkhoff RK. Multiple lentigines syndrome. Case report and review of the literature. Am J Med 1976;60:447-56.

[Google Scholar]
4.

Colomb D, Morel JP. Multiple lentigines syndrome. Apropos of 2 cases. Critical study of the LEOPARD syndrome. Ann Dermatol Venereol 1984;111:371-81.

[Google Scholar]
5.

Sarkozy A, Digilio MC, Dallapiccola B. LEOPARD syndrome. Orphanet J Rare Dis 2008;3:13.

[Google Scholar]
6.

Limongelli G, Pacileo G, Marino B, Digilio MC, Sarkozy A, Elliott P, et al. Prevalence and clinical significance of cardiovascular abnormalities in patients with the LEOPARD syndrome. Am J Cardiol 2007;100:736-41.

[Google Scholar]
7.

Tartaglia M, Mehler EL, Goldberg R, Zampino G, Brunner HG, Kremer H, et al. Mutations in PTPN11, encoding the protein tyrosine phosphatase SHP-2, cause Noonan syndrome. Nat Genet 2001;29:465-8.

[Google Scholar]
8.

Tartaglia M, Martinelli S, Stella L, Bocchinfuso G, Flex E, Cordeddu V, et al. Diversity and functional consequences of germline and somatic PTPN11 mutations in human disease. Am J Hum Genet 2006;78:279-90.

[Google Scholar]
Show Sections