Letter to the Editor
doi: 10.4103/0378-6323.102379
PMID: 23075650
Leukemia cutis manifesting umbilicated cutaneous lesions
Prashant Verma1 , Sonal Sharma2 , Reena Sharma1 , Pravesh Yadav1
1 Department of Dermatology and STD, University College of Medical Sciences (University of Delhi) and Guru Teg Bahadur Hospital, Shahdara, Delhi, India
2 Department of Pathology, University College of Medical Sciences (University of Delhi) and Guru Teg Bahadur Hospital, Shahdara, Delhi, India

Correspondence Address:
Prashant Verma
9 State Bank Colony, G.T. Karnal Road, Delhi-110 009
India

How to cite this article:
Verma P, Sharma S, Sharma R, Yadav P. Leukemia cutis manifesting umbilicated cutaneous lesions. Indian J Dermatol Venereol Leprol 2012;78:752-754
Copyright: (C)2012 Indian Journal of Dermatology, Venereology, and Leprology
Sir,
A 30-year-old married woman accessed our dermatology clinic with an asymptomatic, skin-colored cutaneous eruption of the duration of 15 days. Her history was conspicuous for moderate to high-grade fever without chills, lassitude, and on and off diarrhea for the last 2 months. She also had a rapidly progressive gingival overgrowth with on and off gingival bleeding for a month. She had a single, 1-year-old live issue. There was no history of complaints pertaining to cardiovascular, gastrointestinal, pulmonary, central nervous and musculoskeletal systems. She denied anorexia, night sweats, epistaxis, and malena. Cutaneous examination revealed multiple umbilicated, skin-colored to slightly erythematous, infiltrated papules and plaques, 5 mm to 1 cm-sized, present over face, chest, back, arms, forearms, thighs, and legs [Figure - 1]. The distribution of the lesions was symmetrical. Gingival hypertrophy was prominent. General physical examination revealed bilateral cervical lymphadenopathy and hepatosplenomegaly. The gingivae were swollen [Figure - 2], tender and bled to touch. Rest of the mucocutaneous examination was normal. The patient′s complete blood counts were as follows: Hemoglobin 3.9 g/dl, total leukocyte count 69,800/cu mm, platelet count 39,000/cu mm. Peripheral blood smear examination showed more than 30% blasts, which depicted cytoplasmic blebbing and nuclear membrane folding. Red cells were normocytic, normochromic in morphology, except a few microcytes. Prothrombin time, activated partial thromboblastin time, and fibrin split products were normal. Bone marrow aspiration smear showed 52% blasts. Unfortunately, the facility of cytogenetics and molecular analysis was not available at our center. ELISA for HIV and VDRL test were negative. Thyroid function tests, blood sugar, renal and liver functions were all normal. Urine microscopy was normal. Ultrasonogram of abdomen was found to be normal. Microscopic examination of a section from a representative lesion revealed a dense monotonous leukemic infiltrate in the dermis circumscribed around dermal vessels, appendages, infiltrating in between the collagen bundles and extending to the subcutis [Figure - 3]a. These cells had increased nucleus/cytoplasm ratio and basophilia, and nuclei were vesicular [Figure - 3]b. Periodic-acid-Schiff stain and stain for acid-fast bacilli were unremarkable. Accordingly, a diagnosis of acute myelogenous leukemia with leukemia cutis was rendered. After obtaining the requisite pre-chemotherapy investigations, combination chemotherapy comprising daunorubicin and cytarabine along with prednisolone was initiated on a monthly basis. So far, 3 cycles have been administered. Her cutaneous lesions have regressed partially. Her current blood counts are as follows: Hemoglobin 8.6 g/dl, total leukocyte count 10,600, and platelet count 1,25,000 /cumm.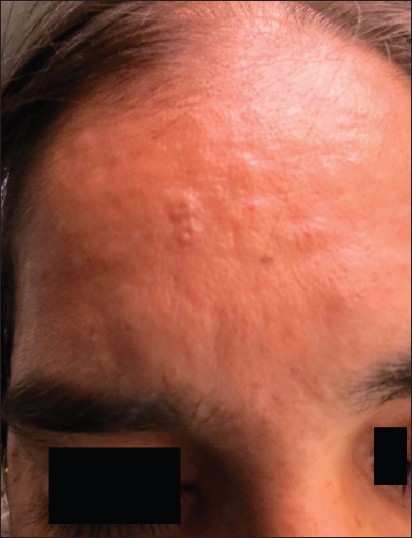 Figure 1: Umbilicated, skin-colored to slightly erythematous, infiltrated pauples and plaques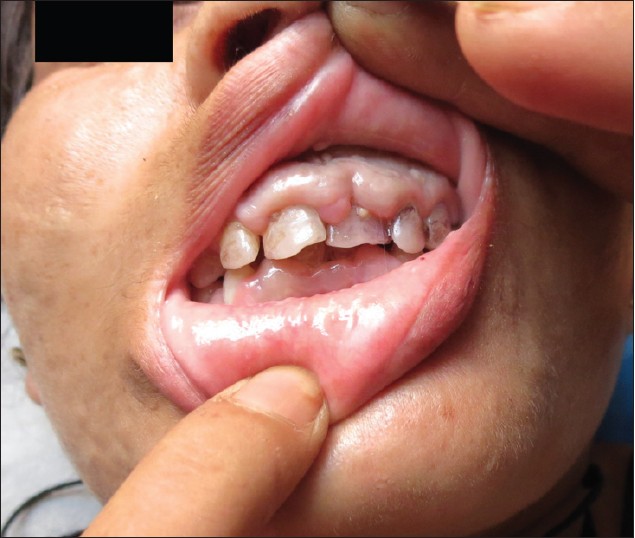 Figure 2: Gingival hypertrophy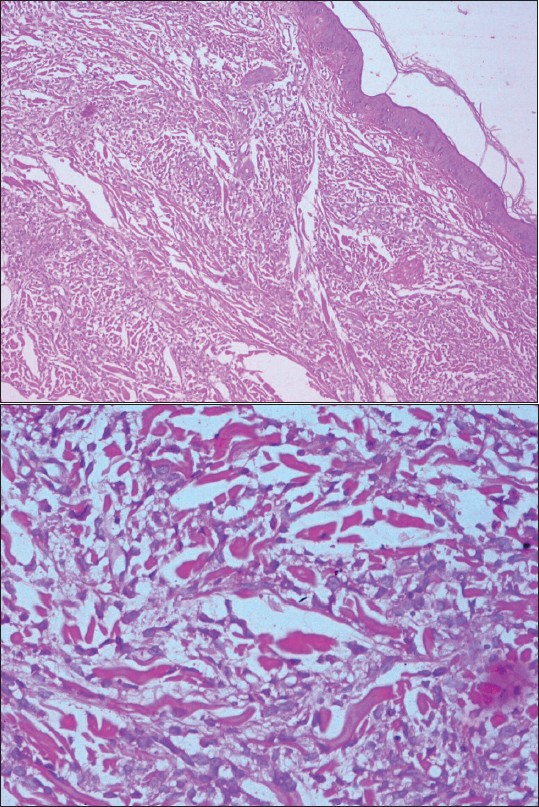 Figure 3a: Dense monotonous leukemic infiltrate in the dermis circumscribed around dermal (H and E, ×100) vessels, appendages, infiltrating in between the collagen bundles, and extending to the subcutis Figure 3b: Higher power demonstrating leukemic cells (H and E, ×400)
Leukemia, a hematological disorder, is characterized by a marked increase in circulating immature or abnormal white blood cells, a result of disordered differentiation and proliferation of neoplastic cells. Leukemia may be either acute or chronic, depending on to its clinical behavior. Furthermore, it is characterized as lymphocytic or myelocytic, according to its histogenetic origin. Leukemia cutis (LC) manifests in different types of leukemia with highest involvement in adult T cell leukemia, followed by acute myelogenous leukemia [1] as seen in the present case. LC can precede, be concomitant with, or present later in the course of leukemia. [2] Extra-medullary sites may be involved in up to 90% of the cases of AML in addition to LC. [3] This most commonly involved the subperiosteal bone structures of the skull, gingival mucosa, and paranasal sinuses. In the present case, rapidly progressive gingival hypertrophy was an early sign as has been described earlier. [4] Cutaneous lesions of varied morphology, manifesting as leukemia cutis have been described. Macules, papules, plaques or nodules which may be skin-colored to erythematous or violaceous colored are common. Exanthematous eruptions, purpura, hemorrhagic bullae, Sweet′s syndrome-like lesions, ulcers, butterfly-like rash, erythema multiforme-like lesions, granuloma annulare-like lesions, urticaria, leonine facies, urticaria pigmentosa-like lesions, erythema annulare centrifugum, stasis dermatitis, psoriasiform, chronic paronychia, subungual lesions, cauliflower-like lesions, Grover′s disease-like lesions, and chemical burn-like lesions have been described. [5],[6],[7],[8] Notwithstanding, umbilicated cutaneous lesions as illustrated in the present case have not been described so far. The presence of such lesions in an immunocompromised scenario calls for a differential diagnosis of molluscum contagiosum, cutaneous cryptococcosis, histoplasmosis, aspergillosis, penicillosis, and herpes. Therefore, it is imperative to take cognizance of and include leukemia cutis in the differential diagnosis of umbilicated skin lesions.
References
1.

Baer MR, Barcos M, Farrell H, Raza A, Preisler HD. Acute myelogenous leukemia with leukemia cutis. Eighteen cases seen between 1969 and 1986. Cancer 1989;63:2192-200.

[Google Scholar]
2.

Cho-Vega JH, Medeiros LJ, Prieto VJ, Vega F. Leukemia cutis. Am J Clin Pathol 2008;129:130-42.

[Google Scholar]
3.

Baer MR, Barcos M, Farrell H, Raza A, Preisler HD. Acute myelogenous leukaemia with leukaemia cutis. Eighteen cases seen between 1969 and 1986. Cancer 1989;63:2192-200.

[Google Scholar]
4.

Gogãlniceanu D, Trandafir V, Trandafir D, Popescu E. Generalized gingival enlargement-early clinic manifestation in acute leukemia. Case report. Rev Med Chir Soc Med Nat Iasi 2010;114:576-9.

[Google Scholar]
5.

Misri R, Khopkar U, Kharkar V, Mahajan S. Different faces of leukemia cutis: Presenting as purpura fulminans and lupus like butterfly rash. Indian J Dermatol Venereol Leprol 2010;76:710- 2.

[Google Scholar]
6.

Waller WL, Hughes SR, Boh E. Leukemia cutis masquerading as a chemical burn. J Am Acad Dermatol 2011;64:1003-4.

[Google Scholar]
7.

Aldabagh B, Patel RR, Honda K. Leukemia cutis in association With Grover's disease. Am J Dermatopathol 2011;33:e41-3.

[Google Scholar]
8.

Ferreira M, Caetano M, Amorim I, Selores M. Leukemia cutis resembling a flare-up of psoriasis. Dermatol Online J 2006;12:13.

[Google Scholar]
Show Sections