Translate this page into:

Letter to the Editor - Observation Letter
doi: 10.4103/ijdvl.IJDVL_142_19
PMID: 31929230
Linear papular pyogenic granuloma: An unusual presentation
Chandra Sekhar Sirka, Arpita Nibedita Rout, Kananbala Sahu
Department of Dermatology, All India Institute of Medical Sciences, Bhubaneswar, Odisha, India

Correspondence Address:
Arpita Nibedita Rout
Department of Dermatology, All India Institute of Medical Sciences, Bhubaneswar - 751 019, Odisha
India

How to cite this article:
Sirka CS, Rout AN, Sahu K. Linear papular pyogenic granuloma: An unusual presentation. Indian J Dermatol Venereol Leprol 2020;86:197-199
Copyright: (C)2020 Indian Journal of Dermatology, Venereology, and Leprology
Sir,
Pyogenic granulomas are benign, reactive, typically superficial vascular lesions that can be idiopathic or arise secondary to trauma, underlying vascular malformations, infections, physiologic or pathologic endocrine changes, and hormone therapy.[1] Rarely, subcutaneous and intravascular lesions have been described in literature. Most cases occur as solitary lesions; but multiple, grouped and disseminated lesions have been described.[2] Papular lesions in a linear distribution have never been reported. The diagnosis of pyogenic granuloma is confirmed by histology.
A 57-year-old male presented with multiple asymptomatic nodules over the left-side forehead and eyebrow since the past 5 years. These lesions were increasing in number with appearance of new nodules at 2–3 months interval. He was diagnosed to have hepatocellular carcinoma 10 years back, which had completely resolved after chemotherapy. On clinical examination, there were multiple skin-colored to slightly erythematous soft nontender sessile, mobile growths in groups with a linear distribution over the left-side forehead, left eyebrow, and left upper eyelid [Figure - 1]. There was no preceding history of prolonged drug intake or trauma prior to the appearance of the lesions or any history of bleeding from the site. There was no other significant cutaneous or systemic findings. Based on the history and clinical examination, benign vascular tumor and metastatic hepatocellular carcinoma were considered as differential diagnosis. The dermoscopic examination showed white areas in the center with surrounding rim of red circles and telangiectasias, suggestive of a vascular tumor. Hence, a clinical possibility of vascular tumor was considered. Routine investigations such as complete hemogram, liver, and renal function tests were within normal limits. Doppler ultrasonographic examination showed no intra-orbital or intracranial extensions. On histopathological examination, there were lobules of proliferating capillaries lined by single layer of endothelial cells separated by fibrous strands in the mid dermis level without any change in the epidermis [Figure - 2] and [Figure - 3]. Thus, a final diagnosis of pyogenic granuloma was made. The patient was treated with excision and cauterisation of the lesion. He was followed up for 6 months with no recurrence.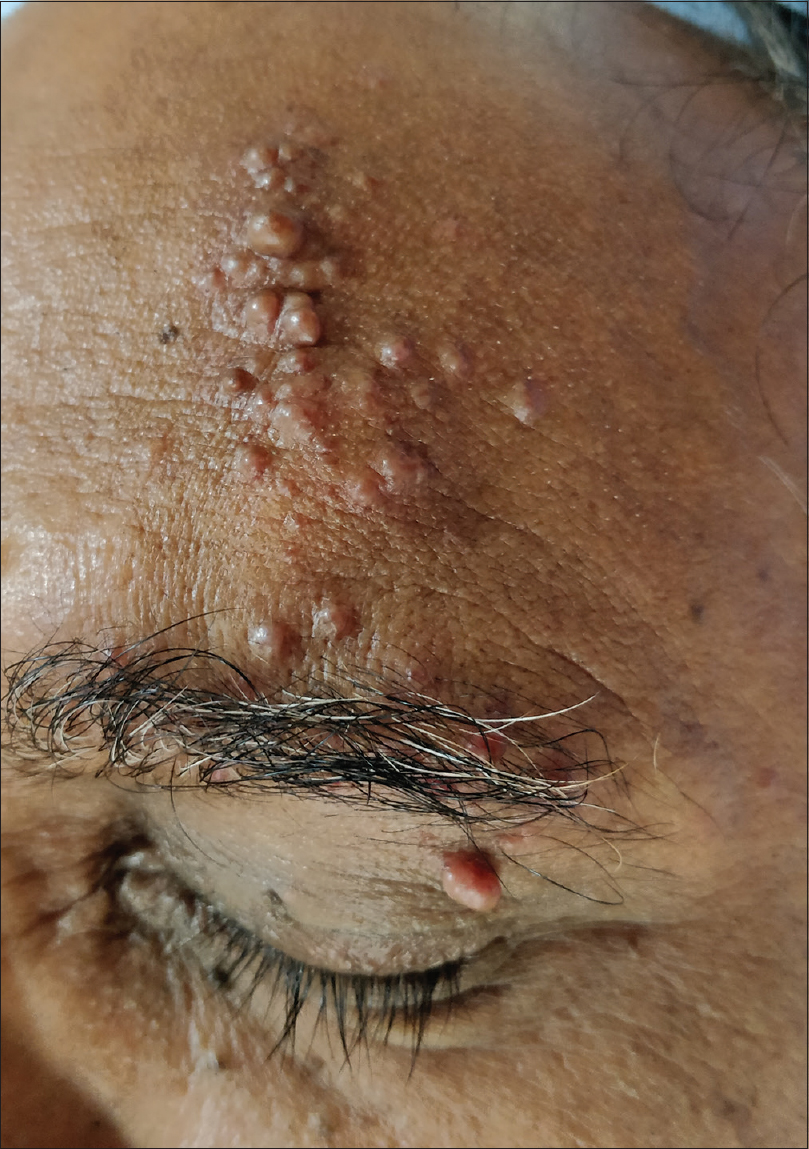 Figure 1: Multiple skin-colored to erythematous papules nodules in a linear pattern over the left forehead and eyebrow
Figure 2: Histopathology of the lesion showing lobulated vascular mass in mid and lower dermis, with intervening fibrous septa (H and E, 40×)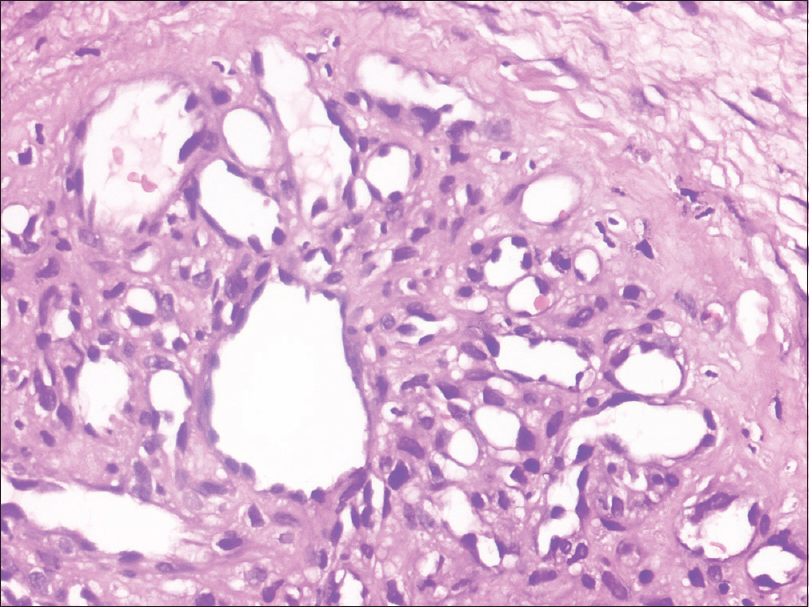 Figure 3: High-power view showing thin-walled capillaries (H and E, ×400)
Lobular capillary hemangioma or pyogenic granuloma is a common benign vascular proliferation. Typically, these lesions occur in the superficial dermis; although rare, subcutaneous and intravascular lesions can occur.[3] Clinically, the lesions are described as painless skin-colored to erythematous papules and nodules, with few of them showing surface erosion. Our patient had multiple soft nontender skin-colored to erythematous papules and nodular growths present in grouped pattern over the left side of the forehead, left eyebrow, and upper eyelid, but the linear distribution of the lesions in our case is unusual.
Dermoscopy of pyogenic granuloma shows homogeneous reddish or white-red areas(proliferating capillaries and veins) surrounded by whitish collarette(surrounding epidermal collarette in histopathology). An atypical dermoscopic pattern characterized by the presence of a central, irregular, whitish-yellow amorphous structure with a peripheral crown of polymorphous, atypical vessels has also been reported. Our case had central white areas and rim of reddish areas. Diagnosis is by histopathologic examination which shows immature capillaries with interspersed fibroblastic tissue, resembling granulation tissue in an edematous matrix. The deeper portion of the lesion has proliferating capillaries arranged in a lobular pattern extending into the deep dermis, with a dense, fibrous stroma.[4] Our patient had thin-walled capillaries in the deeper dermis with intervening fibrous stroma. Pyogenic granuloma has to be differentiated from tufted angioma histopathologically. In case of tufted angioma, the endothelial cells are plump and the lumen is usually obliterated, with lobules composed of bloodless capillaries surrounded by dilated crescent-shaped vascular channels. The angiomatous tissue in pyogenic granuloma is composed of dilated network of blood-filled capillaries and groups of poorly canalized vascular tufts surrounded by myxoid stroma.
Numerous treatment methods have been described for pyogenic granuloma: curettage, shave excision, laser therapy, or excision. Because the lesion can involve the reticular dermis, it may be out of the reach of the pulsed-dye laser, cautery, or shave excision. Definitive management requires full-thickness skin excision.[5] Localized recurrence after excision and satellite spread of the lesions is known. Our patient opted for surgical excision for cosmetic purpose, and there was no recurrence after the procedure.
Our patient had asymptomatic soft grouped papulonodules with linear distribution. Dermoscopy showed vascular nature of the lesion. Histopathology proved the diagnosis to be pyogenic granuloma. We report this case for its unique linear pattern of distribution.
Declaration of patient consent
The authors certify that they have obtained all appropriate patient consent forms. In the form, the patient has given his consent for his images and other clinical information to be reported in the journal. The patient understands that name and initials will not be published and due efforts will be made to conceal identity, but anonymity cannot be guaranteed.
Financial support and sponsorship
Nil.
Conflicts of interest
There are no conflicts of interest.
References
1.

Putra J, Rymeski B, Merrow AC, Dasgupta R, Gupta A. Four cases of pediatric deep-seated/subcutaneous pyogenic granuloma: Review of literature and differential diagnosis. J Cutan Pathol 2017;44:516-22.

[Google Scholar]
2.

Wollina U, Langner D, França K, Gianfaldoni S, Lotti T, Tchernev G. Pyogenic granuloma – A common benign vascular tumor with variable clinical presentation: New findings and treatment options. Open Access Maced J Med Sci 2017;5:423-6.

[Google Scholar]
3.

Lee N, Isenstein A, Zedek D, Morrell DS. A case of childhood subcutaneous pyogenic granuloma (lobular capillary hemangioma). Clin Pediatr (Phila) 2012;51:88-90.

[Google Scholar]
4.

Patrice SJ, Wiss K, Mulliken JB. Pyogenic granuloma (lobular capillary hemangioma): A clinicopathologic study of 178 cases. Pediatr Dermatol 1991;8:267-76.

[Google Scholar]
5.

Greene AK. Management of hemangiomas and other vascular tumors. Clin Plast Surg 2011;38:45-63.

[Google Scholar]
Show Sections