Letter to the Editor
doi: 10.4103/0378-6323.132266
PMID: 24823416
Lipedematous scalp
CV Dincy Peter1 , Anne Jennifer2 , Tanumay Raychaudhury1 , Laxmisha Chandrashekhar1 , Sophia Merilyn2 , Sadashiv Gowda3 , Gowda Shyam3
1 Department of Dermatology, Venereology and Leprosy, Christian Medical College, Vellore, Tamil Nadu, India
2 Department of Pathology, Christian Medical College, Vellore, Tamil Nadu, India
3 Department of Radiodiagnosis, Christian Medical College, Vellore, Tamil Nadu, India

Correspondence Address:
C V Dincy Peter
Department of Dermatology, Venereology and Leprosy, Christian Medical College, Vellore, India, Tamil Nadu
India

How to cite this article:
Dincy Peter C V, Jennifer A, Raychaudhury T, Chandrashekhar L, Merilyn S, Gowda S, Shyam G. Lipedematous scalp. Indian J Dermatol Venereol Leprol 2014;80:270-272
Copyright: (C)2014 Indian Journal of Dermatology, Venereology, and Leprology
Sir,
Lipedematous scalp is a rare clinico-pathologic entity characterized by an abnormal diffuse thickening of the subcutaneous tissue. There are fewer than 50 previous reports of the condition.
Patient 1: A 57-year-old lady presented with itching and swelling over the scalp for 2 years. She had a shaven, diffusely thickened scalp thrown into involutions [Figure - 1]a with prominences over the left parietal, vertex and occipital areas of scalp. There were no areas of alopecia, scaling or erythema on the scalp. The scalp had a boggy and spongy consistency. X-ray skull (lateral view) showed diffuse thickening over the entire scalp, with prominences over the frontal (12.3 mm) and occipital scalp (16.2 mm) [Figure - 1]b.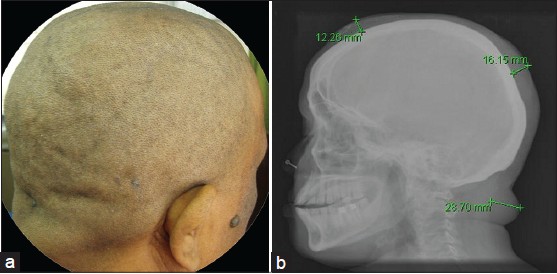 Figure 1: (a) Involutions seen over shaven scalp. (b) Lateral skull radiograph showing diffuse thickening over the entire scalp, with prominence over the frontal (12.3 mm) and occipital scalp (16.2 mm)
Patient 2: A 40-year-old lady presented with itching, headache and soft swelling over the scalp for the past 6 years. On examination, she had thickening of the skin over the vertex and left parietal area. Examination of the hair revealed no abnormaliy. Computed tomography (CT) of the head showed a diffuse peri-cranial soft swelling, with the prominence over the vertex measuring a maximum of 22.4 mm in thickness [Figure - 2]a.
Figure 2: (a) Computed tomography of the brain showing a diffuse pericranial soft-tissue swelling and prominence over the vertex measuring up to 22.4 mm thickness. (b) Biopsy of the scalp showing encroachment of thickened subcutis into the dermis, H and E, ×5
Both patients had no features of acromegaly, pachydermoperiostosis or myxedema. Histopathology of the scalp lesions of both these patients showed mild to focal moderate perivascular infiltrates of lymphocytes and histiocytes. There was no atrophy of hair follicles and pilosebaceous units. The subcutis was thickened, edematous and showed disruption of adipocyte architecture and integrity. It appeared to encroach into the dermis [Figure - 2]b.
A diagnosis of lipedematous scalp was made in these patients based on the clinical finding of boggy soft swelling of the scalp without alopecia, which on histopathology showed encroachment of thickened subcutis into the dermis. It was first described by Cornbleet in 1935. Coskey et al. introduced the term "lipoedematous alopecia" for a disorder which is characterised by an acquired, non-scarring, permanent alopecia or short hair that is unable to grow beyond a few centimetres, overlying thickened boggy subcutaneous tissue of the scalp. [1],[2] Recently Müller et al. proposed the term "localized lipomatosis of the scalp with or without alopecia" and suggested its classification within the group of conventional lipomatosis. [3]
The condition is characterized by boggy, soft, spongy or doughy thickening of the scalp that is predominantly located at the vertex and occiput, which is better palpated than visualized. Most of the reports are among women with rare reports in Caucasian men. A series of lipedematous scalp in ten Egyptian women who use tight head covers has been reported [4] The presenting symptoms in patients include diffuse pain, paraesthesias, headache, burning, aymptomatic scalp thickening and localised or generalized scalp tenderness or itching.
Increased scalp thickness is a characteristic feature resulting from increased thickening in the subcutaneous layer. Kavak et al. in their study have reported the average subcutaneous adipose tissue thickness between the galea aponeurotica and dermis in 78 Turkish subjects as 4.0 ± 0.94 mm by ultrasound. [5] The scalp thickness in patients with lipedematous scalp ranged from 9.2 to 16 mm. [5] Since there was no normative data available on scalp thickness in Indian subjects, we studied normal scalp thickness measured on the CT brain images of 30 patients including 16 males and 14 females with a mean age of 47.2 years (18-83 years). The mean scalp thickness at the frontal, parietal and occipital areas was 5.5 mm (2.8-8.1 mm), 7.1 mm (4-11 mm) and 7.75 mm (5-11 mm) respectively. These measurements were consistent with previous reports from other countries. Going by this data, scalp thickness in both our patients was greater than twice that of the normal population.
The histopathological changes include thickening of the subcutaneous tissue with encroachment into the dermis and distortion of fat architecture, dermal edema and ectatic lymphatics. [2] The pathogenesis remains unknown although mechanical factors like prolonged use of tight head gear and hormonal factors have been implicated. [4] Incidental associations include diabetes mellitus, renal failure, joint and skin hyperelasticity, Sjogren′s syndrome, hyperlipidemia and ovarian cysts. [2],[5] There is no definitive option for treatment or to halt progression of the condition. Our patients were initiated on antihistamines.
In conclusion, lipedematous scalp is a possible cause of dysesthetic syndrome of the scalp. In patients with no obvious cause for dysesthesia of the scalp, it is advisable that the scalp be palpated to identify this rare presentation that may otherwise be missed.
References
1.

Cornbleet T. Cutis verticis gyrata? Lipoma? Arch Derm Syphilol 1935;32:688.

[Google Scholar]
2.

Martín JM, Monteagudo C, Montesinos E, Guijarro J, Llombart B, Jordá E. Lipedematous scalp and lipedematous alopecia: A clinical and histologic analysis of 3 cases. J Am Acad Dermatol 2005;52:152-6.

[Google Scholar]
3.

Müller CS, Niclou M, Vogt T, Pföhler C. Lipedematous diseases of the scalp are not separate entities but part of a spectrum of lipomatous lesions. J Dtsch Dermatol Ges 2012;10:501-7.

[Google Scholar]
4.

El Darouti MA, Marzouk SA, Mashaly HM, El Nabarawi EA, Abdel-Halim MR, El Komy MM, et al. Lipedema and lipedematous alopecia: Report of 10 new cases. Eur J Dermatol 2007;17:351-2.

[Google Scholar]
5.

Kavak A, Yuceer D, Yildirim U, Baykal C, Sarisoy HT. Lipedematous scalp: A rare entity. J Dermatol 2008;35:102-5.

[Google Scholar]
Show Sections