Letter to the Editor - Therapy Letter
doi: 10.4103/ijdvl.IJDVL_74_20
PMID: 33106453
Lipodystrophia centrifugalis abdominalis infantilis accompanied by immunoglobulin kappa chain gene rearrangement successfully treated by a low dose of prednisone
Xiaobao Huang, Xuhua Tang, Fang Wang, Chunguang Ma
Department of Dermatology, The First Affiliated Hospital, Sun Yat-Sen University, Guangzhou, China

Correspondence Address:
Chunguang Ma
Department of Dermatology, The First Affiliated Hospital, Sun Yat-Sen University, No. 58 Zhongshan Er Rd., Guangzhou 510080
China

How to cite this article:
Huang X, Tang X, Wang F, Ma C. Lipodystrophia centrifugalis abdominalis infantilis accompanied by immunoglobulin kappa chain gene rearrangement successfully treated by a low dose of prednisone. Indian J Dermatol Venereol Leprol 2020;86:719-723
Copyright: (C)2020 Indian Journal of Dermatology, Venereology, and Leprology
Sir,
Lipodystrophia centrifugalis abdominalis infantilis is a rare localized lipoatrophic disorder mainly affecting children of Eastern Asian descent.[1] The unclear pathogenesis leads to a difficulty in management of this rare condition. We present a case with immunoglobulin kappa chain gene rearrangement. Strikingly, the child showed a remarkable response to oral prednisone. Subsequently, we conducted a systematic review and summarized the characteristics of the 7 documented cases that were on systemic corticosteroids and discuss its potential in dealing with lipodystrophia centrifugalis abdominalis infantilis.
An 8-year-old boy visited our department with a 4-month history of progressive erythema and depressed skin over the abdomen and scrotum accompanied by paroxysmal abdominal pain. He responded poorly to antibiotics. The child had no triggers like trauma or prior injection at the site. The patient was born at full term and fed normally with an unremarkable family history. A dark red, depressed plaque spreading from the left lower abdomen to the left thigh was seen with visible underlying blood vessels [Figure - 1]a. Several inguinal lymph nodes were palpable. The scalp presented with depressed plaques and alopecia [Figure - 1]b. Laboratory tests revealed normal blood cell count, electrolyte and glucose analysis, kidney, liver, and chest radiograph. Antinuclear antibodies were negative. Sonography of the inguinal lymph nodes showed inflammatory changes.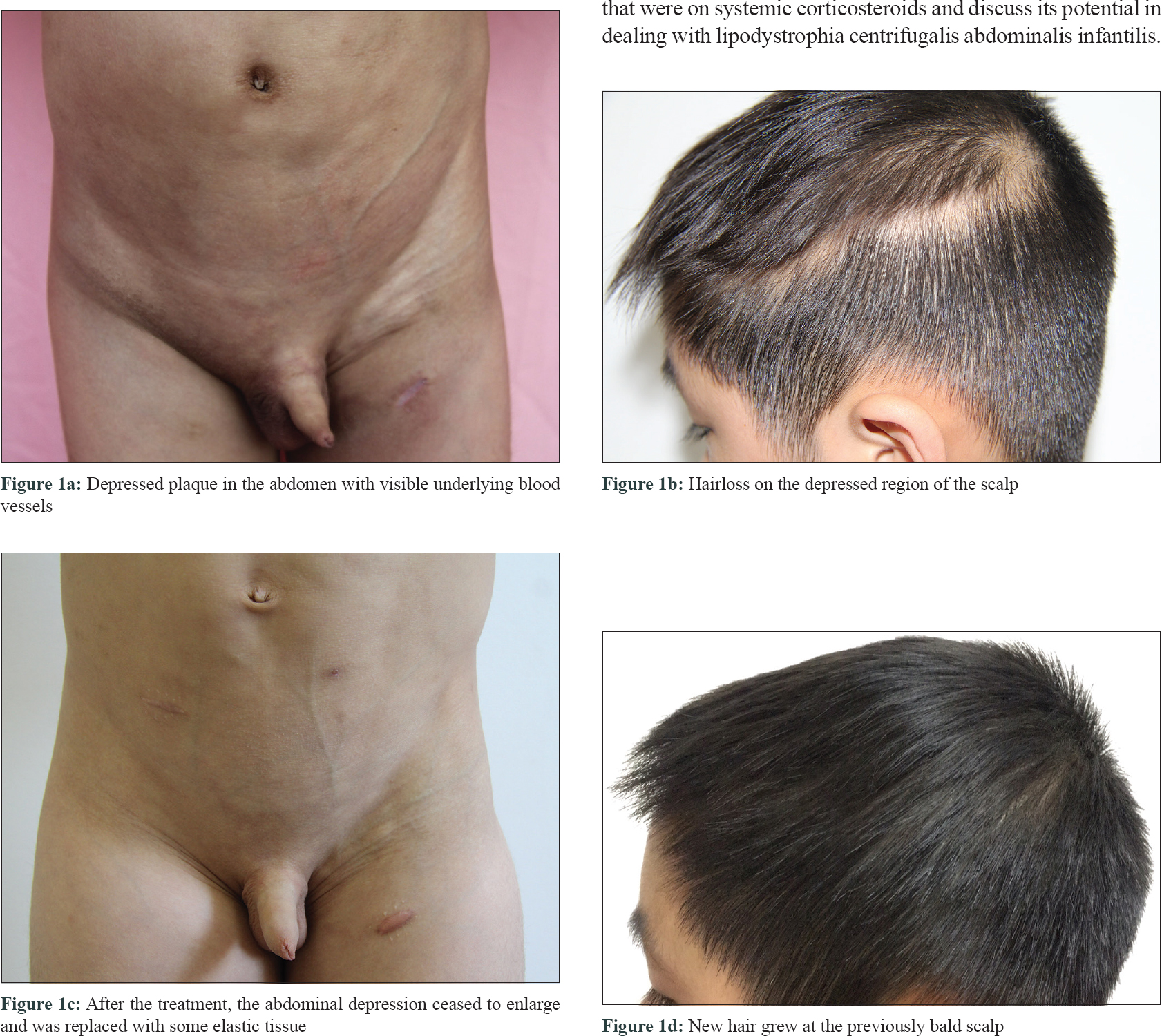 A skin biopsy taken from a representative lesion on the abdomen showed focal lymphocytic infiltration around the atrophic adipose tissue. Some lymphocytes contained hypertrophied, irregular nucleus [Figure - 2]a and [Figure - 2]b. In order to differentiate inflammation from subcutaneous panniculitis-like T-cell lymphoma, T-cell and B-cell gene rearrangement test and immunohistochemistry on the biopsy were performed. Surprisingly, immunoglobulin kappa chain gene rearrangement was detected (tested by capillary electrophoresis combined with fluorescent multiplex polymerase chain reaction). Immunohistochemical staining showed that the lymphocytes were positive for CD3 and CD10, mildly positive for CD4, CD5, CD8, CD20, CD56, p53, bcl-2, and bcl-6 but negative for TdT and CD30 [Figure - 2]c, [Figure - 2]d, [Figure - 2]e, [Figure - 2]f.
The final diagnosis was lipodystrophia centrifugalis abdominalis infantilis, based on the clinical and histopathological findings distinguishable from lymphoma and collagen vascular diseases-associated panniculitis. We prescribed oral prednisone at an initial dose of 20mg/d (0.83mg/kg/d). In 7 months, prednisone was tapered to 5mg once every 2 days [Figure - 3]. Strikingly, the abdominal depression ceased to progress and showed signs of restoration. [Figure - 1]c. Furthermore, new hair grew in the alopecis patches over the scalp [Figure - 1]d]. No obvious side effects or impairment of physical development was noticed. At the 4-month follow-up, the lesions did not exacerbate or recur.

Figure 3: Tapering schedule of prednisone
Immunoglobulin kappa chain is an isotype of light chains, and its gene rearrangement is a marker for clonal analysis of B cells. In our case, the skin biopsy presented as immunoglobulin kappa chain gene rearrangement, while the cell morphology and immunohistochemical staining result excluded lymphoma. Therefore, immunoglobulin kappa chain gene rearrangement indicated the immunological dysfunctions, lymphocyte hyperplasia and lymphocytes infiltration in the depressed lesion. However, as a rare manifestation of this gene rearrangement in lipodystrophia centrifugalis abdominalis infantilis, it become necessary to keep monitoring the possibility of malignancy.
The proposed aetiopathogenesis of this disorder includes infection, trauma, metabolic derangements, immunological dysfunctions, and apoptosis, while inflammation seems to be a common histopathological sign in the subcutaneous tissue with lymphohistiocytic infiltration.[2] No standard therapeutics have been recommended. Multiple treatments, including systemic corticosteroids, chloroquine, penicillin, vitamin E, and ibuprofen, alone or in combination with topical therapies have been tried but revealed controversial effects.[3]
We speculate that oral prednisone might be a preferred treatment option owing to its anti-inflammatory and immunoregulation effect. Therefore, we searched PubMed (U.S. National Library of Medicine, www.pubmed.gov), Web of Science (apps.webofknowledge.com), Google Scholar (scholar.google.com), CNKI (www.cnki.net, in Chinese), and Wanfang (www.wanfangdata.com.cn/, in Chinese) databases with the keywords of 'lipodystrophia centrifugalis abdominalis infantilis', found 72 publications. We identified 6 cases treated with systemic corticosteroids.
The main characteristics of all 7 cases (including ours) are summarized in [Table - 1].[2],[4],[5],[6],[7] The clinical manifestations included depressed plaques (7/7), inguinal lymphadenopathy (3/7), and hair loss (2/7). Skin biopsy showed varying degrees of inflammatory infiltration in the degenerating adipose tissue. After treatment with systemic corticosteroids, favourable response was seen in 5 (71.4%) patients out of 7. In the successful cases, systemic prednisone or prednisolone was used at a dose of 1mg/kg per day. Among the 2 failed cases, case 5 used prednisolone at 0.16mg/kg, whereas case 2 did not mention the dosage. No side effects were reported in these publications. Based on the 7 cases, we speculate that a low dose of systemic corticosteroids can reduce the inflammation and cause improvement. Nevertheless, when we choose systemic corticosteroids for patients, it is necessary to exclude relative and absolute contraindications like potential infection, development of pediatric patients, and timely tapering of the medication dosage.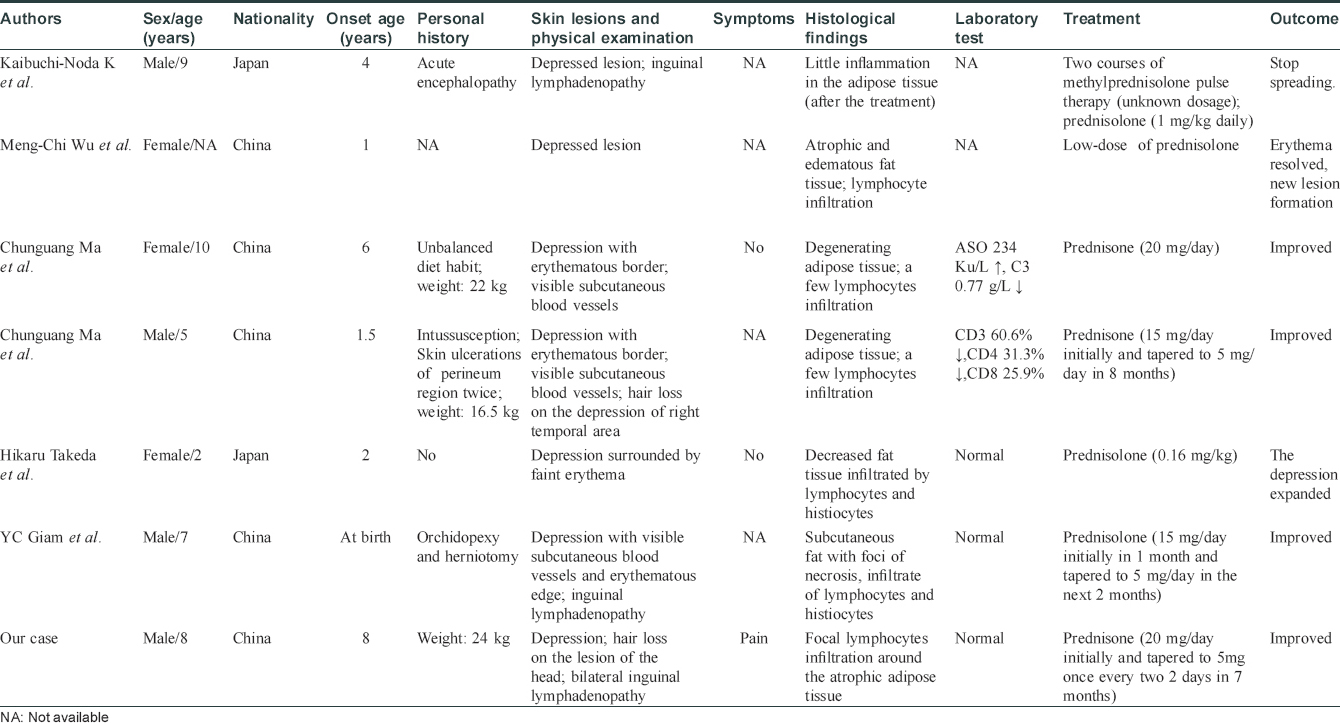 Table 1: Characteristic of the patients treated with oral corticosteroids in previous cases and the present case
To conclude, we were unable to find any previous reports of lipodystrophia centrifugalis abdominalis infantilis accompanied with immunoglobulin kappa chain gene rearrangement. The child responded well to a low dose of prednisone. It suggests that immunological dysfunction and inflammation have a strong association with this condition. We cannot exclude the possibility of spontaneous regression completely. However, after the treatment, skin recovery and hair regeneration over the depressed lesion occurred in our case. Therefore, we consider that a low dose of prednisone may be a preferred therapy for lipodystrophia centrifugalis abdominalis infantilis.
Declaration of patient consent
The authors certify that they have obtained all appropriate patient consent forms. In the form, the legal guardian has given his consent for images and other clinical information to be reported in the journal. The guardian understands that names and initials will not be published and due efforts will be made to conceal patient identity, but anonymity cannot be guaranteed.
Financial support and sponsorship
Nil.
Conflicts of interest
There are no conflicts of interest.
References
1.

Imamura S, Yamada M, Ikeda T. Lipodystrophia centrifugalis abdominalis infantilis. Arch Dermatol 1971;104:291-8.

[Google Scholar]
2.

Wu MC, Hsu CK, Lee JY. Lipodystrophia centrifugalis abdominalis infantilis: Report of four cases. Pediatr Dermatol 2012;29:308-10.

[Google Scholar]
3.

Imamura S. Lipodystrophia centrifugalis abdominalis infantilis: Statistical analysis of 168 cases. Pediatr Dermatol 2012;29:437-41.

[Google Scholar]
4.

Kaibuchi-Noda K, Sugiura K, Akiyama M. Lipodystrophia centrifugalis abdominalis infantilis accompanied by idiopathic encephalopathy. J Eur Acad Dermatol Venereol 2016;30:862-4.

[Google Scholar]
5.

Ma C, Chen M, Chen X, Liao Q. Lipodystrophia centrifugalis abdominalis infantilis: Report of two cases. Int J Dermatol 2008;34:287.

[Google Scholar]
6.

Takeda H, Mitsuhashi Y, Ishizawa T, Kondo S. Lipodystrophia centrifugalis abdominalis infantilis. J Eur Acad Dermatol Venereol 1998;10:155-8.

[Google Scholar]
7.

Giam YC, Rajan VS, Hock OB. Lipodystrophia centrifugalis abdominalis infantilis. Br J Dermatol 1982;106:461-4.

[Google Scholar]
Show Sections