Net letter
doi: 10.4103/0378-6323.110807
PMID: 23619459
Long-term management of HIV/hepatitis C virus associated psoriasis with etanercept
Vito Di Lernia1 , Giuliana Zoboli2 , Elena Ficarelli1
1 Unit of Dermatology, Department of Medicine and Medical Specialities, Arcispedale Santa Maria NuovaIRCCS, 42100 Reggio Emilia, Italy
2 Infectious Diseases, Department of Medicine and Medical Specialities, Arcispedale Santa Maria NuovaIRCCS, 42100 Reggio Emilia, Italy

Correspondence Address:
Vito Di Lernia
Unit of Dermatology, Arcispedale Santa Maria Nuova-IRCCS, Viale Risorgimento 80, 42123 Reggio, Emilia
Italy

How to cite this article:
Di Lernia V, Zoboli G, Ficarelli E. Long-term management of HIV/hepatitis C virus associated psoriasis with etanercept. Indian J Dermatol Venereol Leprol 2013;79:444
Copyright: (C)2013 Indian Journal of Dermatology, Venereology, and Leprology
Sir,
Psoriasis is a chronic inflammatory skin disease that, due to its prevalence, can be observed in HIV patients. In such patients, the disease course can be critical and recalcitrant to therapy. [1] A concurrent chronic hepatitis C virus (HCV) infection is a further challenging clinical situation to manage.
A 51-year-old psoriatic erythroderma patient, co-infected with HIV and HCV came to us for consultation of his skin lesions. After failure of conventional treatments, continuous, uninterrupted etanercept therapy was followed by long-term clinical remission without significant infectious episodes.
The patient had a 30-year history of moderate to severe plaque psoriasis without arthritis. He smoked 20 cigarettes/day and his records noted moderate alcoholism and was positive for hepatitis C genotype 2a/2c. Some years before his psoriasis had been treated with intermittent courses of cyclosporine 3 mg/kg/day for 5 years. The patient was "lost to follow-up" for about 5 years. Then the patient was again admitted to hospital because of an erythrodermic psoriasis (PASI score 30) and intermittent fever with leukocytosis of 3 weeks′ duration. Patient at presentation showed widespread erythema affecting nearly 100% of his body surface. The patient was treated with prednisolone 20 mg/day intramuscularly for a week. After tapering of steroids and administration of acitretin 0.3 mg/kg/day, the patient experienced a relapse of his psoriasis (PASI score 27.9). At this time HIV seropositivity was discovered, stage (Centers for Disease Control and Prevention) CDC B2 (CD4 cell count 200-499 cells/μL). Antiretroviral therapy was started with fosamprenavir, tenofovir disoproxil fumarate/emtricitabine, and ritonavir with clinical follow-up in the infectious diseases department. Narrow band ultraviolet B phototherapy (starting dose 1000 mJ/cm 2 with increment 10% pre treatment) plus acitretin at a dose of 0.3 mg/kg/day was administered. The latter had to be suspended due to elevated liver enzymes (AST 198 U/l, ALT 655 U/l) after 6 weeks. PASI score was 21. Cyclosporine 3 mg/kg/day provided effective control of psoriasis, but an increase in serum creatinine level (1.41 mg/dL, normal values 0.70-1.20 mg/dL) was noted after 8 weeks. Dose reduction was followed by rapid worsening of psoriasis. PASI score was 13.4 [Figure - 1] with persistent elevated creatinine. In view of the lack of response to systemic treatments, a tumor necrosis factor-alfa blocker was considered. The investigations like chest radiograph was normal; the Mantoux test and the Quantiferon TB Gold were negative. The HIV-RNA load was 7,930 copies/mL. Etanercept was given at a dose of 50 mg twice weekly for the 1 st 12 weeks, thereafter 50 mg/weekly. At 12 weeks, skin lesions showed marked improvement (PASI score 6.2). The patient continued to take this dose with good clinical remission of psoriasis [Figure - 2]. As of his most recent follow-up visit, 132 weeks after the initiation of therapy, the patient remained partially free of psoriasis. Sporadic relapses were controlled increasing the frequency of topical treatment with betametasone/calcipotriol without modifying the schedule of etanercept injections. Lymphocyte count remained stable throughout treatments. The HIV-RNA gradually declined and was negative 18 months after the diagnosis of HIV infection. A decrease of HCV-RNA titres was also recorded. No significant infectious episodes occurred.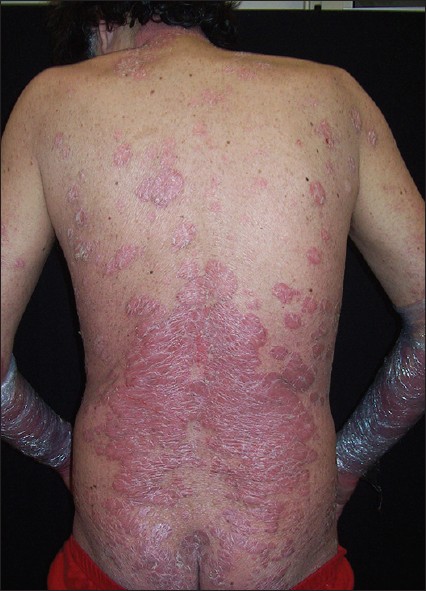 Figure 1: Plaque psoriasis involving extensively the dorsum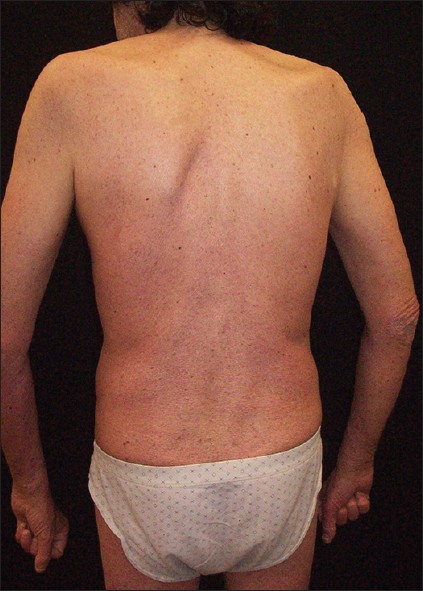 Figure 2: Significant clinical remission (120 week follow-up after treatment with etanercept)
HIV/AIDS is listed among the relative contraindication for anti-TNF-α treatment [2] and HIV infection is usually ruled out prior to initiation TNF-α therapy. However, high levels of TNF-α are associated with all stages of HIV infection. [1] TNF-α stimulates HIV transcription in vitro and is thought to be involved in the pathogenesis of fatigue, fever, and cachexia in HIV. [1] Hence, Ting and Koo suggested that etanercept could be used safely in the management of HIV-associated psoriasis. [3] Etanercept or other TNF-α inhibitors have been administered effectively in patients with plaque or pustular psoriasis or psoriatic arthritis refractory to conventional treatments in the setting of HIV infection. [4]
The long-term safety or efficacy of anti-TNF-α agents in patients with chronic HCV is not established at present, but the presence of HCV is not considered a contraindication to therapy with TNF-α inhibitors. [2] High levels of TNF-α are associated also with HCV infection, hence TNF-α inhibitors may be beneficial in moderate to severe psoriasis associated to HCV infection. In particular, etanercept and possibly, other TNF-α blockers have been suggested as second line drugs for patients with psoriasis and HCV infection. [5]
The safety of TNF-α antagonists in the context of HIV infection is unknown. TNF-α-mediated immune responses are of crucial importance in opportunistic infections. Toxoplasmosis is the most common opportunistic encephalitis in HIV-infected patients. A crucial role of TNF receptor type 1 (p55), but not of TNF receptor type 2 (p75), in murine toxoplasmosis has been shown. [6] Etanercept has no activity on p55 receptor, and therefore may have some theoretic advantage in minimizing the potential risk of toxoplasmosis. Since the conceivable risk of opportunistic infections, a firm alliance between dermatologists and infectious diseases specialists remains mandatory in the managing of psoriatic patients with HIV/HCV co-infection.
References
1.

Morar N, Willis-Owen SA, Maurer T, Bunker CB. HIV-associated psoriasis: Pathogenesis, clinical features, and management. Lancet Infect Dis 2010;10:470-8.

[Google Scholar]
2.

Domm S, Cinatl J, Mrowietz U. The impact of treatment with tumour necrosis factor-alpha antagonists on the course of chronic viral infections: A review of the literature. Br J Dermatol 2008;159:1217-28.

[Google Scholar]
3.

Ting PT, Koo JY. Use of etanercept in human immunodeficiency virus (HIV) and acquired immunodeficiency syndrome (AIDS) patients. Int J Dermatol 2006;45:689-92.

[Google Scholar]
4.

Barco T, Puig L, Alomar A. Treatment of moderate-severe psoriasis with etanercept in patients with chronic human immunodeficiency virus infection. Actas Dermosifiliogr 2012;101:77-81.

[Google Scholar]
5.

Frankel AJ, Van Voorhees AS, Hsu S, Korman NJ, Lebwohl MG, Bebo BF Jr, et al. Treatment of psoriasis in patients with hepatitis C: From the Medical Board of the National Psoriasis Foundation. J Am Acad Dermatol 2009;61:1044-55.

[Google Scholar]
6.

Deckert-Schlüter M, Bluethmann H, Rang A, Hof H, Schlüter D. Crucial role of TNF receptor type 1 (p55), but not of TNF receptor type 2 (p75), in murine toxoplasmosis. J Immunol 1998;160:3427-36.

[Google Scholar]
Show Sections