Translate this page into:

Letter to the Editor - Observation Letter
doi: 10.4103/0378-6323.162321
PMID: 26261135
Matchbox sign: Look before you label!
Premanshu Bhushan, Sarvesh S Thatte, Kashish Kalra
Departments of Dermatology, Venereology and Leprosy, Dr. P. N. Behl Skin Institute and School of Dermatology, New Delhi, India

Correspondence Address:
Sarvesh S Thatte
Departments of Dermatology, Venereology and Leprosy, Dr. P. N. Behl Skin Institute and School of Dermatology, New Delhi - 110 048
India

How to cite this article:
Bhushan P, Thatte SS, Kalra K. Matchbox sign: Look before you label!. Indian J Dermatol Venereol Leprol 2015;81:507-509
Copyright: (C)2015 Indian Journal of Dermatology, Venereology, and Leprology
Sir,
In a typical clinical vignette, patients of delusion of parasitosis or delusional infestation present with "evidence of parasites" collected in a container. This "matchbox sign" or "specimen sign" is useful to make the diagnosis, with a proviso that the material presented to the physician has been carefully examined and found to be normal skin pieces or extraneous material. [1]
A 26-year-old, unmarried female presented with a 20 days history of pruritus over legs, arms, and abdomen and a feeling of insects crawling all over her body. Except for a few excoriation marks, she had no other signs on the skin. She had consulted two dermatologists previously, where she was diagnosed as a case of delusion of parasitosis and put on antidepressants. Further, she took out a matchbox from her purse to show us the "insects." Grossly, they looked like tea particles in the match box. Hand lens examination made us suspicious and microscopic examination revealed reddish brown creatures with eyes, head, thorax, laterally compressed abdomen and bristles on legs. [Figure - 1]. On further detailed study we identified them as cat-fleas, that is Ctenocephalides felis. The patient had a pet cat which ran away about a month back for 5 days and she correlated her symptoms to the cat′s return. She was treated with antihistamines and calamine and advised to take her cat to a veterinary physician and contact a pest control agency for flea control at home. After 1 week, her symptoms had subsided completely.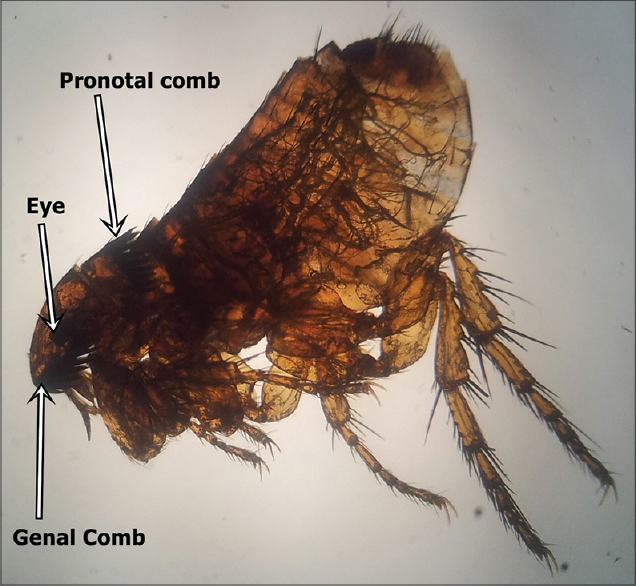 Figure 1: Cat flea (Ctenocephalides felis) with its characteristic pronotal and genal combs (×400)
The "matchbox sign" is typical of delusional infestation. [1] However, as our case underlines, we should not be in a hurry to label the patient delusional, unless the "evidence" presented in the matchbox has been meticulously examined. The history of pets in the house or contact with animals must be considered in all cases of idiopathic pruritus. There is a paucity of articles on fleas in Indian dermatology journals, reflecting the low awareness.
Important fleas and their identifying characteristics are summarized in [Table - 1]. [2] Fleas are small (about 1-8 mm), hard, wingless insects of order Siphonaptera. These avian and mammalian ectoparasites are attracted to the host in response to carbon dioxide, vibrations and temperature. The life cycle evolves through stages of egg, larvae, pupae and the adult flea. [3],[4]
Table 1: Important fleas and their identifying characteristics
On the skin, they cause papular urticaria preferentially on the lower limbs. Hypersensitivity to allergens in flea saliva may also produce nodular or bullous lesions. Fleas are important vectors of plague, endemic typhus, tularemia, brucellosis, melioidosis and erysipeloid, while they may also serve as intermediate hosts for tapeworms, including Hymenolepis and Dipylidium. [2],[3] Catflea is a vector for Rickettsia felis which causes flea-borne spotted fever and endemic typhus. [3] Endemic murine typhus is caused by Rickettsia typhi spread by the oriental rat flea (Xenopsylla cheopis) and also by catflea in certain geographical locations. Epidemic typhus is caused by Rickettsia prowazekii and is typically louse borne. Eastern flying squirrels (Glaucomys volans) and their lice and fleas (Diamanus montanus) maintain the zoonotic cycle of R. prowazekii and these fleas can transmit the infection sporadically to humans. [2],[3],[4]
Another Siphonaptera species important in dermatology practice is Tunga penetrans. [5] It is typically seen in the coastal areas and beaches of Caribbean, equatorial Africa, Central and South America, India and Pakistan. At the site of penetration of the gravid female, a pea - sized, necrotic, itchy and later painful nodule develops that looks like a white pustule with a central black depression. This is classically adjacent to a toenail, though other parts of legs and feet may also be affected.
The management of flea infestations begins with a careful history regarding pets or occupational/accidental exposure to animals. Strong suspicion and close examination of the available material from patient or pet is necessary. The identification of flea species is possible on the basis of information available at the website of Center for Disease Control. [2] However, help of an expert entomologist would be invaluable. Similarly, referral to an experienced veterinary physician would be required. Sanitation of the pets and home is important to reduce the infestation of the pets. Lufenuron (a chitin inhibitor) in oral or injectable forms and fipronil as a topical agent are useful for flea infestation of pets. Other agents used include boric acid and growth regulators such as pyriproxyfen and insecticides. [4] Surgical removal or curettage along with tetanus prophylaxis and topical antibiotics is recommended for tungiasis. [5] For papular urticaria, treatment with camphor and menthol preparations, topical corticosteroids and oral antihistamines will suffice.
Financial support and sponsorship
Nil.
Conflicts of interest
There are no conflicts of interest.
References
1.

Freudenmann RW, Lepping P, Huber M, Dieckmann S, Bauer-Dubau K, Ignatius R, et al. Delusional infestation and the specimen sign: A European multicentre study in 148 consecutive cases. Br J Dermatol 2012;167:247-51.

[Google Scholar]
2.
[Google Scholar]
3.

Bitam I, Dittmar K, Parola P, Whiting MF, Raoult D. Fleas and flea-borne diseases. Int J Infect Dis 2010;14:e667-76.

[Google Scholar]
4.

Siak M, Burrows M. Flea control in cats: New concepts and the current armoury. J Feline Med Surg 2013;15:31-40.

[Google Scholar]
5.

Feldmeier H, Heukelbach J, Ugbomoiko US, Sentongo E, Mbabazi P, von Samson-Himmelstjerna G, et al. Tungiasis - A neglected disease with many challenges for global public health. PLoS Negl Trop Dis 2014;8:e3133.

[Google Scholar]
Show Sections