Translate this page into:

Letter to the Editor
doi: 10.4103/0378-6323.100592
Melanoma arising in giant zosteriform nevus spilus
Roberto Cecchi, Laura Fancelli, Michela Troiano
Department of Dermatology, Hospital of Pistoia, Italy

Correspondence Address:
Roberto Cecchi
UO Dermatologia, Ospedale di Pistoia, V. Matteotti 1, Pistoia
Italy

How to cite this article:
Cecchi R, Fancelli L, Troiano M. Melanoma arising in giant zosteriform nevus spilus. Indian J Dermatol Venereol Leprol 2012;78:643-645
Copyright: (C)2012 Indian Journal of Dermatology, Venereology, and Leprology
Sir,
Nevus spilus (NS), also known as speckled lentiginous nevus, is a variant of melanocytic nevus, characterized by a uniform light-brown patch, within which there is a speckling of darker macules or papules. [1],[2] Its prevalence is estimated in about 1-2%, similar to the incidence of congenital nevi in the general population. [2] While in the past years it was considered as a harmless pigmented lesion, recent reports of melanomas arising in NS have focused the interest on this entity, as a potential precursor of melanoma. [1] We report an additional case of melanoma originating within a giant zosteriform NS.
A 47-year-old man had a segmental, unilateral NS involving his right shoulder, back, chest, and upper aspect of arm. The lesion did not extend across the ventral midline, whereas the dorsal midline was exceeded [Figure - 1]. The patient reported that it had been present since birth and that it had slowly enlarged during childhood and adolescence. His past medical history was unremarkable, and there was no family history of melanoma or dysplastic nevi. He had a skin phototype II and a history of frequent sun exposures during summer. In October 2009, the patient presented at our department for the evaluation of an irregular grayish area with three prominent, darker speckles within his NS on the upper right back, near the midline [[Figure - 1] inset]. These changes had been noticed by his wife. The atypical area measured approximately 1.5 cm in diameter. On dermatoscopic examination it showed an irregular pigment network with dots and globules of different size and shape, and a few pepper-like granules. These findings were suspicious for melanoma. A complete excision of that area was performed, and histopathology revealed the presence of a nonulcerated superficial spreading melanoma with Breslow thickness 0.40 mm, Clark level II, and mitotic index 0/mm 2 adjacent to a junctional nevus [Figure - 2]. Subsequently, a reexcision of the scar with 1 cm safety margin was performed. All staging investigations, including chest X-ray, abdominal, and regional lymph node ultrasounds were within normal limits. No melanoma recurrence was apparent 2 years after surgery, and follow-up is still ongoing.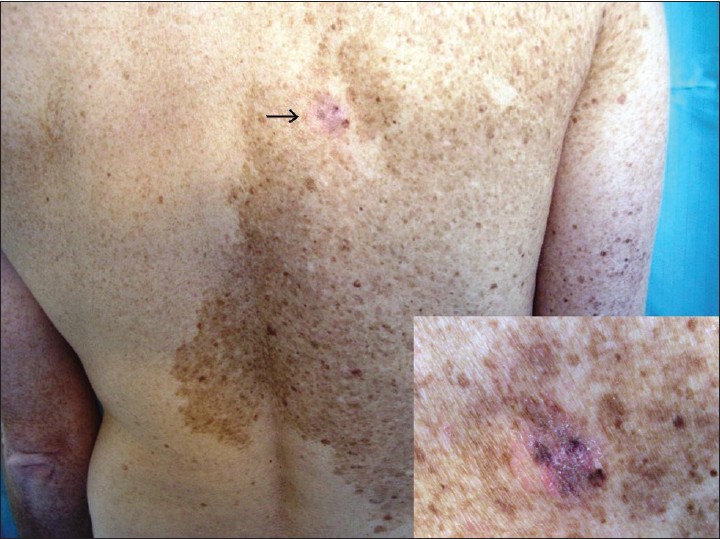 Figure 1: Giant zosteriform nevus spilus involving the right aspect of the back, with an irregular, gray to reddish area with darker formations near to the median line (black square). Inset: higher power view of the area suspicious for melanoma development in nevus spilus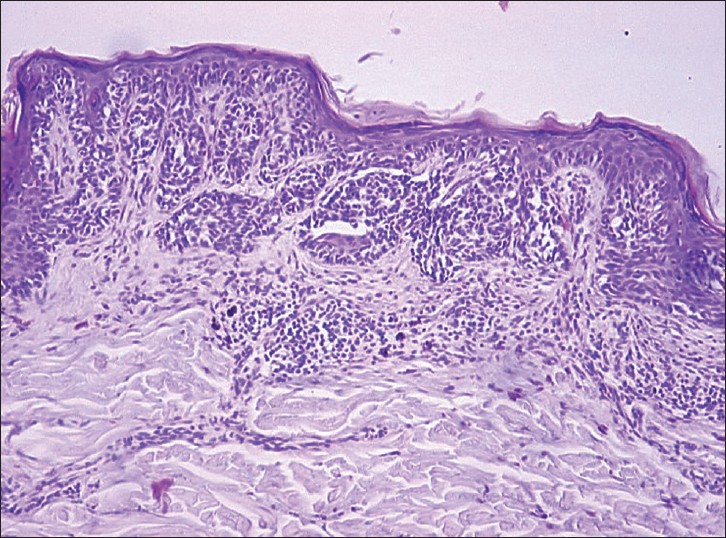 Figure 2: Histopathology showing an invasive superficial spreading melanoma, corresponding to the excised area of nevus spilus (H and E, ×40)
NS may be present at birth or may develop during childhood or even after the age of 20 years. [1] From a clinical point of view it is distinguished into small or medium-size (≤20 cm), giant or segmental/zosteriform NS. [1],[2] On histology, the macular background usually corresponds to a mild melanocytic hyperplasia, while the darker spots show features of junctional or compound nevus. [1] NS may develop more spotted elements over time. In addition, benign lesions such as blue nevi or Spitz nevi may also occur in the context of a NS. [1] However, occasionally, a melanoma may arise in a NS. Since the first report by Perkinson in 1957, less than 35 cases of melanoma arising in NS have been reported in literature up to now. [1],[2] Therefore, the malignant transformation of NS is a very rare event, and the absolute risk for these patients is low. [3] A very recent retrospective study on 2134 patients in follow-up for melanoma revealed that only 27 of them had small or medium-sized NS (1%). [2] None of these NS presented malignant changes. In a review of 25 cases of melanomas associated with NS 60% of melanomas occurred on small or medium-sized NS, 24% on zosteriform NS, and 16% on giant NS. [1] Since zosteriform and giant NS represent only a very small percentage of the total number of NS, these data indicate a high risk for melanoma development in these patients. Again, 52% of melanomas occurred in congenital NS, and giant and/or zosteriform NS are usually congenital. [1] Congenital giant and/or zosteriform NS are likely to have the same attendant risk for the development of melanoma as conventional large congenital nevi.
There is no definite standardized management approach for NS. Patients with small or medium-sized NS should be advised to monitor their nevi and detect any possible changes by self-assessment (i.e., with the aid of the clinical ABCD rule). [4] Prophylactic removal of these lesions in absence of any suspicious modifications is questionable. Instead, regular follow-up is indicated in all patients with giant and/or zosteriform NS, because of the higher potential of melanoma transformation and the difficulty to perform an accurate self-examination. Sequential digital dermatoscopy proved to be a useful tool to help the physician in the early detection of melanomas in segmental NS. [5] Finally, prompt excisions should be performed in all doubtful cases.
References
1.

Corradin MT, Zattra E, Fiorentino R, Alaibac M, Belloni- Fortina A. Nevus spilus and melanoma: Case report and review of the literature. J Cutan Med Surg 2010;14:85-9.

[Google Scholar]
2.

Manganoni AM, Pavoni L, Farisoglio C, Sereni E, Calzavara-Pinton P. Report of 27 cases of naevus spilus in 2134 patients with melanoma: Is naevus spilus a risk marker of cutaneous melanoma? J Eur Acad Dermatol Venereol 2012;26:129-30.

[Google Scholar]
3.

From L. Congenital nevi--let's be practical. Pediatr Dermatol 1992;9:345-6.

[Google Scholar]
4.

Angit C, Khirwadkar N, Azurdia RM. Malignant melanoma arising in a nevus spilus. Dermatol Online J. Available from: http://dermatology.cdlib.org. [Last accessed on 2011 Apr 15].

[Google Scholar]
5.

Haenssle HA, Kaune KM, Buhl T, Thoms KM, Padeken M, Emmert S, et al. Melanoma arising in segmental nevus spilus: Detection by sequential digital dermatoscopy. J Am Acad Dermatol 2009;61:337-41.

[Google Scholar]
Show Sections