Translate this page into:

Letter to the Editor - Observation Letter
doi: 10.4103/0378-6323.168340
PMID: 26515843
Mixed primary infection by herpes simplex virus 1 and 2 in a 5-month-old infant with no evidence of sexual abuse
Vrushali Patwardhan1 , Preena Bhalla2 , Kabir Sardana3 , Sumit Sethi3
1 Department of Laboratory Medicine, Division of Clinical Microbiology and Molecular Medicine, All India Institute of Medical Sciences, New Delhi, India
2 Department of Microbiology, Maulana Azad Medical College, New Delhi, India
3 Department of Dermatology and STD, Maulana Azad Medical College, New Delhi, India

Correspondence Address:
Preena Bhalla
Department of Microbiology, Maulana Azad Medical College, New Delhi - 110 002
India

How to cite this article:
Patwardhan V, Bhalla P, Sardana K, Sethi S. Mixed primary infection by herpes simplex virus 1 and 2 in a 5-month-old infant with no evidence of sexual abuse. Indian J Dermatol Venereol Leprol 2015;81:612-614
Copyright: (C)2015 Indian Journal of Dermatology, Venereology, and Leprology
Sir,
Genital herpes is a rare disease in infants. Moreover, a primary genital herpetic infection is very uncommon, with very few cases reported in the literature.[1],[2] The possibility of sexual transmission is more common in older children, aged ≥5 years.[3]
A 5-month-old female infant presented to the STD clinic of Lok Nayak Hospital, New Delhi with multiple erosions in the diaper area of 5 days duration. Examination revealed multiple, well-defined erosions, 3–5 mm in size with a clean base and surrounding inflammatory areola [Figure - 1]a and [Figure - 1]b. These lesions were located on the external genitalia, thighs, perineal and perianal area. There were no similar lesions elsewhere and no history of similar lesions in the past. Gynecological examination revealed that the hymen was intact, and there was no evidence indicative of sexual abuse.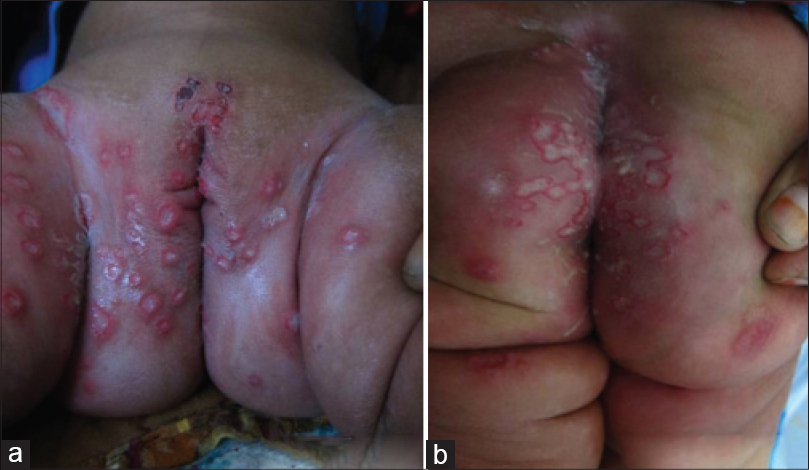 Figure 1: (a and b) Herpetic lesions at presentation
Dark ground microscopy for Treponema pallidum, Gram-stain for Haemophilus ducreyi and culture from the ulcer base failed to demonstrate any organism. Tzanck smear from ulcer base was positive for multinucleated giant cells. Direct fluorescent antibody testing for detection and typing of herpes simplex virus (HSV) directly from the clinical specimen (Pathfinder HSV collection slide, Bio-Rad Laboratories, US) performed along with positive and negative control slides revealed the presence of both HSV-1 and 2 antigens. Glycoprotein G (gG) gene based conventional polymerase chain reaction (PCR) using type specific primers, performed directly from the genital swab specimen was positive for both HSV-1 and 2 DNA, suggesting mixed genital infection. Serology for HIV and Venereal Disease Research Laboratory test were non-reactive in both the infant and the parents. Type specific serology (HerpeSelect 1 and 2 ELISA, Focus Diagnostics, USA) of the infant was negative for both IgG HSV 1 and 2 antibodies at the time of presentation, but tested positive for both after 6 weeks. She was treated with acyclovir oral suspension (400 mg/5 ml), 200 mg 5 times daily. The erosions started to heal after 5 days of treatment [Figure - 2].
Figure 2: Healing after 5 days of treatment
During childhood, primary herpetic infection is more commonly the result of HSV-1 than HSV-2.[4] It is asymptomatic in the majority of cases. The presence of primary genital herpes raises the possibility of sexual abuse; however, in children it has been documented that the transmission of both HSV-1 and HSV-2 can occur inadvertently from someone with an oral or genital infection. In fact, it has been shown that 8% of asymptomatic carriers excrete the virus in their saliva. Indirect transmission of HSV 1 and 2 may occur from clothing, plastic materials, aerosols, towels and toilet seats.[5] In this particular case, quantitative real-time PCR, which is not available at our centre, would have provided useful information as the exact proportion of HSV-1 and 2 genomes could have been detected. Moreover, this could have also provided some clue regarding the transmission of mixed infection.
The most plausible explanation for the mixed HSV infection in this case could be that both HSV-1 and 2 were transmitted by inoculation of virus either simultaneously or sequentially during non-sexual contact such as fondling, changing diapers, usage of common towels etc., from a relative or stranger who had latent or active herpetic infection. We found some reports of sequential/simultaneous detection of both HSV-1 and 2 in adults [6],[7],[8] but we were unable to find any previous reports of a similar case in this age group. Our patient needs to be followed up to monitor the subsequent clinical course.
Our patient had no history or clinical evidence suggestive of sexual abuse although the possibility cannot be completely ruled out. Non-sexual transmission of HSV appears more likely though it is not clear by what route it was transmitted, and whether both HSV types were acquired simulataneously or one after the other. This case highlights the importance of laboratory diagnosis of genital herpes. Although genital herpetic infection in adulthood is generally sexually transmitted; the route of transmission in children is yet unclear and requires further elucidation.
Financial support and sponsorship
Nil.
Conflicts of interest
There are no conflicts of interest.
References
1.

Khaddar RK, Badri T, Ben Hassen A, Bouraoui S, Souissi A, Ben Tekaya N, et al. Genital primary herpetic infection in an infant: Clinical features, diagnosis and management. Dermatol Online J 2005;11:22.

[Google Scholar]
2.

Batalla A, Flórez A, Dávila P, Ojea V, Abalde T, de la Torre C. Genital primary herpes simplex infection in a 5-month-old infant. Dermatol Online J 2011;17:8.

[Google Scholar]
3.

Reading R, Rannan-Eliya Y. Evidence for sexual transmission of genital herpes in children. Arch Dis Child 2007;92:608-13.

[Google Scholar]
4.

Enright AM, Prober CG. Neonatal herpes infection: Diagnosis, treatment and prevention. Semin Neonatol 2002;7:283-91.

[Google Scholar]
5.

Morand P. Natural history of HSV1 and HSV2 infection. Asymptomatic viral excretion. Mother-infant transmission. Indirect transmission. Ann Dermatol Venereol 2002;129:577-85.

[Google Scholar]
6.

Gerson M, Portnoy J, Hamelin C. Consecutive Infections with Herpes Simplex Virus Types 1 and 2 Within a Three-Week Period. J infect dis 1984;149:655

[Google Scholar]
7.

Samarai A, Shareef A, Kinghorn G, Potter C. Sequential genital infections with herpes simplex virus types 1 and 2. Genitourin Med 1989;65:39-41

[Google Scholar]
8.

Sucato G, Wald A, Wakabayashi E, Vieira J, Corey L. Evidence of Latency and Reactivation of Both Herpes Simplex Virus (HSV)-1 and HSV-2 in the Genital Region. J Infect Dis 1998;177:1069–72.

[Google Scholar]
Show Sections