Translate this page into:

LETTER TO THE EDITOR
doi: 10.4103/0378-6323.129413
PMID: 24685867
Mondor's disease
Saikat Bhattacharjee, Preema Sinha, Raju Augustine George, Mihir Gupta
Department of Radiodiagnosis and Imaging, Command Hospital, Northern Command, Udhampur, Jammu and Kashmir, India

Correspondence Address:
Saikat Bhattacharjee
Department of Radiodiagnosis and Imaging, Command Hospital, Northern Command, Udhampur, Jammu and Kashmir - 182 101
India

How to cite this article:
Bhattacharjee S, Sinha P, George RA, Gupta M. Mondor's disease. Indian J Dermatol Venereol Leprol 2014;80:173-175
Copyright: (C)2014 Indian Journal of Dermatology, Venereology, and Leprology
Sir,
Henry Mondor first described superficial vein thrombosis involving the subcutaneous veins of the anterolateral thoracoabdominal wall in 1939. [1] It is a relatively rare entity, especially in males. [2] Most cases are idiopathic, although varied etiologies such as trauma, surgery, exercise, jellyfish sting, procoagulant states, and breast cancer have been proposed. [3] Herein, we report a case of Mondor′s disease in a male patient with a typical clinical presentation and imaging findings.
A 57-year-old male, a patient of vitiligo for the past 6 months, presented with right-sided chest pain and vague swelling over the right anterior chest wall of 10 days duration. There was no history of accidental or iatrogenic trauma to the breast, infection, or any strenuous exercise involving the upper limb. There was no history of any hypercoagulable state in the patient. The patient, however, was applying a topical medicine prescribed by an ayurvedic practitioner to the vitiliginous patches present over neck, chest, and both axillae for a week prior to the onset of his symptoms. Evaluation of the right breast revealed two closely placed, bead-like, tender swellings with overlying erythema and raised local temperature just above the right nipple [Figure - 1]. There was no other lump palpable. In addition, he had variously sized, depigmented macules of vitiligo with overlying erythema in both axillae, neck, and sternum.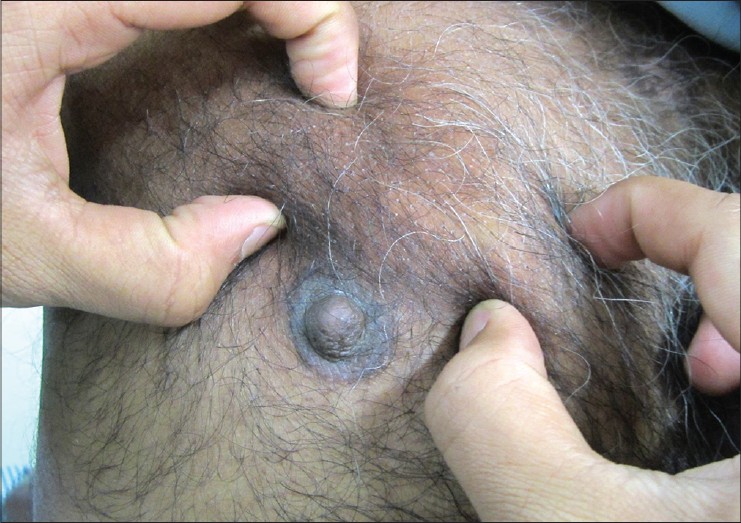 Figure 1: Two closely placed, bead-like, tender swellings palpable above the right nipple
The tender swellings were evaluated further. Radiograph of the chest was normal with no bony involvement. An ultrasound of the chest revealed two closely placed, superficially located, non-compressible tubular structures showing echogenic contents within them [Figure - 2]. No flow was detected within the structure on Doppler interrogation [Figure - 3]. No other focal lesion was noted in either breast. There was no axillary lymphadenopathy. A magnetic resonance imaging (MRI) of the chest wall revealed no abnormality of the anterior chest wall or the breast. Biochemical tests to rule out a hypercoagulable state were normal. A diagnosis of Mondor′s disease of the anterior chest wall affecting the right lateral thoracic vein was made. The topical ayurvedic medication being applied to the chest wall and the axilla was withdrawn and patient started on oral nonsteroidal anti-inflammatory drugs (NSAIDs). There was marked resolution of pain, tenderness, and swelling in the following fifteen days.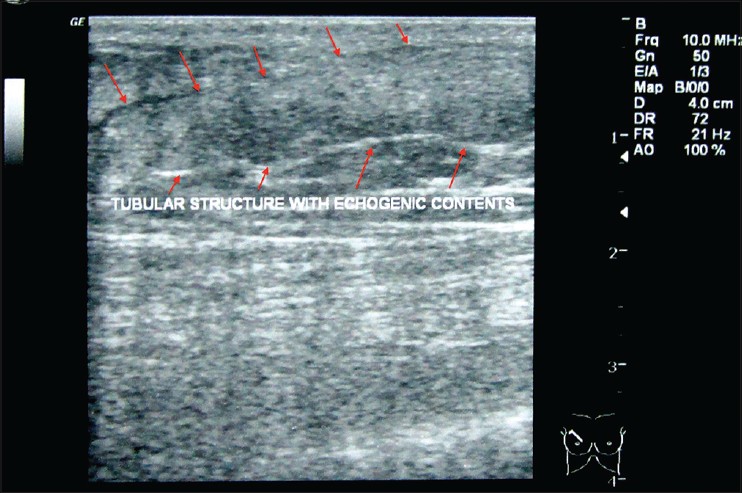 Figure 2: Sonography of the swellings reveals two superficially located noncompressible tubular structures with echogenic contents within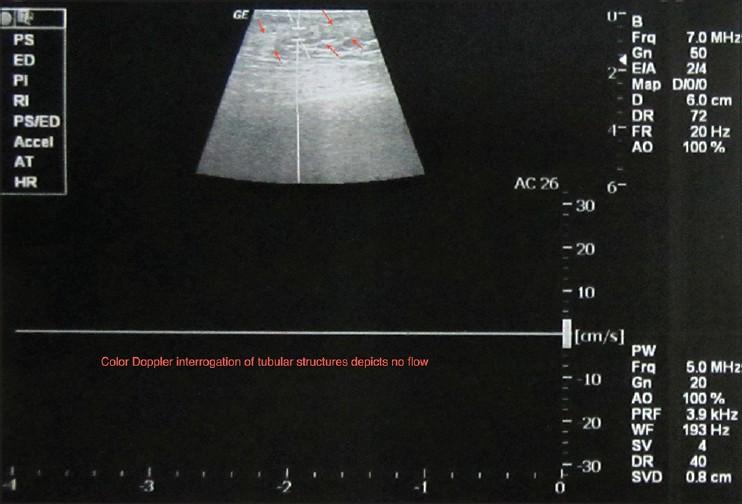 Figure 3: Color Doppler interrogation of the tubular structure reveals no fl ow within
Mondor′s disease is an uncommon disease. It has various synonyms such as "Maladie de Mondor," "antecubital strings," "thrombophlebitis of superficial veins of the breast," "sclerosing periangitis of the lateral thoracic wall," "subcutaneous phlebitis of the breast and chest wall," and "Kung-fu phlebitis," essentially denoting an inflammatory involvement of characteristic vein segments. The most commonly affected vessels are the lateral thoracic, thoraco-epigastric, and superficial epigastric veins. [2] The dorsal vein of penis and antecubital veins have been less commonly involved. [2],[3],[4] This condition is three times more common in women than in men. Various etiologies have been proposed but the cause is idiopathic in the majority of cases. An association with underlying breast cancer has also been proposed. [5] The pathogenesis includes formation of thrombus in a superficial vein with partial to total occlusion and vascular recanalization causing fibromuscular hyperplasia of vessel wall and fibrosis of surrounding subcutaneous cellular tissue. Knowledge of this infrequently presenting clinical entity is essential to avoid over-investigation and/or aggressive treatment. Usually, diagnosis can be made from the history and physical examination. The use of imaging has not been routinely undertaken in previously reported cases. Ultrasonography with color Doppler being noninvasive, universally available, and diagnostically informative is recommended to be the modality of choice to establish the diagnosis by demonstrating venous thrombosis of the superficial veins in these patients and to rule out any abnormal breast masses when the disease is associated with breast cancer. [6],[7] MRI does not reveal any abnormal findings. The disease follows a self-limiting course, generally resolving in 1-4 weeks spontaneously. Treatment with oral NSAIDs is sufficient in addressing the inflammation-associated pain, swelling, and erythema. In our case, the constituents of the ayurvedic medication applied to the chest wall and the axilla may have contributed to the inflammation in this patient.
References
1.

Hogan GF. Mondor's disease. Arch Intern Med 1964;113:881-5.

[Google Scholar]
2.

Salemis NS, Merkouris S, Kimpouri K. Mondor's disease of the breast. A retrospective review. Breast Dis 2011;33:103-7.

[Google Scholar]
3.

Pugh CM, DeWitty RL. Mondor's disease. J Natl Med Assoc 1996;88:359-63.

[Google Scholar]
4.

Nazir SS, Khan M. Thrombosis of the dorsal vein of the penis (Mondor's disease): A case report and review of the literature. Indian J Urol 2010;26:431-3.

[Google Scholar]
5.

Catania S, Zurrida S, Veronesi P, Galimberti V, Bono A, Pluchinotta A. Mondor's disease and breast cancer. Cancer 1992;69:2267-70.

[Google Scholar]
6.

Machan K, Rojo-Carmona LE, Marquez-Moreno AJ, Herrera-Imbroda B, Ruiz-Escalante JF, Herrera-Gutierrez, et al. Ultrasound diagnosis of three cases of Mondor's disease. Arch Esp Urol 2012;65:262-6.

[Google Scholar]
7.

Shetty MK, Watson AB. Mondor's disease of the breast: Sonographic and mammographic findings. AJR Am J Roentgenol 2001;177:893-6.

[Google Scholar]
Show Sections