Letter to the Editor - Observation Letter
doi: 10.4103/ijdvl.IJDVL_383_17
PMID: 29770784
Mongolian spots combined with halo-like disappearance surrounding café au lait spots
Aslı Bilgiç Temel1 , Cumhur Ibrahim Bassorgun2 , Banu Nur3 , Erkan Alpsoy4
1 Department of Dermatology and Venereology, Beysehir State Hospital, Konya, Turkey
2 Department of Pathology, Faculty of Medicine, Akdeniz University, Antalya, Turkey
3 Department of Pediatric Genetics, Faculty of Medicine, Akdeniz University, Antalya, Turkey
4 Department of Dermatology and Venereology, Faculty of Medicine, Akdeniz University, Antalya, Turkey

Correspondence Address:
Aslı Bilgiç Temel
Department of Dermatology and Venereology, Beysehir State Hospital, Konya
Turkey

How to cite this article:
Temel AB, Bassorgun CI, Nur B, Alpsoy E. Mongolian spots combined with halo-like disappearance surrounding café au lait spots. Indian J Dermatol Venereol Leprol 2018;84:474-477
Copyright: (C)2018 Indian Journal of Dermatology, Venereology, and Leprology
Sir,
Phacomatosis pigmentovascularis is a rare group of disorders characterized by the presence of a capillary malformation and a pigmented nevus. It is a poorly understood sporadic disorder explained by somatic mutation triggered by mosaicism or a result of twin spotting by one or more somatic mutation causing dysregulation in multiple embryonic cell lines, including melanocytes and fetal vasculature.[1] Mongolian spots with superimposed café au lait spots and halo-like disappearance surrounding each spot have been reported in only a small number of patients.[2],[3],[4] Here, we describe a new case of this rare phenomenon.
A 5-month-old baby was seen for evaluation of multiple skin lesions on her body at the Faculty of Medicine, Akdeniz University, Antalya, Turkey. She was born at term (birth weight 3 kg, height 50 cm) after a normal pregnancy to unrelated parents. At birth, she had a homogenous grayish-blue patch covering the lumbosacral region and buttocks. It was consistent with Mongolian spot. After 1 month, multiple brownish macules appeared and gradually increased in size and number on the extremities and on the buttocks within the Mongolian spot. Dermatologic examination revealed a halo nevus-like appearance of normal skin color around café au lait macules on the Mongolian spot [Figure - 1]a and [Figure - 1]b. On clinical examination, she was healthy and had reached all the developmental milestones appropriate for her age with no abnormalities on physical and neurological examination. She had no signs of neurofibromatosis such as axillary freckling, peripheral or central nervous systems anomalies, poliosis circumscripta, kyphoscoliosis, bone hypertrophy or pseudoarthrosis. Neurofibromatosis type-1 FISH test was analyzed for Neurofibromatosis-1 and showedno deletion in the 17q11.2 region. Family history was negative for signs or symptoms of neurofibromatosis-1, and clinical examination of the parents was normal.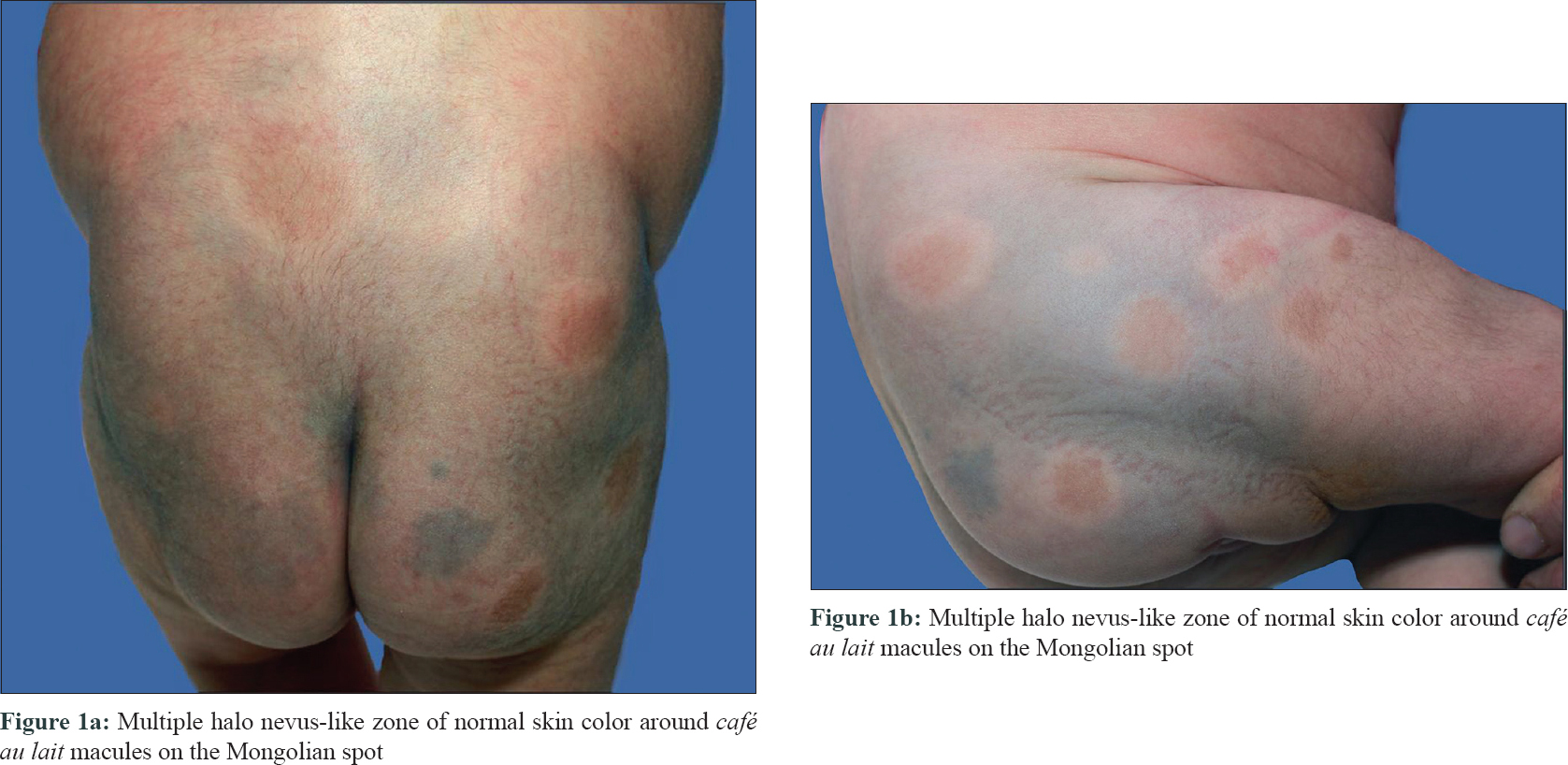 Figure 1:
Three punch biopsy specimens were obtained from three areas: the blue patch, the brown macule and the halo-like zone surrounding this macule [Figure - 2]a,[Figure - 2]b,[Figure - 2]c. In halo-like zone and brown macule (café au lait macule), dermal melanocytes were small, round and their degree of melanization was less than that in the blue patch (Mongolian spot). Further, dendrites of dermal melanocytes were decreased in the halo-like zone and in the dermis of the café au lait macule [Figure - 3]a,[Figure - 3]b,[Figure - 3]c. All three specimens had no evidence of inflammatory reaction.
Figure 2: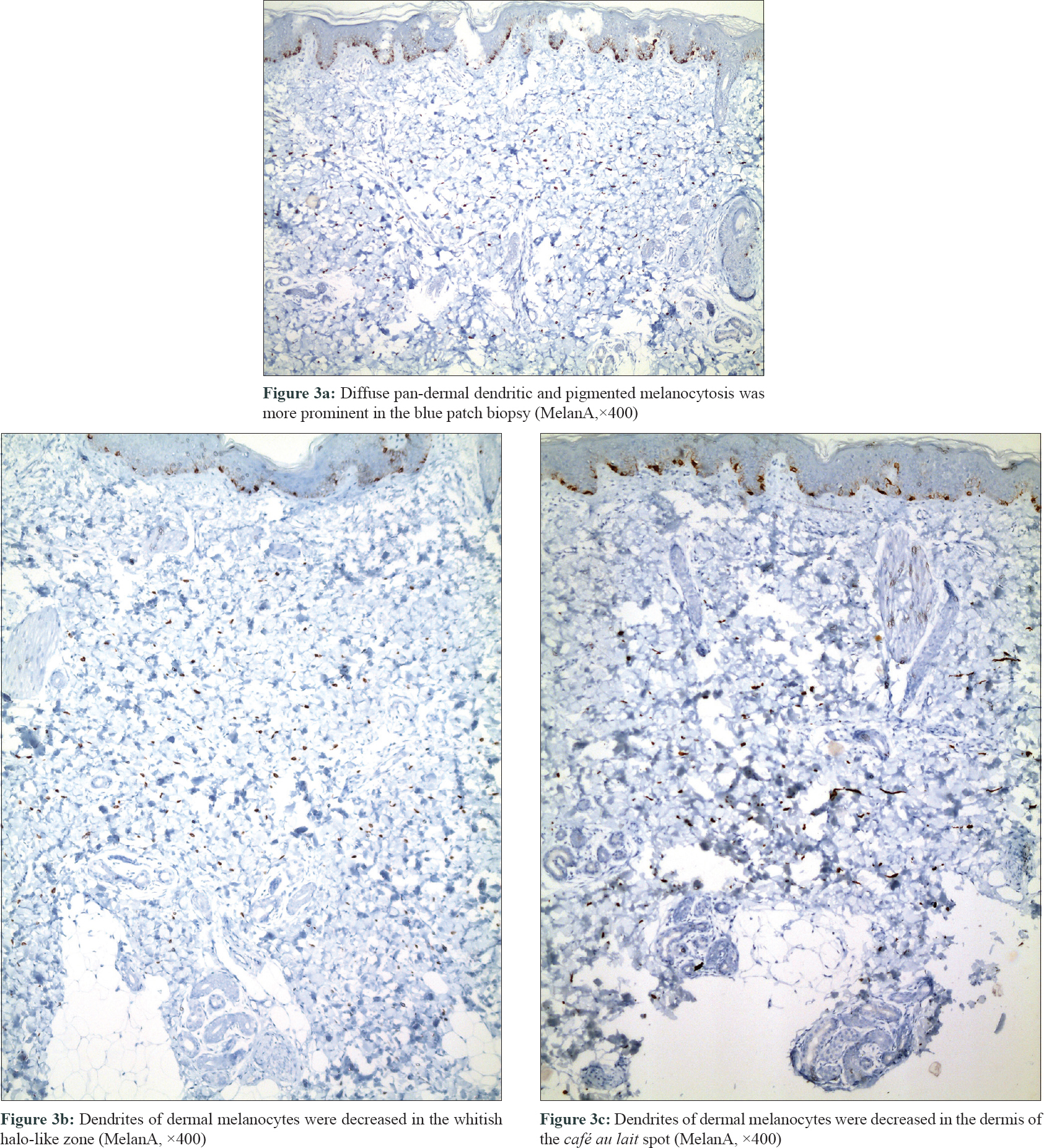 Figure 3:
This phenomenon has been reported rarely in the literature.[2],[3],[4] Although two of the patients had neurofibromatosis and one had phacomatosis cesioflammea, others had no sign for genetic disorders.[2],[3],[4] Our case did not show any other sign for any systemic disorder or genetic defect for neurofibromatosis.
Mongolian spots can be seen in association with nevus flammeus (phacomatosis pigmentovascularis type II) or with cutis marmorata telangiectatica congenita (phacomatosis pigmentovascularis type V).[1] Wolf et al., differently from previously reported phacomatosis cases, described an unusual case with Mongolian spots and segmental café au lait macules.[5] They proposed the name "phacomatosis pigmento-pigmentalis" in analogy to other similarly named entities such as phacomatosis pigmentovascularis and phacomatosis pigmentokeratotica. We also think that Mongolian spots combined with café au lait macules was not a simple coincidence, but the result of twin-spotting phenomenon. The reason for the halo phenomenon is unknown. This halo-like zone has normal skin color and does not show any evidence of inflammatory reaction in biopsy specimens, unlike the depigmentation in halo nevus. The most specific histologic finding of all cases is that dendrites of dermal melanocytes were not clearly seen in the halo-like zone and the dermis of the café au lait macule. Dendrites of dermal melanocytes of Mongolian spots seemed to disappear at the site of café au lait macule and in the halo-like zone.
In conclusion, phacomatosis pigmentovascularis is a group of disorders with different clinical features. Halo-like disappearance of surrounding café au lait spots on Mongolian spot is a very rare feature of this group. There is no specific treatment for this phenomenon at present. After reviewing similar cases in the literature in detail, we suggest the term "phacomatosis pigmento-halo-pigmentalis" to better name this unusual condition. Better understanding of this phenomenon and the process involved can help us arrange a follow-up program to diagnose its accompanying systemic or dermatologic involvement and treat these lesions in the future. Therefore, documentation of more such cases is essential to confirm this suggested entity.
Declaration of patient consent
The authors certify that they have obtained all appropriate patient consent forms. In the form, the legal guardian has given his consent for images and other clinical information to be reported in the journal. The guardian understands that names and initials will not be published and due efforts will be made to conceal patient identity, but anonymity cannot be guaranteed.
Acknowledgement
I would like to thank Oliver Murrell for his expert advice and help in order to arrange the photos of our case report.
Financial support and sponsorship
Nil.
Conflicts of interest
There are no conflicts of interest.
References
1.

Garzon MC, Huang JT, Enjolras O, Frieden IJ. Vascular malformations. Part II: Associated syndromes. J Am AcadDermatol 2007;56:541-64.

[Google Scholar]
2.

Sasagawa S, Shibuya Y, Ito S. Whitish haloes observed on the surrounding areas of café au lait spot combined with Mongolian spot. Jpn J Dermatol 1975;75:189.

[Google Scholar]
3.

Ahn JS, Kim SD, Hwang JH, Youn SW, Kim KH, Park KC, et al. Halo-like disappearance of Mongolian spot combined with café au lait spot. PediatrDermatol 1998;15:70-1.

[Google Scholar]
4.

Neri I, Lambertini M, Tengattini V, Rivalta B, Patrizi A. Halolike phenomenon around a café au lait spot superimposed on a Mongolian spot. PediatrDermatol 2017;34:e152-3.

[Google Scholar]
5.

Wolf R, Wolf D, Davidovici B. Phacomatosis pigmentopigmentalis: Aberrant Mongolian spots and segmental café au lait macules. PediatrDermatol 2009;26:228-9.

[Google Scholar]
Show Sections