Translate this page into:

doi:
10.25259/IJDVL_476_20
Multiple facial papules in a middle-aged man
Department of Dermatology, Peking University First Hospital, Beijing Key Laboratory of Molecular Diagnosis on Dermatoses, National Clinical Research Center for Skin and Immune Diseases

,

Beijing

,

China
Corresponding author: Dr. Zhimiao Lin, Department of Dermatology, Peking University First Hospital, 8 Xishiku St, Beijing 100034, China. zhimiaolin@bjmu.edu.cn
Received: , Accepted: ,
© 2022 Indian Journal of Dermatology, Venereology and Leprology - Published by Scientific Scholar
Licence
This is an open-access article distributed under the terms of the Creative Commons Attribution-Non Commercial-Share Alike 4.0 License, which allows others to remix, transform, and build upon the work non-commercially, as long as the author is credited and the new creations are licensed under the identical terms.
How to cite this article: Mo R, Wang H, Lin Z. Multiple facial papules in a middle-aged man. Indian J Dermatol Venereol Leprol 2022;88:646-7.
A man in his 30s presented with multiple asymptomatic skin-colored papules on the nose since his mid-teenage years [Figure 1a]. Multiple penile hyperpigmented macules [Figure 1b] and acral keratotic papules [Figure 1c] were also noted during his second decade. Ten years ago, the patient had undergone surgery to remove a thyroid tumor which was confirmed to be thyroid adenoma histopathologically. An angiofibroma on his right knee was removed by arthroscopic excision. His family history was unremarkable. Skin biopsy taken from a nasal flesh-colored lesion revealed sebaceous hyperplasia [Figure 1d].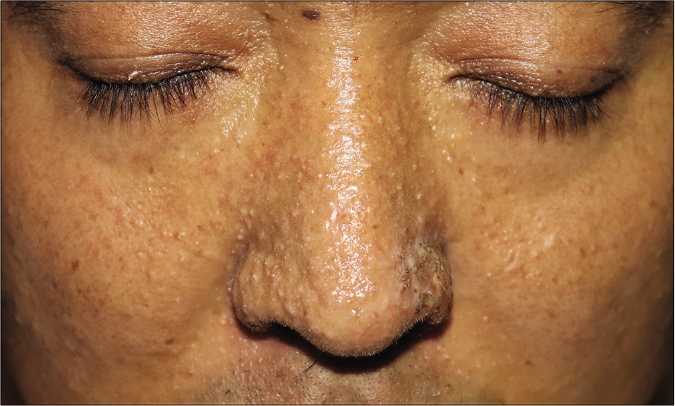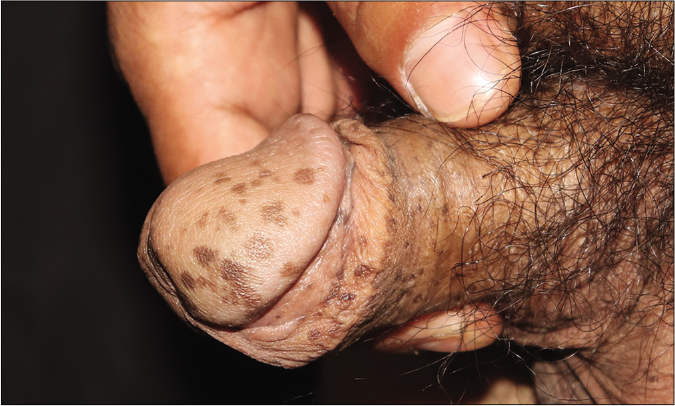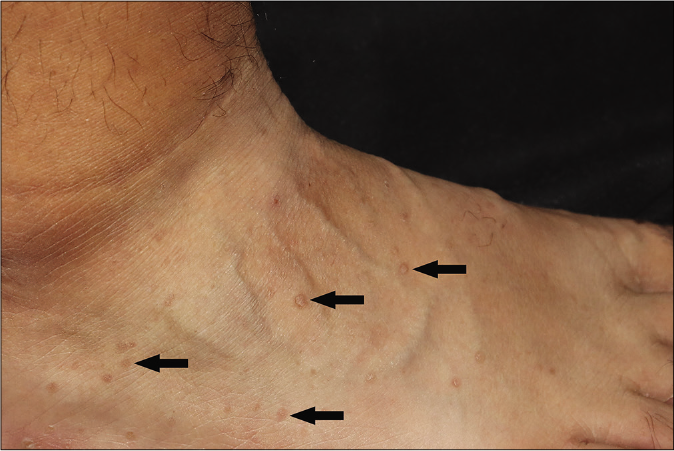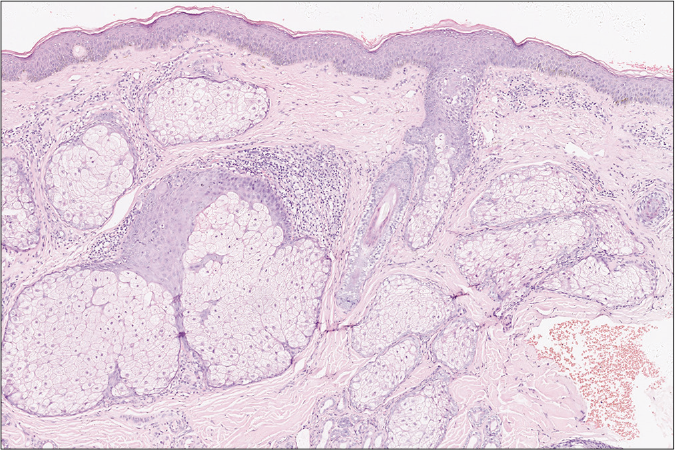 Question
What is your diagnosis?
Answer
The answer will have to be on the next page.
Discussion
Based on clinical and pathological findings, a suspicion of PTEN homolog hamartoma tumor syndrome was raised which was confirmed by genetic detection of a heterozygous germline mutation c.993delC in this gene. This frameshift mutation is predicted to produce a premature termination codon at residue 344, leading to a truncated phosphatase and tensin homolog protein (p.D331Efs*13). This mutation was not detected in his family members, except for his four-year-old daughter, who had no clinical manifestations yet.
PTEN homolog hamartoma tumor syndrome is a group of related autosomal dominant disorders that has been linked to germline mutations in the PTEN gene.1 These disorders include Cowden syndrome, Bannayan-Riley-Ruvalcaba syndrome, Lhermitte-Duclos disease and autism spectrum disorders with macrocephaly.1 Cowden syndrome is manifested by trichilemmomas, oral papillomatosis, punctate acral keratoses and high risks of cancers, especially breast, thyroid and endometrial carcinoma.2 Bannayan-Riley-Ruvalcaba syndrome is characterized by genital freckling, intestinal hamartomatous polyposis and other anomalies.1 Our patient showed a mixed phenotype of Cowden syndrome and Bannayan-Riley-Ruvalcaba syndrome which was also described otherwhere.3 Periodic screening tests according to the national comprehensive cancer network guidelines were recommended, including thyroid ultrasound and renal ultrasound annually, colonoscopy every five years for the patient.1 A regular development assessment was suggested for his preschool daughter.
The hallmark of Cowden syndrome is trichilemmomas which are small warty flesh-colored papules favoring the face.3 Intriguingly, the papules on this patient's face turned out to be sebaceous hyperplasia histologically, rather than trichilemmomas. Very recently, this character was also reported in a 20-year-old Korean man with PTEN hamartoma tumor syndrome featured by multiple milium-like papules on the face.4 Moreover, this phenotype had been observed in keratinocyte-specific PTEN homolog --deficiency mice.5 Taken together, we speculate that sebaceous hyperplasia might be a feature common in PTEN homolog hamartoma tumor syndrome, but they have been overlooked or mistaken as trichilemmomas before due to a similar predilection site and macroscopic feature.
PTEN homolog hamartoma tumor syndrome must be differentiated from other inherited cancer syndromes with features of multiple mucocutaneous papules and lentigines [Table 1]. The management of this disorder requires a multidisciplinary treatment team. Given the high risk of malignancy, cancer surveillance is the major focus of medical management,2 including mammogram annually from the age of 30, thyroid ultrasound every year starting at the time of diagnosis, renal ultrasound every 1–2 years from the age of 40, endometrial biopsy every 1–2 years, colonoscopy every five years from the age of 35 and brain magnetic resonance imaging if symptomatic. Future promising options may involve targeted therapeutics in molecular pathways. It was reported that mTORC1 inhibitors like sirolimus are helpful for individuals with PTEN homolog hamartoma tumor syndrome in alleviating overgrowth manifestations.1 Besides, sirolimus has been applied in phase II open-label clinical trial in adult patients with forthcoming results.2
| Disorder | Similar skin lesions | Predilection site | Other characteristics | Causative gene (s) |
| --- | --- | --- | --- | --- |
| Muir-torre syndrome | Sebaceous neoplasms (adenoma, epithelioma and carcinoma) | Trunk | A phenotypic variant of hereditary nonpolyposis colorectal carcinoma syndrome | MSH2/MSH6/MLH1 |
| Tuberous sclerosis complex | Angiofibromas | Face | Hypomelanotic macules, periungual fibromas and multiple benign hamartomas of brain, eyes, heart | TSC1/TSC2 |
| Peutz-Jeghers syndrome | Lentigines | Perioral region | Lentigines usually fade after puberty | STK11 |
Declaration of patient consent
The authors certify that they have obtained all appropriate patient consent.
Financial support and sponsorship
Peking University Medicine Fund of Fostering Young Scholar's Scientific & Technological Innovation (grant no. BMU2020PY006).
Conflicts of interest
There are no conflicts of interest.
Show Sections