Translate this page into:

Original Article
PMID: 17656858
Occupational dermatoses in Beedi rollers
Maria Kuruvila1 , Sanjay V Mukhi1 , Pramod Kumar1 , Gatha S Rao1 , KS Sridhar1 , MS Kotian2
1 Department of Dermatology, Kasturba Medical College, Mangalore-575 001, India
2 Department of PSM, Kasturba Medical College, Mangalore-575 001, India

Correspondence Address:
Maria Kuruvila
Department of Skin & STD, KMC Attavar Hospital, Mangalore
India

How to cite this article:
Kuruvila M, Mukhi SV, Kumar P, Rao GS, Sridhar K S, Kotian M S. Occupational dermatoses in Beedi rollers. Indian J Dermatol Venereol Leprol 2002;68:10-12
Copyright: (C)2002 Indian Journal of Dermatology, Venereology, and Leprology
Abstract
A total of 91 beedi workers were analyzed for the pattern of cutaneous lesions. Period of rolling beedi ranged from 2 months to 40 years. Dermatological findings included; callosities seen in 51 (56.04%) of workers on fingers and feet, nail changes in 22 (24.18%) like pigmentation, paronychia, dystrophy which were more prominent on the right index finger, fungal infections in 15 and eczemas in 29. Callosities and localised nail changes can be considered to be occupational marks in beedi rollers correlated to use of scissors for cutting leaves and use of gum and artificial metallic nails for rolling beedis.
Keywords: Occupational Dermatoses, Beedi Rollers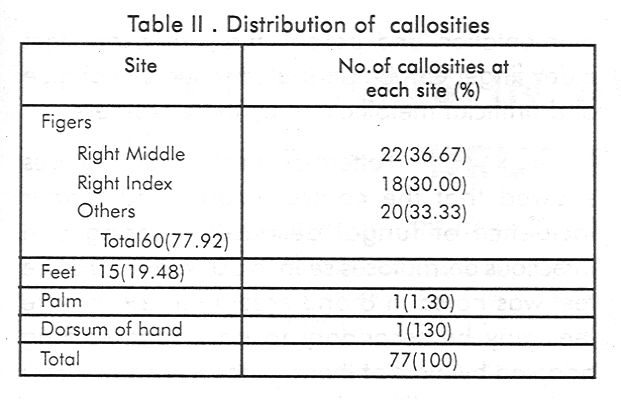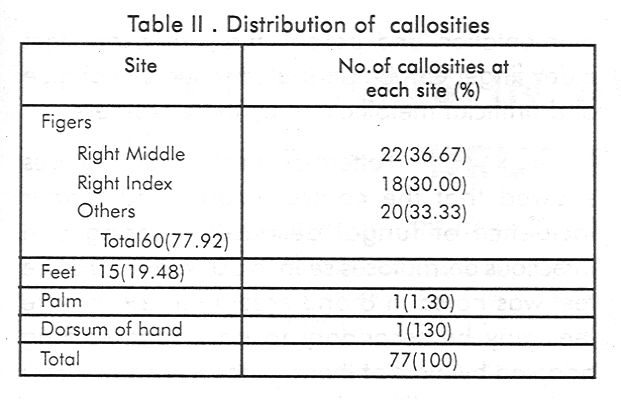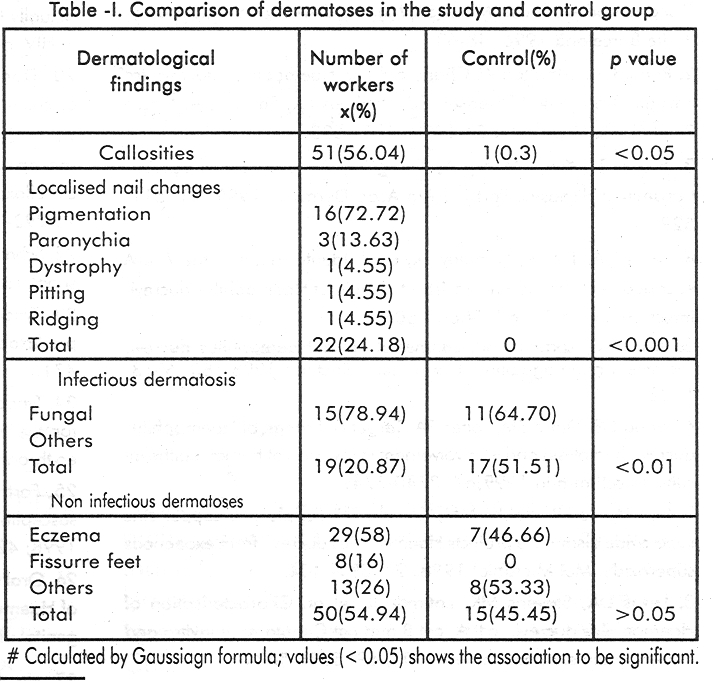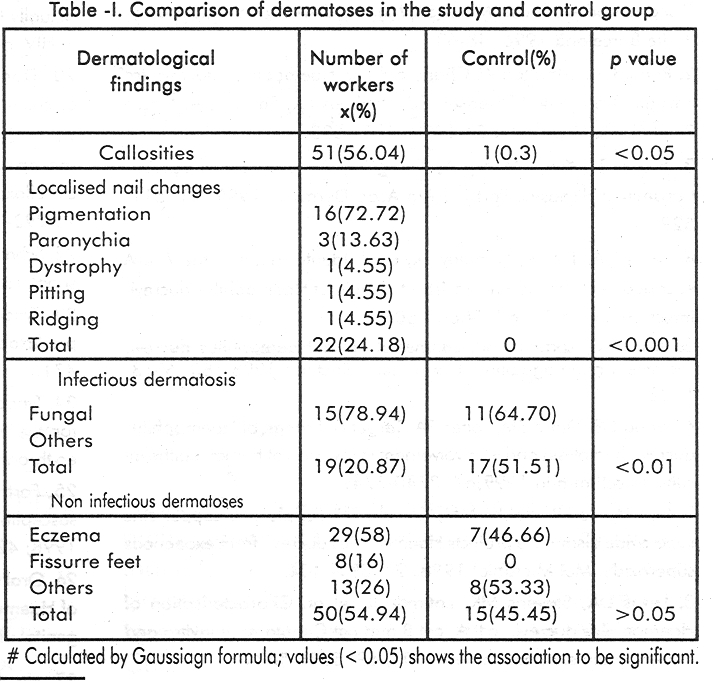 Introduction
Traditional art of beedi rolling is a major source of living for many in Bantwal taluk of Dakshina Kannada. Dermatoses among beedi workers have not been reported to date. The present study was undertaken with a view of detecting dermatoses among beedi rollers practising the traditional method of beedi rolling.
Materials and Methods
Ninety- one beedi workers attending Bantwal camp formed the study group and 33 age and sex matched individuals attending Skin OPD, District Wenlock Hospital formed the control group. A detailed history was taken in each case with special emphasis on the period of rolling beedis, number of beedis rolled per day and use of various traditional methods for beedi rolling. The study and the control groups were thoroughly examined.
Results
Among 91 beedi workers in the study group, 82 were females and 9 were males and in 33 individuals in the control group, 31 were females and 2 were males.
The age group ranged between 15-70 years. Most common; 31.86% were in the 21-30 years age group. The time period of rolling beedis ranged from 2 months to 40 years while the number of beedis rolled per day varied between 100-1000.
The comparison of dermatoses in the study and control group is shown in [Table - 1].
Callosities were seen in 51 (56.04%) over the sides and dorsa of fingers especially right middle and index fingers and feet [Table - 2]. [Figure - 1]
Occurrence of callosities was related to the duration of beedi rolling and number of beedis rolled per day [Figure - 5].
Localised nail changes were seen in 22/91 (24.18%). Isolated nail and nail bed pigmentation was the most common (seen in 16); accounting 72.72% of the nail changes seen. This was seen commonly over right index finger. Other nail changes included paronychia 3 (13.63%), dystrophy 1(4.55%), pitting 1(4.55%) and ridging 1(4.55%). [Figure - 3]
Infectious dermatoses were seen 19 (20.87%) cases; fungal infection was seen in 15 (78.94%) and others in 4 (21.05%). [Figure - 2]
Noninfectious dermatoses were seen n 50 (54. 94%). Ezema was noted in 29 (58%), fissure feet in 8 (16%) and others in 13 (26%). [Figure - 4]
Discussion
Skin disorders comprise more than 45% of all occupationally related diseases.[1] Occupational marks represent the effects of a particular occupation on a worker′s skin. Calluses or corns develop in locations subjected to repeated friction pressure, or other trauma.
Discolouration and destruction of nail can be occupational hazard especially where the nail is repeatedly rubbed.[2]
In the traditional method of beedi rolling, the leaves are cut to size using scissors. Artificial metallic nail is struck on to the right index nail using glue. Others use the nail or bamboo stick without glue to roll and then fill the beedi. After filling, the upper end is tucked in and lower end is tied with thread. This is then packed into bundles.
In this study the callosities of fingers can be correlated to friction caused by scissors and of the feet due to the posture adopted while rolling beedis. Nail changes like pigmentation and paronychia, noted on right index finger can be attributed to the use of glue and artificial metallic nail by these workers.
Pattern of infectious dermatoses showed that the control group had higher incidence of fungal deseases. Among non infectious dermatoses seen in 50 workers, fissure feet was noted in 8 and eczema in 29. Fissure feet may be secondary to bare foot walking adopted by most of them. Since the art of beedi rolling is a traditional occupation in some parts of India, the nail changes and the callosities noted may be peculiar to this occupation and can be considered as occupational mark in beedi rollers.
References
1.

Adram RM. Dermatitis due to irritation and allergic sensitization. In: Occupational Skin Disease, edited by Adams PM, Grune and Stratton, New York, 1983, 1.

[Google Scholar]
2.

42. Baran RL. Occupational nail disorders in: Occupational Skin Disease, edited by Adams RM., Grune and Stratton, New York, 1983; 101.

[Google Scholar]
Show Sections