Translate this page into:

doi:
10.25259/IJDVL_517_2022
Painless perianal growth in an elderly male
Department of Dermatology, BJ Medical College

,

Ahmedabad, Gujarat

,

India
Corresponding author: Dr. Harshita R. Vyas, Department of Dermatology, BJ Medical College, Ahmedabad, Gujarat, India. dr.harshitavyas@gmail.com
Received: , Accepted: ,
© 2023 Indian Journal of Dermatology, Venereology and Leprology - Published by Scientific Scholar
Licence
This is an open-access article distributed under the terms of the Creative Commons Attribution-Non Commercial-Share Alike 4.0 License, which allows others to remix, transform, and build upon the work non-commercially, as long as the author is credited and the new creations are licensed under the identical terms.
How to cite this article: Mistry D, Shah SR, Vyas HR, Shah BJ. Painless perianal growth in an elderly male. Indian J Dermatol Venereol Leprol doi: 10.25259/IJDVL_517_2022.
Dear Editor,
A 61-year-old male presented with insidious onset of a lobulated perianal mass for the past 5 months. It was progressively increasing in size without any associated bleeding, pain, discharge or alteration in bowel habits. The patient complained of malaise and occasional palpitations. The case was previously clinically diagnosed as a Buschke-Lowenstein tumour by another physician and had undergone one cycle of cryosurgery. Clinical differentials considered were Buschke Lowenstein tumor, perianal squamous cell carcinoma and perianal amyloidosis.
The vital examination was normal except for an elevated blood pressure of 150/90 mm of Hg. There was no lymphadenopathy. Cutaneous examination revealed a single, 13 × 8 cm skin-coloured, firm, non-tender fleshy lobulated mass with cobblestoning of surface, spanning across the perineal raphe and eczematisation of surrounding skin [Figure 1]. There was no involvement of anal mucosa on per-rectal examination and proctoscopy.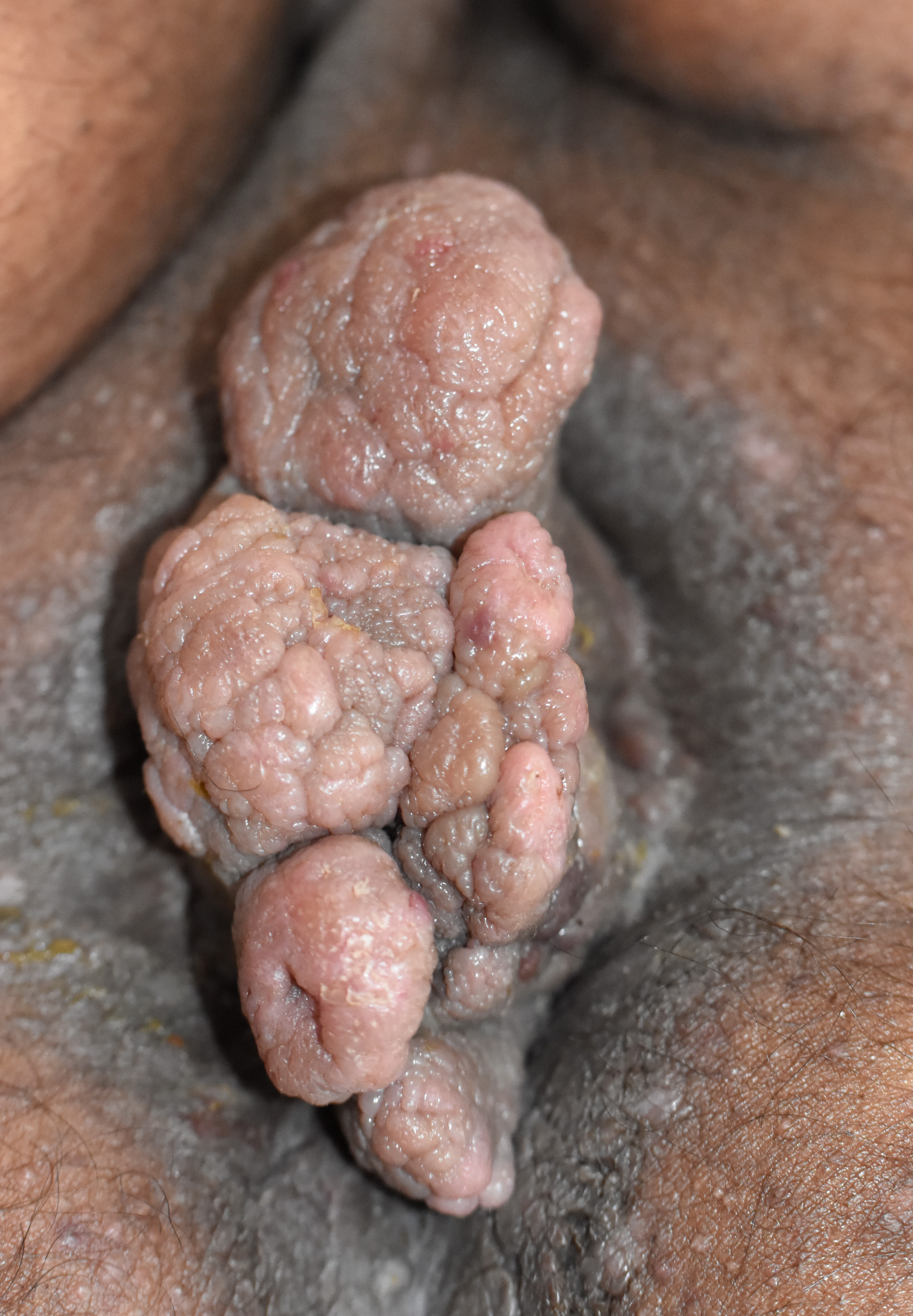 Routine investigation revealed haemoglobin of 9.9 gm/dL with normocytic, normochromic RBCs and occasional anisocytosis. Erythrocyte sedimentation rate was 5 mm/hour, and 24-hour urinary protein levels were 2 gm/day. Serum creatinine was 5 mg/dL with hyperphosphatemia, hypocalcaemia, and metabolic acidosis. Serum protein, albumin and globulin levels were 5.5, 3.26 and 2.24 gm/dL, respectively, with an albumin/globulin ratio of 1.45. Electrocardiogram showed sinus tachycardia, nonspecific ST depression, and intraventricular conduction block. Leukocyte and platelet counts, coagulation profile, serologies for human immunodeficiency virus, syphilis, and hepatitis B, C and X-rays were normal.
Biopsy from the lesion stained with haematoxylin-eosin showed marked diffuse deposition of fibrillary, pale pink material in the dermis and subcutis. [Figure 2a, 2b] Bright green fluorescence was detected on staining with thioflavin T, leading to the diagnosis of amyloidosis [Figure 2c, 2d]. Immunohistochemistry showed positivity for amyloid light-chain protein, λ type of light chains. This prompted us to do a serum and urine protein electrophoresis, which showed hypo-proteinemia and hypogammaglobulinemia with oligoclonal bands. Immunotyping revealed the absence of an M band/monoclonal gammopathy. Urinary Bence Jones proteins were absent. The patient was advised to undergo a bone marrow examination and further management in liaison with a haematologist, to which he did not agree and resorted to alternative Ayurvedic medicinal care. A total of 6 months later, the patient returned with florid purpuric papules, plaques and waxy infiltrated nodules all over the body, macroglossia and splinter haemorrhages in nails with breathlessness at rest, and pedal oedema as anticipated in the progressive course of systemic amyloidosis. Bortezomib induction therapy with autologous stem-cell transplant was planned for the patient. However, he shortly succumbed to cardiac complications, which had progressed due to a delay in treatment initiation.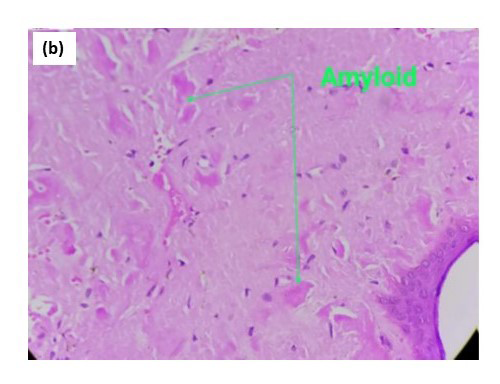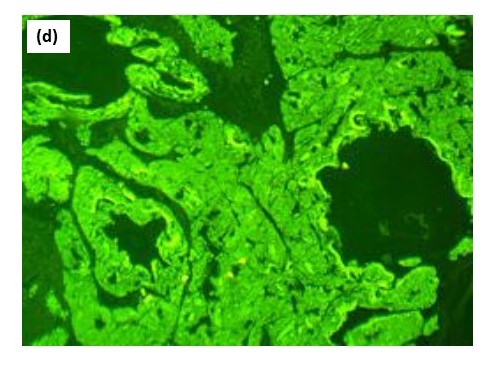 Primary systemic amyloidosis can present with mucocutaneous features in 30–40% of cases which, when identified early, can prompt rapid institution of therapy. 1 Other early findings like weight loss and fatigue are nonspecific. Classical cutaneous features like periorbital purpura, waxy infiltrated nodules and macroglossia result from infiltration of amyloid in vessel walls, dermis and subcutis.
Atypical presentations resembling hand bruises, cutis verticis gyrata, localised nodulo-ulcerative growth on the tongue mimicking squamous cell carcinoma, and acquired digital cutis laxa-like picture and chronic paronychia are described in the literature. 1 – 5 We report a novel presentation as an isolated perianal mass where clinical-pathological correlation led us to evaluate for systemic amyloidosis. In our case, evidence of frank plasma cell clonality was not found at presentation, which is often the case before amyloid-related organ dysfunction ensues. 6
The role of a dermatologist in the multidisciplinary care of primary systemic amyloidosis is pivotal. By the recognition of early and unconventional cutaneous features, there is an opportunity to make a timely diagnosis and initiate appropriate referrals before the onset of organ failure, thereby potentially prolonging the survival of such patients.
Declaration of patient consent
The authors certify that they have obtained all appropriate patient consent.
Financial support and sponsorship
Nil
Conflict of interest
There are no conflicts of interest
Show Sections