Translate this page into:

Letter to the Editor
doi: 10.4103/0378-6323.100586
Palmoplantar fibromatosis with nail dystrophy
Sushruta Kathuria, Neena Khanna
Department of Dermatology and Venereology, All India Institute of Medical Sciences, New Delhi, India

Correspondence Address:
Sushruta Kathuria
Department of Dermatology and Venereology, All India Institute of Medical Sciences, New Delhi
India

How to cite this article:
Kathuria S, Khanna N. Palmoplantar fibromatosis with nail dystrophy. Indian J Dermatol Venereol Leprol 2012;78:646-648
Copyright: (C)2012 Indian Journal of Dermatology, Venereology, and Leprology
Sir,
An 18-year-old girl presented with multiple fibrotic nodules over palms and soles for 12 years. The lesions occurred simultaneously on both heels, and subsequently have been appearing over medial aspect of soles, periungual area, and palms. On examination, she had multiple nontender, skin-colored to hyperpigmented, indurated well-defined, linear to irregular-shaped plaques over flexor aspect of bilateral wrists, left palm, heel, and margins of both soles [Figure - 1]. The plaques had ridge-like projection with puckering of surrounding skin [Figure - 2]. The periungual area of all toenails, right thumbnail and left thumb, and index finger nails had similar indurated bulbous plaques extending into the nail plate and causing total loss of nail plate and bed [Figure - 3]. She never had jaundice, diabetes, alcohol, or smoking addiction. Contractures of joints or deformities, and keloids were absent. There is no family history of similar condition. Her prime concern was difficulty in carrying out her routine activities such as milking the low, kneading dough, minimal itching, and pain in heels while walking.
Figure 1: Fibrotic plaques with puckering on palms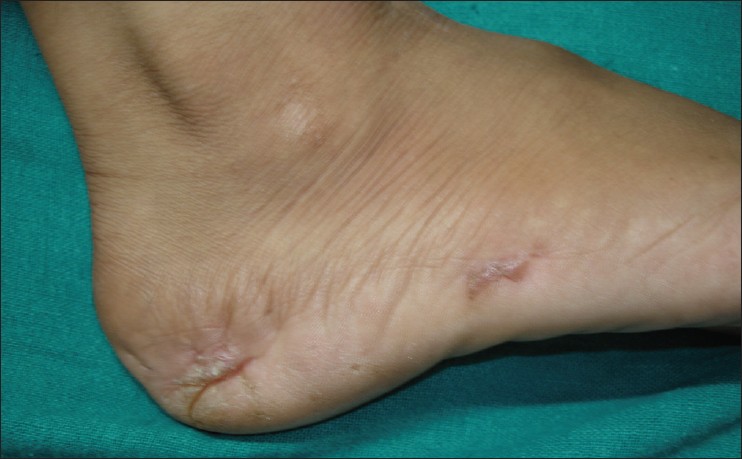 Figure 2: Ridge-like formation on fibrotic plaque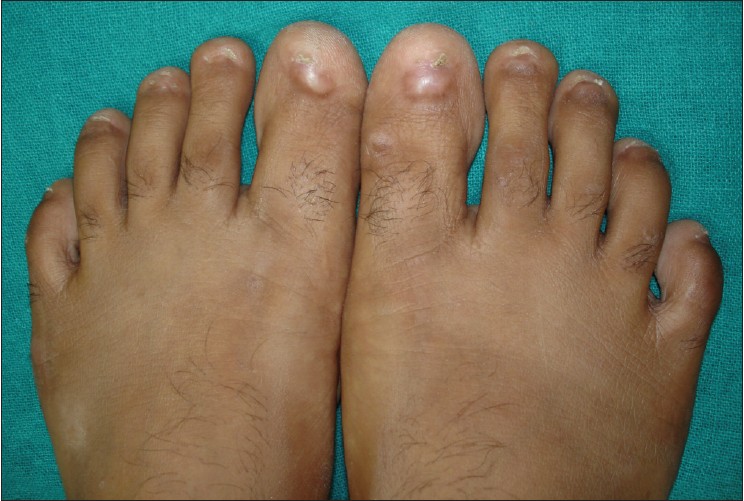 Figure 3: Nail plate destruction by fibrotic plaques
Histopathology from the nail bed shows fibrocollagenous tissue with nerve bundles and vessels. Biopsy from a plaque on the wrist showed fibroblastic proliferation with collagenization in deep dermis compatible with fibromatosis. Ultrasonography and X-ray of both hands and feet did not show soft tissue growth or calcification. The patient was diagnosed as having palmoplantar fibromatosis based on clinical features and characteristic histopathology. Intralesional injection of triamcinolone was given at a dose of 10 mg/ml, increased to 20 mg/ml, and then 40 mg/ml after every 2 weeks. Five doses have been given over 12 weeks with no improvement.
Fibromatosis is a group of disorder characterized by fibroblastic proliferation and is classified into superficial and deep types. Superficial fibromatosis affects the fascia while deep fibromatosis affects aponeurosis and muscle. Superficial fibromatosis affects the palms (Dupuytren′s contracture), soles (Ledderhose′s disease), penis (Peyronie′s disease), and dorsum of hand at metacarpal heads (knuckle pads). Onset of superficial fibromatosis occurs at 30-50 years of age; [1] however, it is common in children also. [2] Depending on rapidity of progression, fibromatosis can be of aggressive type or benign type. The aggressive type is locally invasive, but does not metastasize. Our patient had bilateral symmetrical palmoplantar involvement, which was slowly progressive from the onset.
Many causative factors have been reported such as diabetes mellitus, epilepsy, alcoholic cirrhosis, smoking, genetic, familial, but no such cause was ascertainable in our case.
Clinically, it can present as solitary or multiple lesions affecting one or many sites; prevalence of palmoplantar involvement varying from 0 to 28% cases. [2],[3],[4] Lesions can be fibrotic nodules, plaques, or subcutaneous nodules. Contractures are a result of fibrosis of the fascia or aponeurosis and are commoner in palmar as compared to plantar fibromatosis, while pain on pressure, especially heel pain, is common in plantar fibromatosis. In our patient, pain and contractures were absent; however, the fibrotic nodules and nail destruction, an unusual feature, disabled her in carrying out day-to-day activities. Such a kind of nail dystrophy has not been highlighted previously.
Diagnosis is confirmed by histopathology which shows fibroblastic proliferation with variable vascularity and lack of inflammatory infiltrate, as seen in this patient. Whether the proliferation is spontaneous or reactive is not clear. Among the imaging techniques, ultrasonography (USG) and magnetic resonance imaging (MRI) are both useful for diagnosis. Delineation of the soft-tissue and local invasion is better seen with MRI than USG, but USG is preferred because of widespread availability and low cost. However, it did not reveal any significant soft-tissue thickening in this case.
Wide excision of fascia is the treatment of choice for solitary painful lesions or lesions causing flexion contractures. Recurrences are common in aggressive fibromatosis, but not so in superficial benign fibromatosis. In a case series of 14 patients with plantar fibromatosis, it was noted that symptoms improve with time with conservative management and intralesional corticosteroids may not always cause subsidence of symptoms. [4] Among the nonsurgical treatments, radiation therapy, vitamin E, local injection of calcium channel blockers, interferon, corticosteroids [5] or collagenase, and colchicine [6] have been successful only in isolated case reports. We used intralesional injection of triamcinolone in escalating dose of 10, 20, and 40 mg/ml every 2 weeks with no response. Corticosteroids reduce pain, maybe by suppression of fibroblastic activity; however, their efficacy in reducing the size of the lesion is not well documented. Prolonged treatment might help, but there are no studies to suggest it.
This case report highlights the nail destruction in superficial palmoplantar fibromatosis.
References
1.

Wang JS, Liu HC. The fibromatoses. A clinicopathological study of 66 cases. Zhonghua Yi Xue Za Zhi (Taipei) 1989;44:31-7.

[Google Scholar]
2.

Fetsch JF, Laskin WB, Miettinen M. Palmar-plantar fibromatosis in children and preadolescents: a clinicopathologic study of 56 cases with newly recognized demographics and extended follow-up information. Am J Surg Pathol 2005;29:1095-105.

[Google Scholar]
3.

Griffith JF, Wong TY, Wong SM, Wong MW, Metreweli C. Sonography of plantar fibromatosis. AJR Am J Roentgenol 2002;179:1167-72.

[Google Scholar]
4.

Sammarco GJ, Mangone PG. Classification and treatment of plantar fibromatosis. Foot Ankle Int 2000;21:563-9.

[Google Scholar]
5.

Pentland AP, Anderson TF. Plantar fibromatosis responds to intralesional steroids. J Am Acad Dermatol 1985;12:212-4.

[Google Scholar]
6.

Pitts FN. Colchicine therapy for palmar fibromatosis. N Eng J Med 1995;333:393.

[Google Scholar]
Show Sections