Translate this page into:

Letter to the Editor - Study Letter
doi: 10.4103/0378-6323.168938
PMID: 26585851
Patch testing in children: An experience from Kashmir
Yasmeen Jabeen Bhat, Iffat Hassan, Saniya Akhter, Farhan Rasool, Syed Mubashir
Department of Dermatology, Sexually Transmitted Diseases and Leprosy, Government Medical College, University of Kashmir, Srinagar, Jammu and Kashmir, India

Correspondence Address:
Yasmeen Jabeen Bhat
Department of Dermatology, Sexually Transmitted Diseases and Leprosy, Government Medical College, University of Kashmir, Srinagar, Jammu and Kashmir
India

How to cite this article:
Bhat YJ, Hassan I, Akhter S, Rasool F, Mubashir S. Patch testing in children: An experience from Kashmir. Indian J Dermatol Venereol Leprol 2016;82:186-188
Copyright: (C)2016 Indian Journal of Dermatology, Venereology, and Leprology
Sir,
Allergic contact dermatitis in children is a significant problem worldwide and should be an important diagnostic consideration in children with chronic refractory dermatitis. Allergic contact dermatitis used to be considered a rare problem in children but the prevalence is currently estimated to be between 14.5% and 70%. [1] Patch testing in children differs significantly from that in adults, although it is accepted that the dilution of allergens used should be same in both groups. [2]
In our study, all children in the age group of 1-18 years suffering from any persistent, pruritic, eczematous dermatitis including resistant classical atopic dermatitis and atypical atopic dermatitis were included. The study was conducted for a period of 1 year, from August 2013 to July 2014 in the contact dermatitis clinic of the Department of Dermatology, SMHS Hospital, Government Medical College, Srinagar, after obtaining approval of the institute ethics committee. A detailed history was taken followed by a thorough cutaneous examination. Patch test was performed after excluding any contraindications to the procedure.
A twenty-allergen Indian standard battery approved by the Contact and Occupational Dermatoses Forum of India (CODFI) and marketed by Systopics India Pvt. Ltd., was used. Readings were carried out as per the International Contact Dermatitis Research Group guidelines on day 2, 30 minutes after removal of the patches with a second reading on day 4 and again on day 7, if required. [3]
A total of 60 patients in the age group of 1-18 years were studied [Table - 1] with a mean age of presentation of 9.52 ± 2.13 (mean ± standard deviation) years. The male: female ratio was 1:1.8 and 68.3% of the patients were from urban areas. The most common presentation was pruritic eczematous dermatitis. The most common symptoms were itching and exudation. The sites commonly involved were hands, feet, face, eyelids, neck, legs and arms [Table - 2].

Table 1: Age-distribution of patients patch tested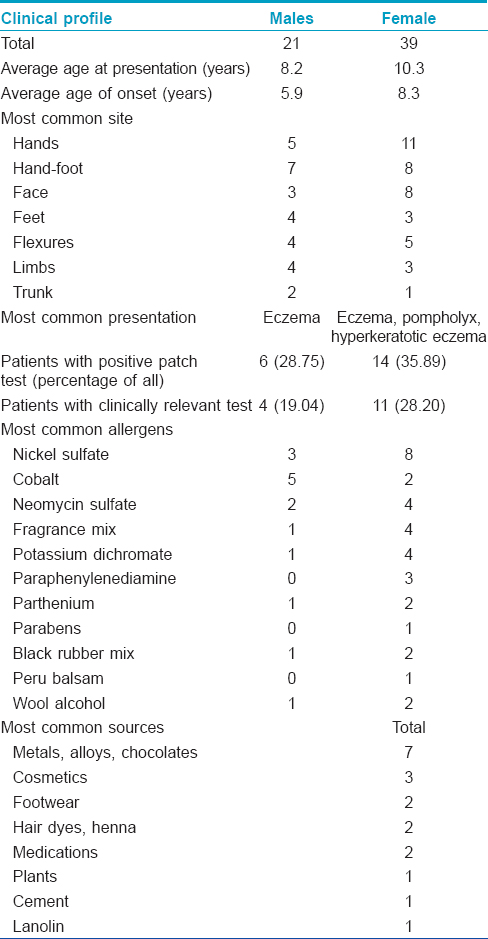 Table 2: Gender-based profile of patients
A positive patch test was seen in 20 (33%) patients, 14 (70%) girls and 6 (30%) boys. Among these, 15 patients had positive reactions which were determined to be of "definite" or "probable" current clinical relevance. The total number of positive reactions was 44 (average of 2.2 reactions per patient). Eight patients showed a positive reaction to a single allergen and 12 to multiple allergens. Positive patch test reactions increased with age; 26.7% in 1-6 years, 26.9% in 7-12 years and 47.4% in 13-18 years age group [Table - 1].
Positive patch test reactions were common with nickel sulfate, cobalt chloride, neomycin sulfate, fragrance mix, potassium dichromate, paraphenylenediamine, balsam of peru, parthenium and black rubber mix [Table - 3]. In our study, nickel sulfate was the most common allergen causing 11 (25%) positive reactions with a positive relevance in 63.6% of the patients. Detailed questioning revealed the common sources to be metals in jewelry, ear piercing, zippers and cell phones. Co-sensitization with metals seems to be a cause for cobalt allergy. Use of topical antibiotics in patients of atopic dermatitis caused reactions to neomycin sulfate.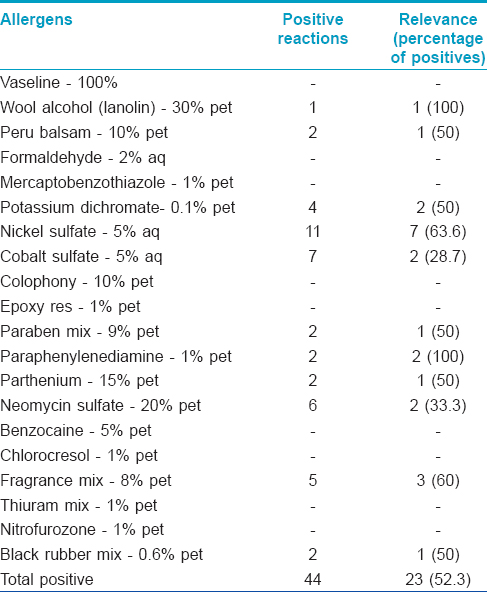 Table 3: Patch test reactions and relevance to Indian standard series
Exposure to cosmetics and perfumes resulted in positive reactions to fragrance mix and peru balsam. Use of leather footwear and construction activity at/near homes seemed to trigger hypersensitivity to potassium dichromate. Dyes in hair color and henna were triggers for paraphenylenediamine hypersensitivity. Rubber footwear was the most common trigger for hypersensitivity to rubber. Current relevance was seen in 23 (52.3%) of 44 positive patch test reactions. There was no significant statistical association between age, sex and atopic status with the occurrence of positive patch test reactions.
A patch test positivity rate of 33% in our study is comparable to previous studies done on adult subjects in Kashmir which showed a prevalence of 38.8%; quite low, however, when compared to other Indian studies. The lower prevalence may be because of probable exposure to different allergens in our population, not included in the Indian standard series. [4],[5],[6]
Our study demonstrates that the commercially available patch test devices are safe in the pediatric population and patch testing can be performed in children older than 12 years in the same manner as in adults. However, in children younger than 6 years of age, patch test is usually reserved for cases with a high likelihood of contact hypersensitivity. After the culpable allergens are identified by patch testing, and if the patient can take steps to evade them, a significant improvement in the dermatitis is usually seen. [7]
This study demonstrates a need for additional multi-center, prospective studies incorporating a larger sample size. The low prevalence of contact hypersensitivity in children suffering from chronic dermatitis at our centre could be due to the exclusion of many unidentified, yet important allergens of Kashmir in the kit we used. The development of a comprehensive and standard kit, specific to children, including all the allergens of national importance is an important part of addressing the issue of contact dermatitis in children in India.
Financial support and sponsorship
Nil.
Conflicts of interest
There are no conflicts of interest.
References
1.

Mortz CG, Andersen KE. Allergic contact dermatitis in children and adolescents. Contact Dermatitis 1999;41:121-30.

[Google Scholar]
2.

McAlvany JP, Sherertz EF. Contact dermatitis in infants, children, and adolescents. Adv Dermatol 1994;9:205-23.

[Google Scholar]
3.

Wilkinson DS, Fregert S, Magnusson B, Bandmann HJ, Calnan CD, Cronin E, et al. Terminology of contact dermatitis. Acta Derm Venereol 1970;50:287-92.

[Google Scholar]
4.

Garg T, Yadav P, Meena S, Chander R. Allergic contact dermatitis in children: Culpable factors, diagnosis and management. Astrocyte 2014;1:33-40.

[Google Scholar]
5.

Hassan I, Rather PA, Jabeen Y, Wani ZA, Altaf H, Nisa N, et al. Preliminary experience of patch testing at Srinagar, Kashmir. Indian J Dermatol Venereol Leprol 2013;79:813-6.

[Google Scholar]
6.

Sharma VK, Asati DP. Pediatric contact dermatitis. Indian J Dermatol Venereol Leprol 2010;76:514-20.

[Google Scholar]
7.

Agner T, Flyvholm MA, Menné T. Formaldehyde allergy: A follow-up study. Am J Contact Dermat 1999;10:12-7.

[Google Scholar]
Show Sections