Translate this page into:

Letter to the Editor - Case Letter
doi: 10.4103/0378-6323.162332
PMID: 26261142
Pemphigus foliaceus occurring with adenocarcinoma of prostate
Meenakshi Wadhokar1 , Yugal K Sharma1 , Kirti Deo1 , Archana Buch2 , Aayush Gupta1
1 Department of Dermatology, Dr. D.Y. Patil Medical College and Hospital, Pimpri, Pune, Maharashtra, India
2 Department of Pathology, Dr. D.Y. Patil Medical College and Hospital, Pimpri, Pune, Maharashtra, India

Correspondence Address:
Meenakshi Wadhokar
Queenstown Society, M-704, Behind Chinchwad Railway Station, Chinchwad, Pune, Maharashtra - 411 033
India

How to cite this article:
Wadhokar M, Sharma YK, Deo K, Buch A, Gupta A. Pemphigus foliaceus occurring with adenocarcinoma of prostate. Indian J Dermatol Venereol Leprol 2015;81:525-526
Copyright: (C)2015 Indian Journal of Dermatology, Venereology, and Leprology
Sir,
A 73-year-old man presented with painful and burning vesiculo-bullous lesions that had developed sequentially over scalp, face, trunk and extremities, eroding after a few days and recurring episodically for the preceding one year despite treatment from private practitioners. Examination revealed multiple crusted erosions intermixed with hyperpigmented patches on these sites with a few intact vesicles and bullae [Figure - 1]a and b. General physical and systemic examination were normal.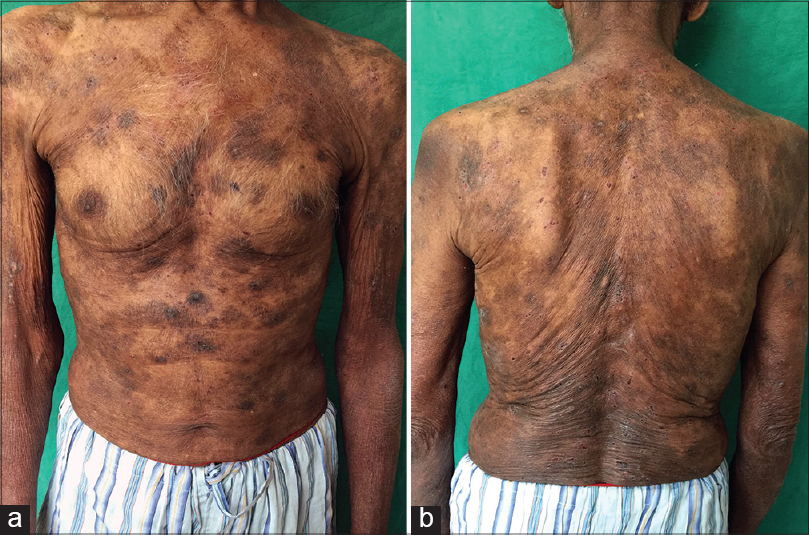 Figure 1: Multiple crusted erosions and postinflammatory hyperpigmented patches over (a) front, (b) back, of trunk and upper arms
Histopathological examination revealed a subcorneal bulla containing a few acantholytic cells. A few plasma cells and lymphocytes were present in the dermis [Figure - 2]a and b. Direct immunofluorescence of perilesional skin revealed IgG deposition in the intercellular spaces in the upper epidermis [Figure - 2]c suggestive of pemphigus foliaceus. Absence of mucosal involvement, lack of vacuolar degeneration at the interface and absence of apoptotic/dyskeratotic keratinocytes ruled out paraneoplastic pemphigus.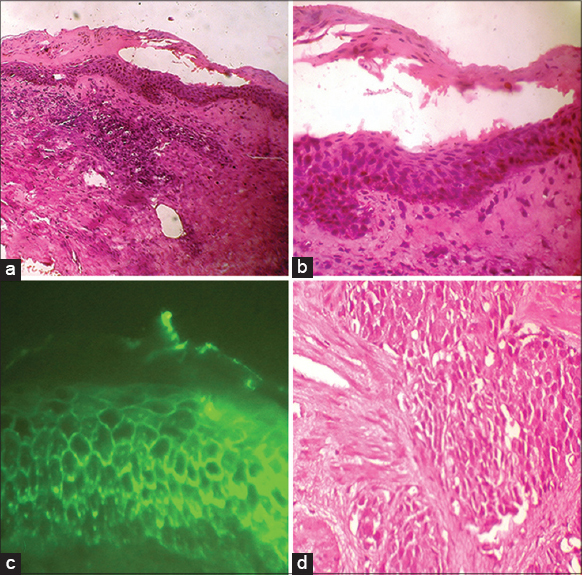 Figure 2: (a) Subcorneal bulla (H and E, ×100), (b) (H and E, ×400) (c) Immunofluorescence showing IgG positivity in the intercellular spaces of the upper epidermis (DIF, IgG, ×400) (d) Prostatic biopsy showing nests of neoplastic cells (H and E, ×400)
The patient responded poorly to daily oral prednisolone, 1 mg/kg given for 1 month. Detailed enquiry revealed that he had hesitancy and dribbling of urine. Urological work-up revealed elevated levels of prostate specific antigen (PSA) at 104.9 ng/mL. Histopathological examination of transurethrally resected prostatic tissue confirmed adenocarcinoma, Gleason score 4 [Figure - 2]d. Bilateral orchidectomy was done and the urologist instituted oral leuprolide, a luteinizing hormone-releasing hormone agonist. Administration of exactly the same dosage of steroids as previously now led to prompt response of pemphigus within a fortnight. Steroids were gradually tapered off over 2 months after introducing dapsone as a steroid sparing agent. Follow-up after 6 months revealed normal skin and prostate specific antigen (PSA) levels returned to normal.
The malignancy most commonly reported with pemphigus foliaceus is thymoma. [1] Less commonly, mycosis fungoides, hepatocellular carcinoma, Kaposi sarcoma and non-Hodgkin lymphoma have been reported [2] and in one previous report, adenocarcinoma of prostate. [3] Paraneoplastic pemphigus is a subtype of pemphigus commonly associated with lymphoid neoplasms including non-Hodgkin lymphoma, chronic lymphocytic leukemia and Castleman disease. It is characterized clinically by severe mucosal erosions, polymorphic cutaneous eruptions, particularly on the upper body and palmo-plantar target lesions and serologically by the presence of antibodies to desmoplakin-1, envoplakin, periplakin and plectin and organ antigens. [4]
Of the epidermal and subepidermal immunobullous disorders, concurrent malignancy has been reported least commonly in pemphigus foliaceus. [1] Younus et al., in a study undertaken before paraneoplastic pemphigus was defined, reported 60 cases of malignancies in patients belonging to the pemphigus group; thymic malignancies being equally prevalent among pemphigus foliaceus and pemphigus vulgaris patients. [1] A recent report described 19 neoplasms in patients of pemphigus vulgaris: 12 skin cancers, 2 cervical cancers, 2 prostatic cancers and 1 each of breast, thyroid, and thymic cancers. [5]
The co-occurrence of adenocarcinoma of prostate with pemphigus foliaceus in our patient seems a chance association, as Curth′s criteria are not met. However, the improved response to treatment for pemphigus after surgery for prostatic adenocarcinoma suggests that tumor-induced immune dysregulation may have contributed to the initial recalcitrance of the disease.
References
1.

Younus J, Ahmed AR. The relationship of pemphigus to neoplasia. J Am Acad Dermatol 1990;23:498-502.

[Google Scholar]
2.

Cowley N, Neill S, Staughton R. Pemphigus foliaceus and non-Hodgkin′s lymphoma. Int J Dermatol 1994;33:510-1.

[Google Scholar]
3.

Ota M, Sato-Matsumura KC, Matsumura T, Tsuji Y, Ohkawara A. Pemphigus foliaceus and figurate erythema in a patient with prostate cancer. Br J Dermatol 2000;142:816-8.

[Google Scholar]
4.

Cervini A, Tosi V, Kim S H, Bocian M, Chantada G, Nousari C, et al. Paraneoplastic pemphigus or paraneoplastic autoimmune multiorgan syndrome. Report of 2 cases on children and a review of the literature. Actas Dermosifiliogr 2010;101:879-86.

[Google Scholar]
5.

Gupta VK, Kelbel TE, Nguyen D, Melonakos KC, Murrell DF, Xie Y, et al. A globally available internet-based patient survey of pemphigus vulgaris: Epidemiology and disease characteristics. Dermatol Clin 2011;29:393-404.

[Google Scholar]
Show Sections