Letter to the Editor
doi: 10.4103/0378-6323.152742
PMID: 25784225
Peripheral T-cell lymphoma, not otherwise specified presenting with multiple tender cutaneous nodules and plaques
Vishal Gupta1 , Divya Seshadri1 , Binod K Khaitan1 , Debojit Nath2 , Asit R Mridha2
1 Department of Dermatology and Venereology, All India Institute of Medical Sciences, New Delhi, India
2 Department of Pathology, All India Institute of Medical Sciences, New Delhi, India

Correspondence Address:
Asit R Mridha
Department of Pathology, All India Institute of Medical Sciences, Ansari Nagar, New Delhi - 110 029
India

How to cite this article:
Gupta V, Seshadri D, Khaitan BK, Nath D, Mridha AR. Peripheral T-cell lymphoma, not otherwise specified presenting with multiple tender cutaneous nodules and plaques. Indian J Dermatol Venereol Leprol 2015;81:313-315
Copyright: (C)2015 Indian Journal of Dermatology, Venereology, and Leprology
Sir,
Peripheral T-cell lymphoma, not otherwise specified (PTCL-NOS) is a rare mature nodal T-cell lymphoma which cannot be categorized into any of the other specified groups. Though extranodal involvement is known, cutaneous involvement is uncommon and is associated with a poor prognosis. We report a case of PTCL-NOS presenting in the skin as multiple tender nodules and plaques all over the body. Subsequent investigations revealed advanced disease with extensive visceral involvement.
A 30-year-old male presented to us with generalized cutaneous nodules and plaques that had developed gradually over the preceding 4 months, accompanied by intermittent low-grade fever for 2 months. Physical examination revealed dusky red to hyperpigmented, firm, tender nodules and plaques on the head, trunk, and extremities [Figure - 1]. He had mild pallor and bilateral submandibular, supraclavicular, axillary and inguinal lymphadenopathy. The liver was palpable 3 cm below the right costal margin, firm and non-tender, while the spleen was palpable 10 cm below the left costal margin. His hemoglobin was 8.3 g/dl, total leukocyte count 9800/mm 3 , and platelet count 60,000/mm 3 . A peripheral blood smear showed 37% atypical lymphocytes. HIV serology was non-reactive. Serum LDH (316 U/L), liver and renal function tests were within normal limits. Contrast-enhanced CT scanning of the chest and abdomen revealed bilateral pleural effusions, mild pericardial effusion, hepatosplenomegaly and multiple enlarged mediastinal, axillary and retroperitoneal lymph nodes. Pleural fluid cytology showed no atypical cells. A skin biopsy from one of the nodules and a lymph node biopsy showed similar morphological features with monomorphic medium-sized atypical lymphoid cells exhibiting vesicular nuclei and prominent nucleoli [Figure - 2]a and b. No epidermal involvement was observed. The lymphoid cells were immunopositive with CD3 (1:100; Spring BioScience, UK) [Figure - 2]c, while being nonreactive to CD20 (1:100), CD4 (1:100), CD10 (1:50), CD30 (1:250) (Spring BioScience, UK), CD8 (1:100), ALK1 (1:100) (Thermo Fisher Scientific Inc, US), perforin (1:50) and CD56 (1:100) (Novocastra, UK). The Ki67 (1:200; Spring BioScience, UK) labeling index was 35-40% [Figure - 2]d. A bone marrow biopsy could not be performed as the patient left the hospital against medical advice. The patient died 5 days later at home.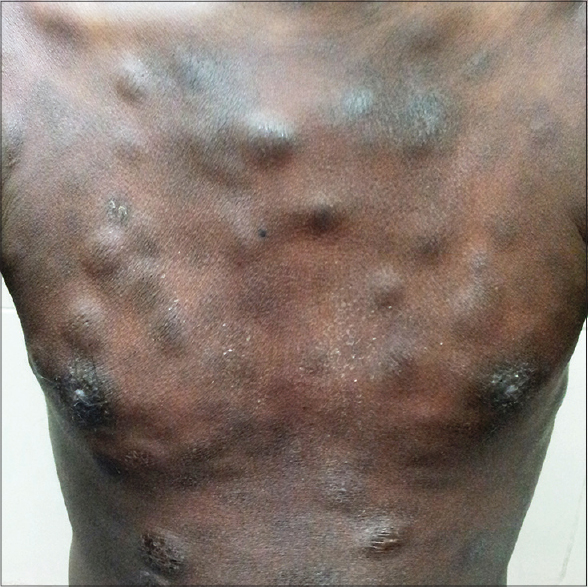 Figure 1: Multiple cutaneous nodules and plaques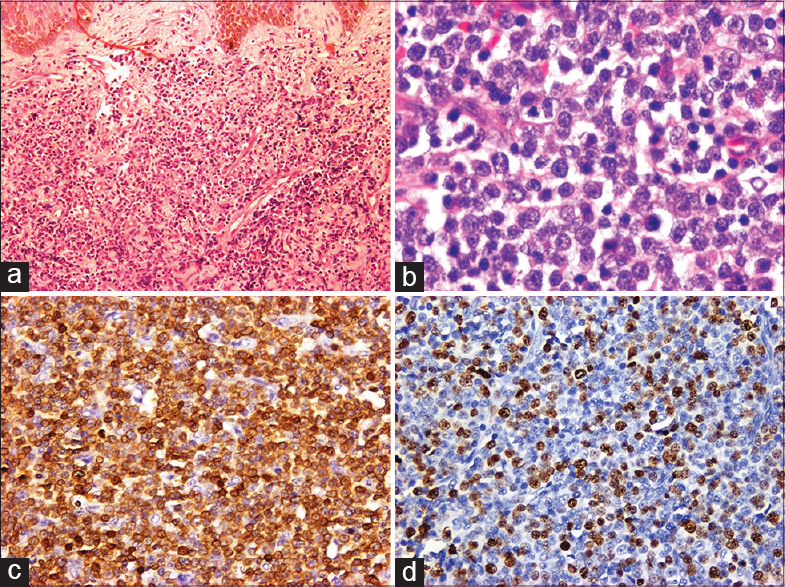 Figure 2: (a) Monomorphic lymphoid infiltrate in the dermis (H and E, ×100), (b) Lymph node showing atypical medium-sized lymphoid cells (H and E, ×400). Immunohistochemical stains demonstrate (c) CD3 positivity (×200) and (d) high Ki67 labeling index (×200)
Peripheral T-cell lymphoma, not otherwise specified is a relatively rare lymphoid malignancy accounting for approximately 15% of all non-Hodgkin lymphomas. [1] No risk factors have been clearly identified. Though Epstein-Barr virus is positive in approximately 30% of cases, its role in pathogenesis is unclear. Most of the patients are adults (median age 55-60 years) with a male predominance. Patients often present in stage III or IV disease with B symptoms, and occasionally with eosinophilia, pruritus, or hemophagocytic syndrome. [1] The bone marrow is involved in 20-30% of cases. [2] Our patient was a young man who presented with advanced disease. Skin involvement at the time of presentation is seen in about 10-18% of patients, and as in our patient, is associated with a poor prognosis irrespective of extranodal involvement. [2],[3]
The cytology of peripheral T-cell lymphoma, not otherwise specified may vary from a monomorphic to highly polymorphic lymphoid infiltrate with expression of T-cell antigens, and loss of one or more T-cell-associated antigens like CD2, CD3, CD5, or CD7. CD4+ and CD8+ phenotypes are seen in about 65% and 15% of cases respectively. Double-positive and double-negative tumors comprise about 10% of cases. [1] HLA-DR, CD25, and CD71 are usually expressed, while CD30, CD56, CD57, TIA1, granzyme B and perforin may or may not be seen. [1] A high Ki67 labeling index exceeding 80% is associated with a poor prognosis. Differential diagnoses include mycosis fungoides, adult T-cell leukemia/lymphoma, anaplastic large-cell lymphoma, extranodal γδ T-cell lymphoma, NK/T-cell lymphoma, and secondary cutaneous B-cell non-Hodgkin lymphomas. The lymphoid cells of mycosis fungoides are polymorphic, cerebriform, may show epidermotropism, and are usually CD4 positive. Adult T-cell leukemia/lymphoma is generally seen with human T-cell lymphotropic virus-1 (HTLV-1) infection and is CD4/CD25+. Anaplastic large-cell lymphoma is usually immunopositive for CD30 and ALK1, γδ T-cell lymphoma for CD8, NK/T-cell lymphoma for CD56, and B-cell lymphoma for CD20. In our case the lymphoid cells were monomorphic, round, non-epidermotropic, and negative for CD4, CD8, CD30, CD56, CD20, and ALK1.
Peripheral T-cell lymphoma, not otherwise specified responds poorly to conventional therapies and patients have a 5-year survival rate of only 20-30%. [4] Pralatrexate has recently been approved by the FDA in the US for treating refractory peripheral T-cell lymphomas. [5] The role of high-dose chemotherapy supported by bone marrow transplantation is under investigation. [2] Novel therapies such as histone deacetylase inhibitors, alemtuzumab (anti-CD52) and denileukin diftitox are also currently under trial. [1]
References
1.

Savage KJ, Ferreri AJ, Zinzani PL, Pileri SA. Peripheral T-cell lymphoma--not otherwise specified. Crit Rev Oncol Hematol 2011;79:321-9.

[Google Scholar]
2.

Gallamini A, Stelitano C, Calvi R, Bellei M, Mattei D, Vitolo U, et al. Peripheral T-cell lymphoma unspecified (PTCL-U): A new prognostic model from a retrospective multicentric clinical study. Blood 2004;103:2474-9.

[Google Scholar]
3.

Bekkenk MW, Vermeer MH, Jansen PM, Van Marion AM, Canninga-van Dijk MR, Kluin PM, et al. Peripheral T-cell lymphomas unspecified presenting in the skin: Analysis of prognostic factors in a group of 82 patients. Blood 2003;102:2213-9.

[Google Scholar]
4.

Tang T, Tay K, Quek R, Tao M, Tan SY, Tan L, et al. Peripheral T-cell lymphoma: Review and updates of current management strategies. Adv Hematol 2010;2010:624040.

[Google Scholar]
5.

Marchi E, O'Connor OA. Safety and efficacy of pralatrexate in the treatment of patients with relapsed or refractory peripheral T-cell lymphoma. Ther Adv Hematol 2012;3:227-35.

[Google Scholar]
Show Sections